What is a click-to-call button?
A click-to-call button is a digital tool that enables you to initiate real-time, in-browser calls via the internet. All you have to do is click on an embedded link that contains a business phone number, and a dedicated system, such as LiveAgent call center software, will execute the call.
What is the difference between a click-to-call and a click-to-dial link?
A click-to-dial link is just another name for a click-to-call link. The terms are interchangeable and have the same meaning. In this text, we'll use both words.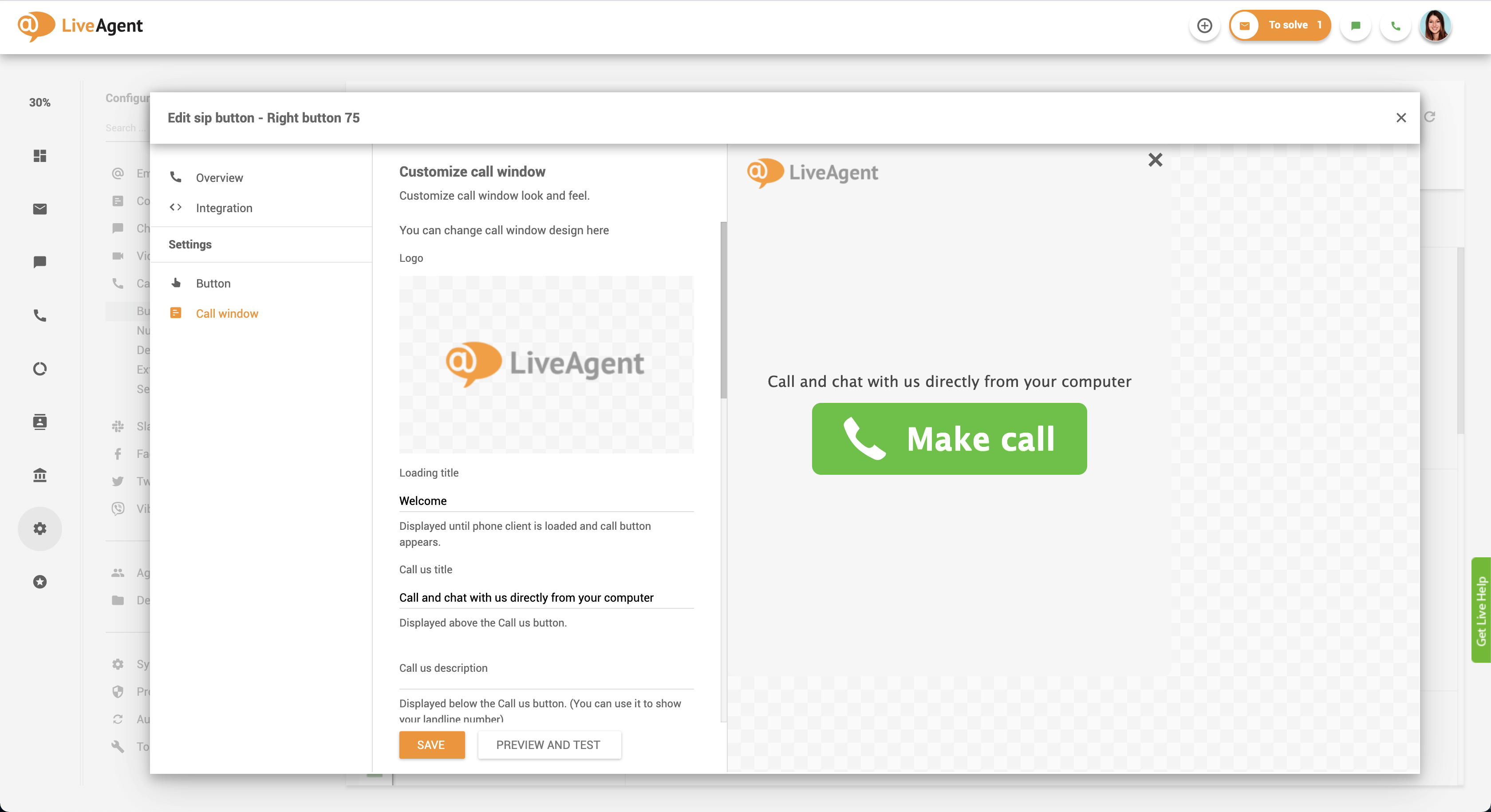 What does the click-to-dial/click-to-call feature do?
Click-to-call technology enables you to dial any embedded (hyperlinked) phone number on the internet. Once you click on it, you can execute an in-browser call via any appropriate program, including LiveAgent. In addition, the feature can work with LiveAgent web contact cards (browser extensions) that enable you to view contact information about people and businesses on the web.
How does click-to-dial work?
Click-to-dial works thanks to HTML tel link protocols that communicate with designated call centers or softphone applications. When you click on the hyperlinked click-to-dial phone number, the server-side script asks your call center software to take action and initiate the call. The calling software then calls the hyperlinked number and connects the caller and the person/business they're calling.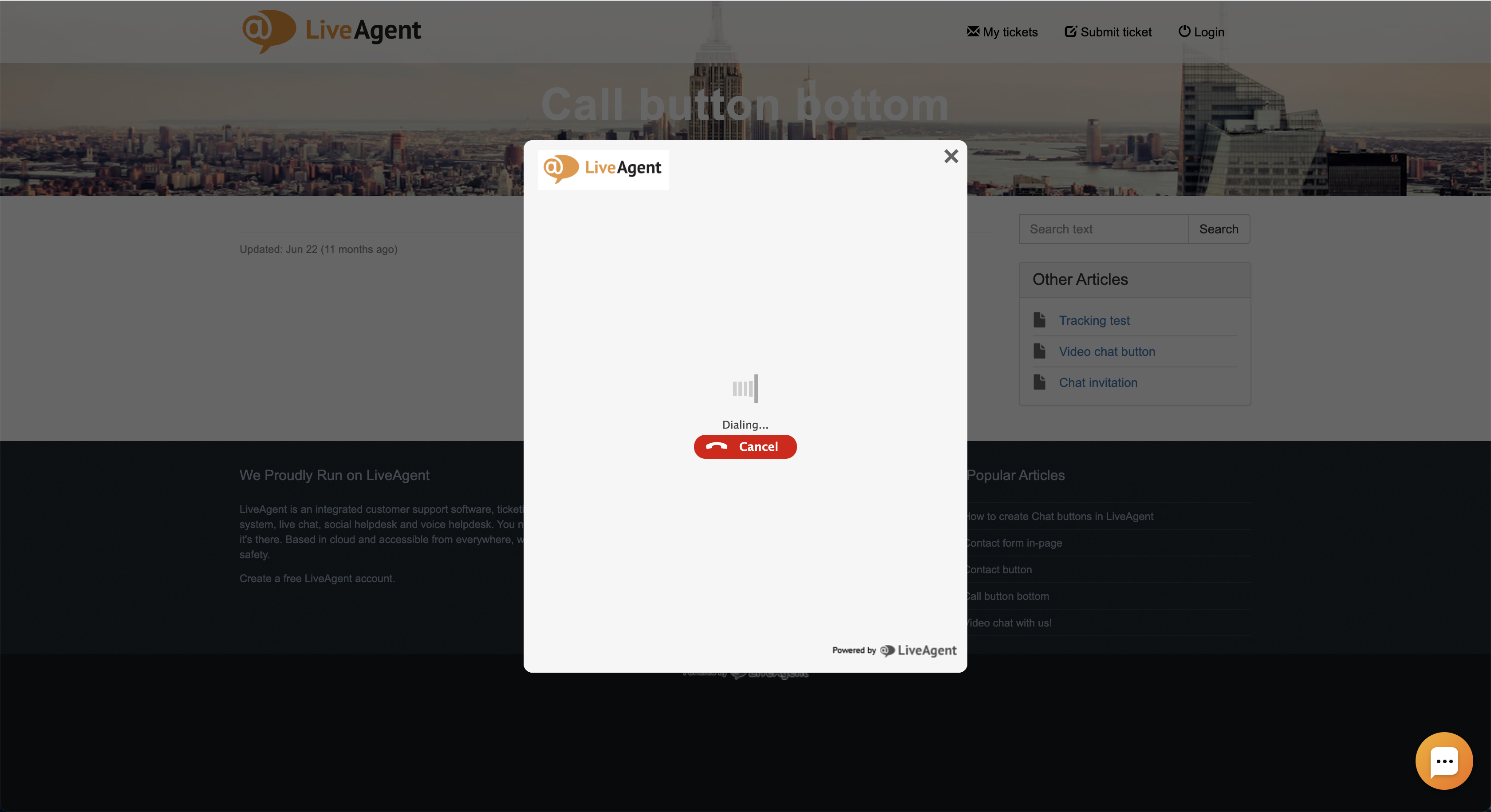 Who uses click to call?
Click-to-dial can be used by any business or individual that makes a lot of phone calls. It's arguably one of the most helpful features for SDRs (sales development representatives), sales teams, outreach marketers, executive assistants, market researchers, and customer support representatives because it can make their job easier.
Even though click-to-call is mainly used by B2B (business to business) and B2C (business to customer) businesses, "regular" people can benefit from the feature as well. For example, if a customer is on their mobile phone looking up your contact information, they can simply click on a hyperlinked phone number on your website and instantly initiate a call instead of tabbing in and out of their web browser and phone dial pad.
Why is click-to-call essential?
Click-to-dial is beneficial because it saves people a lot of time. Instead of having to manually input a phone number every time you want to make a call (either into your cell phone or softphone app), you can simply click on a phone link to initiate the call. In the long term, this saves you a lot of data input time and enables you to make even more outbound phone calls. This, in turn, improves workflow efficiency, saves agents time, and also saves you money.
In combination with the click-to-email feature that can open a pre-filled ticket window in LiveAgent, customer service representatives, salespeople, and marketers can boost their productivity and improve their work performance.
Minor but effective changes like these will keep your employees happy and prevent burnout as they eliminate repetitive, mundane, and mindless tasks. Instead, your employees can focus on nurturing customer relationships, creating an amazing customer experience, and providing personalized and knowledgeable support with click-to-call and click-to-dial.
How do you make a phone number clickable?
If you want to set up click-to-call and make clickable phone numbers, you will need to have access to your website's back end so you can edit existing texts that contain phone numbers. To a clickable phone number, simply copy this code snippet and replace the phone number within the quotation marks with your own.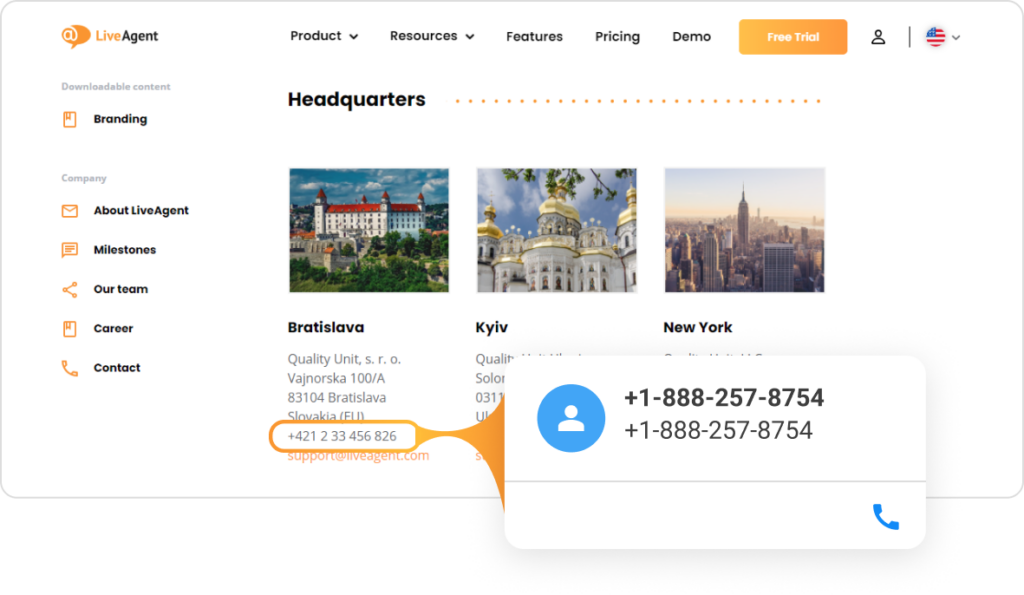 <a href="tel:1-234-567-1111">1-234-567-1111</a>
<a href="tel:1-234-567-1111">Click to Call</a>

Once you're done, click on save, and reload the page. Your phone number should be clickable. If it doesn't appear to be clickable or you spot some error, double-check the code. Make sure the quotation marks are present and the other symbols and commands such as <a href= and </a>.
How to use click to call
We suggest getting your hands on omnichannel call center software like LiveAgent. Once you set it up and choose a VoIP provider, the system will be able to make inbound and outbound calls in your browser for free.
If you want to download LiveAgent's web contact cards browser extension to view additional information about embedded phone numbers, you can. If you do, upon hovering over the embedded phone number, a LiveAgent contact card will appear and display additional CRM information. Upon clicking on the click-to-dial phone number, LiveAgent will create a new ticket and execute the call. All of this will appear on your dashboard.
However, if you don't want to download LiveAgent's browser extension, you don't have to. There's no need to install or integrate any programs or extensions. LiveAgent can act as the default handler of embedded links. Upon clicking on them, LiveAgent help desk software can execute calls and open pre-filled ticket fields.
The difference between a call button and a click-to-call link
A call button and a click-to-call link work the same way. However, they're aesthetically different. A click-to-call link is, of course, just a link. On the other hand, a call button is a miniature banner or a phone icon that looks like a button. It can be placed anywhere on your site and have various styles, texts, sizes, and colors.
Improve your calls with LiveAgent!
LiveAgent's call center features offer exactly what you need to improve your customer support over the phone. Get started today!
Ready to enable click-to-dial for your team?
If you're ready to boost your team's efficiency while saving time and money, it's time to utilize click-to-call. Alternatively, download the LiveAgent web contact cards browser extension for faster communication and more insights. The browser extension is free and can be downloaded from the Google Chrome Web Store or the Mozzila Firefox add-on list. While you're at it, give LiveAgent a try. We offer a free, all-inclusive 30-day trial, and there's no credit card required to get you started.
Discover just how effective you and your team can be starting today.