The online shopping experience seems straightforward enough. People browse the inventories of online stores and add interesting finds to their cart. They pay at checkout, then wait for the order to arrive.
Of course, as anyone who has ever shopped online can confirm, it is not always that simple. People may come across unusual situations, or they may just have questions. This can be true even after placing the order.
eCommerce stores must offer as much customer service as possible. Great service can engender loyalty, boost traffic through word-of-mouth, and increase sales. Poor service may drive potential customers to your competitors' arms.
Email is the traditional form of communication between team members and consumers. However, it is not the only one. In fact, when you start an eCommerce business, you should employ as many customer service features as possible. Today's blog will focus on four that every store should at least try to use.
Knowledge base: Creating an information database
What do you picture when you read the words "customer service?" It may be email correspondence or a conversation over the phone. No matter what, you likely imagine a team member interfacing with a specific customer. This idea may seem definitive, but that is not quite the case.
Customer service is not necessarily about the method itself, but rather the goal. It's about resolving consumers' questions or concerns in a way that leaves them satisfied. Changing your online store's layout in response to high bounce rates? Using new technology to lower load times? Writing informative product pages and blog posts? All could be considered forms of customer service.On that note, eCommerce business owners can use knowledge base software to develop an online information repository for their store. Team members can refer to these articles when assisting customers. Better still, the customers themselves can peruse the knowledge base for answers to their questions. This would give customer representatives more time to handle more individual-specific concerns.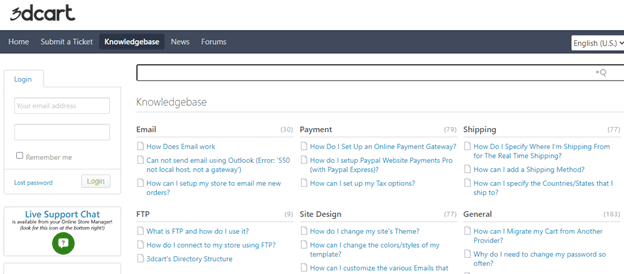 Important features include:
Ways to receive feedback. Customers can show if articles are clear and helpful, or if they need further work.
Video tutorials. This may be the least ambiguous type of guide out there, especially with narration and subtitles.
Forums. Sometimes, long-time customers pick up knowledge that even team members and business owners don't know.
Would online shoppers actually check a knowledge base?
Knowledge bases are better for certain types of products, services, and industries than others. For example, eCommerce platforms are highly complex and benefit from an in-depth knowledge base. In fields like that, customers need to understand your products and how they work. That is when a site full of instructive articles would come in handy.
Of course, knowledge bases do not need to be that complicated, either. FAQ pages may be enough to help customers. The idea is to reduce the number of calls your team receives. Knowledge bases can resolve simpler questions that apply to many people.
With that said, using knowledge base software is not an alternative to customer service. It is a customer service feature. A team member is still providing information to resolve the problems that consumers face. It may seem more impersonal, but other options are available as needed. More importantly, it achieves the same goals.
Advice for building a knowledge base
Check out old phone recordings, archived chat logs, and other customer service experiences for inspiration. If a question is asked even once, you could write an article that answers it for others.
Illustrate your instructions with graphics. People could use the assistance for understanding more complex directions and concepts. You could even add arrows or circles to the images for greater clarity.
Hire professional content writers to create the articles. They know how to produce informative content that your audience can understand. With a little training and instruction, they can become experts on your products.
Live chat: Helping customers in real time
Customer service is more than being nice to people in hopes that they buy your products. It means making every effort to assist them when they experience even a small hiccup in their shopping experience. It means offering as many ways to contact you as possible. Lastly, it means giving them every opportunity to reach out before they give up on a solution.
Email is the one contact method that pretty much every online business offers. Many customers are content with waiting for a response. For many others, though, the window of time between discovering an issue and abandoning the store is slim. Without a more immediate way of receiving active support, they will bail.
Few customer service features offer faster communication than live chat software. This tool adds a small window to the website that invites visitors to ask questions. When someone sends a message, a team member receives the notification and starts a dialogue. The discussion can carry across web pages and last until the customer feels satisfied with the answers.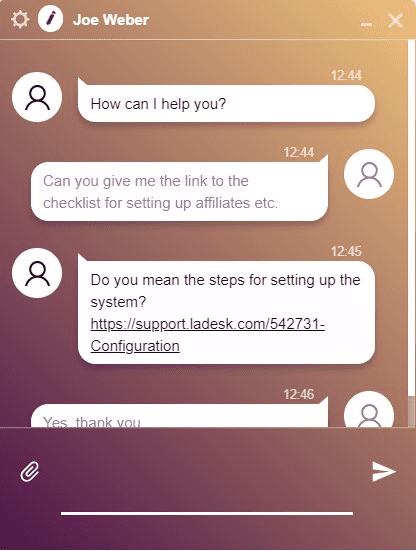 Important features include:
Real-time typing-view. It shows people that their helper is taking time to write a valuable response, not ignoring them.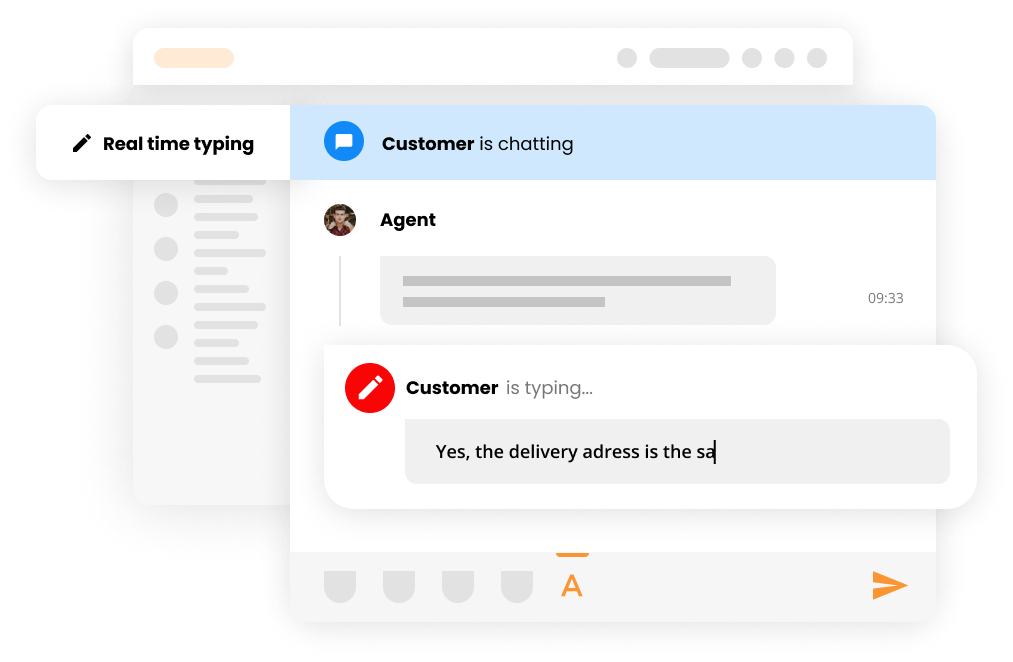 Chat invitations. Guests might not even notice your live chat window if it doesn't pop up on its own.
Post-chat reviews. They encourage team members to offer excellent service, especially if you reward customer favorites.
Want to learn more? Check out the 25 best chat plugins for WordPress.
Would guests really use a live chat feature?
A 2015 study from Software Advice confirmed that 46% of online consumers used live chat at least once before. 12% considered themselves frequent users. eCommerce stores cannot ignore the popularity of this customer service feature, especially if they cater to Millennials. The study notes that guests between the ages of 18 and 34 use it more than any other audience.
The most cited reason that visitors like live chat, at least in Software Advice's report, is "no hold times." This common response speaks to the convenience of the medium. People who don't have time to wait for phone calls, let alone emails, can receive customer service right away.
Live chat is especially popular for small questions. For example, a potential customer might have a small question about a product that interests them. They might lose interest in the days before they receive an email reply. Even phone calls may seem like too much effort for an impulse purchase. If you or a team member can offer clarity right away, you could make another sale for your store.
Advice for offering great service in live chat
Don't just refer customers to webpages — copy and paste links. It saves them a little searching, and they'll appreciate you for it.
Be aware of text etiquette. For example, unnecessary all-caps words sound like shouting, not emphasis. Even punctuation can have a meaning.
Choose team members with great grammar for roles as live chat agents. Otherwise, customers might not trust them to know what they're doing.
Social media: Monitoring and maintaining an online reputation
"87% of eCommerce shoppers believe social media helps them make a shopping decision." This illuminating quote comes from Smart Insights, referencing an Absolunet study. The intersection between online stores and online communities extends beyond virtual marketplaces and marketing. People share links to products and sites all the time.
More importantly, they share experiences — good and bad. Positive posts can encourage friends, family, and followers to become customers. Negative posts can tank a business's reputation on the internet. Store owners need to take them seriously. That often means helping them by reaching them where they are.
Social media customer service software can work wonders for your online presence. You can connect your official pages and customer interactions from multiple platforms into one interface. From there, you and your team can respond to direct messages, new comments, and tagged posts as they come. On top of keeping you in the loop, this software enables you to assist customers even outside of your site.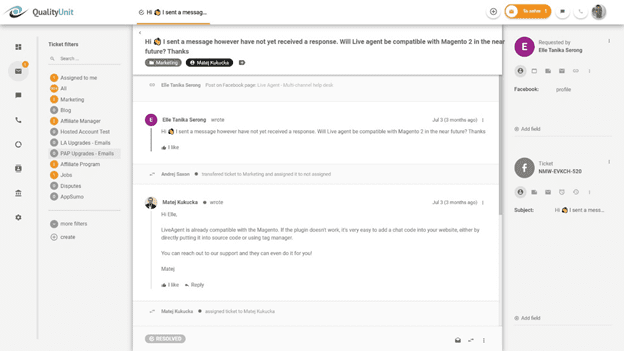 Important features include:
Social media platform integrations. Team members need only one password and one dashboard to access the business's official accounts on every platform.
Universal inbox. Every message, mention, and reply from every platform appears in a single convenient location.
Filters. They can prove useful when you want to see social media notifications from certain sites or about certain subjects.
Would customers seek service on social media?
According to statistics from Hootsuite, more than a fifth of all American online shoppers consider social media "the best channel for customer service." There is little wonder why. Social media decreases the distance that companies traditionally had with consumers. They can create closer relationships. As a result, creating official Facebook and Twitter accounts is practically mandatory for businesses nowadays.
Customer service on social media takes multiple forms. Team members can converse with people through direct messages, like with live chat software. They can also write direct replies to comments about their company.  The official account itself can be the source of assistance. The posts you publish can address common concerns and answer frequently asked questions.
There is one major difference between social media-based support and other customer service features. While phone calls and emails can be intimate and private, posts and comments are highly public. All the more reason, then, to provide the best possible service. If people like what they see, they could become customers as well.
Advice for assisting customers through social media
Take your online presence seriously. Companies interested in receiving positive attention should hire professionals to handle their social media. They should have knowledge on how to properly engage in these different spaces.
Maintain an active presence on multiple platforms. Irregular posts can cause your account to get lost in the shuffle. Consistent posts grab attention and keep it.
Check notifications constantly. Discourse can move quickly on Twitter, Instagram, and other communities — especially when the discourse is negative.
Call Center: Establishing a customer support hotline
Many issues that customers face can be resolved over text-based correspondence. Email is great for problems that aren't too pressed for time. When the matter simply can't wait, live chat over an online helpdesk can be quicker.
Sometimes, though, these contact methods aren't enough. More complex issues may require a lengthy back-and-forth between the customer and the service representative. In these instances, our computer-facilitated programs may not be enough. Help desk ticketing tools can be useful for tracking and managing these interactions, but ultimately, the best way to communicate may just be a live conversation where people can hear each other's voices.
For this reason, we highly recommend that eCommerce stores at least consider using call center software. With this type of suite, they can establish a phone line specifically for offering customer support. Every designated team member can receive calls through desk phones, browser plug-ins, and mobile apps. Senior members can even listen in and take over in situations that call for deeper expertise.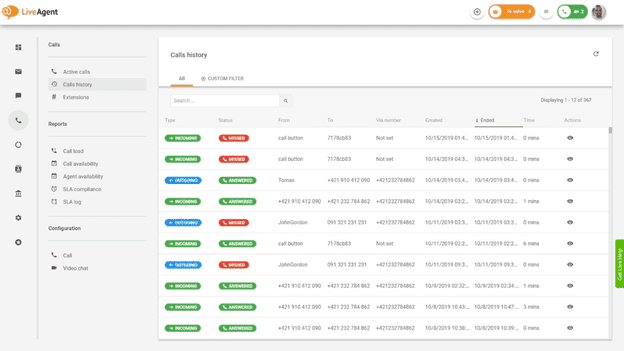 Important features include:
Recording for every call. Team members can review, study, and learn from their experiences.
Smart call routing. With this system, bigger emergencies and more valued customers can take greater priority.
Interactive voice response (IVR). Well-made trees can guide customers to the right department or even to pre-recorded messages that answer common questions.
Would eCommerce customers even use call centers?
Many online shoppers prefer more automated or text-based customer service features for the same reason they prefer shopping online. It is convenient. They can take as much time as they want or rush through the process. Moreover, they can abstain from interacting with strangers as desired.
And yet, recent research from HubSpot shows that call center services remain popular. Nearly half of respondents chose phone calls as their preferred communication method for companies. After all, any known and unknown complications can be swiftly cleared up with a little spoken dialogue. Without call center support, frustrated customers may have to work harder and wait longer. Many may decide that the issue is not worth the effort.
On top of everything, call center support does not just provide assistance, but assurance. There can be something comforting about a real human voice telling us that everything will be alright. This was true at the dawn of our species, and it remains true even in this modern age. Speaking with someone over the phone can remove a great deal of stress from a situation, making it easier to resolve.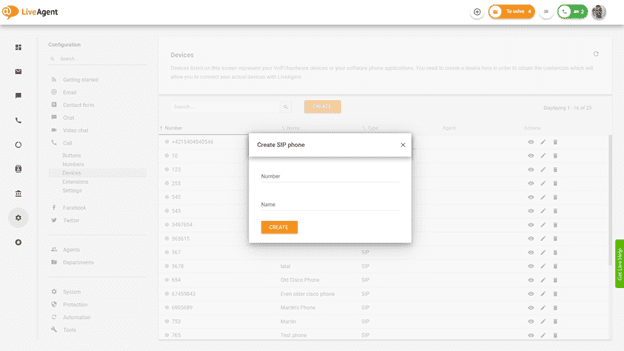 Advice for setting up a call center / support line
Ensure minimal hold times for customers by hiring a sufficient number of representatives within your budget. The goal should be to hire as many representatives as possible to prevent callers from experiencing prolonged wait times while seeking assistance.
If possible, have staff available on call 24 hours a day, seven days a week. Problems can happen at any time, so you should always be ready to help. Businesses with a global reach should also be open for calls from customers in any time zone.
Make sure that your (IVR) tree is robust. The available options, paths, and prerecorded messages should reflect common customer concerns. Reaching a live representative should also be simple.
Conclusion
Customer service must be a top priority for any eCommerce store, big or small. These four customer service features are essentials, but you should use even more if you can. A comprehensive helpdesk software with all these services and more could be a big help, both for your visitors and your business. Remember, even a single guest who feels insufficiently assisted represents a missed opportunity.