Regardless of which market you operate in, chances are that competition is fierce. Countless businesses are started every year all over the globe. Granted, not all of them will succeed, but some will. This raises the question: How do you set your business apart from the rest? The answer may not surprise you – it's branding. The importance of branding can't be understated in the context of a global market with intense competition.
Branding elements define how the customer perceives your brand. A cohesive brand identity is as much a logo and color scheme as they are goals and values, and how they are communicated to the public. Understanding and cultivating the elements of branding can make or break a business strategy, especially in the current market climate.
With that in mind, let's have a look at what they are and how to use them.
What exactly are branding elements?
As stated earlier, branding elements are the building blocks of brand identity and brand perception. If you were to ask someone in the street what they think branding elements are, they will probably talk to you about logo design and color palette. While logo and color are core elements, they are only one-fourth of the equation.
It is a common misconception to think of branding as a way of being flashy and flamboyant. And while being noticed is a key element of a branding strategy, there are also much more subtle aspects to it. Another important branding design element is getting noticed by the things you want the public to know.
Branding elements are a special kind of communication, in that they are both the message and the medium. What we mean by this is that there is just as much meaning to be found in what is being shown as there is in how it is portrayed. There is cohesion between what the message says and how it delivers it.
Ideally, you want your branding elements to reflect your entire brand experience, and thus create that association in the audience's mind.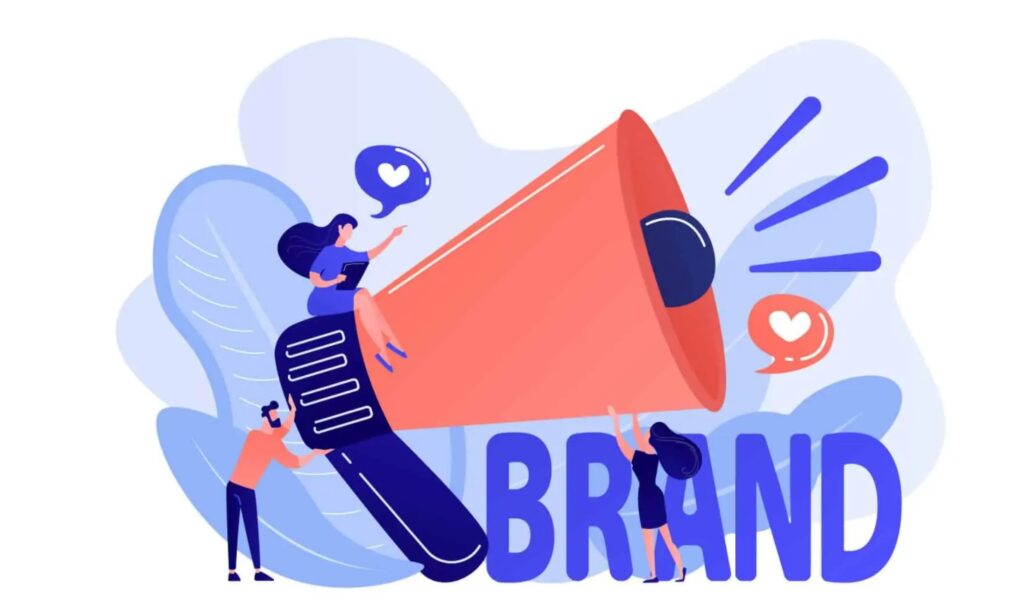 Why are branding elements important?
Building on the previous point, we can understand that branding elements allow companies to choose how they want to be perceived in the potential customer's mind. Let's illustrate this with an example. If you saw a company that is dealing with robotics and futuristic technology, and their branding involved a font from a 1950s newspaper and had words like "vintage" and "classic" in their message, you would rightfully feel a disconnect between the company's purpose and their branding.
This is an extreme example, but it illustrates how important the choice and cohesion of branding elements are. It also shows how counterproductive a poorly chosen branding strategy could be.
Successful branding tells us a whole story about a company and their product. A well-developed branding strategy will tell you the purpose of the brand, how it sees its products, who they are appealing to, what goals they have, and what their core values are.
It's important to let customers know all this information because it will help them choose which companies they want to do business with. By setting the right expectations for the customer and then delivering on them, you can guarantee that your brand experience is memorable.
This is why understanding branding elements is so important. This is often what will separate a successful business owner from an unsuccessful one. Because branding elements aren't just about being flashy and loud, they are about conveying the right message in the right way.
The potential is virtually limitless. As you might know from your own experience as a customer, some companies have developed such successful branding strategies that their brand has become a part of popular culture. Think of terms as "Googling" or the fact that just by saying "Just do it" a "swoosh" probably popped into your mind, or the fact that we even know what a "swoosh" is. These are all examples of extremely successful branding elements, and help illustrate their unparalleled potential and importance.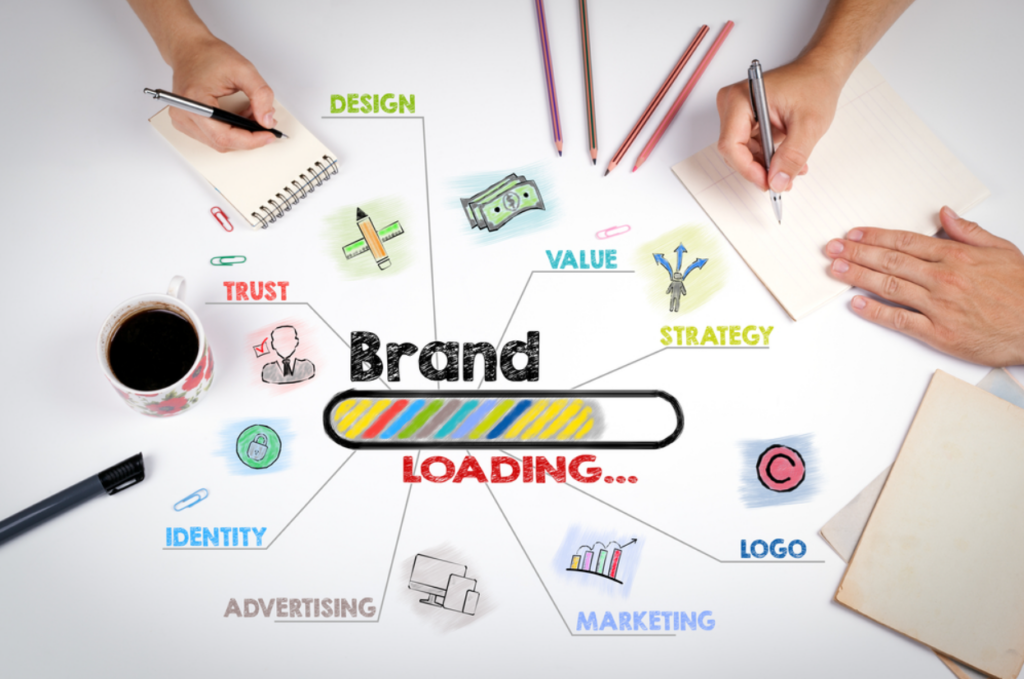 How to use branding elements in your business
Now that we know what branding elements are and their importance, it's time for the million-dollar question: How do I use them? To answer this question and develop an effective branding strategy, you need to identify certain aspects of your business.
What is your brand's voice? In this context, brand voice basically means personality. The personality of your brand will humanize your business and help create an emotional connection with the customer. It's the constant element that customers can always expect when dealing with your company. The type of language, the level of formality, and the overall attitude that your marketing assets, employees, and products will show.
Next up is figuring out the brand identity. Identity may sound similar to personality, but here is an excellent way to distinguish them. Think of the brand as a person, their personality is their internal characteristics, how they treat others, the values they have, and how they behave in life. Their identity is how they present themselves, their choice of clothing, their haircut, and how they are recognizable to others around them. Following this metaphor, the brand identity is how the brand becomes recognizable to the customers by their logo, choice of color, font, and all the other visual representations of the brand.
Last but not least is figuring out your brand's promise. This is the commitment you make to the customer. This is the reason they should choose you over your competitors. There can be a myriad of reasons, from guaranteeing a better price and offering better customer support, to having comprehensive return policies. Your brand's promise should be what tips the scales in your favor when the target customer is pondering between your product and your competitor's.
With these elements ironed out, you are ready to move on to the next step and transform these abstract concepts into branding elements.
Make you brand more visible
LiveAgent gives you plenty of customer service tools, making your communication with clients faster and more efficient than your competitors'
9 Key Branding Elements every successful company needs
After figuring out what you want your customers to perceive, you need to turn those ideas into branding elements that you can incorporate into your branding strategy. Here are the 9 most important branding elements that you need to consider:
Brand message
Brand message is the corporate branding element that encompasses all other elements. Brand message refers to how the company wants to position itself in relation to their competitors. Market and audience research allows companies to understand which market gap they can fill and who is their target audience. Brand message is how brands communicate that they are there to fill that gap. Understanding what message you want to tell your potential customers will foster the branding process and aid in the decision of every other branding element.
Brand purpose
Brand purpose is the defining trait of your company. It is the reason for its existence. Is your brand all about innovation and pushing boundaries? Or is it about providing affordable products for the average Joe? A properly communicated brand purpose can do wonders for the company's reach. When potential customers discover your company's design principle, it makes them engage with the brand on an emotional level, it is not just about the products and services you provide. This makes the customer experience much more fulfilling, increasing customer retention rates.
Logo
This is the most well-known branding element out there. The logo is the face of the company and the most recognizable of the visual elements that make up the brand's visual identity. There is no shortage of iconic and recognizable logos, from the Adidas stripes to the Starbucks siren. Logos are meant to represent the values of the brand and say something about its purpose and identity and have a design that attracts the target audience. Being the quintessential part of the brand, they are displayed in all the marketing material and everywhere from a company business card and the physical product to the company website.
Even when using 3rd party services such as LiveAgent, companies can display their logotype thanks to the Branding Free feature.
Brand name
The name of a brand is right next to the logo in terms of its importance and influence. After all, when people see a logo, they need a name to associate it with. Brand name is all about personality and memorability. There are many types of brand names, and each of them highlights the company's specific characteristics. Descriptive names, for example, are utilitarian and on the nose, for example, General Motors.
Evocative names are all about creating an association with something else, think of Amazon as an example. There are also geographical names (American Airlines), founder names (Hewlett-Packard), and historical names (Cadillac) that give a sense of tradition and belonging. Brand names can also be made up words (Kodak), puns (Reddit), or simple misspellings (Froot Loops). These are some of the types of brand names that exist out there. Ultimately, they all have one main purpose, to distinguish your brand from your competitors.
Graphics
Graphics, much like logos, are part of the brand's graphic design. Graphics refer to all the visual elements present everywhere, from the brand's digital presence to the physical branding material. Paper texture, illustrations, images, icons, all these elements come together to catch the user's attention and tell them a bit more about the brand, its purpose, and its vision. Whenever you see a billboard on the street or receive a marketing email, every design element that is present is what constitutes the brand graphics.
In the case of ad campaigns, image elements such as the demographic of the people shown, the activities they are doing, as well as the text on the image and which words are highlighted, are meant to convey a message larger than simply "buy our product". They show the brand's values and try to form an emotional connection with the audience.
Color
Color, next to the brand name and logo, are the big three branding elements that most people are aware of. Color plays a huge role in our perception of the world around us. Brand color palettes elicit psychological responses from the target audience. It allows brands to further showcase their personality traits to the public, in this case, without having to say a word.
Different colors convey different emotions and even more than one at a time. When talking about branding color, we are not just referring to the main color that is used in the logo. We are talking about a whole color palette used throughout all the branding material. When designing a color palette, consider how it will change the audience's attitude toward your brand and choose the right color combination.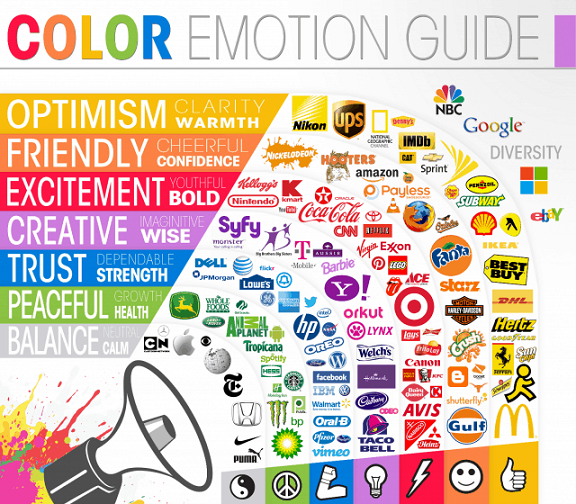 Typography (fonts)
Another visual element to consider is typography. Much like in the case of color, different types of font can send varying messages to the audience. Some may look more casual and playful, others more elegant, and others more formal. Depending on the brand identity you want to develop, you should choose a matching typography. This font will be used across all communication mediums, from branding material to customer service messages.
LiveAgent allows you to use custom fonts and even add them to your email templates, so you can stay consistent across all channels.
Phrase (slogan)
Slogans are one of the most memorable and unique brand elements. Great slogans are remembered for decades and even get to become part of popular culture. While color and typography can be similar between different brands, slogans are where companies get to show what makes them unique. Not only do they need to fall in line with the brand's identity, but they also need to highlight its most important aspects. Similar to brand names, slogans can be witty, funny, poetic, or virtually anything you can think of, as long as they aren't disconnected from the rest of the branding and the brand experience. There are virtually no limitations when it comes to creating a great slogan, as long as it's unique, memorable, and integrates with the brand's identity.
Content tone
Content tone refers to vocabulary, style, and manners brands use when connecting with their customers. This includes social media branding, newsletters, customer service messages, and much more. Consistency in tone is fundamental, especially when dealing with customer service. Customers can recognize your brand by the content tone that you display in every communication. This is why email format, canned messages, and even a knowledge base are necessary to make sure that the content tone is uniform.
Examples of branding elements
Branding elements is a complicated topic, and while definitions are necessary, it all comes together when looking at some examples. Let's look at some marketing strategies and how they translate into branding elements.
Airbus
Airbus is one of the biggest aerospace corporations in the world. Their logo is the company's name in all capitals in a dark blue color. Considering that they deal with aerospace technology both in the defense industry and the commercial market, the choice of a stout font and the color blue seems appropriate. Blue is typically associated with trustworthiness, and the font gives the brand a sense of sturdiness, making it a very strong brand.
Booking
Booking.com is the go-to option for millions of people when it comes to planning their trips. Similar to Airbus, the branding for this company also involves the company name in the color blue, once again signaling reliability. In this particular case, the company decided on a descriptive name that is also their website, making it easy to remember.

ClickFunnels
ClickFunnels is a software that helps increase website conversions. Their logo is a web browser window with two gears in blue and orange. Adding this to the utilitarian name, "ClickFunnels", potential customers can immediately understand what this company is about. In the image below, we can also see an example of what brand purpose can look like, "Getting People To Your Website And Turning Them Into Happy Paying Customers Is What We Do Best".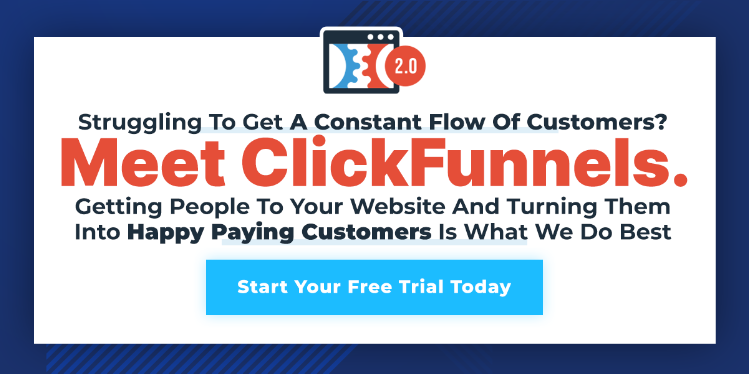 LiveAgent
LiveAgent is the original helpdesk software with over 150 million users worldwide. The logo is a dialogue balloon intersected by an at sign (@), signaling the mission to provide better communications throughout the digital realm. LiveAgent's branding uses "California orange" as the main color, which is a color that evokes friendliness and confidence, both qualities that are very important in the world of customer service. This makes for an attractive brand experience since the emotions evoked towards the brand correlate with the ones customers want from the service being offered.
Netflix
Netflix needs no introduction, the behemoth of streaming services. Their logo is the brand name in all capitals, with the bottom line of the logo arching upwards in the middle of the word. The name Netflix immediately lets potential customers know that this is a media content platform, being a wordplay of the words "net" (internet) and "flicks" (films). The logo is in the color red, signaling excitement.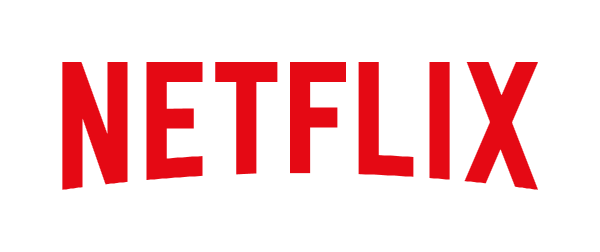 Conclusion
Branding is one of the most important elements for companies in today's market. With competition increasing every year, it is important to be able to establish your company as unique. Branding is the process of developing and showing a brand identity to the public.
Developing branding elements and identity is crucial because they help you choose your target demographic, allow you to showcase your company values, and in the best of cases, they can make your brand a part of popular culture. The branding process takes time and may require assistance from third parties like a design agency. However, it is extremely rewarding for companies that manage to send the right message to their target market. This allows them to get a bigger market share and deliver a better customer experience.
Brand identity can single-handedly take your business to the next level. Take advantage of this and get started, there is no better time to start than the present.
Frequently Asked Questions
What are the 9 brand elements?

The 9 branding elements are brand message, brand purpose, brand name, logo, graphics, color, typography, phrase, and content tone.

What is the most important element of a brand?

All the branding elements are important, and they must be all cohesive and representative of the brand identity.

How do you choose brand elements?

To choose the right branding elements, you should develop a brand identity first. Once the brand identity is outlined, each element is designed to represent that idea.

Which brand element is the most difficult to change?

Brand name can be one of the most difficult elements to change because it is one of the most recognizable ones and it is how customers remember brands.

What is branding in marketing?

Branding is the process of developing and showing a company's brand identity to their audience.