Regardless of the quality of your products and/or services or the experience and skill of your staff, issues will happen, and customers will make complaints. There's no going around it when you're in the e-commerce industry. 
The complaints themselves can impact your business in one of two ways – they can either harm your reputation and brand image, or they can help you establish yourself as the leader in your niche. It all depends on how you handle them. 
To ensure the utmost customer satisfaction even when there's a problem, you need to handle each customer complaint with care and attention and follow through with it until you receive positive feedback and resolve the issue. You can simplify this whole process with a suitable piece of issue tracking software. 
Let's see what customer service issue tracking software is and find the best solutions that'll fit your needs. 
What is an issue tracking software? 
Issue tracking software is a solution designed to help you stay on top of all online and offline customer conversations. Instead of going through a cluttered email inbox trying to find out whether you've resolved a specific customer issue or not, you can use help desk issue tracking software and get a clear overview of every single ticket and conversation. This software records and categorizes incoming conversations from start to finish and enables you to manage them with ease. 
A top of the line help desk ticket tracking software will compile tickets from all channels – email, live chat, even voice chat – and present them to you through a single, unified inbox. This simple solution will streamline your communications and help you resolve all customer issues without overlooking a single one. 
How does issue tracking software work?
Issue tracking software is often an integral part of your live chat software within the help desk suite. It activates as soon as a customer initiates a conversation with you through your website chat widget or email, for example. It can also be triggered manually should a customer contact you through a channel not supported by the issue tracking software. 
Typically, an "open" conversation will be assigned to the most suitable customer service rep who will gain insight from the knowledge based on the customer he/she is dealing with specifically.  This includes information on which platform they're coming from, where they're from, previous interactions with your business, and more. 
The conversation will be marked as "pending" until the issue is resolved. While the conversation is pending, sales reps can update the software with new data and input details about the customer, the complaint, and any action taken to solve it up to that point. 
Only once the rep receives confirmation from the customer that the issue has been resolved will a ticket be marked as "closed." 
Benefits of using issue tracking software
The best ticket tracker system will benefit your business in more ways than one. It can be useful to small startups and SMBs with limited resources as well as to multimillion corporations with hundreds of daily tickets. 
Improve response times 
Well over 90% of customers think that immediate responses (within 10 minutes or less) are crucial for customer service. Leaving them waiting will only increase their frustration and send them to your competitors. 
By having a clear overview of all incoming conversations and tickets, you can stay on top of all customer interactions and significantly increase your response times. 
Address all questions and queries 
Overlooking a single ticket and/or complaint can have serious repercussions. Online shoppers are always more willing to leave a bad review rather than a positive one, and you'll only be giving them further cause for doing so. On top of that, over 94% of customers can be dissuaded from doing business with you based on a single negative review, so you'd be losing current and prospective clients by delaying your responses. 
With customer service issue tracking software, you should be able to avoid this type of problem. The solution will ensure that every customer gets noticed and addressed without exception. 
Improve efficiency 
Getting overwhelmed by customer questions and open tickets can grind your customer service department to a halt. But with the help of an online issue tracking software, you can quickly prioritize tickets, assign them to the staff members who can handle them, and ensure the utmost efficiency while avoiding bottlenecks. Implementing one of the best help desk ticketing systems will significantly contribute to the smooth functioning of your customer support team.
The best 25 issue tracking software solutions (+10 features, and pros/cons)
Corporate issue tracking software is supposed to enhance your customer relationship management and help you stay on top of all customer interactions. However, not every piece of software is on the same level. While some solutions can bring countless benefits that genuinely improve your operations, others will only cause chaos. 
So, to ensure that you get the right customer tracker solution, we've compiled a list of some of the best customer support issue tracking software solutions that are worthwhile. The following solutions have superior features and functionalities, they can easily be implemented on any website, and offer all the necessary integrations that make them all the more effective. Let's take a look at the top 25 issue tracking software tools. 
1. LiveAgent 
LiveAgent is a highly respected issue tracking software popular among companies of various sizes and across many industries. Some of their most renowned clients include Yamaha, Forbes, Huawei, NASCAR, and many others. Often rated as the #1 issue tracking software, you won't go wrong by choosing LiveAgent as your go-to customer service solution. 
It has extensive capabilities, and its useful integrations only make it that much more powerful. Whether you need to integrate it into other CRM software, marketing solutions, chatbots, VoIP partners, or billing management systems, you'll be able to do so with ease. 
LiveAgent will help you stay on top of all your support channels by giving your team a unified platform and a clear overview of all incoming tickets and messages. Whether they're coming from your social media channels, email, phone calls, contact forms, forums, or any other place, they'll all be neatly sorted in your unified inbox. 
Tickets are automatically tagged to increase visibility, so you'll see clearly marked "New" tickets, "Answered" tickets, "Open," and "Closed" tickets inside your helpdesk dashboard. Each support request receives its unique ID number, so you can easily find a specific conversation within seconds, even well after it has been marked as "closed." 
Your agents can enjoy automatic ticket distribution, ensuring that no staff member is overwhelmed or has too much time on their hands. You can rotate phone duty with a single click; you can schedule breaks and make sure that each agent has everything they need to provide seamless support. 
Key Features 
Seamless integrations 
Omnichannel support 
Detailed customer profiles 
Through conversation history 
Automatic routing and escalation 
Ticket reference numbers 
Clear ticket phases 
Phone duty rotation 
Scheduled breaks 
Routing and escalation rules 
Pros 
Excellent customer support 
Comprehensive capabilities 
Powerful features 
Intuitive 
Cons 
The abundance of features can be confusing 
LiveAgent is by far the most popular issue tracking software. It has a generous free tier with ticketing capabilities, but you'll need to use a paid plan to experience its real power. The Small plan is available for $9/mo per agent, the Medium plan for $29/mo per agent, and the Large plan for $49/mo per agent. 
Track issues easily and precisely
Give yourself and your customers a relief by properly tracking all issues. Help them on any channel and keep their satisfaction high.
2. HappyFox
HappyFox is one of the most renowned help desk software available, boasting excellent ticket management functionality. It enables teams to offer live support through its live chat widget, and its AI-powered chatbot will make you available 24/7/365, even during national holidays and your days off. 
It can be suitable for a business of any size, as long as you have the budget for it. 
The issue tracking software has streamlined all processes regarding support requests. Primarily, it enables your customers to enjoy smooth self-service. You can use HappyFox's knowledge base software to develop detailed FAQ pages and insightful articles to help your customers resolve issues themselves without needing to wait for your customer support team. 
You can even create internal knowledge bases to make sure that your staff has plenty of insightful resources that'll help them do their jobs more efficiently. 
If the customer self-service portals don't cut it, HappyFox's chatbot is always ready to help and answer some of the most common questions without the need for human intervention. If a more personalized approach is necessary, all customer inquiries can be easily transferred to your support agents in the form of easily manageable tickets. 
HappyFox will automatically tag tickets and separate them into unique categories such as sales, customer support, billing, and others. You can develop custom ticket queues to give attention to the more urgent support requests first. 
Assign tickets based on agent workload, collaborate behind the scenes, use canned responses, apply bulk actions, sync all support channels, and more. 
Key Features 
AI-powered chatbot 
Extensive self-service portal 
Advanced search filters 
Custom ticket queues 
Private notes 
Multilingual capabilities 
Auto assignments 
Smart rules 
Automatic categorization 
Multi-channel ticketing 
Pros 
Advanced features 
Optimized workflows 
Excellent automation 
Cons 
Expensive 
Not as many integrations as other solutions 
HappyFox has pricing plans that can vary depending on your needs and team size. You can expect to pay around $29/mo per agent with the Mighty plan, about $49/mo per agent with the Fantastic plan, $69/mo per agent with the Enterprise plan, and $89/mo per agent with the Enterprise Plus plan. It's in your best interest to request a demo and contact HappyFox to determine your needs and find out the exact price you will be expected to pay.
3. Zoho Desk 
Zoho Desk is among the most comprehensive help desk solutions with excellent issue tracking software tools. It has affordable pricing and advanced features that make it an excellent choice for a company of any size. 
It provides you with a unified platform to see and manage all customer support requests from social media, email, chat, phone, and web forms. Instead of switching from one channel to another, both you and your customers can enjoy seamless communication through a dedicated platform.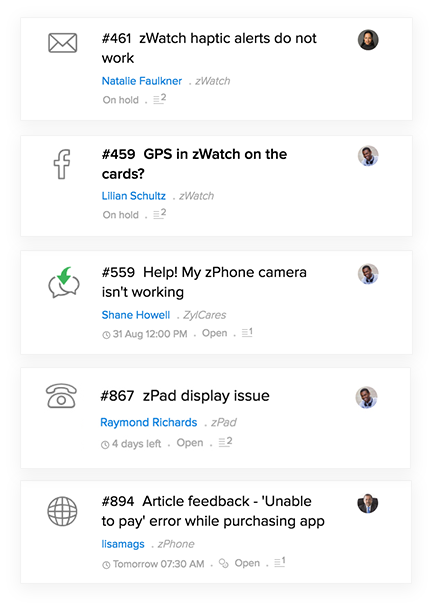 Your agents will get to see all previous tickets and conversations, which will enable them to provide a more personalized service that can decrease ticket resolution time.
Zoho Desk boasts great automation capabilities. You can automate workflows, set different SLAs, create assignment rules, and more. Enjoy detailed analytics and reporting, and enhance your customer service. 
Key Features 
Multi-channel service 
Self-service portal 
Workflow automation 
Dedicated SLAs 
Automated routing 
Thorough insights and reports 
AI-powered virtual assistant Zia 
Custom help desk creation 
Pros 
A perfect addition to other Zoho solutions 
Easily customizable 
Flexible 
Cons 
Limited gamification elements 
DIfferent support levels with different pricing plans 
You can get basic Zoho Desk functionality with its free version. However, you'll enjoy better support and advanced capabilities only with paid subscriptions. Zoho Desk is available for €12/mo per agent (∼$14.59) with its Standard plan, for €20/mo per agent (∼$24) with its Professional plan, and €30/mo per agent (∼$36) with its Enterprise plan. 
4. Accelo
Accelo is an all-in-one cloud-based ServOps solution that has been designed with the needs of service businesses in mind. Suitable for companies of any size, this software solution will help you streamline all external and internal communications with ease. 
It has an abundance of tools and features to optimize your client, project, and financial management. 
As far as its web issue tracking software tools are concerned, they'll certainly help you stay on top of all communications. Its automation features are unmatched. All support emails are automatically routed to the correct staff member/department to ensure no ticket falls through the cracks. 
Emails from your important clients are tracked and embedded with insightful knowledge base articles to keep all your team members in the loop while serving as a point of reference. 

All tickets that require attention are properly highlighted to improve visibility and ensure that your team follows through with them. Critical tickets, old tickets, those that are not assigned, and those that are long overdue are automatically highlighted and organized to display all the essential information needed to resolve them. 
The unified dashboard is easily visible to all authorized personnel and provides detailed reports and analytics. Managers can gain insight into the number of issues in a specific time frame, the average amount of time it took to solve them, and even the billable and unbillable hours a staff member has spent on actively resolving them. 
Key Features 
Team scheduling 
Reporting dashboard 
Automatic triggers 
Team inbox 
Client reports 
Knowledge base 
Dozens of integrations 
Mobile app 
Customization options 
Performance tracking 
Pros 
Abundance of features 
Useful integrations 
Insightful reports 
Cons 
Accelo doesn't have a free issue tracking software, but a free trial is available. The Service plan that comes with issue tracking and reporting comes at $39/mo per user, and the All-In-One plan with all Accelo's ServOps comes at $79/mo per user. 
5. Agile CRM 
Agile CRM is a help desk platform suitable for small to medium-sized businesses. As a cloud-based solution, it's compatible with all devices and operating systems and seamlessly integrates with dozens of third-party apps, sites, and service providers. It works effortlessly with prominent social media channels, Google apps, Twilio, Amazon SES, WooCommerce, Shopify, and countless other platforms and solutions. 
As a CRM solution, it helps you with every part of the customer acquisition and retention journey. It offers contact management, sales tracking, marketing automation, and more. 
To boost your efficiency in handling tickets, Agile CRM creates help desk groups that ensure every customer has a dedicated sales rep who's familiar with them, their previous issues, and interaction preferences.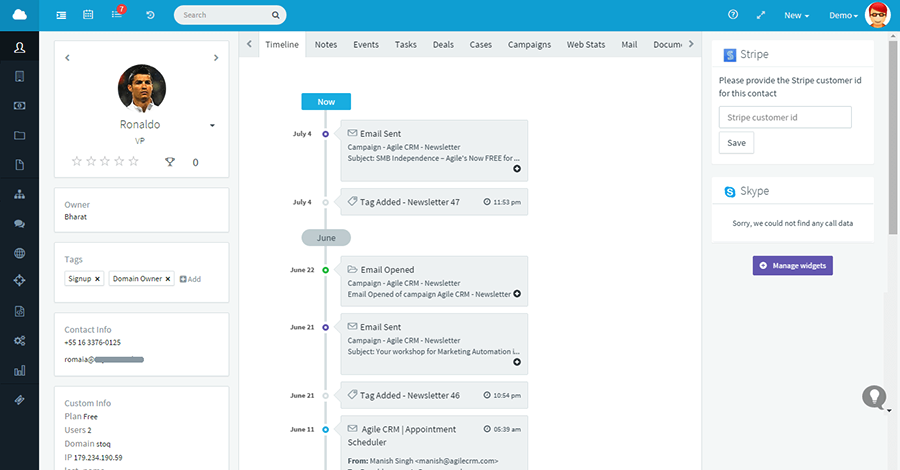 This feature is beneficial for closing tickets faster and improving employee productivity. 
Agile CRM has extensive automation options, one of the most useful being canned responses. To help you resolve issues faster, your customers will receive automatic responses to the most commonly asked questions which don't require a rep to be resolved.
You can assign labels to each ticket to sort them according to your needs, then automate workflows that will assign labeled tickets to specific departments and team members. It helps reps find open tickets with ease, analyze team performance, and track all relevant metrics for support issues. 
Key Features 
Workflow automation 
Labeling 
Knowledge base management 
Support groups 
Performance analysis 
Live chat 
Canned responses 
Smart view 
System-generated recommendations 
Pros 
Seamless integrations 
All essential features for client management 
Free online issue tracking software 
Cons 
Lack of customization options 
Automation options difficult to understand 
Agile CRM has a generous free version for up to ten users suitable for startups and SMBs. The Starter plan goes for $14.99/mo per user ($8.99 if you subscribe to the two-year plan). The Regular plan will set you back $49.99/mo per user ($29.99 with the two-year plan), and the Enterprize plan will cost $79.99/mo per user ($47.99 with the two-year plan). 
6. Apptivo 
Apptivo has extensive functionalities, enabling a business of any size to optimize virtually any task. Its powerful help desk comes with an all-in-one mobile app that ensures greater convenience and efficiency. It's the perfect tool for lead and customer relationship management. 
With the Apptivo Cases App, you'll gain insight into all problems and customer inquiries, and you can track the tickets from the moment they're opened to well after they're closed. 
You can organize all tickets by their respective categories or levels of priority and make sure that nothing slips through the cracks. Easily route inquiries to the right team members, enrich conversations with Dropbox and Google Drive files, and enjoy the simplicity of the streamlined news feed that offers a detailed chat history for your convenience. All these features ensure that anyone who handles a conversation has all the required information for solving a problem.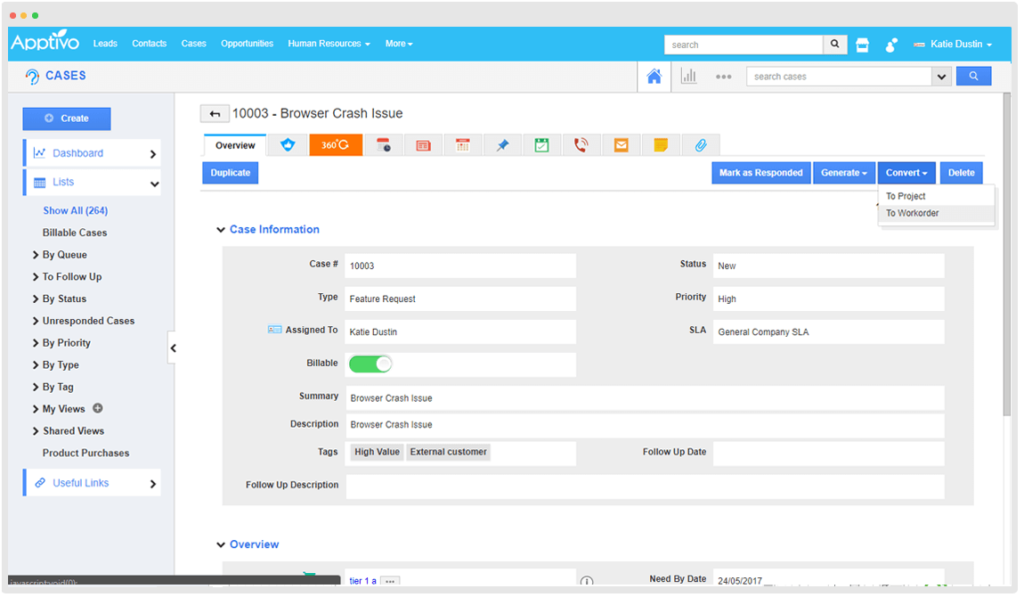 Apptivo offers useful canned responses that increase support efficiency, has activity tracking that helps your employees stay organized, and boasts a Contact Center App that makes customer interaction management even easier. 
Instant messaging within the app lets you connect with customers in real-time to decrease your response times. Authorized staff members can access an insightful dashboard that offers real-time analytics and enables you to personalize each ticket and conversation for better customer satisfaction. 
The app's Call Queue helps you stay on top of all incoming live calls and voicemails by assigning each conversation to a representative based on their idle time. 
Key Features 
Automatic conversation routing 
Streamlined news feed 
Canned responses 
Call conferencing 
Real-time analytics and reports 
Caller identification (KYC)
Voicemail service 
Lead tracking 
Customer history 
Omni-channel management 
Pros 
Affordable 
Easily customizable 
Feature-packed 
Cons 
It can feel overwhelming at first 
Slow performance at times 
Apptivo is one of the most popular issue-tracking software solutions with an affordable pricing plan. The somewhat limited Starter plan is free, the Premium plan comes at $12/mo per user, and the Ultimate plan comes at $20/mo per user. 
Save time by choosing LiveAgent
Leverage the power of multichannel help desk software by LiveAgent and be helpful to your customers on any place.
7. Atlassian Jira 
Jira Service Management is a valuable solution for all your customer support needs. It offers excellent functionality, it's easy to implement, and is very easy to work with. Its ticketing software can be as useful to your IT and HR departments as to your legal team. 
It's ready to use right out of the box, so you'll waste no time configuring it and setting it up to suit your needs. Within minutes, it will be ready to launch and start supporting your customers.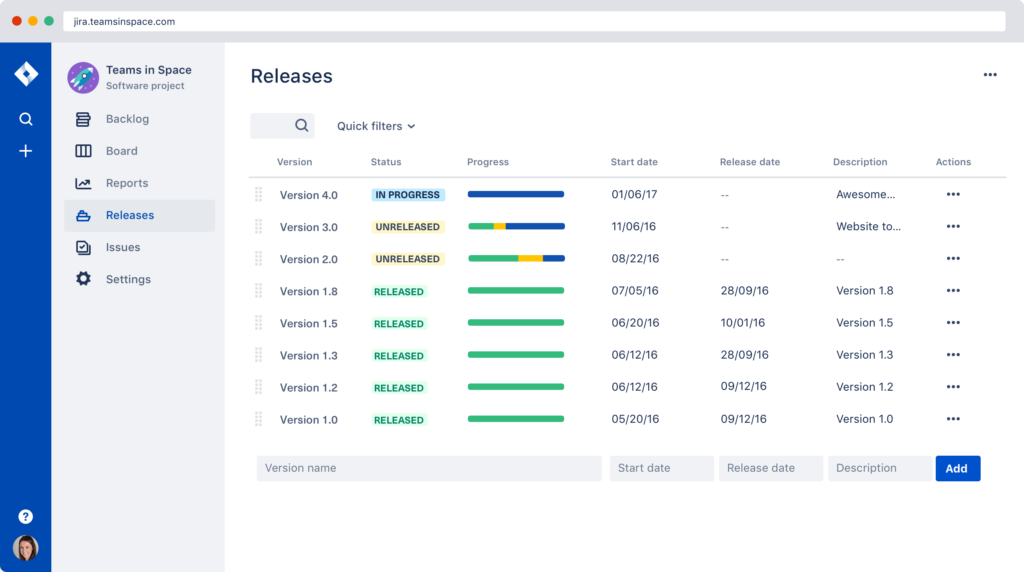 Jira has a Halp integration, so you can move your Halp conversations, emails, Slack interactions, and Microsoft Teams into a single, unified inbox. 
To encourage self-service, you can use Jira to develop an extensive knowledge base and help your customers help themselves. Using Halp, you can turn Jira conversations into tickets, categorize them, and have a clear overview of all support requests. 
Key Features 
Useful integrations 
Ready to use out the box 
Unified inbox 
Two-way sync in Slack and Microsoft Teams 
Customizable ticket forms 
Link issues 
Reports and metrics 
SLA management 
Pros 
Easy to use 
Boosts collaboration 
Effective 
Cons 
Limited features 
Can be confusing 
A free version is available, but you'll get the best Jira functionality through subscription plans. The Standard plan goes for $20/mo per user, the Premium plan for $40/mo per user, and the Enterprise plan has customizable pricing. 
8. Axosoft 
Axosoft is primarily designed for DevOps teams working on enhancing their services. It's an all-encompassing bug tracking and project management tool that can work both as a cloud-based and an in-house solution. 
With the help of this platform, you can ensure that your developers have streamlined processes and can deliver bug-free, fully-functional software solutions. 
Since Axosoft's mission is to enhance project delivery and ensure your customers' utmost satisfaction, it boasts a suite of features that can improve your services on every level. As an issue tracking software, it works wonders for boosting the efficiency of your customer representatives and increasing their performance. 
All external and internal emails can easily be turned into tickets so that you can track their progress and follow through with any issue or query. You can make use of canned responses to handle simpler questions, and your sales reps can step in any time and take over the conversation.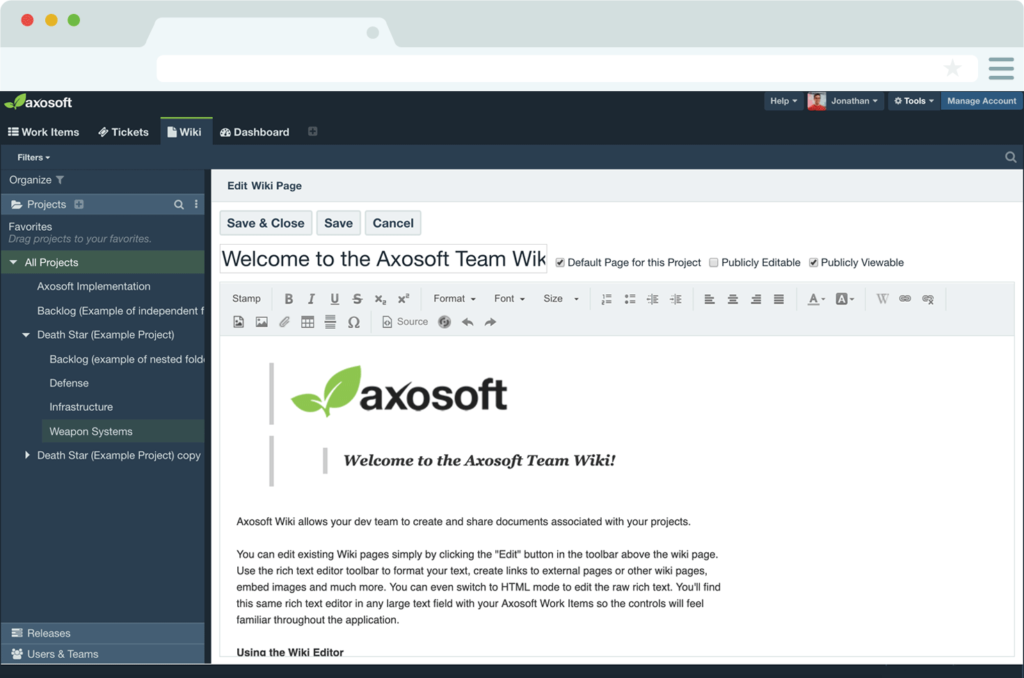 To offer more convenience to your clients and customers, you can use Axosoft to create full-fledged self-service pages that are packed with useful information. Develop Wiki pages, organize them by project, and link to them for quick overviews. 
What makes Axosoft unique is that it enables your customers to create and edit tickets themselves once they register for your customer portal. 
Key Features 
Wiki pages 
Custom self-service portal 
Easy email ticketing 
Canned responses 
Cutting-edge security 
Workflow automation 
Unlimited free portal accounts
Pros 
Cons 
Steep learning curve 
Not as many features as other solutions 
The cost of an issue tracking software like Axosoft depends on the size of your team. For a cloud-based issue tracking software for up to ten users, you'll be paying $210/mo (if you subscribe to the annual plan.) If you want an in-house solution, Axosoft will set you back $2,500 for a team of up to ten people. 
9. Claritysoft 
Claritysoft is a simple issue tracking software that can take your customer service to the next level. It boasts an array of helpful features that will streamline your workflow and help you manage customer relationships with ease. 
It has an intuitive, user-friendly interface that makes it easy to get accustomed to and makes the learning curve easier to handle.
You'll gain access to powerful automation tools that will help you perfect your support services and handle all tickets with speed and efficiency. 
Due to its abundance of third-party integrations, Claritysoft will seamlessly work with almost any of your existing software and systems, whether you're using Google Calendar, Zapier, Kuebix, and so on.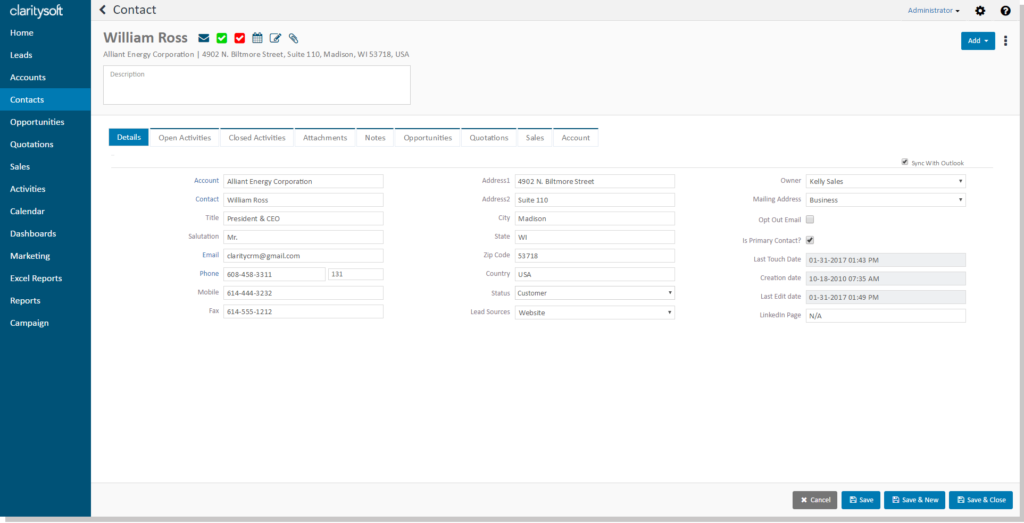 You'll gain insight into all customer support interactions through a centralized dashboard that empowers reps through information availability. See activity history, purchase history, past tickets, and other relevant customer information to help reps handle tickets with greater ease. You can simplify the way you manage, organize, prioritize, and handle all tickets and conversations, and enjoy happier, more satisfied customers. 
Clariysoft is a feature-packed CRM that can boost your lead generation and management, improve customer conversions, and promote better brand loyalty. 
Key Features 
Automatic ticket routing 
Personalized updates on ticket status 
Customization options 
Ticket web forms 
Ticket to issue association 
Automatic ticket resolution 
Custom reports 
Performance analytics 
Intuitive interface 
Pros 
Simple to use 
Versatile 
Easily customizable 
Cons 
Some lag in loading pages 
Mobile app needs some work 
Claritysoft has three subscription tiers: Professional for $39/mo per user, Accelerator for $49/mo per user, and Enterprise for $69/mo per user. 
10. Commence 
Commence is a cloud-based CRM solution tailored to small- and medium-sized businesses. It can assist with marketing automation, project management, lead management, and of course – customer relationship management through its help desk functionality. 
You can use it to take control of your sales cycle and schedule appointments, record customer interactions, and create realistic forecasts. Commence offers reps useful pre-built templates for marketing automation with a customizable budget and targeted campaigns. 
But it's the help desk that might prove to be the most useful to an SMB. The centralized dashboard provides real-time insight into all your tasks that are yet to be completed, all incoming emails, unsolved service tickets, and more.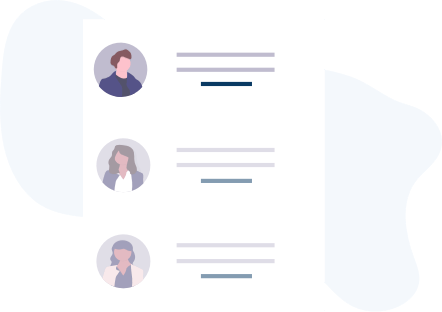 With Commence, you can get in touch with all suppliers, customers, service users, and coworkers, and ensure easy collaboration and streamlined communication. 
Managers will be able to oversee each team member's ticket load, average turnaround time, and average resolution rate. All the information is presented in a manner that's easy to digest and even easier to act on – improving performance and increasing customer satisfaction. 
Key Features: 
Real-time dashboard 
Alerts 
Easy email integration 
QuickBooks integration 
Ticket service history 
Easy internal communication 
Insightful analytics 
Customer portal 
Pros 
Intuitive 
Flexible 
Optimized for SMBs 
Cons 
Only available in English 
Commence has four subscription options, and the price will depend on the software suite you choose. Sales CRM is available for $29/mo per user, Marketing CRM for $39/mo per user, Project Management CRM for $50/mo per user, and Customer Service CRM for $65/mo per user. 
11. Deskpro
Deskpro is an increasingly more popular helpdesk software solution that's been in the industry for over 15 years. It enjoys an excellent reputation among its users and has proven to be one of the top choices for businesses of all sizes – from startups to Fortune 500s. 
You'll automatically receive support tickets whenever a customer contacts you through any of the channels connected to Deskpro – whether that's email, live chat, social media, or phone. The entire process is streamlined for both your customers and your customer service representatives. 
You can use your adjustable portal to create simple web forms with custom fields and use them to capture all the relevant information you need. From there, the data is collected and automatically embedded into tickets, which provide detailed customer profiles and history. 
All your agents can access the unified inbox and get an overview of all the open, pending, and closed tickets. Deskpro allows for seamless internal communication and collaboration to boost efficiency and help you handle tickets faster. All agents will have clear insights into previous chat history and be able to collaborate on a specific ticket when needed. 
Tickets that haven't been assigned or resolved yet are clearly highlighted to ensure increased visibility. Those that are overdue will trigger notifications and reminders to remind reps to follow through with them. 
Key Features 
Built-in Microsoft translator 
iOS and Android native apps 
Unified inbox 
Easy collaboration 
Message history 
Ticket highlights 
Improved ticket visibility 
Actionable reports 
Powerful automation 
Pros 
Excellent support 
Multilingual capabilities 
User-friendly 
Cons 
Allows duplicate records 
The abundance of features can feel overwhelming 
Deskpro is available as a cloud-based and on-premise solution, so its subscription tiers are designed to reflect that. If you opt for the cloud-based solution, you'll need to pay $30/mo per agent. If you opt for the on-premise solution, you'll pay $1,740 a year per five agents. 
12. DoneDone
DoneDone is a simple solution for improving your customer service that offers excellent functionality despite its simplicity. Ideal for startups and SMBs, it enables you to track all client activity and keep a close eye on all projects, issues, tickets, and to-do lists. 
DoneDone mailboxes simplify internal communications and allow you to collaborate on, assign, and resolve all types of customer tickets with ease.
The solution covers all bases and delivers precisely what your customer service department needs. It doesn't come with all the bells and whistles of some more feature-packed help desk issue tracking software, but the features it does have are powerful, effective, and affordable.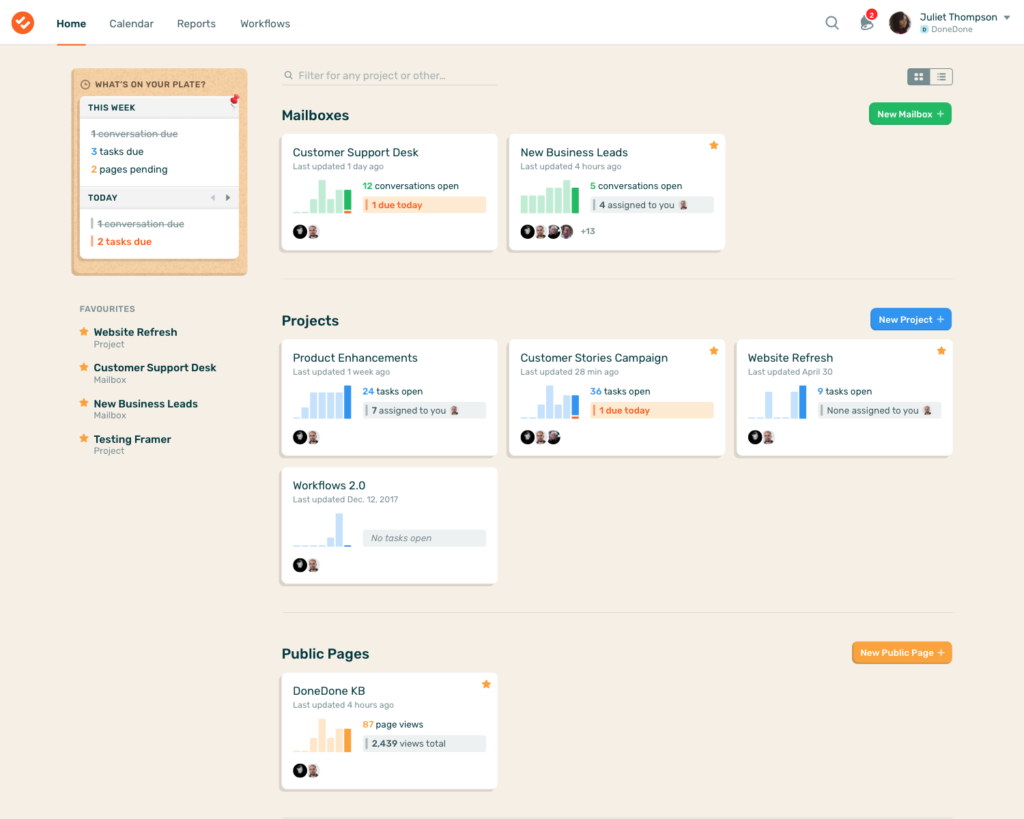 You can easily link tasks and conversations to enable closed-loop communication. Make use of reporting features to track key performance metrics and objectives, and keep track of how satisfied your customers are with your business. Prioritize tickets, get a clear overview of project due dates, trigger auto-responses, and more. 
DoneDone integrates with all the widely used software and platforms, so to experience its true capabilities, pair it up with Zapier, Google Drive, GitHub, Slack, and other solutions. 
Key Features 
Custom workflows 
Issue templates 
Saved replies 
Ticket prioritization 
Auto-responses 
Useful integrations 
Reporting 
Mobile-friendly 
Pros 
Mobile-optimized 
Simple 
Straight-forward 
Cons 
No advanced features 
Somewhat outdated design 
DoneDone can be an excellent solution for businesses on a budget as it's offered at a very affordable price. Its Collaborate plan comes up to just $4/mo per user, and its Outreach plan to $8/mo per user. 
Give LiveAgent chance
Start today with 30-day free trial and discover all that LiveAgent offers from universal inbox, to live chat and call center. Did we also say your customers can use customer portal?
13. Freshdesk 
Freshdesk is among the most powerful issue tracking software solutions available on the market. It delivers cutting-edge technology and excellent AI capabilities to enhance customer relationships. Suitable for businesses of all sizes, it's easily scalable, fully customizable, and exceptionally versatile. 
With dozens of integrations, Freshdesk can be launched on any channel or platform in no time at all. It was designed to enable your reps to keep track of all customer complaints and tickets without any issues.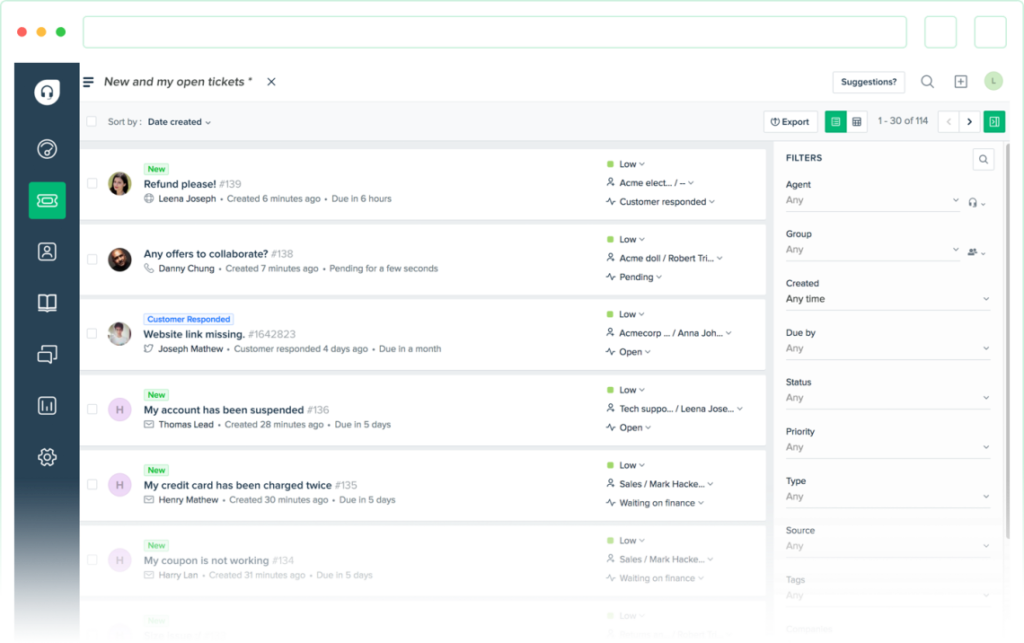 Filter tickets by their deadline, incident type, or other specific properties to create a priority list and handle customer queries with ease. Use Freshdesk's AI capabilities to improve automation, use canned responses for answering simpler questions, collaborate with coworkers on more complex tickets, and more. 
Collision detection systems will prevent multiple agents from working on a single ticket (unless necessary), while smart notifications will provide quick ticket updates. You can merge a stack of tickets into one if they're about the same issue and rely on field service ticketing to route conversations to the right departments and team members. 
Key Features 
Collision detection 
Smart notifications 
Canned responses 
Dozens of integrations 
Ticket merging 
Ticket filtering 
Custom ticket view 
AI capabilities 
Field service ticketing 
Insightful reports 
Pros 
Easily scalable 
Feature-packed 
Powerful AI 
Cons 
Freshdesk has a free Sprout version with unlimited agents but somewhat limited capabilities. If you want to get the most out of it, you should subscribe to one of its four paid versions: Blossom for $15/mo per agent, Garden for $35/mo per agent, Estate for $49/mo per agent, or Forest for $99/mo per agent. 
14. Front 
Front is all about giving your customers a personalized experience. Instead of assigning tickets, it automatically routes all customer questions to the right team members and assigns them with relevant tags to ensure that your agents don't overlook them. 
It collects all support requests from a variety of different channels and presents them through a unified dashboard. So, whether the requests are coming from email, social media, live chat, or SMS, you'll get a clear overview of all of them through one unified inbox. 
Assign rules that will determine which member gets to handle which customer request, manage SLAs, build automatic workflows, and enjoy automatic load balancing, ensuring that no team member is overwhelmed. Collaboration is easier with Front as well, as all you need to do is @mention a team member to start working on an issue together.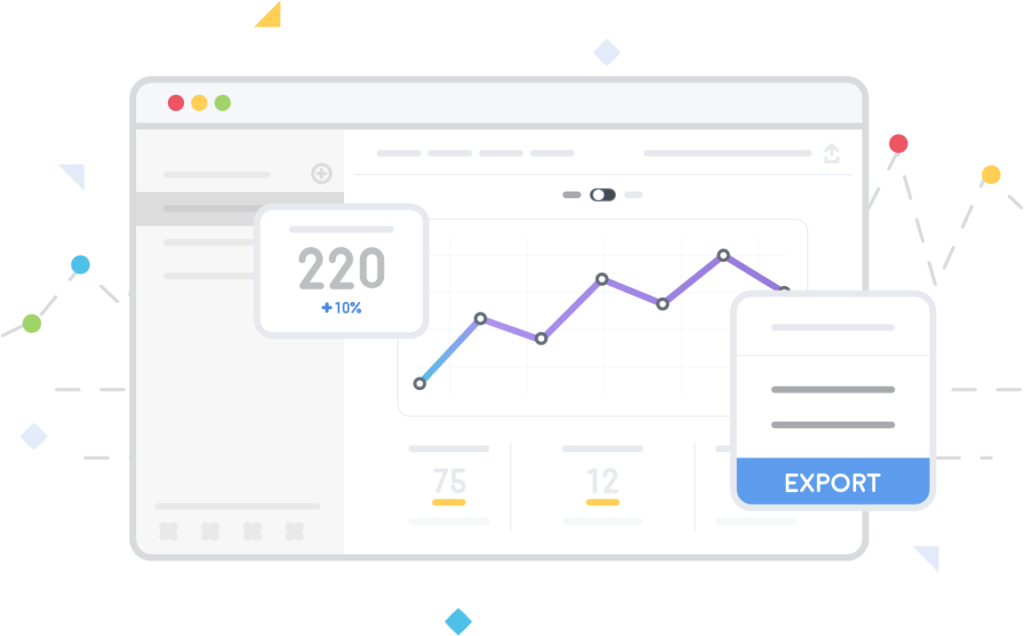 For faster responses, you can create message templates that contain all the relevant information for your customers inquiring about recurring issues. 
It integrates with countless third-party solutions, including HubSpot, Gmail, Asana, Facebook, GitHub, and many others. 
Key Features 
Automatic ticket assignment 
Automatic tags 
Unified inbox 
Custom integrations 
Automatic workflows 
Message templates 
Powerful analytics 
Automatic load balancing 
Pros 
Easy to use 
Customizable 
Easy collaboration 
Cons 
If you want to get your hands on the Front issue tracking software, you can subscribe to one of their four plans: Starter for $9/mo per agent, Plus for $24/mo per agent, Prime for $49/mo per agent, or Enterprise for $79/mo per agent. 
Groove is the go-to solution if you want to decrease your response times and cultivate a happier clientele. It's a unified platform for converting, managing, and supporting your customers through every step of the sales funnel. 
It offers excellent live chat functionality that will connect you with your customers in real-time and help you establish lucrative relationships with every website visitor (potential lead). The live chat widget can be launched on any site or platform, whether you're using Salesforce, Twitter, Trello, Mailchimp, Shopify, or something else entirely. 
15. Groove 
You can ensure accountability by assigning open conversations to specific staff members, leave internal notes for collaboration behind the scenes, and customize inbox permissions with different privacy settings based on the access level each agent has.
Your customer service representatives can mark themselves as "away" when they cannot handle incoming support requests, which will route all conversations to other available team members. Collision detection will ensure that no two agents are taking on the same customer, and each conversation will be marked with "open," "pending," or "closed," depending on its status.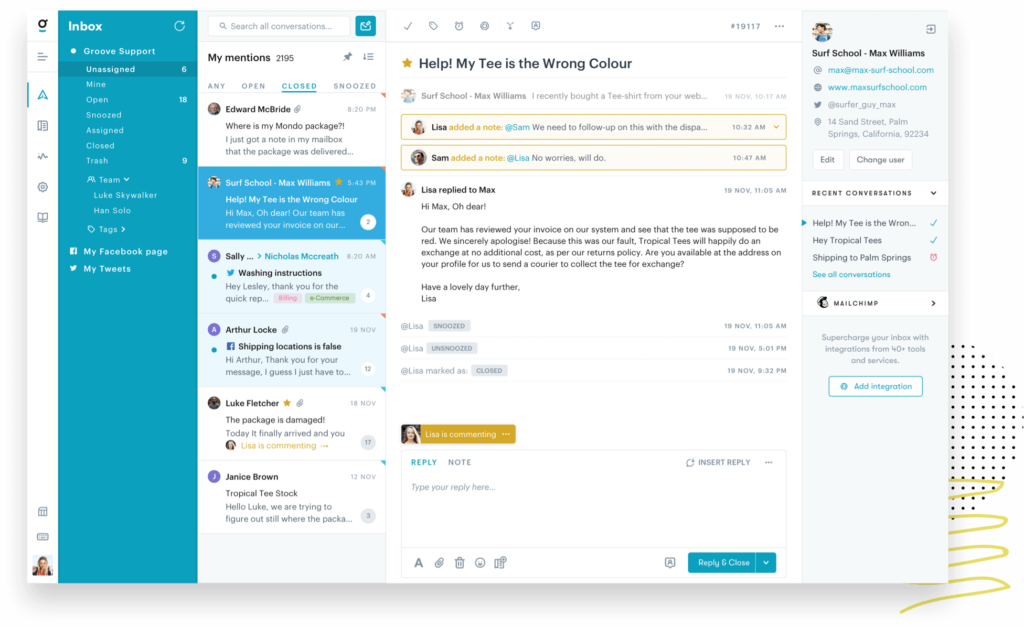 Key Features 
30+ integrations 
Customer satisfaction ratings 
Workflow automation 
Internal notes 
Agent status 
Bulk actions 
Multiple inboxes 
Snooze pending conversations 
Undo send 
Collision detection 
Pros 
User-friendly interface 
Extensive functionality 
Detailed email tracking 
Cons 
Frequent updates could disrupt feature location 
Finding "closed" requests can be difficult 
Groove has several pricing plans: Starter, which comes out to $9/mo per user, Plus, which goes for $19/mo per user, Pro for $29/mo per user, and the Company plan that has flexible pricing dependent on your needs and the size of your team. 
16. Halo Service Desk
Halo Service Desk is ideal for companies with great expansion plans as it's easily scalable, designed to grow together with you. The issue tracking software will help you handle all support requests with ease and efficiency, whether you're getting a single request a day or thousands of them on a monthly basis. 
As a cloud-based platform, it enables your remote team to collaborate seamlessly, like they're all under one roof. 
It offers live chat functionality that keeps you connected to your customers 24/7. With its mobile app, you can stay available on the go and continue supporting your customers even when away from your desk. 
To stay on top of all issues and tickets, you can connect your live chat, email, and telephone system to the Halo Service Desk. By connecting the phone system, you can automatically access all relevant information associated with the caller's number and turn all calls into tasks in a matter of seconds.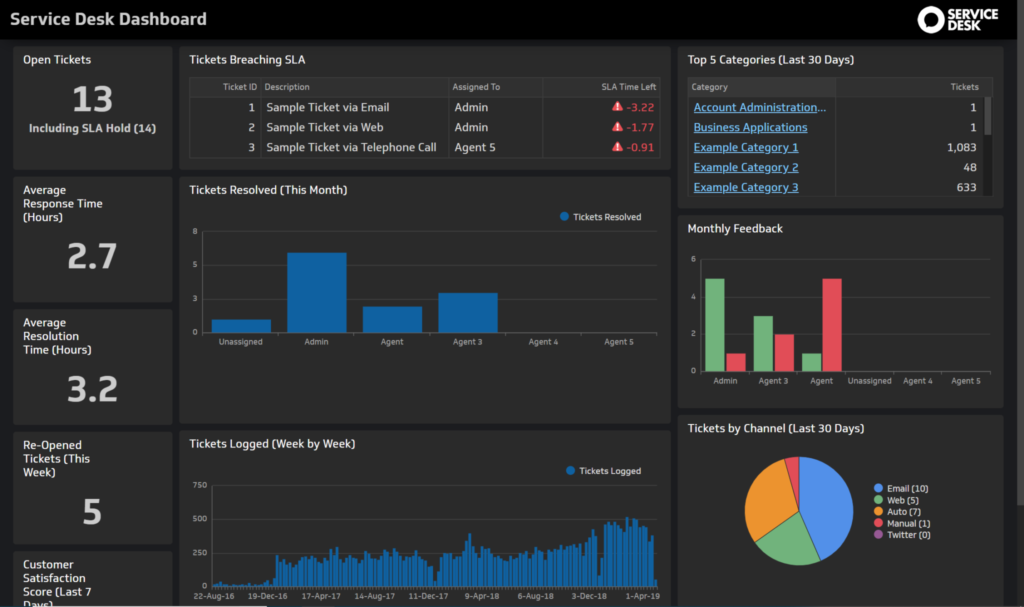 Email ticketing boasts automatic assignments and keyword matching to route conversations to specific team members, ensuring a speedy resolution. 
Halo Service Desk is versatile and convenient. It fosters team collaboration and communication and integrates with other popular platforms and systems seamlessly. 
Key Features 
Live chat 
Phone system integration 
Ticket accountability 
Ticket prioritizing 
Mobile app 
Self-service portal 
Omnichannel support 
Real-time dashboard
Pros 
Versatile 
Streamlined 
Reliable 
Cons 
Mobile app needs some work 
Lack of ticket tagging options 
Halo Service Desk has flexible pricing dependent on the number of agents that'll be using it. If you have up to ten agents, you can subscribe to this issue tracking software for £55/mo per agent (∼$74/mo per agent). If you have over 150 users, you'll be paying £29/mo per user (∼$39/mo per user). 
17. HelpDesk 
HelpDesk is a popular ticketing system used by hundreds of companies across various industries and niches. Most suitable for startups and SMBs, it's a simple solution that will help you improve the efficiency of your customer service. 
It has several useful integrations, so you can easily sync up most of your current support channels and address customer emails or requests through web forms in HelpDesk.
To stay on top of all incoming tickets, you can easily group them into unique categories and ticket lists and assign them with specific tags and filters. You can automate workflows, send canned responses based on keywords, and automate ticket assignments to make sure the right staff member receives the right ticket. 
You'll receive notifications and messages whenever a new ticket is sent your way, so you don't have to stay logged in and waste time checking in with HelpDesk every other minute to see if any new tickets have arrived.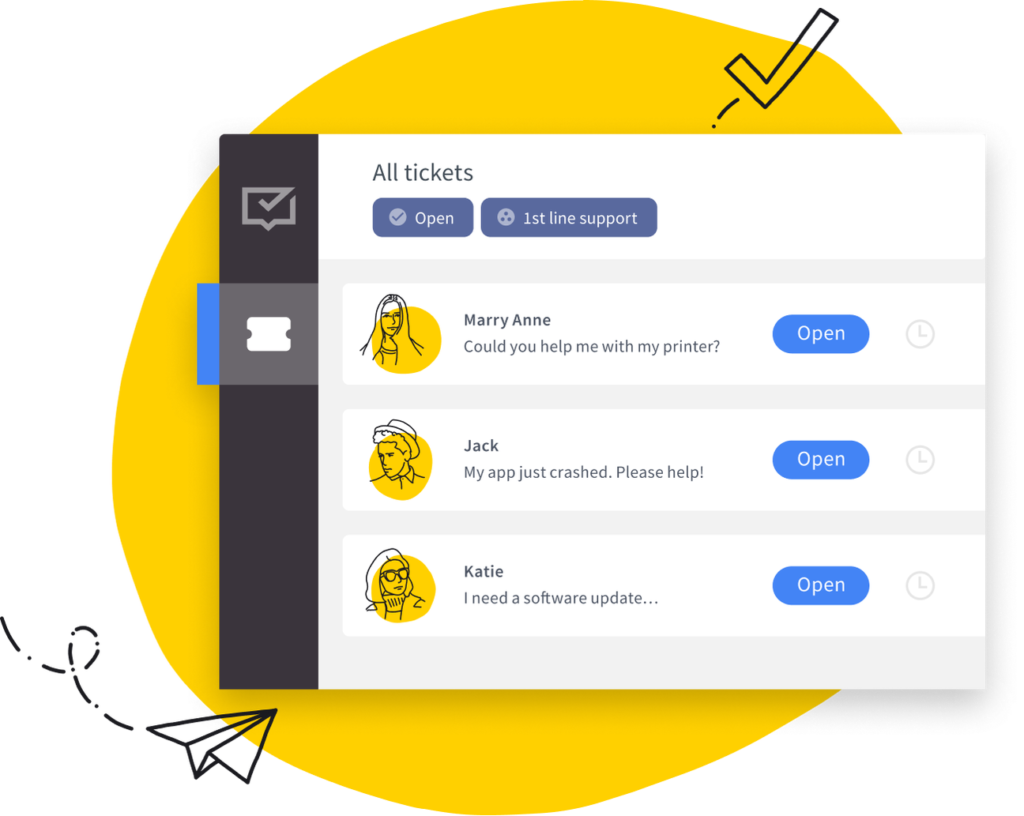 Your agents can use multiple mailboxes and collaborate on a single ticket through private notes and messages. 
HelpDesk offers insightful reports to showcase your team's average response times, ticket satisfaction, and even your ticket peak times. 
The software is fully customizable. You can reply to messages using your preferred domain name, personalize your email templates, and include unique agent signatures so that your customers know who they're speaking with at any point in time. 
Key Features 
Multiple mailboxes 
Private notes and messages 
Custom ticket lists 
Automated assignments 
Canned responses
Customizable email templates 
New ticket notifications 
Excellent reports 
Customizable feedback requests 
Agent signatures 
Pros 
User-friendly 
Streamlined design 
Simple and effective 
Cons 
Lacks integrations 
No advanced features 
If you're not sure whether HelpDesk is for you, you can sign up for a 14-day free trial and test the issue tracking software yourself. It has three subscription tiers, and after your free trial is over, you can get the Starter plan for $4/mo per agent, the Team plan for $19/mo per agent, or the Enterprise plan with customized pricing depending on your needs. 
18. HelpScout 
HelpScout is a simple, minimalistic issue tracking software packed with a variety of useful features that will streamline your customer interactions. It's used by well over 10,000 companies across the globe, helping improve customer satisfaction and optimizing many daily tasks. 
It has an abundance of useful integrations for your convenience. To get the most out of it, combine it with HubSpot, Salesforce, Jira, Mailchimp, WooCommerce, Campfire, Facebook, and other third-party apps. 
With HelpScout, you'll get a unified inbox packed with collaborative features that could make your job easier. You'll have a clear overview of all support requests from different channels, and you can organize them in any way you prefer.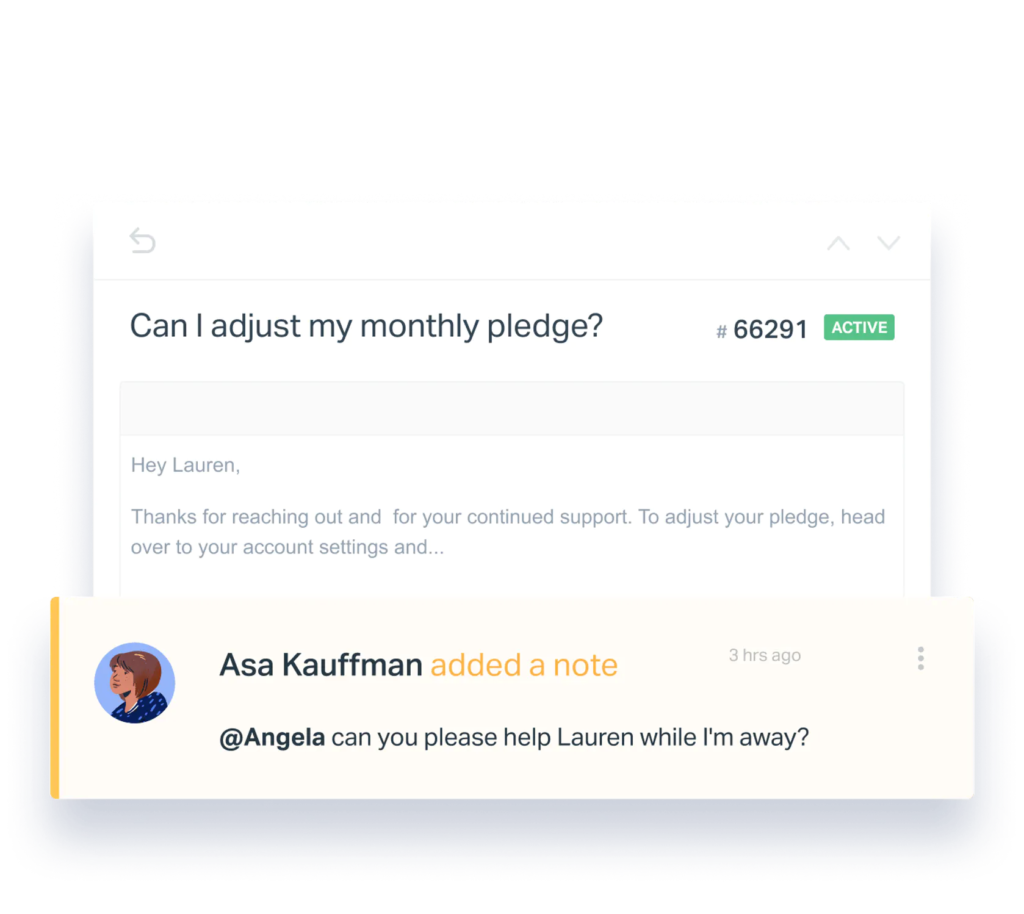 You can create different mailboxes for different teams, tag conversations, and include private notes for easier collaboration. Saved replies and collision detection will help you expedite your services, while automated actions and bulk responses will take care of most mundane tasks. 
HelpScout even allows you to launch a responsive help center site and allow your customers to find the information they're looking for without sending support requests. 
Key Features 
Multichannel support 
Advanced security 
Native iOS and Android apps 
Automated workflows 
Abundance of integrations 
Help center site 
Customizable design 
Proactive messaging 
Detailed customer data 
Insightful reports 
Pros 
Easy integrations 
Extensive personalization 
Straightforward 
Cons 
No spam filter 
Inflexible ticket grouping 
HelpScout offers the Standard plan for $20/mo per user, the Plus plan for $35/mo per user, and a Company plan with customized pricing based on your requirements. 
Still being lost?
Choosing the best issue tracking software can be difficult task to complete given many available solutions on the market. Try LiveAgent now and see the positive impact it can bring to your business and customer satisfaction
19. HubSpot 
HubSpot is a renowned software developer with a wide variety of software solutions that can improve your marketing, sales, and customer support. Its help desk and issue tracking software have great capabilities, especially when combined with HubSpot's other solutions. 
Ticket tools allow you to stay organized and keep track of all incoming customer questions, regardless of which channel they're coming from. All conversations will be immediately visible and easily accessible to your entire team through a unified dashboard.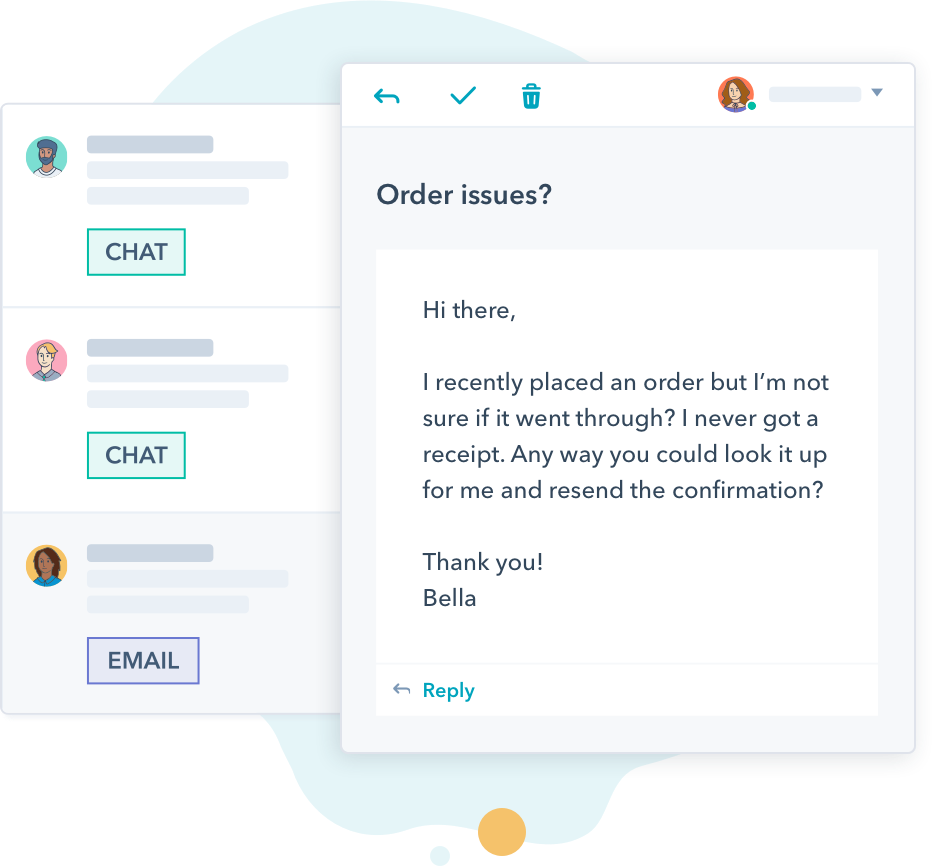 HubSpot's automation features will help you save time on tedious tasks and allow you to focus on more demanding customers with more complex issues. By relying on customer data and issue information, HubSpot will create tickets automatically and route them to the right department and team members to avoid agent collisions and prevent tickets from being overlooked. 
You can easily assign ticket owners, tag ticket stages, and prioritize requests to handle the more urgent matters first. All tickets contain relevant customer information, previous conversation history, product details, and more. 
Key Features 
Team-wide emailing 
Live chat 
Automation 
Detailed reporting 
Customer satisfaction rating 
Agent routing 
Collision detection 
Personalized work pipeline 
SLA management 
Chatbots 
Pros 
Comprehensive features 
Excellent reporting 
Easy setup 
Cons 
Closed tickets are not automatically reopened if a customer replies 
The sheer amount of customer information can be overwhelming 
HubSpot has generous free offers, and the ticketing software is among its free service tools. However, if you want to get the full functionality of this help desk software, you'll need to upgrade to a paid subscription. You can get the Service Hub with the Starter plan for $45/mo, with the Professional plan for $360/mo, or with the Enterprise plan for $1,200/mo. 
20. Issuetrak 
Issuetrak is an easily configurable help desk software that can be customized to suit your team's specific needs. It boasts excellent automation features that help you save time on tedious tasks and allow you to focus on your core business. 
Your customers can contact you via email, streamlined web portal, or phone, and all support requests are immediately turned into actionable tickets. They're automatically routed to the suitable departments, and any overdue ticket will automatically escalate to ensure timely resolution. Your team can improve collaboration by including notes and attachments to the tickets and work on resolving them together.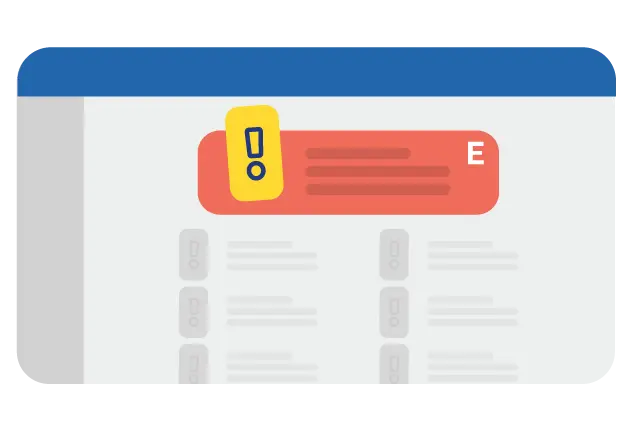 With Issuetrak, you can easily develop a thorough knowledge base to encourage website visitors to resolve their problems independently, saving time and effort. 
Albeit simple, Issuetrak is a comprehensive issue tracking solution that can truly make a difference for your customer support team. 
Key Features 
Automatic ticket routing 
Overdue ticket escalation 
Customizable ticket forms 
Quick reports 
Private notes 
Attachments 
Multi-channel functionality 
Powerful knowledge base 
Pros 
Lightweight 
Fully customizable 
Frequent updates
Cons 
Overview of open tickets can be confusing 
Looks outdated 
The cost of using Issuetrak depends on your unique needs and team size as the software is fully customizable. You can expect to pay anywhere upwards of $100/mo per user. 
21. LiveChat
LiveChat is an all-encompassing customer service platform that has advanced ticketing features. It will help you handle all issues that cannot be resolved during a single live chat interaction. 
Your customer support requests from the live chat widget, email, and ticket forms will all be visible to each team member inside a unified platform. With just a few clicks, you can create a ticket while you're communicating with a customer through live chat. 
You can easily assign tags to tickets and add specific details and information to ensure every agent who accesses a conversation can have the necessary context needed to provide superior support.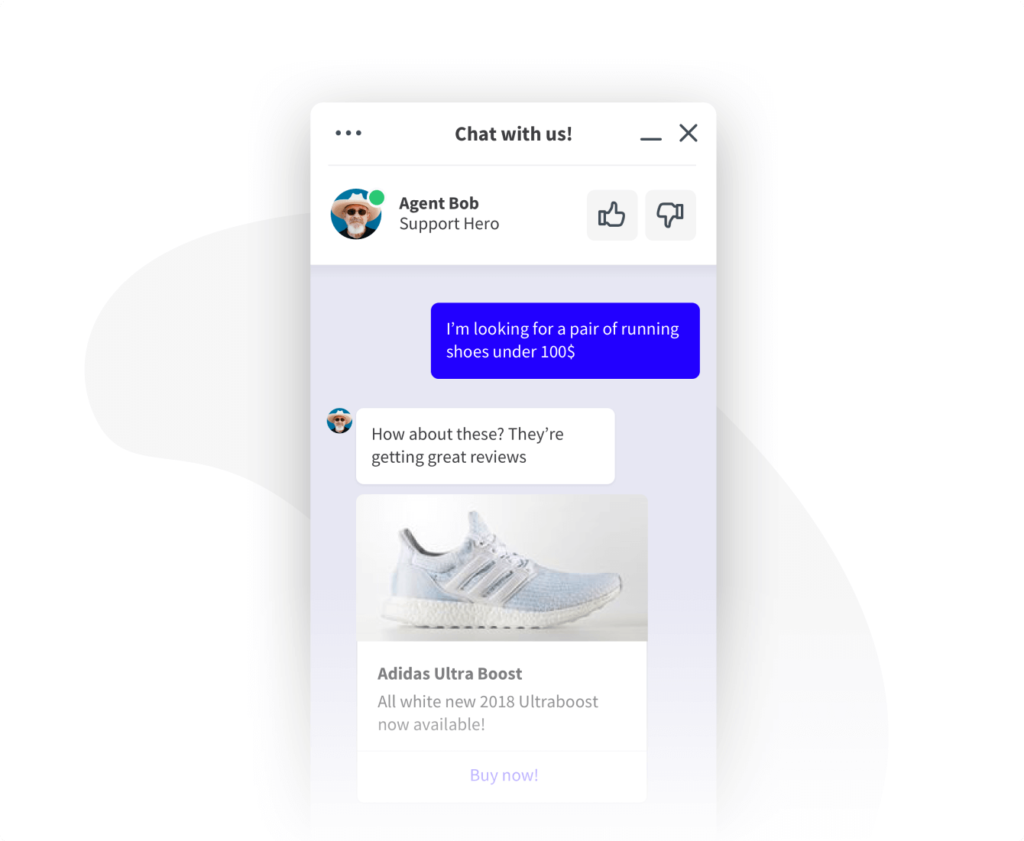 Your customers can leave feedback and reviews on the support they've received, and you can gather insightful reports and monitor your team's performance. 
For easier collaboration, you can include private messages to the chats that will be visible to agents but not to your customers. 
Key Features 
Unified inbox 
Simple ticket form 
Detailed customer and issue information 
Private messages within the chat 
Custom tags 
Spam filters 
Automatic reminders for feedback 
Reports 
Ticket satisfaction 
Pros 
Support in over 45 languages 
Message sneak peeks 
Easy ticket collaboration 
Cons 
Slow loading at times 
Mobile app somewhat limited 
LiveChat's Starter plan goes for $16/mo per agent, Team plan goes for $33/mo per agent, and Business plan for $50/mo per agent. The Enterprise plan is available for larger organizations, and its pricing will depend on your specific needs. 
22. ProProfs Help Desk  
ProProfs is a ticket resolution software that can automate virtually every aspect of your customer support. It enhances collaboration, reduces friction, and ensures seamless customer communication. 
As your single point of contact solution, it will help ensure that no ticket and customer support request is overlooked. It has a streamlined, familiar appearance and features virtually no learning curve. You can easily track all incoming requests and gain insight into a thorough incident database at any time.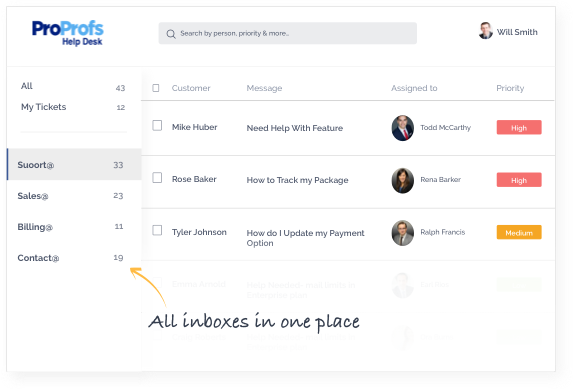 Your agents can enjoy shared, dedicated inboxes to ensure seamless collaboration and expedite ticket resolution. You can easily track the number of tickets assigned to each agent, route tickets to staff members with lighter workloads, assign labels, and make use of private messaging for better collaboration. 
Send feedback surveys, track ratings, and gather actionable reports and insights. 
Key Features 
Shared inboxes 
Thorough knowledge base 
Incident database 
Dedicated inboxes 
Automatic routing 
Private messaging 
Canned responses 
Feedback surveys 
Live chat 
50+ integrations 
Pros 
Familiar user interface (similar to Gmail) 
Easy to use 
Cons 
Tickets assigned randomly to free agents 
No social media integration 
A very limited free version of ProProfs Help Desk is available. To enjoy its full functionality, you'll need to upgrade to either the Essentials plan for $10/mo per agent or the Premium plan for $15/mo per agent. 
23. Vision Help Desk 
Vision Help Desk is a multi-channel help desk software that easily unites all support requests you receive via email, phone, chat, Facebook, and Twitter. It has extensive automation options that can save you time and effort when resolving customer tickets. 
Rely on rule-based criteria to automate workflows and assign tickets to the most suitable team members. To ensure on-time responses, you can set multiple escalation rules and SLA rules and even set up specific business hours.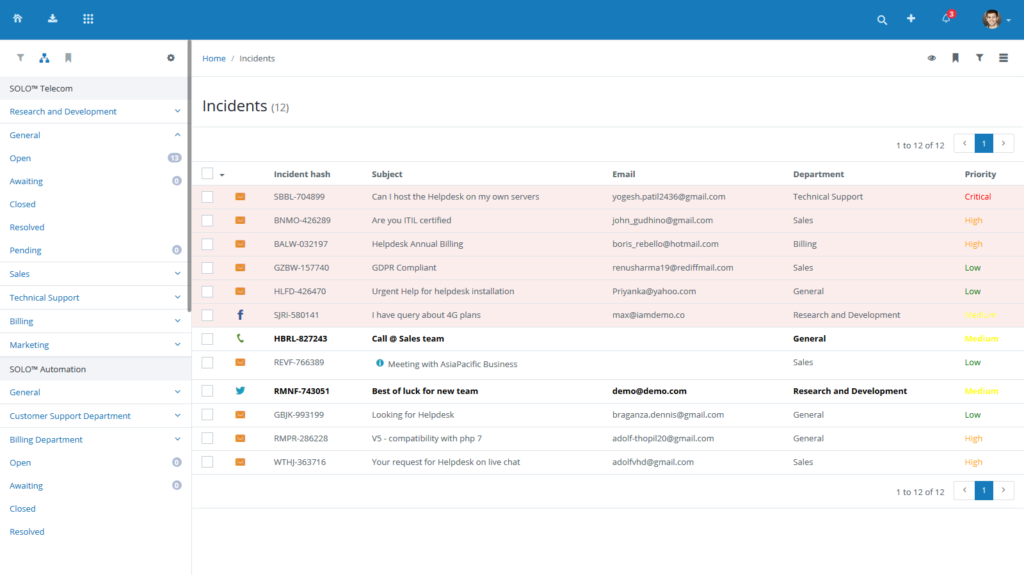 Develop alert rules to receive email notifications when certain events occur and easily automate several ticket operations with a single click. 
What makes Vision Help Desk unique are its advanced features that aim to improve productivity. Blabby, for example, is a private collaboration tool that enhances teamwork and communication. Gamification elements, such as quests and agent achievement levels that can boost morale and improve performance. Few other issue tracking software solutions have such unique features. 
Key Features 
Workflow automation 
Ticket routing 
Multiple escalation rules 
Multiple SLA rules 
Business hours 
Custom alert rules 
Gamification elements 
Collaboration tools 
Pros 
Responsive design 
Simplified self-service portal 
Unique gamification features 
Cons 
It can be overwhelming for new users 
Lacks some advanced capabilities 
Vision Help Desk is available in five subscription plans: Starter Help Desk for $12/mo per agent; Pro Help Desk for $20/mo per agent, Satellite Help Desk for $24/mo per agent, Pro Service Desk for $32/mo per agent, and Ent Service Desk for $48/mo per agent. 
24. Vivantio 
Vivantio is a great issue tracking software that will take your plain customer service and turn it into an example of efficiency. It has an abundance of sophisticated features, all available at a pretty competitive price. 
As an all-encompassing CRM, it will give you a detailed overview of all your customer service operations. Every support request you receive will automatically create a ticket. Each ticket will be assigned to a specific category matching the products/services that the customer has purchased from you.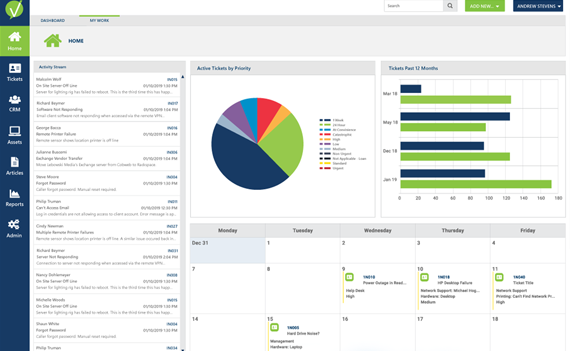 To ensure that every one of your customers receives the personalized attention they deserve, Vivantio has a few solutions. It allows teams to create centralized SLAs and bespoke SLAs for their flagship customers. You can also create dedicated self-service pages that match a specific customer's needs. 
Vivantio has excellent integrations and provides easy ticket tracking and resolution, improving your customers' experience and satisfaction levels. 
Key Features 
Easy self-service 
Adaptable SLAs 
Excellent integrations 
Ticket tracking automation 
Dedicated customer categories 
Custom forms and fields 
Detailed customer records 
Pros 
Embedded asset and knowledge management 
Global search 
Advanced features 
Cons 
Need to upgrade to the Enterprise plan for a full set of features 
Features a steep learning curve 
Vivantio has two subscription plans: The Teams plan, which starts at $52/mo per user, and The Enterprise plan, which starts at $82/mo per user. 
25. Zendesk 
Zendesk can be the ideal solution for startups and SMBs that aim to improve their customer service. It's a simple-to-use issue tracking software that can suit any company culture. 
It boasts an automated ticketing system that will help you save time and energy and ensure optimal customer satisfaction. Its AI-powered chatbot can easily handle most questions and resolve tickets and issues before they even reach a customer rep. 
Should a customer request to speak with an agent, the bot will immediately route the conversation to an available agent. It can even send relevant articles that the customer could check out while they wait for live support.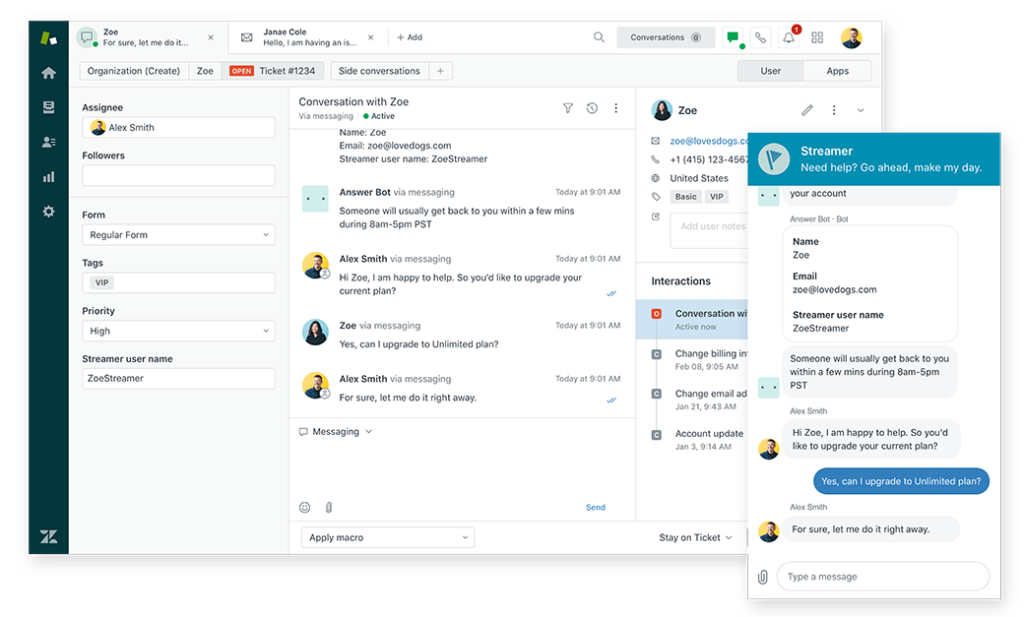 The issue tracking software will help you stay organized and ensure you address every single ticket that's received. The shared inbox makes all support requests from your socials, email, and phone visible to all authorized agents, and this setup promotes communication and collaboration. 
Each ticket can be enriched with relevant customer data and provides agents with all the tools they need to provide superior service. 
Key Features 
Automatic routing 
Custom agent roles 
AI-powered chatbot 
Excellent self-service portals 
Real-time ticket updates 
Full-service history 
Insightful analytics 
Open-source ticket system 
Pros 
Easy issue tracking 
Excellent integrations 
Enhances collaboration 
Cons 
Expensive when compared to similar products 
Out of box features somewhat limited 
The Zendesk platform is available for free, but with rather limited capabilities. Upgrade to the Professional plan for $15/mo per agent or the Enterprise plan for $59/mo per agent to gain access to its most powerful features.
You have made it to the end (almost)!
Pfew, it's been kind of a journey so far. We are happy to tell you that the next right thing is just one click away. Try LiveAgent with 30-day free trial and sense the difference.
Top 5 issue tracking software solutions 
The 25 issue tracking software solutions mentioned above are by far the best out there. They offer excellent functionality, seamless integrations, advanced capabilities, and most of them are affordable, even for businesses on a tight budget. 
But, if you're finding it difficult to choose the best solution for your needs since the sheer volume of unique options is so overwhelming, we've selected the top 5 issue tracking software solutions that are bound to meet (if not exceed) your expectations. 
Our top picks are: 
LiveAgent – best overall, with advanced features and powerful integrations
Zoho Desk – best for companies on a tight budget
HubSpot – best for those who need an all-encompassing CR
Freshdesk – best for small businesses
HappyFox – best for companies looking for the simplest solutions
These five, issue tracking software solutions outperform the competition and deliver excellent results, regardless of your industry and niche. They can enhance internal communication, promote collaboration, and ensure the utmost customer satisfaction. 
All of them are incredibly easy to set up right out of the box. They all have unique features and boast excellent integrations that make them even more powerful. 
Choosing any of these issue tracking software solutions will deliver measurable results, improve your performance, and ensure an outstanding customer experience. 
It's in your best interest to give each of them a try and see which one suits your company best. 
Conclusion 
Issue tracking software solutions are designed to help you improve your customer support operations and deliver superior customer service, regardless of which industry you operate in. These tools can prove to be essential for keeping your business competitive in today's volatile markets and can help with building a strong brand reputation.
These tools can improve every aspect of your service due to their unique features and countless useful integrations. They can streamline your workflows, automate mundane tasks, decrease your response times, improve the quality of your services, and ensure greater brand loyalty among your customers. 
With a suitable issue tracking software solution, there's virtually no limit to what you can do. 
Still, you need to find a high-quality solution that can actually help your team. If you make a poor choice, the software will only frustrate your customers and overwhelm your agents with complaints. 
So, choose your issue tracking software carefully, and enjoy all the benefits that it can bring. 
Connect the dots with LiveAgent
Track each customer interaction from start to finish across different channels. With LiveAgent, providing context-rich, personalized, and knowledgeable service is easy.