Twitter is a social media platform that's often referred to as a microblogging website. Twitter users can interact with each other and send out short messages also known as Tweets that are limited to 280 characters. 
Twitter is a great platform for spreading information quickly, keeping up with current events, reaching new audiences, seeking feedback, contributing to discussions, and expressing yourself.
Why is Twitter customer support important?
Twitter has over 187 million daily active users worldwide. Many of these users use Twitter to share their opinions about products and businesses, ask questions, and provide feedback by sharing both negative and positive experiences.
Because Twitter is considered to be an "always-on" channel, customers (both existing and potential) expect to be acknowledged on the platform when attempting to contact a business. Oftentimes, businesses that fail to respond promptly and in a way that is satisfactory to the customer face backlash, cancel culture, and boycotting.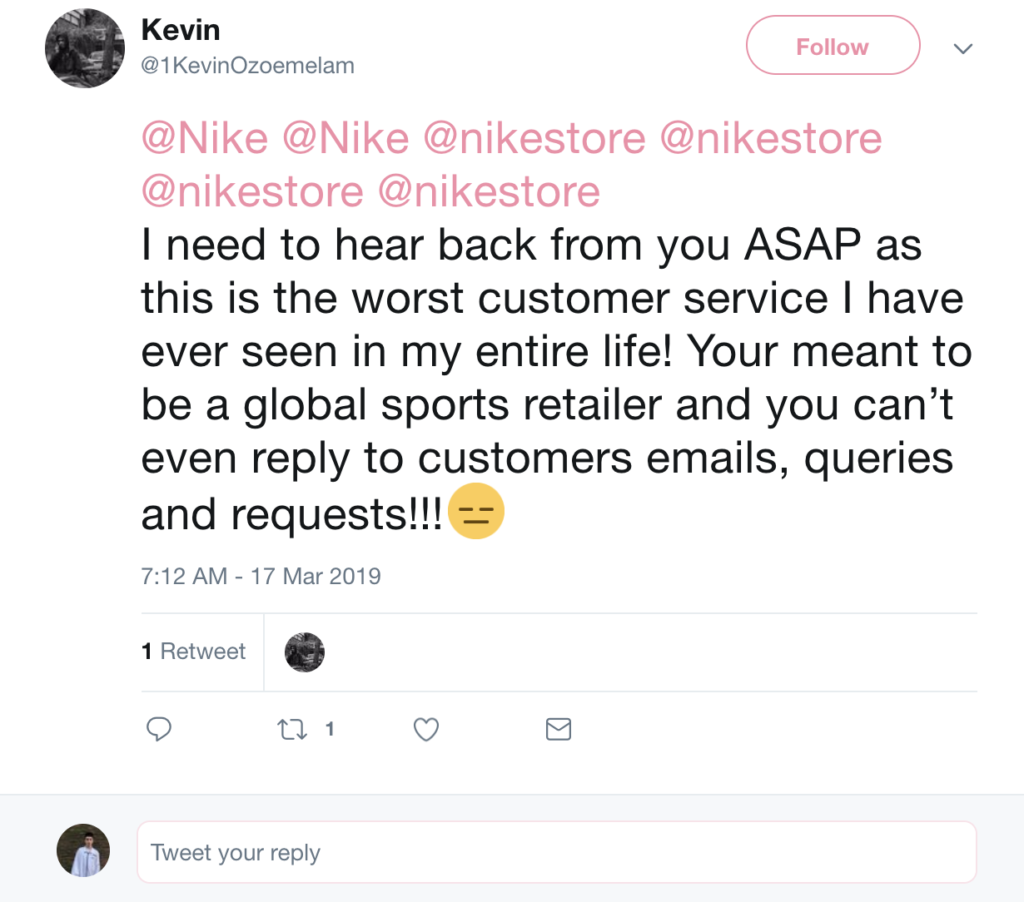 Because of Twitter's nature, these negative experiences and backlash can spread like wildfire with thousands of people jumping on the bandwagon. As such, it's extremely important to be active on Twitter in addition to being well versed in proactive customer service.
How can you provide prompt customer service on Twitter?
To ensure you're notified about every Tweet that's coming your way, you'll have to use an advanced social media customer service software like LiveAgent.
Using our Twitter integration you can monitor your brand and competitors. You can also respond to Tweets and comments that require action in a timely manner, as the system will notify you and convert each Tweet containing your tracked keywords, comments, and mention into a ticket.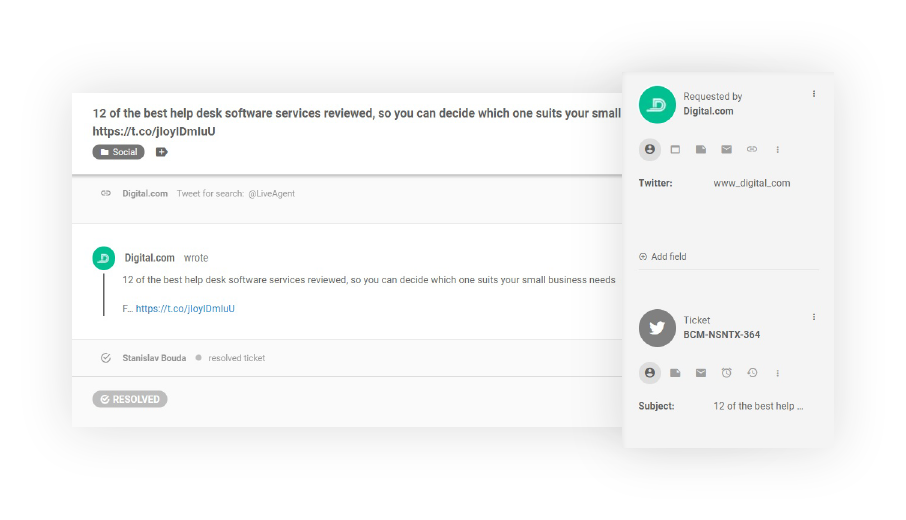 What can you do with the integration?
Track brand mentions and keywords

Setup simple search terms and monitor & archive all tweets containing those terms in your database
Monitor all your brand mentions in real-time
Perform real-time social media monitoring of your brand

Connect multiple Twitter accounts
Answer Tweets, comments, and mentions from one place
Easily categorize and search your Twitter communication and customer comments
Automatically capture public mentions as Tickets
What does it look like/how does it work in practice?
Let's say your company's name is "Helicompany" and your Twitter profile is "@Helico". Every Tweet or retweet that contains a mention of your company's page (@Helico) will be automatically transformed into a Ticket.
In addition to that, LiveAgent can track custom keywords or keyword sets and transform them into Tickets as well. In this case, any Tweet that contains the keyword "Helicompany" will be tracked, transformed into a ticket, and land in your help desk system.
If you're wondering whether your customers will be able to tell that you're using an external help desk ticketing tool to answer their Tweets and comments, the answer is no. Check out how it works in this detailed video tutorial.
How to Monitor Twitter with LiveAgent | Live Agent06:38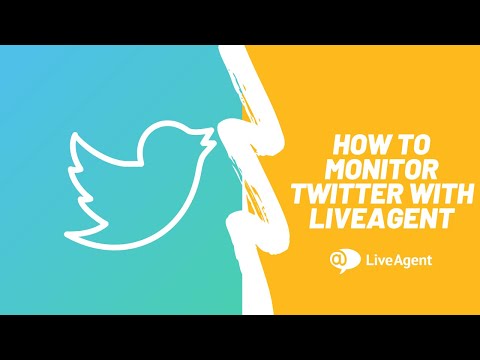 Live Agent
How to integrate Twitter with LiveAgent
Log in to LiveAgent
Navigate to Configuration (cogwheel icon on the left menu bar)
Click Twitter
Click Twitter accounts
Click Add Twitter account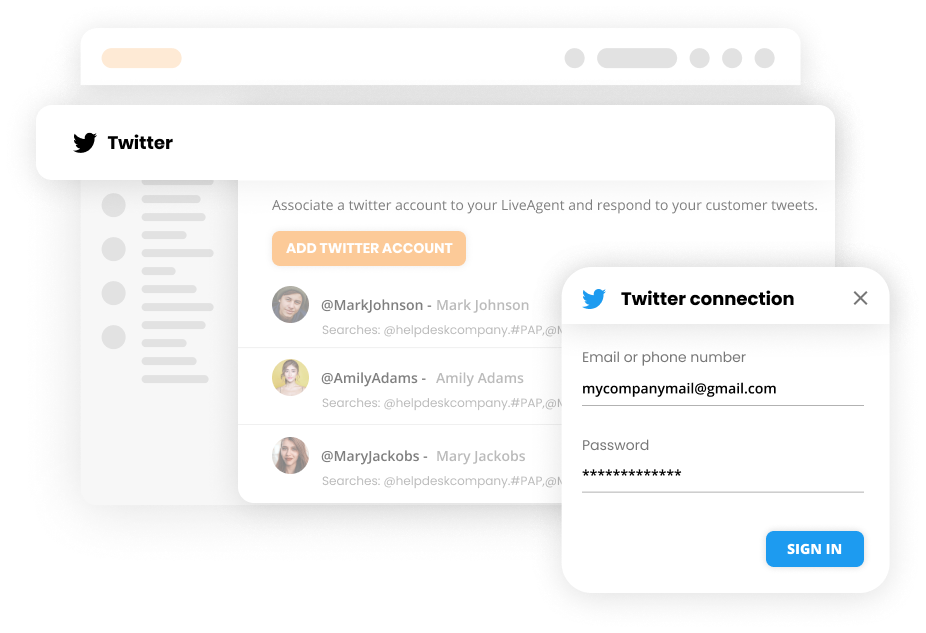 A pop-up window will appear. Log in with your Twitter username and password and then click Authorize app.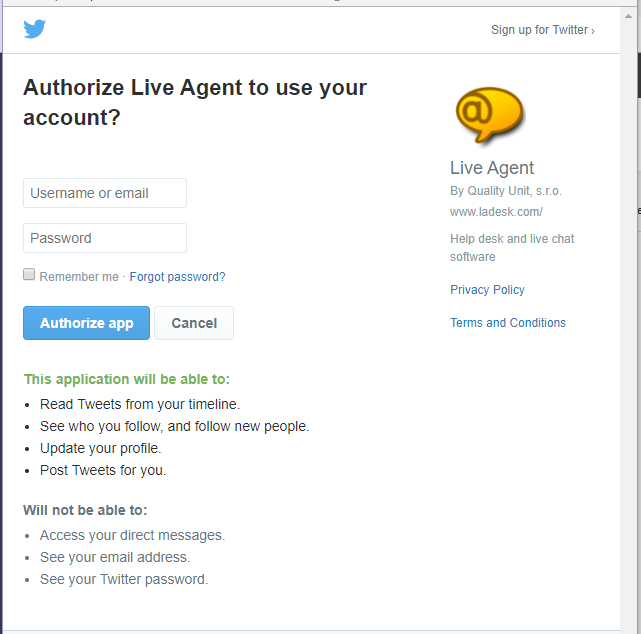 Once your LiveAgent account is connected with Twitter, click on Edit to activate the account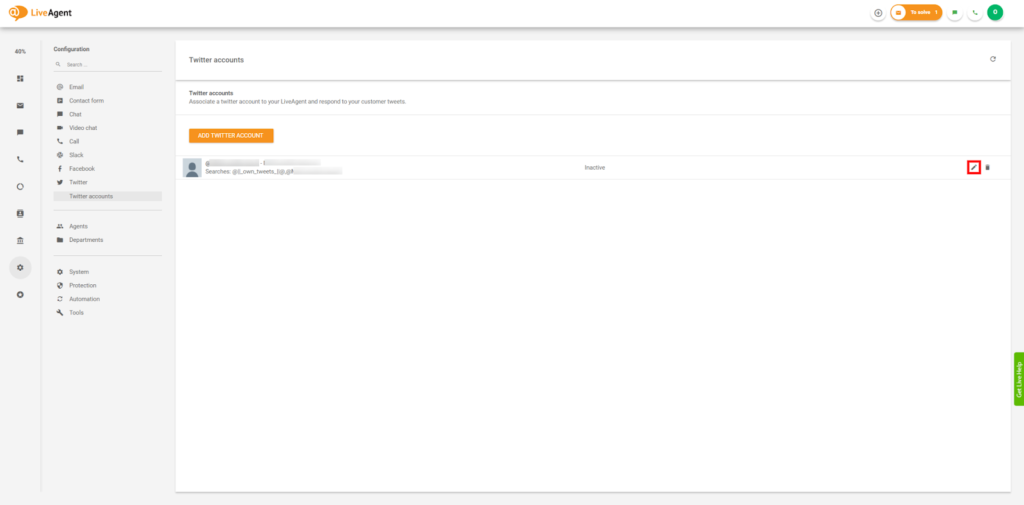 In the next screen check the "Status" checkbox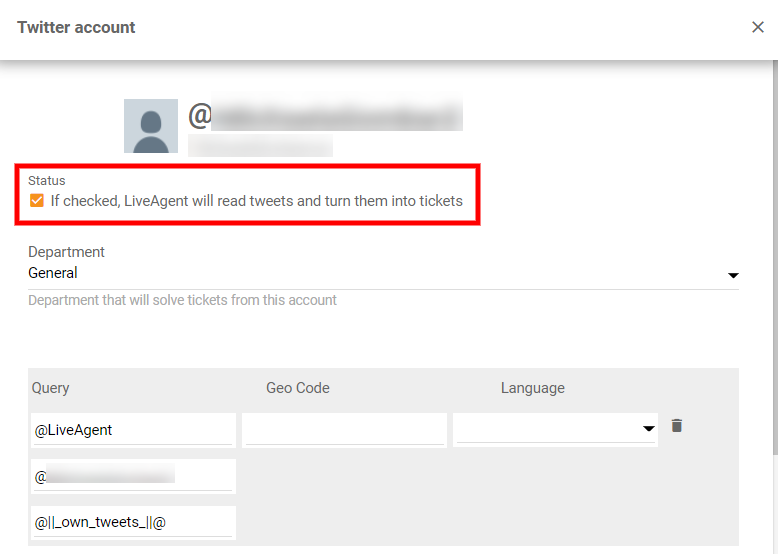 Select the department into which you want to route incoming Tweets, retweets, Twitter comments, and Twitter mentions
Click on "Add new query" to define whose retweets you would like to convert into tickets. You can also add specific keywords into the Query section to define which keywords you want to track (and subsequently convert Tweets containing these keywords into tickets)
Click Save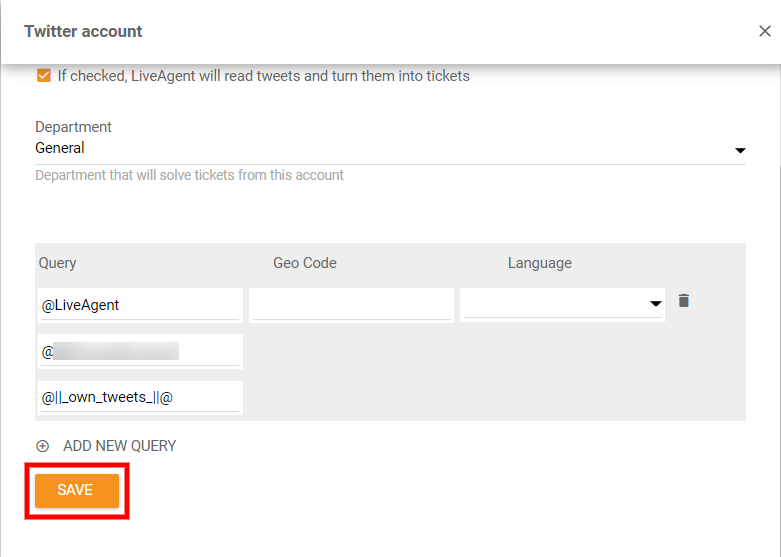 How can your business benefit from the integration?
Higher customer satisfaction and improved brand loyalty
Keeping your customers satisfied is the most important thing in customer service. With our integration in place, you will no longer have to monitor your Twitter accounts and mobile devices like a hawk. You'll be able to join ongoing conversations with ease, even if you're not explicitly tagged.
Being involved in discussions that your customers have about you or your competitors will give you a competitive edge, and showcase that you care and listen to what they have to say.
Moreover, with all past Twitter tickets stored in your help desk archive, you can easily impress your clients with your knowledge of their past queries, purchase details, and more. This will, in turn, boost brand loyalty, customer lifetime value and, customer satisfaction.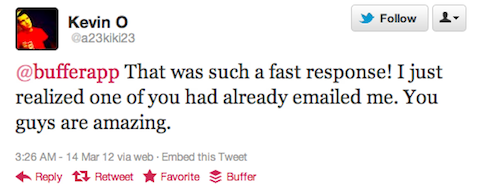 Faster problem resolution
Nowadays, having a great product or price point isn't the only thing that matters. Customers want personalized, hassle-free support experiences and especially quick answers to their questions.
If your customers reach out on Twitter but don't get an answer within an hour (most customers expect to receive an answer within an hour of posting) they're likely to churn and share their negative experiences online.
Give your customers what they want and expect with LiveAgent — personalized, quick, hassle-free support. LiveAgent help desk software will notify you every time you receive a new Twitter ticket, making it effortlessly easy to answer all customer questions.
Better workflow efficiency
Responding to customer questions via LiveAgent improves agent efficiency. Why?
Your agents won't have to constantly monitor multiple accounts and devices
Your agents won't get distracted by their Twitter feeds
Your agents won't be distracted by an ever-growing number of notifications
Your agents will be able to manage multiple business accounts at once
Stronger brand presence
If your customers are scrolling through your Twitter, chances are they're researching your products/services.  Why not win them over by showcasing that you answer all customer questions in a timely manner, and with a little bit of flair?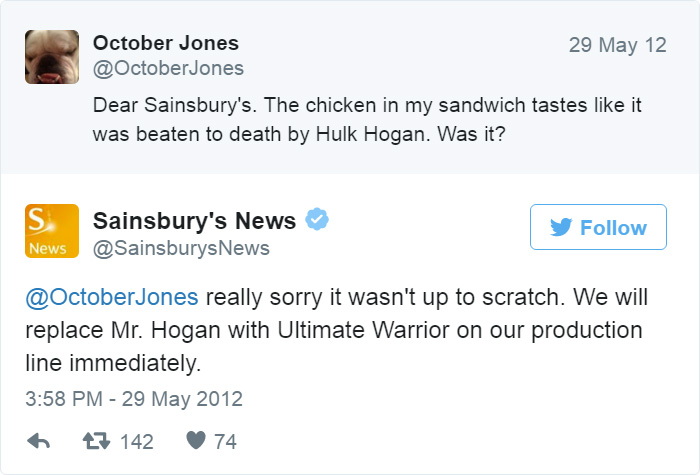 Better security, fewer data breaches
Answering Tweets through LiveAgent is more secure. Why? Twitter tickets are stored in a shared universal inbox that can be accessed by every support agent. This means that you don't have to worry about:
Sharing your Twitter login credentials with multiple employees
Staying logged in on public devices
Losing devices that are logged into your Twitter account
Competitive advantage
Even though Twitter support is becoming more and more popular, there are still many businesses that aren't providing it. Gain a competitive advantage today, by simply connecting your Twitter account with LiveAgent.
Ready to try our Twitter integration?
Let us take care of the heavy lifting so you can focus on providing smooth and reliable support for all of your customers. Start your free 30-day trial today. No credit card required.
Knowledgebase resources about Twitter
Learn more about keyword tracking through our knowledge base guide or our integrations page.
Streamline your Instagram support today
Answer Instagram mentions and comments directly from your help desk starting today. Start your free 30-day trial now. No credit card required.