It's important to ensure that your customers are happy with your services– but do you know how happy they are? According to a Majorel study, 80% of companies say they deliver "superior" customer service. However, only 8% of surveyed customers agreed with that assessment.
It can be difficult to be objective when evaluating your own customers' satisfaction and happiness. The fact that 96% of unhappy consumers won't complain to a product or service provider, but will still share their negative experiences with others, doesn't make it easier for businesses to truly understand how their customers feel about interactions with their company. But without this essential knowledge, organizations can't operate effectively.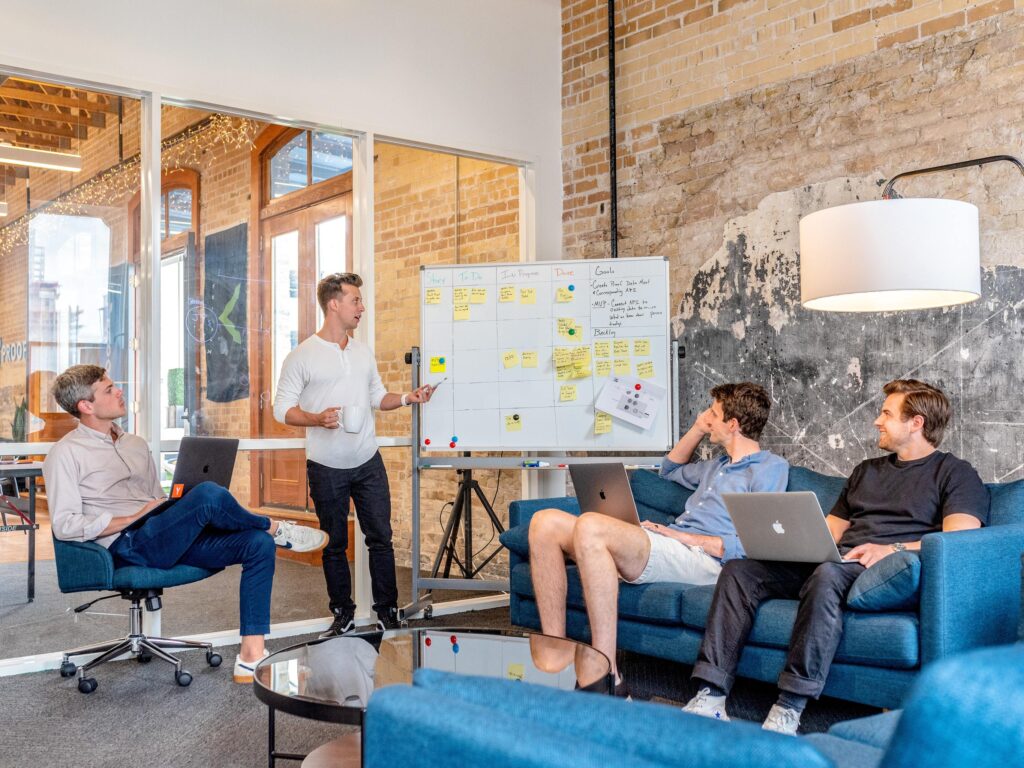 Having a tenuous grasp on customers' satisfaction levels means that you can't get a sense of their loyalty. This is an unacceptable situation to be in, as it ultimately hinders your company's growth.
Thankfully, you can measure customer satisfaction easily and precisely by leveraging different metrics. Calculating these metrics is essential to growing your business and, obviously, to understand your customers. Without proper data, you may never truly know if your customers are happy with your products or services.
There are a few customer satisfaction metrics that you should be monitoring at all times to know how happy and loyal your clients are. In this article, we will discuss a metric called Customer Satisfaction Score (CSAT).
Definition of Customer Satisfaction Score 
Customer Satisfaction Score (CSAT) is a customer loyalty metric used by businesses to assess how satisfied a customer is with the overall experience, particular interaction, product, or service provided. Companies can track this metric with the help of CSAT software to get an actual score that indicates whether consumers are satisfied, unsatisfied, or completely in love with the service or product provided. Moreover, tracking the results of CSAT surveys will help your business understand changes to satisfaction levels over time. After some period (a few months, half a year) of measuring the customer satisfaction index, you can set a benchmark for customer satisfaction and track when it rises or falls. This will help you and your team define best practices, identify successful strategies, and spot process bottlenecks.
As you can see, measuring customer experience and satisfaction is a crucial part of the business. 
How to calculate the CSAT index?
To measure customer satisfaction via the CSAT index, you need to reach out to your clients and ask them to fill out a short survey. The question you ask them can be as follows: "How would you rate the service you received?"
Customers replying to this kind of survey are usually asked to measure their satisfaction on a five-point scale:
1 – Very dissatisfied 
2 – Somewhat dissatisfied
3 – Neither satisfied nor dissatisfied
4 – Somewhat satisfied
5 – Very satisfied
You can also use a ten-point scale if desired. Now, the calculation is simple. To find out your CSAT score, you need to compare the percentage of customers who answered a 4 or 5 ("somewhat satisfied" or "very satisfied") to all customers asked. 
Therefore, the CSAT score is calculated with the following equation:
CSAT = Satisfied customers / Number of customers asked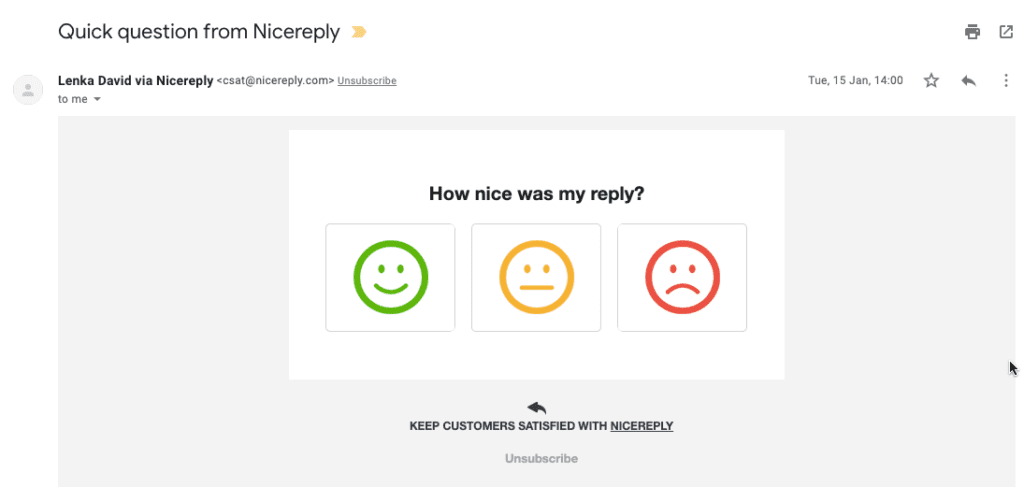 An Example of a CSAT survey sent via email.
To learn more about customer satisfaction and it's end goals, check out this article
Industry benchmarks
After a few months of running your own CSAT surveys, you'll be able to set up internal benchmarks. However, you should also compare your results with those of other companies, and keep an eye on them as monitoring industry benchmarks is a great idea.
Many businesses might feel pleased if their CSAT rating is over 70%. However, it varies by industry. In eCommerce, CSAT can exceed 80% on average. As such, scoring 70% shouldn't make you feel too satisfied. It's not a bad result, but you can always strive to do better. In fact, the average global customer satisfaction benchmark, which includes all industries worldwide, is 86%
Let's check some industry and sector benchmarks. All of the numbers presented are based on data provided by the ASCI. 
The most recent customer satisfaction benchmark for internet retailers is 81%, while companies operating in the transportation sector must score above 75.1% to exceed the average CSAT score. The benchmark for hotels is 75%, compared to the industry-leading Marriott hotel group's score of 80%. Apparel producers receive an average CSAT score of 77%, so every clothing manufacturer that is awarded a higher score is considered to be one who meets or exceeds customer expectations.
Benchmarks may vary from industry to industry, but in general, your company should aim to score 80% or higher. 
It's also important to use common sense when analyzing the results of any CSAT survey and comparing yourself to others. Though it helps to know where you stand relative to your competitors, focusing on improving your own customer experience is the key to success. Your customers' expectations are not strictly related to what your industry does. Expectations and trends change,  while competitors come and go.
Therefore, you should also be collecting feedback about different aspects of your business and acting accordingly. Don't forget about continuous improvement. You can follow this approach by implementing various strategies that will improve the experience of your customers.
Advantages and disadvantages of measuring CSAT scores
The CSAT score is a flexible customer satisfaction metric that allows you to use both simple and complex formats to engage with the audience. More thorough formats are especially useful for larger businesses. Instead of bombarding respondents with multiple one-question surveys, companies can share a single survey that contains a few questions.
The best survey questions are also customized to enable an in-depth analysis of a brand's strengths and weaknesses. The rating scale can be related to context, so different indicators can be used. There are many options available — from stars, happy and sad faces, to emojis and numeric scales. Basically, anything that will appeal to your audience is fine.
Measuring CSAT scores also has its drawbacks. The first and most obvious one is the fact that, if not conducted regularly, a Customer Satisfaction survey only reflects short-term customer feelings. Moreover, "satisfaction" can mean different things to different people, so the feeling of being satisfied is a subjective one. 
Another disadvantage of the CSAT score is that the results don't tell you much about customer loyalty. You can expect to experience customer churn if you receive a low score, but research suggests that there is a weak correlation between CSAT and loyalty. In fact, high scores don't necessarily align with customer profitability.
In theory, clients that are happy with your service may promote your company and recommend it to others, however, you can't ask them if they intend to do so. Therefore, you can only guess if they will. 
Cultural differences may also influence the results of a CSAT survey. For instance, according to this study by NICE Satmetrix, respondents from Japan (e.g. a "collectivist" country) rate their customer satisfaction and loyalty lower than most other countries. Conversely, customers in Latin America tend to rate their customer satisfaction and loyalty higher than those from other regions. People raised in countries with more individualistic societies, such as the U.S., are more likely to choose the "extreme" ends of the spectrum. This means a greater number of either "very satisfied" or "very dissatisfied" responses, even if their experiences don't necessarily correspond to this kind of answer.
Don't limit your activities to using just one method of measuring customer satisfaction. To really understand your consumers, you should assess a few different metrics. 
Differences between CSAT and Net Promoter Score (NPS)
Both CSAT and NPS are common metrics that are used to measure how consumers feel about a company. NPS measures how likely customers are to recommend a business, whereas, as mentioned above, CSAT measures customer satisfaction with a product or service.
CSAT is used to assess a "here and now" reaction to a specific transaction, product, or interaction. However, unless measured frequently, this metric is limited when it comes to measuring a customer's ongoing relationship with a company. 
CSAT uses general questions, e.g., "How would you rate the service you received?" or "How satisfied are you with your experience today on a scale of 1 to 10?". It can also use multiple questions to focus on specific parts of the interaction between a consumer and a company, like "How would you rate your overall satisfaction with the delivery service/helpfulness of our representatives/live chat service you received?"
On the other hand, when conducting an NPS survey, companies usually ask a single question; such as "Would you recommend our service or product to a friend or family member?" or "How likely is it that you would recommend our service/product to a friend or colleague?" As a result, the survey focuses on a consumer's intention and it requires them to consider multiple factors, rather than just their overall feeling of satisfaction.
How to measure customer satisfaction with Nicereply
All LiveAgent users can run a Customer Satisfaction Score survey thanks to its native integration with Nicereply, a client satisfaction survey tool. Before you start using Nicereply, you need to choose the channel from which you want to collect feedback. 
The integration provides a survey template that you can send to your database via email, or place a link to the survey in your LiveAgent email signature. It's also possible to distribute surveys via live chat, allowing customers to rate your agents after each conversation. There's also a third option – you can enable Nicereply to collect feedback via a trigger, which is an action that is prompted by an event occurring within the LiveAgent software. In this case, the only trigger that you can set up is the resolution of a ticket. Here's an example of how it works: when a customer inquiry is resolved and your agent closes a ticket, Nicereply delivers a CSAT survey to the customer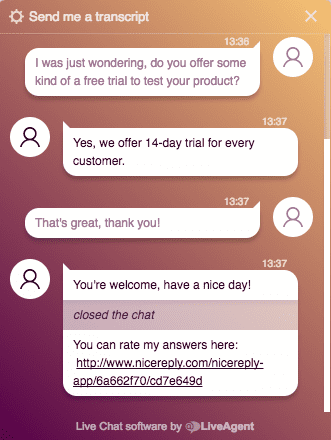 An example of a survey distribution via live chat. 
Collecting feedback is just the first step to improving your customer service experience. The next step is to do something meaningful with all of the collected information. That's why a thorough analysis of the gathered data plays a vital role in the whole process of measuring customer satisfaction. Nicereply enables you to access the results of all your CSAT surveys in one place – an analytics and insights dashboard. In this panel, you can get the most out of the CSAT data you've collected by checking ratings, identifying relevant trends, looking at an overview of your team's performance, or taking a quick look at data charts.
If you want to conduct a CSAT survey, read this article first. If you feel like you still need more information, check out this integration guide. 
Wrap-up
Real success in any business comes from making customers happy by caring about their feelings of satisfaction. You have to know what's in the hearts and minds of your consumers and how interactions with your company affect their opinions about your services. Remember that overall customer satisfaction impacts your company's revenue, profitability, and reputation.
Collecting feedback on a regular basis will help you to assess customer sentiment, monitor how the results change over time and help you act accordingly. Reaching out to your customers and asking for their feedback before making big adjustments can help you establish a baseline for customer satisfaction. After collecting consumers' opinions, you can then determine the success of a new project based on how it impacts the customer experience.