ServiceNow is an all-encompassing solution that helps companies take their software stack to a new level and improve business results across the board.
The tool occupies an exciting space in the current SaaS landscape: it's an entire suite of solutions that covers pretty much everything from IT support desks to HR administration and customer support. This last segment – customer support and CRM – is something for which ServiceNow is particularly famous.
Why do people choose ServiceNow?
ServiceNow has been very successful since its inception, and there are good reasons for this.
The company has even been named the global leader in the ITSM (IT Service Management) space in 2020.
Here are some reasons why.
It's a powerful platform. Think about it: if you're Deloitte, Volkswagen, or any kind of large enterprise, you need a single, complex system to manage potentially hundreds of agents, thousands of employees, and millions of customers. Knowing that you have a powerful companion with a robust infrastructure can be reassuring.
It's cloud-based. Despite its complexity and the scope of its services, ServiceNow can be deployed using cloud services. This means no expensive servers, no hassles with on-premises deployment, and other complicated processes.
It's more than a CRM. Depending on your needs, you can handpick the features and services you need to create a complete software solution for your company. You might need a good IT desk tool and an HR system along with your CRM tool – ServiceNow can provide this and much more, albeit with a price increase.
Handle all customer inquiries from one interface.
Comparison of 10 alternatives to ServiceNow:
LiveAgent
Help Scout
ManageEngine ServiceDesk Plus
HappyFox HelpDesk
SolarWinds Service Desk
SysAid
Jira Service Desk
Zoho Desk
Zendesk
Spiceworks Help Desk
The following criteria were used to evaluate and compare each solution:
Ease of use: This is among the most critical aspects of any business software solution for many users. Having a tool that your customer service representatives can quickly master and become proficient in can save lots of time and hassle, both in onboarding and daily tasks.
User interface: Since this is a tool your team will be using daily, you'll want to make sure it's pleasant to use and satisfying to look at. Many tools try to make customer engagement and the IT service management experience fun and satisfying, but not all succeed.
Unique features and functionalities: Different teams are looking for different, specific features. The goal here was to discover the unique functionality that each of these tools offers and see how they can help you achieve your goals. Since ServiceNow offers many suites and services, its competitors have something to offer in terms of unique functionalities.
Pricing and plans: Yes, Pricing and Plans are two different things here. Pricing simply refers to the general range you'll have to pay for these services – what's their general price range? Plans refer to how each of these tools structures their offer and what's inside each plan – precisely what it is that you get for your money?
Customer support: Basically, you want a customer service management solution that offers you many means of getting in touch or learning about their features and interface. Here at LiveAgent, we find customer support incredibly important and believe that anyone thinking about buying these tools will also care about it.
With all that covered, let's see what the best ServiceNow competitors have to offer.
LiveAgent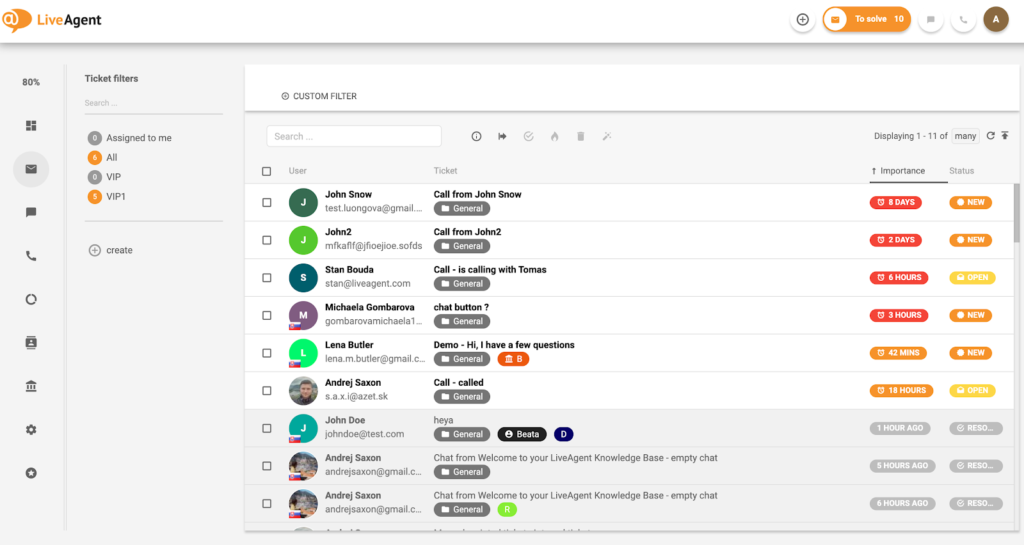 LiveAgent is one of the best ServiceNow alternatives, especially in the service desk space.
We are confident that we have created a mix of simplicity and robust features most modern businesses are looking for.
With LiveAgent, you get social media monitoring, ticketing, live chat, knowledge base support and even built-in call center software to manage your customer service interactions wherever they might happen. Your agents can handle all of this through a single, intuitive interface.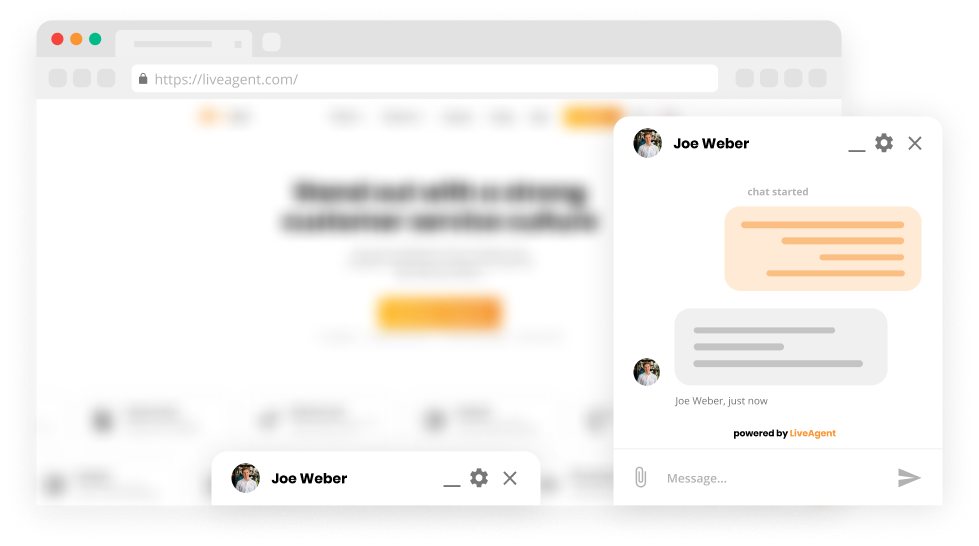 With color-coded labels and multiple tabs, your agents can easily keep track of all conversations and master the learning curve early on.
What makes it different from ServiceNow?
First of all, LiveAgent is a streamlined tool that offers an intuitive, modern UI for customer service management.
With LiveAgent, you get one of the best (and fastest) live chat tools on the market that you can implement on your website in a matter of minutes and start customer service interactions quickly and easily. You also get an intuitive dashboard and an industry-leading ticketing solution that will be user-friendly for your agents and provide seamless customer experience.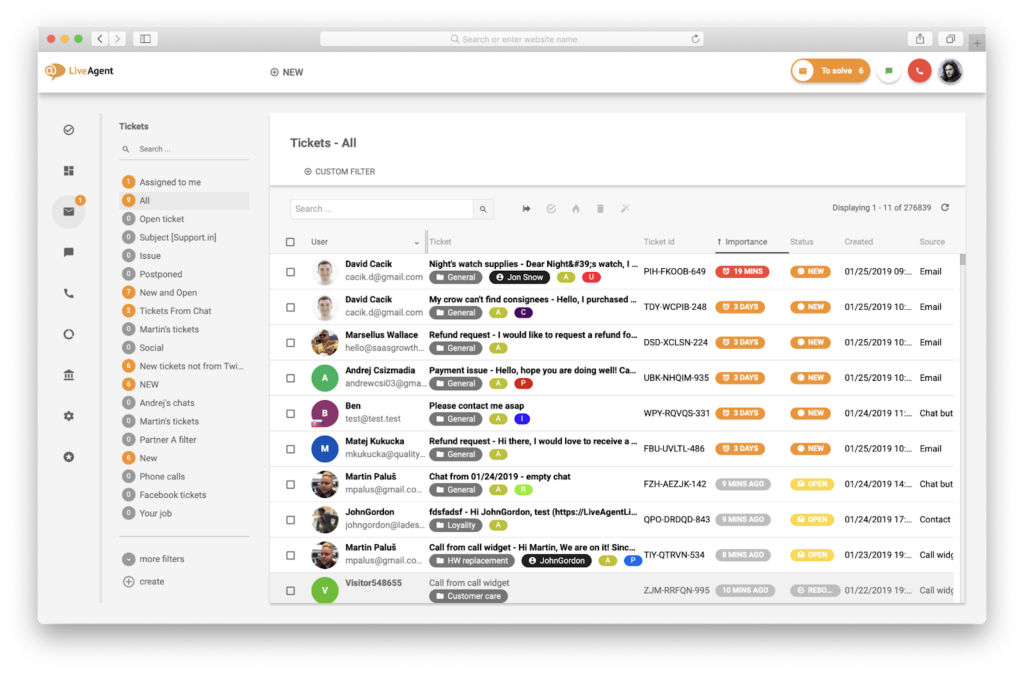 LiveAgent also offers 24/7 support – it is an absolute priority since we help our clients deliver the same to their users.
We are proud to say that our software comes at a very competitive price in today's market. Even our Free plan is packed with features that will likely satisfy small and medium businesses.
LiveAgent summary:
Get LiveAgent if you want:
An intuitive, easy-to-use interface;
A complete service desk solution with advanced features;
Social media monitoring;
A market-leading live chat widget;
24/7 customer support;
Competitive pricing.
If you like everything you've seen so far, start your 30-day free trial and discover LiveAgent's best features.
Help Scout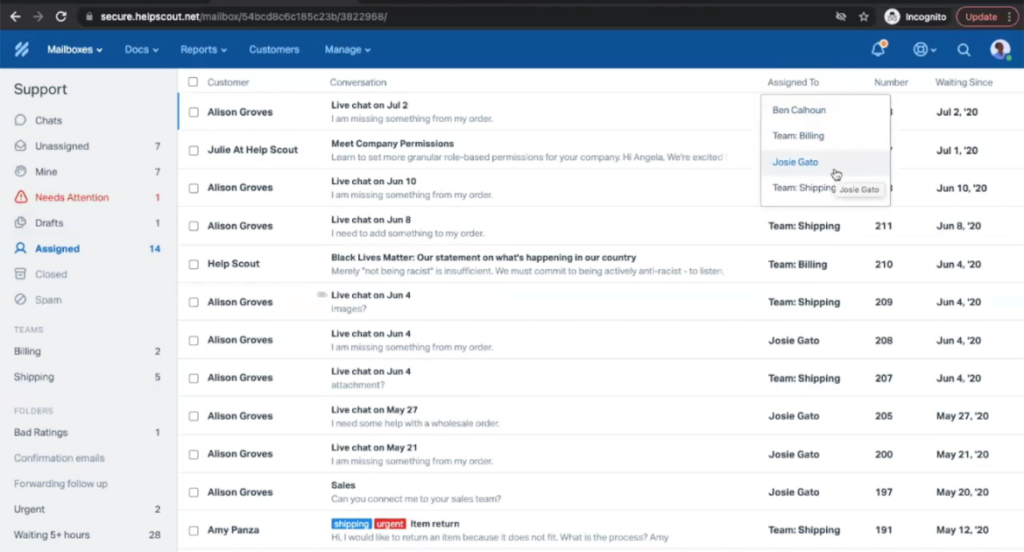 HelpScout is a user-friendly platform that aims to streamline communication and enhance customer relationships and satisfaction. It is a suitable option for those that want to enhance team collaboration, organization, and automation in order to be more efficient. HelpScout is also trusted by more than 12.000 customers from a wide range of industries.
They are committed to providing a straightforward and intuitive user experience with its clean and minimalist design that ensures that users can easily navigate through the various features. They place a strong emphasis on simplicity which allows even non-technical users to quickly adapt and make the most of the tool which can be a great advantage compared to ServiceNow which may require more technical expertise to implement and optimize it effectively.
However, it may not be the ideal solution for organizations that require advanced customization or extensive reporting capabilities. While it offers reporting features, it may not have the same level of complexity as ServiceNow's robust reporting and analytics tools. Additionally, if you are looking for a comprehensive solution that focuses on IT service management, HelpScout may not be the best option.
What makes it different from ServiceNow?
Customer support relies on seamless integration which is why HelpScout offers a wide range of integrations with popular software tools, such as CRM systems, project management platforms, and live chat tools. HelpScout's integrations cater to a broader audience, including small and medium-sized businesses that prioritize seamless workflows without sacrificing ease of use. On the other hand, ServiceNow also offers a broad range of integrations, but its focus is primarily on enterprise-level software and IT service management. This makes ServiceNow a better fit for larger organizations with complex operational needs.
With features such as email ticketing, knowledge base management, and basic reporting, HelpScout offers a solid foundation for efficient customer support. Its user-centric focus allows support agents to handle customer inquiries effectively while still maintaining a seamless workflow.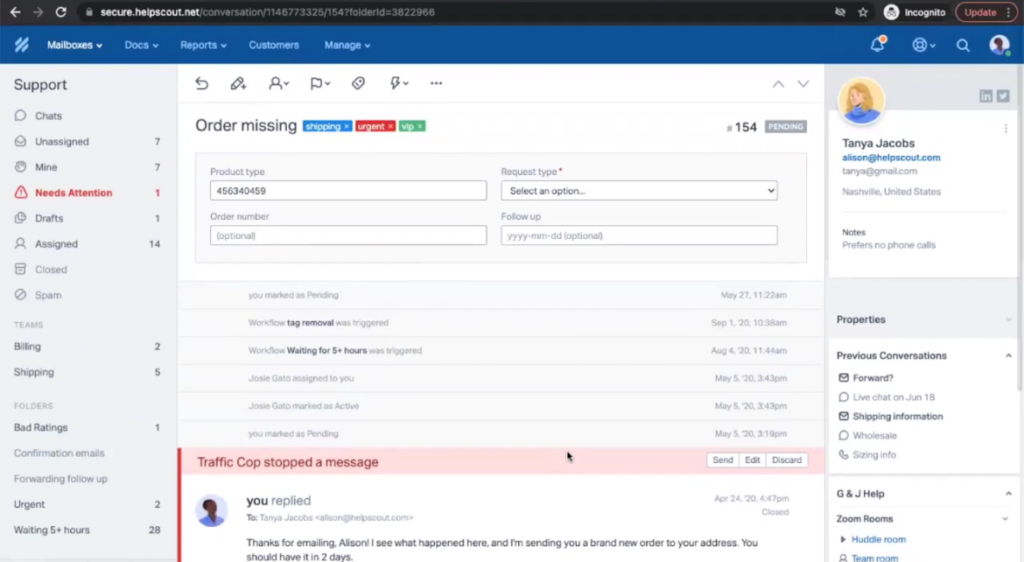 HelpScout's pricing structure is transparent and offers different plans based on the number of users. These plans include essential features required for effective customer support. Its approach makes it appealing for small to medium-sized businesses that need a cost-effective solution without compromising on functionality. ServiceNow has a different pricing model that involves custom quotes based on the organization's requirements. Because of its extensive set of robust features and more advanced functionality, ServiceNow's pricing tends to be higher which makes it more suitable for larger organizations.
HelpScout summary:
Go with HelpScout if you need:
Clean and intuitive user interface
Solid integration options with other tools
Solution suitable for small to mid-sized businesses
Email ticketing, knowledge base management, and basic reporting features
ManageEngine ServiceDesk Plus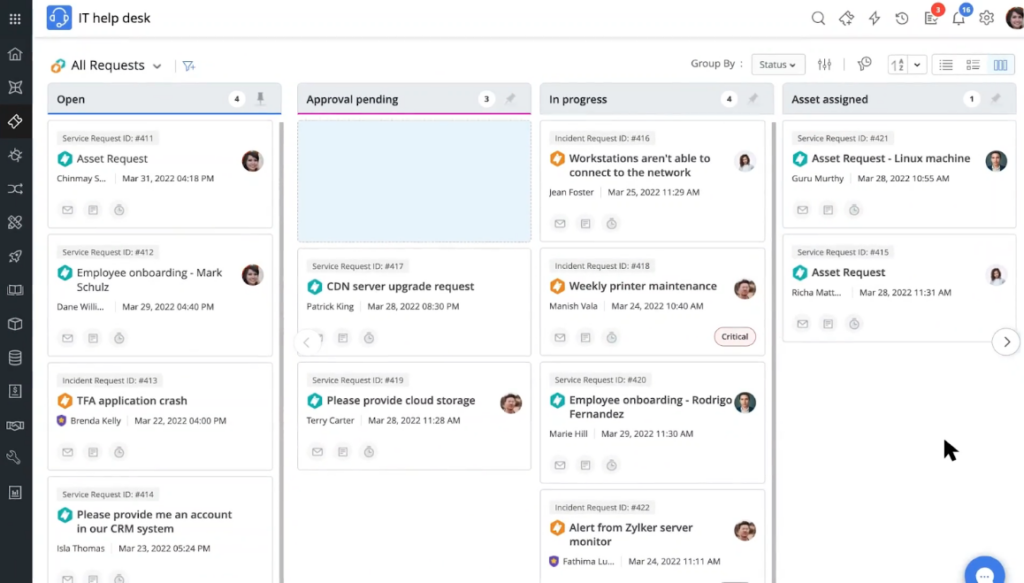 ManageEngine ServiceDesk Plus is a service management software that combines IT service management and IT asset management, and it is designed to automate IT service management processes and improve customer support across various departments. It is available both in the cloud and on premises, and its scalability and security makes it a good choice for a wide range of organizations.
ServiceDesk Plus provides a user-friendly and intuitive interface, allowing support agents to efficiently manage support tickets, IT incidents, and service requests. It also offers a variety of integrations with other tools to enhance workflow efficiency, increase agent productivity, and synchronize data across multiple systems for seamless communication and coordination.
It offers a comprehensive set of features and capabilities. It is packed with functionalities such as incident management, problem management, change management, asset management, and self-service portals. It is a flexible and scalable solution that allows organizations to adapt the tool to their specific requirements. However, it might require a learning curve for new users to grasp its full potential and customization options.
What makes it different from ServiceNow?
ManageEngine ServiceDesk Plus sets itself apart from ServiceNow by offering a more cost-effective solution for IT service management. Additionally, it provides a comprehensive set of features that align with the needs of small to medium-sized businesses, while still delivering robust functionality. ServiceNow, on the other hand, is recognized to be a more enterprise-focused IT service management solution. It offers advanced features tailored for large organizations due to its scalability and extensive capabilities.
Also, it is a ServiceNow alternative that offers a user-friendly interface that focuses on ease of use. The intuitive design makes it easy to navigate and handle customer inquiries efficiently without the need of extensive technical backgrounds. In contrast, ServiceNow offers a highly configurable interface with extensive customization options. This allows organizations to tailor the platform to their needs, but this level of customizability may require additional training and technical expertise.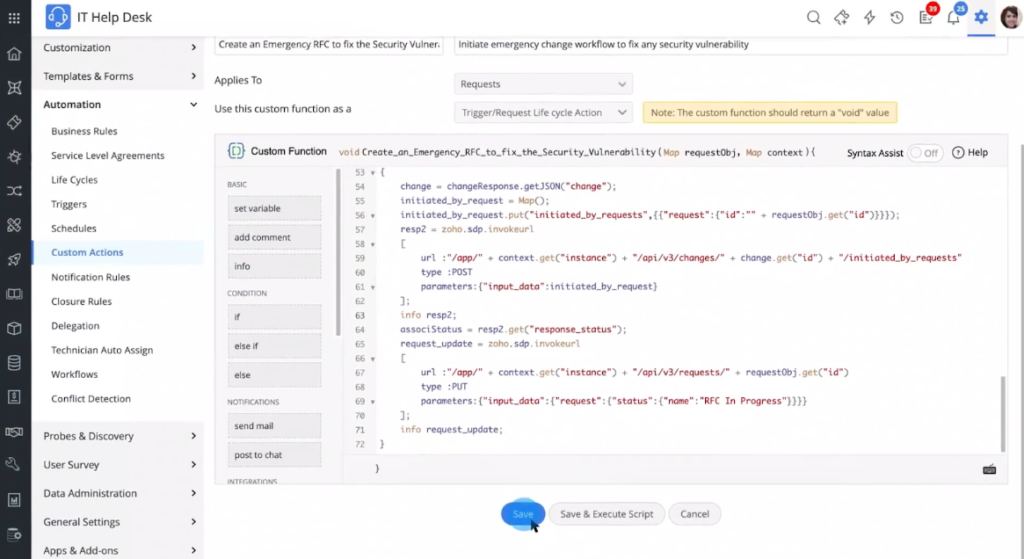 Moreover, ManageEngine ServiceDesk Plus offers a pricing structure based on the number of users. This makes it an attractive option for those seeking cost-effective solutions. ServiceNow involves custom pricing based on the organization's requirements which may come at a higher cost, making it more suitable for large enterprises.
ManageEngine ServiceDesk Plus summary:
Go with ManageEngine ServiceDesk Plus if you need:
Comprehensive feature set and scalability
Solution that combines IT service management and asset management tools
Wide range of integrations to enhance efficiency of their digital workflow
A user-friendly and intuitive interface that is easy to navigate
HappyFox HelpDesk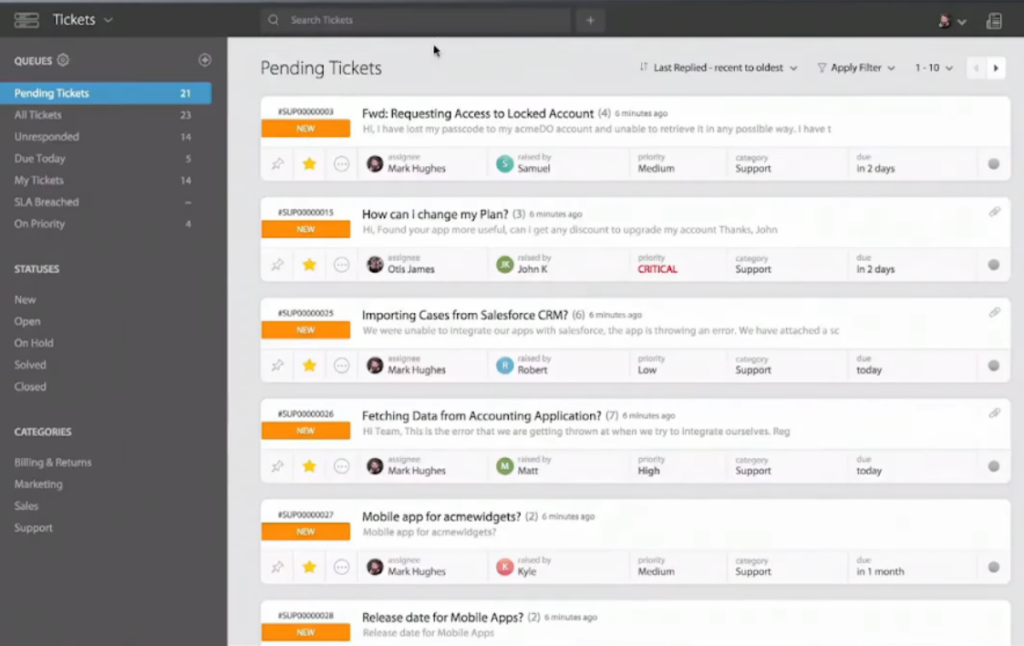 HappyFox HelpDesk is a customer support software that focuses on streamlining ticket management and improving customer communication. It focuses on improving customer engagement by providing businesses with a centralized platform to manage customer inquiries, resolve issues efficiently, and track customer satisfaction.
It is a competitor to ServiceNow with a clean and organized interface that allows support agents to manage tickets, track customer conversations, and collaborate effectively with other team members. It also offers a self-service portal that provides easy access to knowledge base articles, or submit and track customer inquiries.
Seamless integrations with other tools extend its capabilities and enhance its functionality. These integrations enable synchronization of data, automate processes, and ensure a smooth flow of information across multiple systems.
It offers a straightforward setup process and its pricing plans are flexible, providing a cost-effective solution for companies of all sizes. HappyFox also offers robust reporting and analytics features to gain valuable insights into support operations. However, there are some limitations of certain key features compared to more complex help desk solutions.
What makes it different from ServiceNow?
HappyFox is an alternative to ServiceNow that focuses mainly on customer support capabilities, such as ticket management, knowledge management, and customer self-service. It gives businesses a centralized platform to handle customer inquiries in order to improve customer satisfaction. ServiceNow, on the other hand, offers a comprehensive suite of IT service management features which go beyond traditional customer support.
In addition, HappyFox's interface is user-friendly, clean and organized to ensure easy navigation, efficient ticket management and collaboration. ServiceNow offers a complex and highly customizable user interface which provides flexibility but it may require some level of technical knowledge to set it up.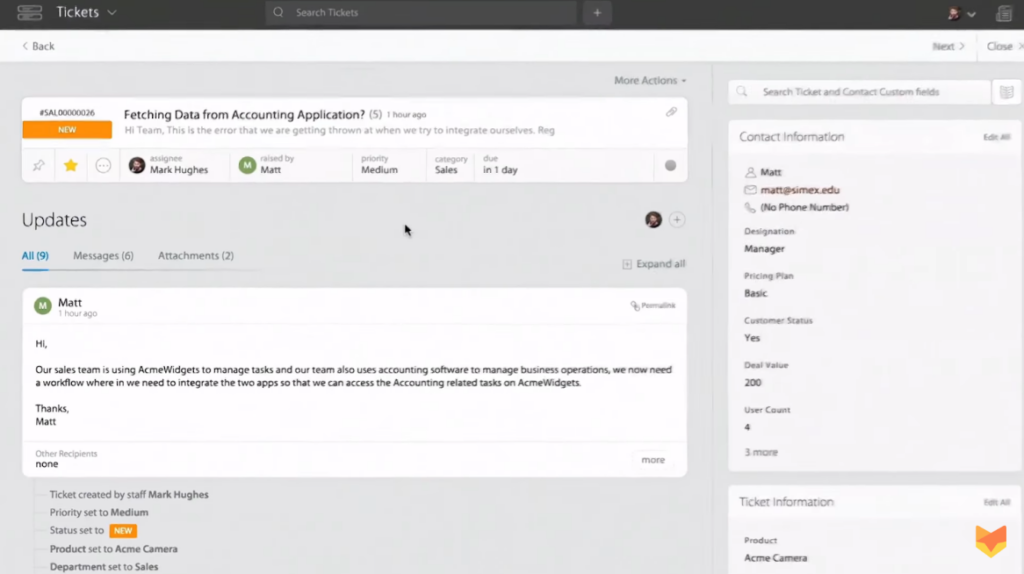 Flexible pricing accommodates businesses of different sizes and budgets. The pricing structure revolves around the number of agents using the software.
HappyFox summary:
Go with HappyFow if you need:
Intuitive and user-friendly customer support software
Flexible integrations with other tools
Pricing plans that cater to businesses of all sizes
Centralized platform to manage customer inquiries
SolarWinds Service Desk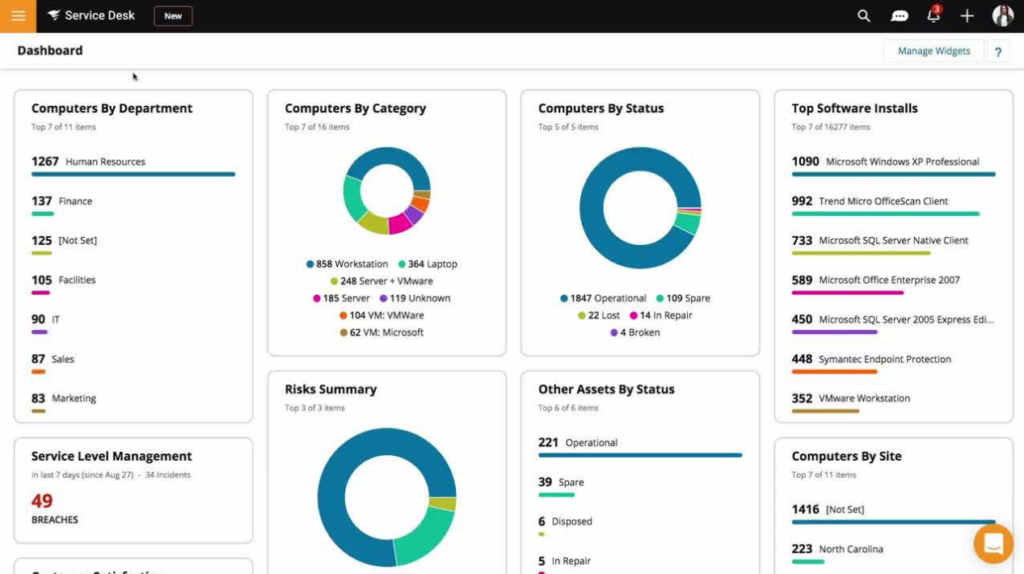 SolarWinds is an IT service management solution that focuses on optimizing IT service management processes including incident management, problem management, change management, asset management, and more. It empowers business teams to handle support tickets by providing a centralized platform that helps to streamline all operations.
The intuitive and user-friendly interface is designed to be easy to navigate for seamless ticket management. With features like self-service portals and knowledge base integration, end-users can submit tickets effortlessly and access information that can help to solve their issues.
Its comprehensive feature set, scalability, and customizability allows businesses to tailor SolarWinds to fit their specific needs. Additionally, it provides robust reporting and analytics that give insights into business performance, so they can make data-driven and informed decisions. However, the learning curve may be steep for new users, and some customers report that the customization options can be very complex.
What makes it different from ServiceNow?
ServiceNow and SolarWinds Service Desk are two IT service management solutions that differ significantly in terms of features, user interface, and pricing structure.
SolarWinds is primarily designed for IT service management, offering a set of features to optimize IT operations. The focus is on streamlining IT workflows, ensuring efficient ticket resolution, and delivering quality services. ServiceNow goes beyond IT service management. While it includes IT service management functionalities, it also provides a comprehensive platform for service management and process automation.
Additionally, SolarWinds has a clean and user-friendly interface with easy navigation and efficient ticket management. The design aims to give you an intuitive customer experience, so you can quickly adapt to the software. ServiceNow provides extensive customizability which offers a high level of flexibility but it also means that the UI can be more complex, requiring additional training.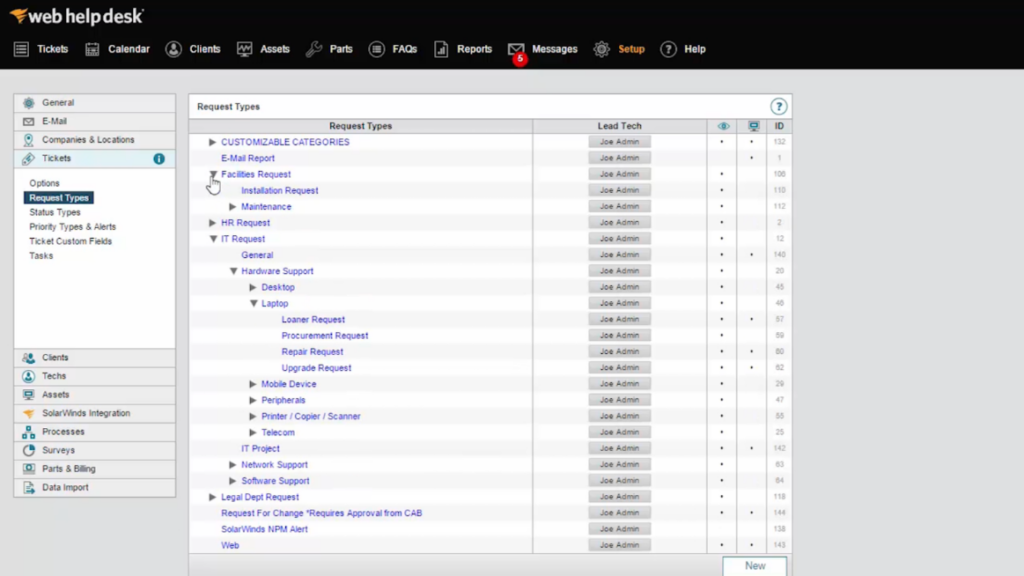 SolarWinds Service Desk is a ServiceNow competitor that provides flexibility in terms of pricing. It is a cost-effective option for businesses that want to pay for the specific features and user licenses they require.
SolarWinds Service Desk summary:
Go with SolarWinds if you need:
Solution focused on IT service management solution
Intuitive and user friendly UI
Flexible and scalable pricing
SysAid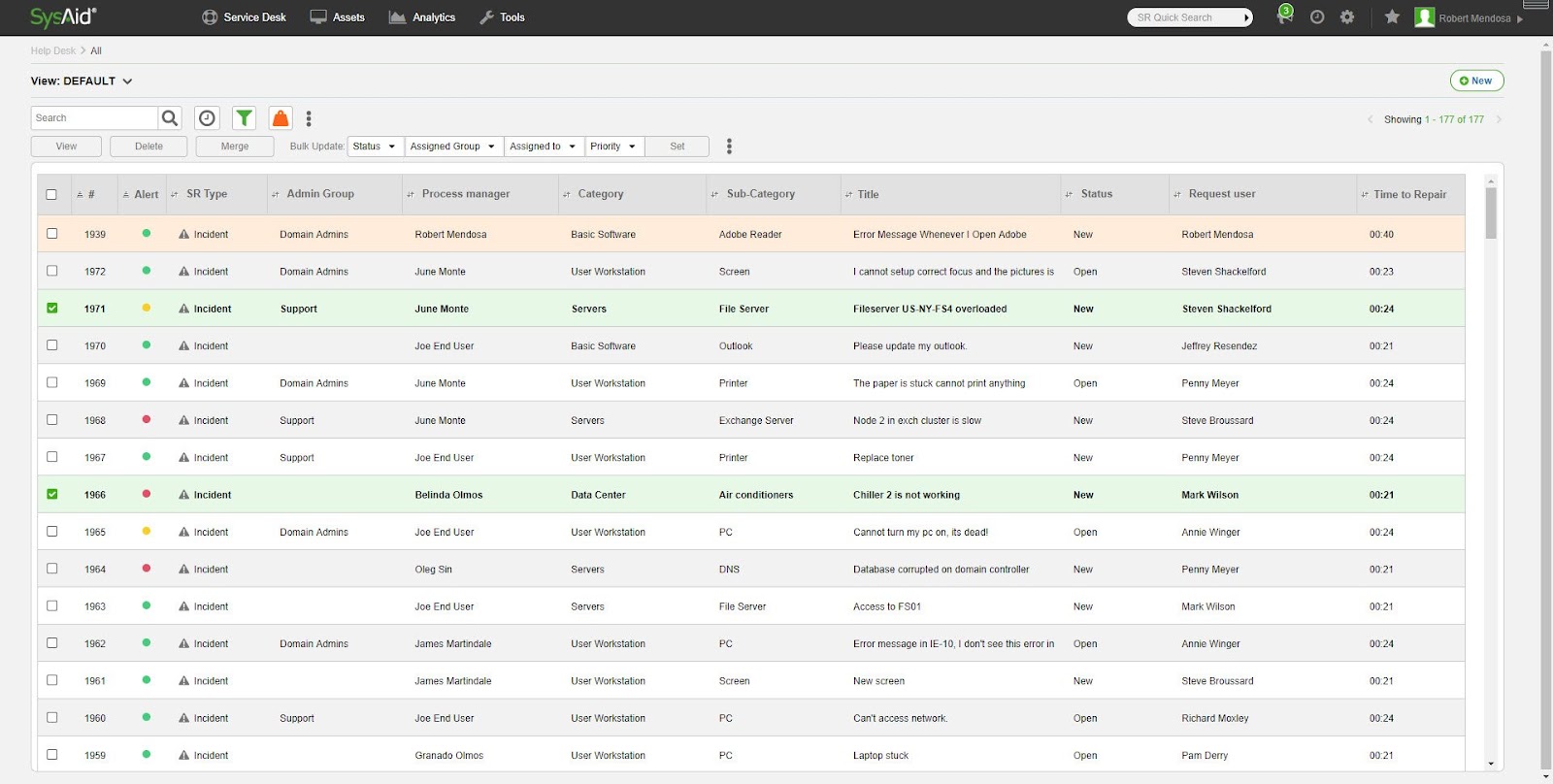 Unlike other solutions on this list, SysAid is strictly an asset management software solution not meant to be used as a customer-facing help desk.
SysAid takes IT to help desk management to an entirely new level with ticket automation, self-help portals, control capabilities for remote support, and access control. The asset management functions are handy, as they allow you to resolve issues faster with all the available asset records and data.
All of this could be a little better presented and structured. Even though the tool is aimed at tech-savvy people, it's easy to see how the UI feels cluttered. Some users find it difficult to view, add, and understand the assets compared to other solutions, primarily since most of the UI revolves around helpdesk tickets.
Text line breaks and strange stripes in the buttons are awkward choices and make for a less attractive UI. Customization options don't make up for this, and it feels like a better onboarding system is needed to make the tool more user-friendly.
What makes it different from ServiceNow?
One thing that many user reviews seem to mention is SysAid's capability as a help desk solution. SysAid provides great asset visualization and allows your agents to be highly efficient in resolving issues either remotely or manually from the admin side.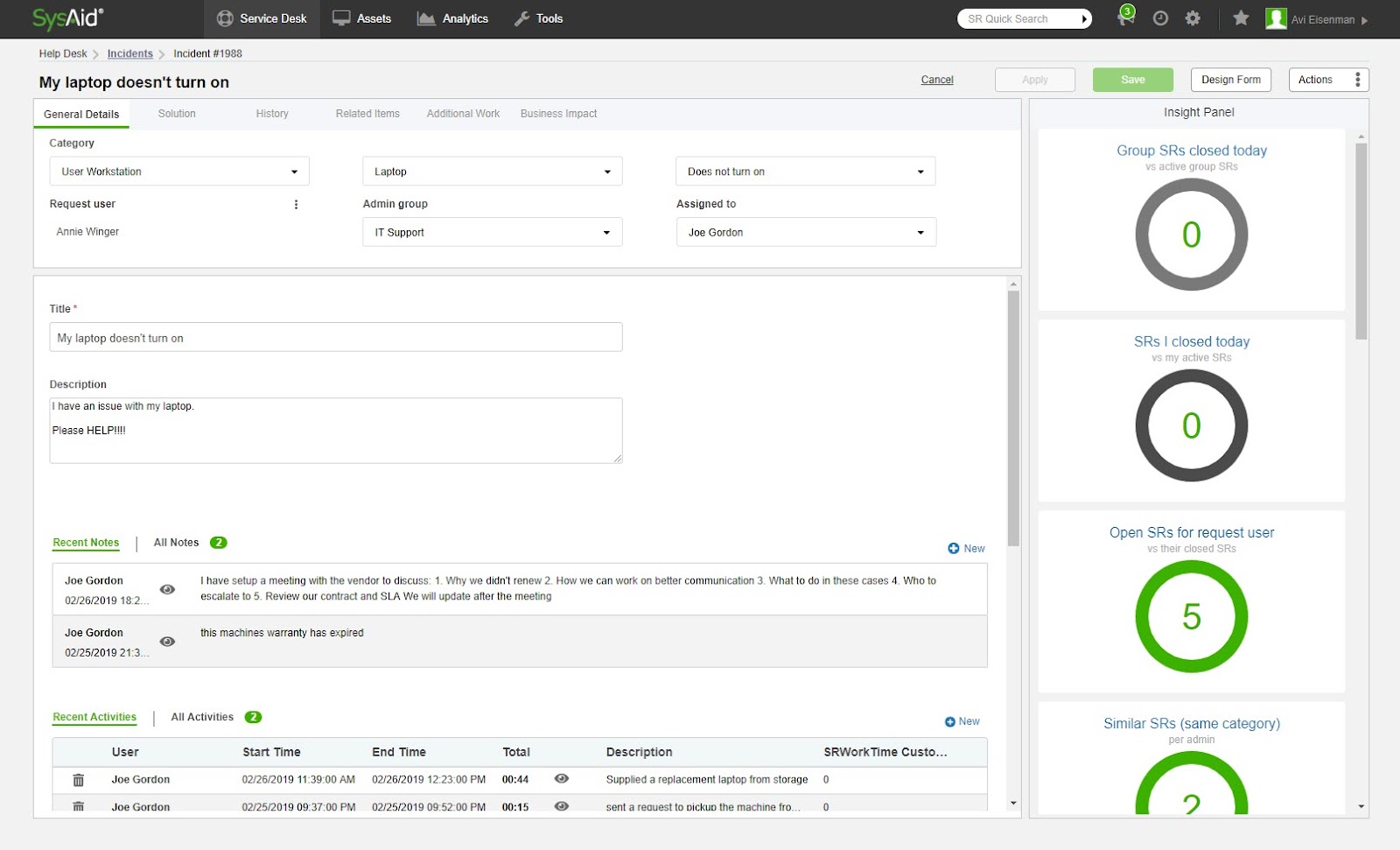 Configuration management is made easy with the Workflow Designer – an easy way to create and configure workflows across the entire organization.
Also, unlike with ServiceNow, deploying SysAid on-premises doesn't come at such a high technical and financial cost.
SysAid summary:
Go with SysAid if you need:
Advanced asset management and visualization features;
Simple ticket automation functionality;
Easily accessible company-wide knowledge base;
Cloud or on-premises deployment.
Jira Service Management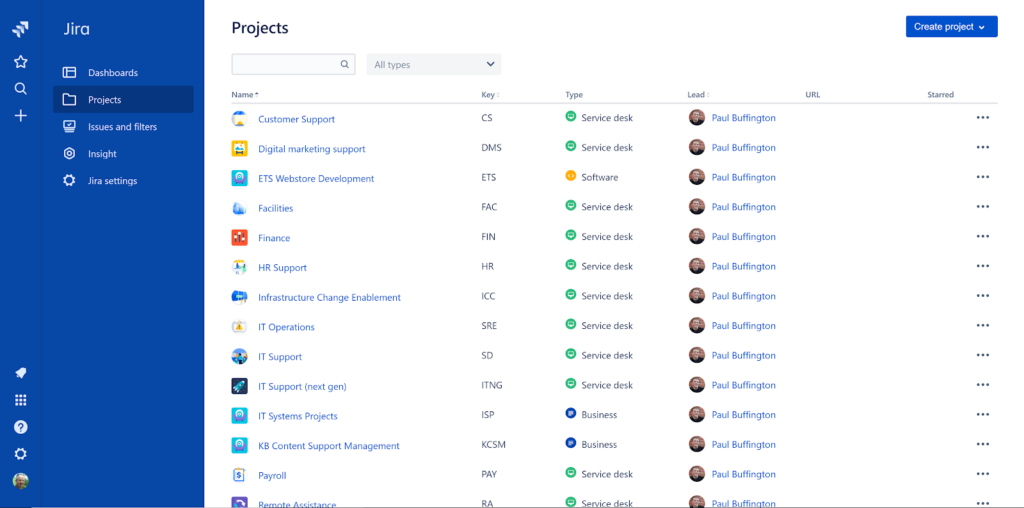 Jira Service Management is a help desk solution that works as a ticketing system that lets users make service requests through software portals, phone calls, or emails. It's an upgrade over the Jira Service Desk – it includes all of its capabilities plus a few more IT Service Management features.
The first thing to note about this solution is that it's owned by Atlassian, which means that you can integrate it with any other Atlassian software to make it more powerful and effective. For example, you can leverage Atlassian's collaboration platform, Confluence, to equip your team with a knowledge base to quickly resolve incoming requests.
From the UI perspective, Jira's Service Desk solution is attractive and comfortable – it provides the standard structure of having your hierarchical menus on the left of the screen with content occupying most of the space on the right.
While using Jira Service Desk, some users might find the following two things deal-breakers. First, it doesn't offer social media monitoring, so you can't use it as a complete customer operations management solution. Second, while the Confluence integration does work as a kind of self-service portal, it's not nearly as intuitive or straightforward as having a native knowledge base for your end-users. Also, you have to pay an additional subscription for this service.
What makes it different from ServiceNow?
Much like ServiceNow, Jira's Service Desk offers many add-ons that allow you to customize the tool to your liking and add many features.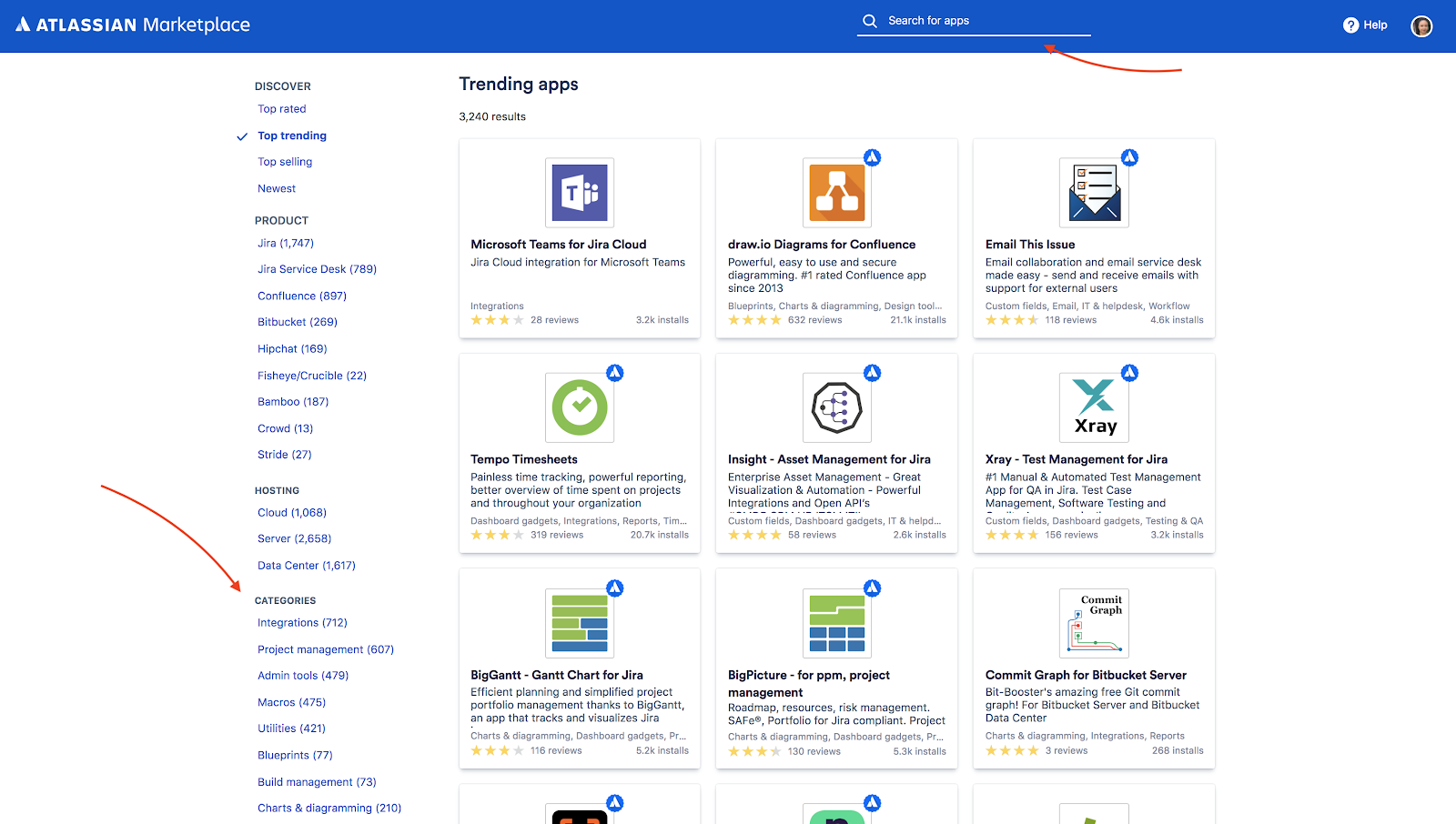 The difference with Jira is that this is done through the Atlassian Marketplace that offers more than 1,000 apps, most of which are reasonably easy to install. For example, more than 30 apps allow you to connect your Service Desk to Google's service cloud alone. Some of these are entirely free, while others do come at an additional cost.
Another competitive advantage is that Jira is orders of magnitude cheaper than ServiceNow. Their Free plan allows for up to three agents, and many users find it quite packed with features. It provides for incident management, workflow automation through a drag-and-drop system, and solid reporting.
Jira Service Management summary:
Get Jira Service Management if you want:
A solid, intuitive UI that will feel familiar;
Thousands of apps and integrations to choose from;
A solution filled with add-ons wholly tailored to your needs;
A more affordable solution, free for up to 3 agents.
Stand out from your competitors with a strong
customer service culture​
Zoho Desk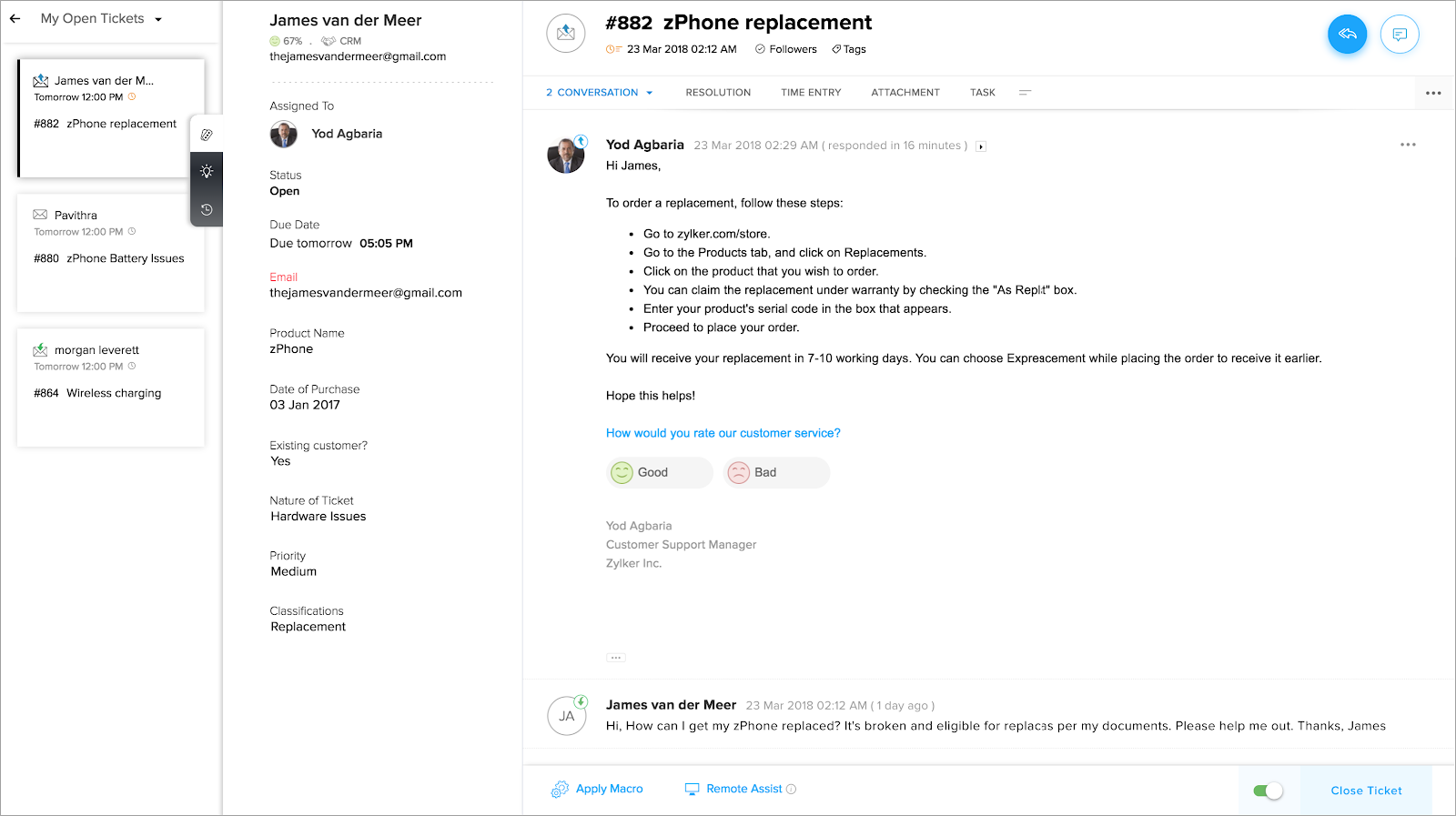 Another familiar name in the customer support management industry, Zoho Desk is one of the best alternatives to ServiceNow.
As with many help desk solutions, ticket management is at the heart of Zoho Desk. The core of the UI is focused on your list of tickets. Other tabs on the dashboard are for customers and knowledge base articles.
However, although Zoho Desk does offer lots of features, its user experience leaves a lot to be desired. This doesn't only refer to its bland and text-heavy UI and the general organization of data and processes.
Although the tool offers solid workflow management features, it doesn't guide you through the process. You can select any ticket and click on "Apply Macro." When you do, you get information that "macros aren't created yet," but there's no instruction on how to create one. Most other tools will include a few preset macros that you can edit, remove, or create new ones from scratch.
What makes it different from ServiceNow?
Zoho Desk is more suited to small and mid-sized businesses due to its competitive pricing and streamlined UI.
The tool is also incredibly customizable – you can rearrange your menus, rename almost all components, set up individual views, and much more. Zoho Desk is an excellent option if you're an experienced user and want a completely personalized experience. Conversely, less tech-savvy users will likely find Zoho Desk a little harder to navigate, and the confusing interface won't help either.
Another big reason you might opt for Zoho Desk is its excellent range of integrations with the rest of the Zoho apps that will help meet your business requirements in many different ways.
Zoho Desk summary:
Go with Zoho Desk if you need:
Powerful integrations with other Zoho products;
Great interface customization options;
Simple but effective ticket management;
Competitive pricing and a functional free plan.
Tired of searching?
Are you still looking for software that will help you improve your customer service? LiveAgent may be the solution for you!
Zendesk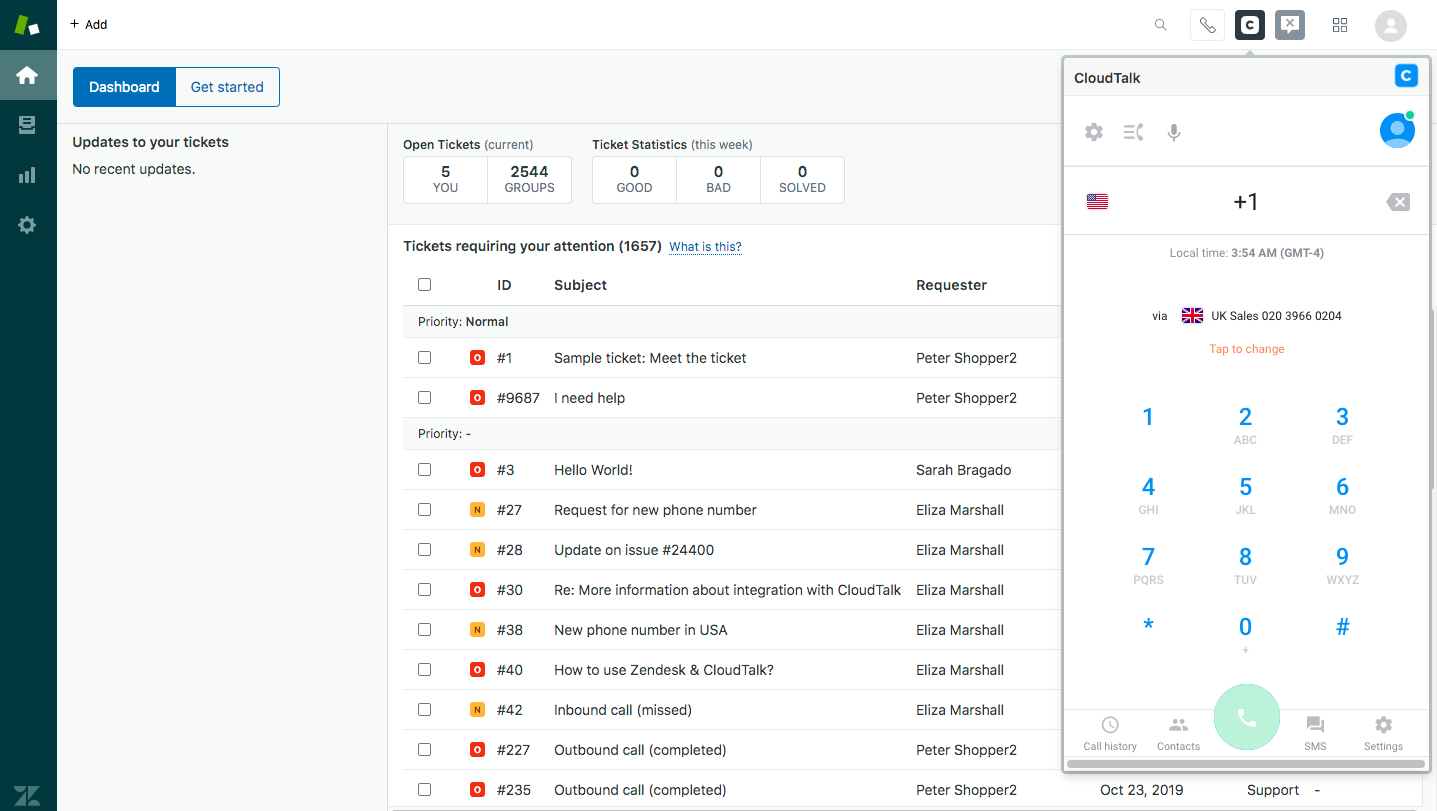 Zendesk is one of the most popular software solutions in the data-driven customer service catalog. At its core, it's a ticketing system that helps manage internal or external requests from your employees and customers through various channels. You can even easily convert Facebook timeline posts and Tweets into tickets your team can start resolving.
Zendesk's user interface is minimalistic, and the screen has a low data density, making things relatively easy to follow. You don't have to keep switching between windows and tabs to find everything you need. However, you might need to spend some time with the app to become familiar with the UI. It's not as heavy on labels as most help desk tools, so some users might find the entire experience a little disorienting at times.
Completing a ticket in Zendesk is easy and quick: you need to click Submit as Solved to, and you'll be redirected to the main ticket view to see the next ticket. You can find the tickets that were recently handled in the Recently Solved Tickets view. You can also see Pending Tickets and Recently Updated Tickets.
What makes it different from ServiceNow?
Zendesk is more focused on solving tickets and, as a result, offers a much simpler user interface. Since ServiceNow also covers other business processes, it underdelivers compared to Zendesk for traditional customer support and related categories.
That isn't to say that Zendesk doesn't offer a lot of advanced functionalities. If you go for one of the more expensive plans, Zendesk will give you a self-service portal, conversation routing based on agent skill, and integrated community forums.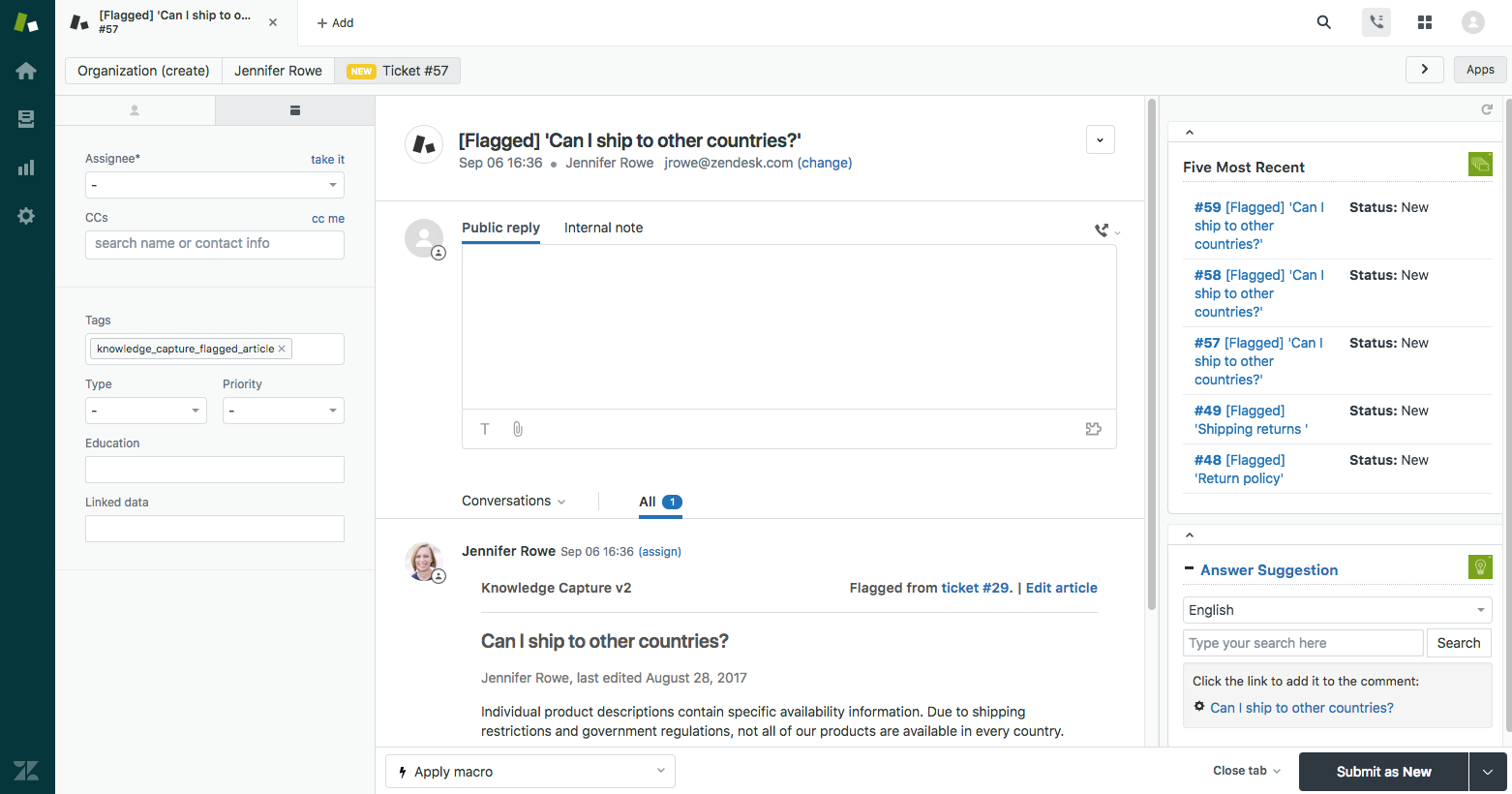 At the same time, this is one of Zendesk's most significant drawbacks – to truly harness the potential of this platform, you'll have to invest in one of the more expensive plans, which can cost you up to $99 per month, per agent.
Zendesk summary:
Go with Zendesk if you need:
A robust ticket management system that's easy to use;
Lots of advanced functionalities at an additional cost;
Advanced social media ticketing;
Solid integration options.
Looking for great ticketing software for reasonable price?​
Spiceworks Help Desk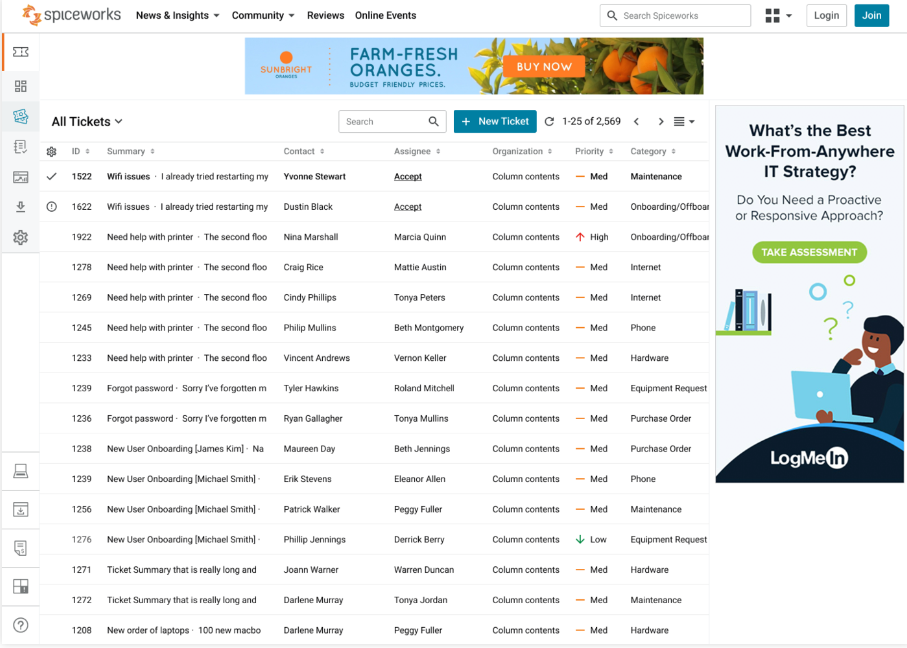 Spiceworks Help Desk is a well-known IT support software designed for small to mid-sized businesses (SMBs) and is tailored to meet the unique needs of IT professionals by providing a platform for managing IT support requests and streamlining IT operations. It can help you simplify the process of ticket management, asset tracking, and knowledge base creation.
It is known for simplicity and ease of use, with an interface designed to be intuitive. Additionally, Spiceworks promotes collaboration by enabling efficient communication between IT staff and end-users. With features like ticket assignments, automated notifications, and a customer portal, Spiceworks facilitates support processes. It also offers seamless integrations with popular tools and applications to leverage existing systems to further enhance IT operations.
One of the advantages is its free and open-source nature, which can be beneficial for SMBs with budget constraints because it offers a set of features at no cost. Spiceworks has an active community, providing valuable resources and knowledge sharing. However, it may lack some advanced features and scalability required by larger enterprises, and as an open-source solution, support and updates may depend on contributions from its community.
What makes it different from ServiceNow?
Spiceworks Help Desk is a good ServiceNow alternative that is primarily developed for small to mid-sized businesses and focuses on essential IT support features with emphasis on providing an efficient support system. ServiceNow offers a comprehensive enterprise suite which makes it a more suitable choice for larger organizations in need of an extensive platform.
Simple and user-friendly interface makes Spiceworks easy to navigate and utilize the software effectively for intuitive workflow automation and straightforward ticket management. ServiceNow offers many customization options to tailor the platform and UI to their specific needs which may require some technical expertise.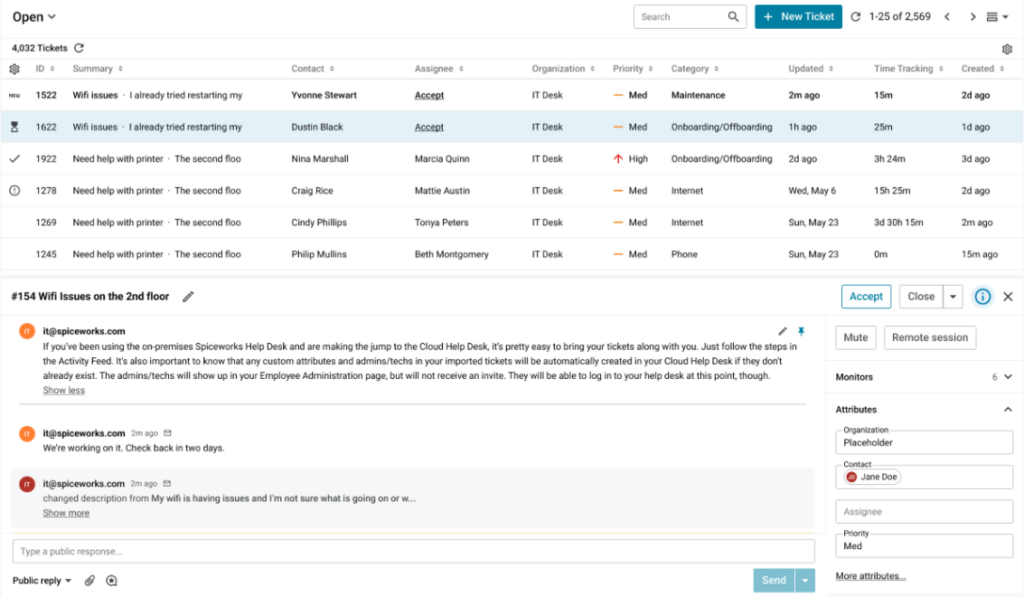 One of the significant advantages of Spiceworks Help Desk is its pricing structure because it offers a free option. The free version provides essential features and is a cost-effective solution for organizations starting with IT support software.
Spiceworks summary:
Go with Spiceworks if you need:
User-friendly and intuitive solution suitable for small to medium-sized businesses
Budget-friendly option with a free version
Essential features for efficient ticket management, task automation, knowledge base creation, and asset tracking
Access to a community of professionals for knowledge sharing and support
Save more with LiveAgent
Compare various combinations of most used customer support software tools and find out what suits you best.
Final Word
Complex navigation panels, a high starting price, and an upfront cost are frequently identified as problems by users. They're looking for tools that take little time to master and help them deliver top-notch service to their respective customer base.
With these top providers, you can choose from an easy-to-manage ticketing system, a quick live chat, or a reliable way to keep track of your social media interactions.
Want to see what makes LiveAgent so special?
Come and try all options and functions for yourself.