Live chat is consistently ranked as one of customers' favorite communication channels. It's fast and convenient. It feels intuitive and brings customers closer to their favorite businesses. And businesses love live chat too – it's efficient and it's proven to increase conversion rates.
The only thing that can make chat even better is to use customer satisfaction surveys. Besides the obvious advantage of being able to see whether your customers were happy with the service, there are 7 other benefits to integrating CSAT into your live chat experience. Below, we show you how you can use the data to improve your customers' live chat experience.
*psst* Make sure to scroll down to the end to checkout Nicereply's Cyber Monday deal
7 reasons to integrate CSAT surveys into live chat
Real-time feedback for service recovery
The best time to turn around a bad experience is the moment it happens. When you collect real time customer feedback in every chat, you'll have the opportunity to immediately jump into action when a customer leaves a poor review.
Set up an automated workflow to alert a supervisor or team lead to a new negative CSAT score in a way that makes sense for your team. Using email notifications, Slack messages, or just adding the ticket to a queue makes it easy to review and respond to unhappy customers.
In many cases, customers who receive a follow-up after leaving negative feedback end up being more satisfied with the service, and more loyal overall, than customers who haven't left feedback at all. In fact, 83% of customers agree that they're more loyal to companies that resolve their complaints. This is called the service recovery paradox. The act of following up shows that you're a business who cares and listens.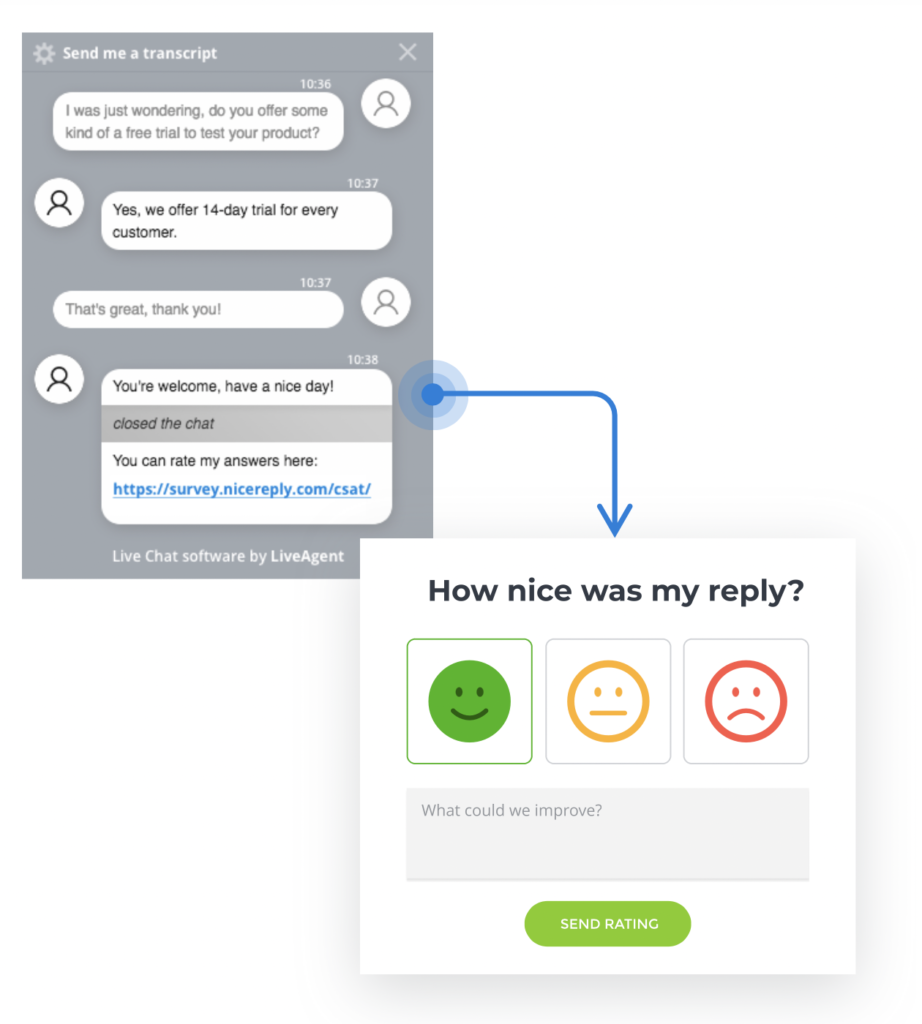 Customers love companies who listen
The number one reason customers leave your company is because they feel unappreciated and unheard. And that's not surprising, considering that only half of customers say they get a response from a company when they complain.
By offering a place to leave feedback and then responding to it, you make your customer feel cared for. Plus, you'll stand out from the crowd. Since so many companies don't take the time to request and address feedback, you'll come across as a customer-centric company that cares.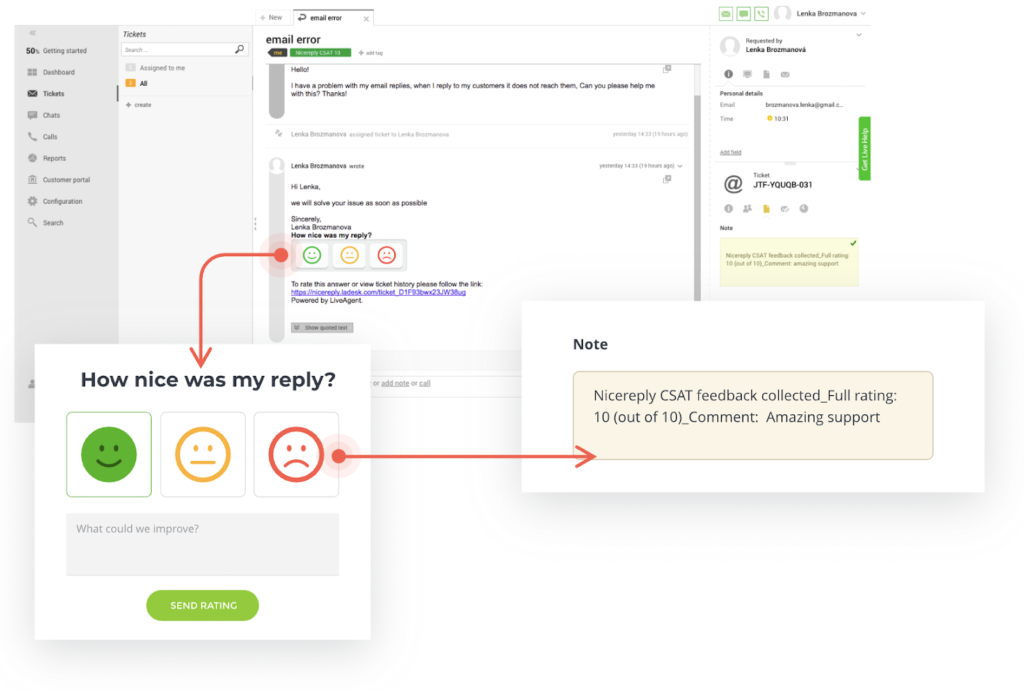 Growth opportunities for live chat agents
Feedback is how we learn. Real time feedback helps customer service agents understand when they are doing a great job satisfying customers. And negative feedback offers an opportunity to improve.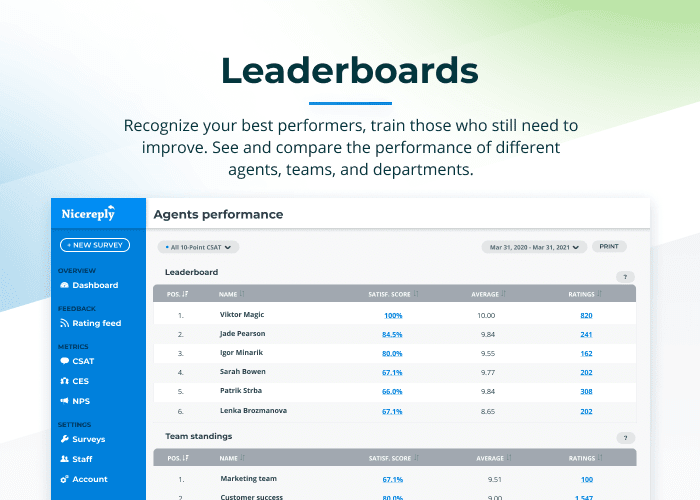 You can either send feedback directly to the agent who was assigned to the chat, or review feedback during your 1-on-1 meetings to make sure the agent is getting the most out of the feedback experience.
Insight into customer sentiment
Customer sentiment is the way your customers feel about your company, service, products and experiences. Monitoring customer sentiment is a great way to know if you're on the right track when it comes to changes and updates you're making.
Chart your customer satisfaction scores over time. If you notice a large drop or spike in CSAT, look back to see what changes you've made. Are customers responding to a new product launch? Have you changed your customer service workflows? Did you, for example, implement automation that is causing customers to have a better experience? Adding CSAT to your live chat widget provides a barometer over time that can help you identify what your customers are happy or disappointed with.
Newsflash
For Black Friday/Cyber Monday, we're offering 50% off all plans for new accounts for 3 months when you use code: BLACKFRIDAY2021 at checkout.
Feedback on products and services
Customer feedback is the greatest gift. When customers take the time to let you know how they're feeling about your products and services, you know that they are engaged with your company. Plus, sometimes the best ideas come from customer feedback.
There are two ways that live chat CSAT provides feedback on your products. First of all, customers will often use the feedback widget to leave messages with detailed opinions about your products, even if you intended for the widget to only be used for customer service feedback. That's totally fine! The more places customers have to leave feedback, the more insight you'll have into what they want.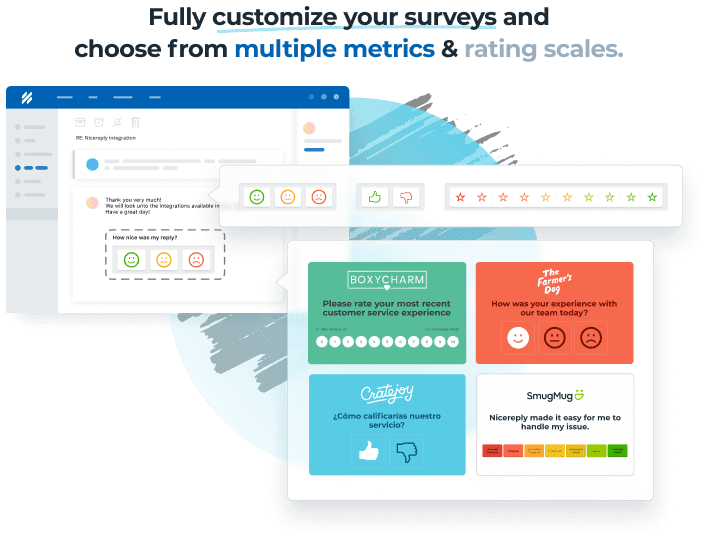 Second of all, you can match your CSAT scores with the products that customers write in about. For example, if you're seeing lots of bad CSAT scores coming in for conversations that are tagged "model300x" then that's a surefire sign that you need to dig into that product. Is it experiencing more issues than your other products? Or is it just really hard for your agents to provide good service for? Either way, the CSAT scores will help you uncover what's happening.
Gather purchasing signals and find promoters
If you use live chat as a lead acquisition channel, a positive CSAT score can serve as an indication that your customer is engaged in the purchasing process. This may move them further up your list of qualified leads.
Furthermore, shoppers that rate a company's service positively are 38% more likely to recommend that company in the future. With CSAT scores baked into your live chat tool, you can spot the customers that are most likely to leave a positive review or refer friends and family to your company.
Set up a workflow to email customers who leave a Good CSAT score with an invitation to leave a review or refer a friend. That way, you're targeting satisfied customers who are the most likely to review and refer.
Identify potential churn risks
Customers who experience poor service are less likely to purchase, more likely to churn, and extremely likely to tell their friends and family about the experience. As it turns out, 78% of buyers have backed out of a purchase after a bad service experience.
With CSAT surveys embedded in your live chat widget, you can spot these churn risks early. Reach out to customers who have responded negatively, or bump them up in your priority list for incoming conversations. These customers are already telling you they're unhappy, so make sure to give them a little extra care and attention.
Conclusion
Customer satisfaction surveys hold a lot of benefits, especially when it comes to live chat conversations. There's no need to read minds when you let your customers tell you how they feel. Start getting closer to your customers by implementing CSAT in live chat today.
Connect Nicereply to LiveAgent to start collecting live chat feedback today!
Using customer satisfaction surveys in live chat helps your team keep their finger on the pulse of your customers. Plus, it's easy to set up and easy for your customers to give their feedback at the end of conversations. Nicereply and LiveAgent are a match made in heaven, so prepare that your customer service satisfaction is bound to take off to new heights.
As an added bonus, we're offering a Cyber Monday deal to get you access to Nicereply to get you ready for 2022. Purchase any annual billing plan between November 22nd to December 6th 2021 and receive 40% off.
This offer is valid for all new customers AND existing customers who are currently on a monthly plan who want to switch to annual billing.