Networking is one of the most important things you can do for your career. It lets you build relationships with people who can help you in your professional and personal life.
When networking, it's often beneficial to send thoughtful emails that will make a good impression. Below, we will discuss best practices for networking emails. We'll provide tips for what to include in your emails, as well as examples of effective templates.
A good networking email can also play the role of a greeting. With a good email template, you can introduce yourself to someone who you'd like to connect with. This is a great way to start a relationship and get your foot in the door.
It can also be used for follow-ups as well. For example, if you've already met with someone before and had a conversation with them, you can follow up with an email to thank them for their time and continue the conversation.
How to title a networking email
Bear in mind that the title of your email is the first thing that the recipient will see. As such, it's important to make sure that your header is clear and concise.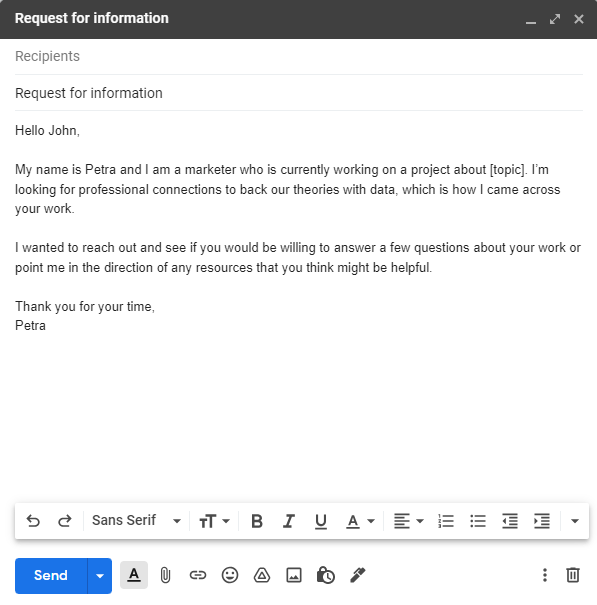 The title should be something that will grab the person's attention and make them want to read more. Also, remember that you want to come across as professional and polite, so the title of your email should reflect it.
The title should also suggest the current status of your relationship. You wouldn't title an email to someone you just met as "Hey, old friend", but you also wouldn't write an email to your boss with the subject "Hiya, chief". If the email is being sent to someone you don't know, keep it formal and brief.
Networking email subject line examples
How to write a networking email
Everyone can come up with a few bad email examples from the top of their head, so we are not going to list them here. Instead, let's have a look at how you can create the most effective networking emails.
As with any email, there are a few things you'll want to keep in mind when writing this kind of message. Make sure that your email is clear and concise – no one wants to read a long, rambling prose. Get to the point quickly and be respectful of the person's time, especially if they're busy professionals.
It's also important to proofread your email before sending it. This will help to make sure that there are no grammar or spelling errors. Nothing says "unprofessional" like an email with mistakes in it.
Always refer to the recipient by their name rather than using generic terms like "sir" or "madam". This shows that you've taken the time to learn about the person and their preferences.
Also refer to the place where you met or will meet, as this will remind the recipient who you are. Furthermore, make sure to sign off with a friendly, professional closing – "Sincerely" is always a safe bet here.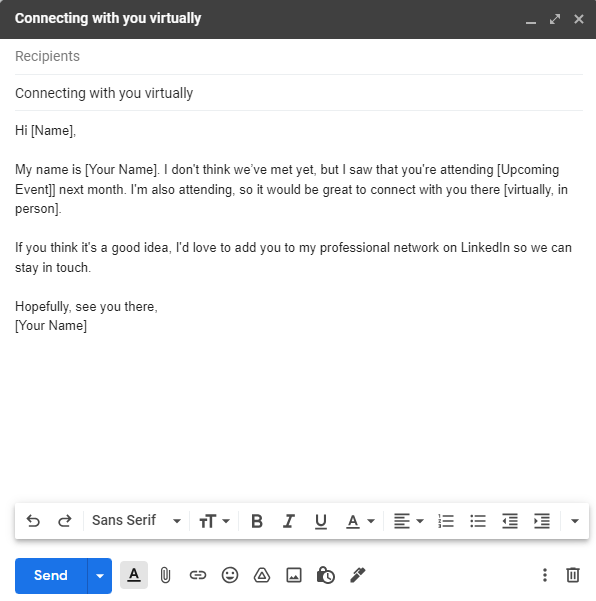 When possible, personalize your email. Mention something that you have in common with the person or compliment them on their work. This will make your email stand out from the generic messages they probably receive.
Finally, be sure to include a call to action. This could be something like asking to meet for coffee or requesting a specific piece of advice. Without a call to action, your email may just get lost in the shuffle.
What to include in a networking email
Networking email templates and examples
Introducing myself
Following up on our conversation
Follow up from [event name]
Hello from [mutual connection]
Can I buy you coffee?
Quick question about [topic]
Thank you for our meeting
Connecting after [event name]
I'd love to connect
Request for advice
It would be great to meet you
Meeting you would be an honor
Let's meet at [Upcoming Event]
Let's keep in touch
Follow up from [Past Event]
Connecting with you virtually
Great meeting you at [Past Event]
Hello from [mutual connection]
I'm interested in learning more about your work
Let's keep in touch
Let's catch up, shall we?
Meeting request for [date] at [time]
Would be great to connect with you
Request for information
Networking email best practices
When sending a networking email, there are a few key things you'll want to keep in mind:
Always send a personalized message – you have to stand out from the hundreds of other emails that the recipient gets every day.
Add your name and contact information – make it easy for the recipient to find your contact information so they can follow up with you, especially if you're a complete stranger to them at this point.
Don't forget to include context or a specific reason for reaching out – don't just say you want to "chat" or "connect". Be specific about why you're reaching out and what you hope to gain from the conversation.
When applicable, offer to help – whether it's an introduction to someone else or volunteering your help with a project, make sure you offer something of value in return for the person's time.
Explain why you want to connect – people are more likely to respond positively if they understand why you are writing to them and what benefits they might get from responding.
Thank them for their time – always end your email by showing gratitude for hopefully reading your message and replying, and let them know how they can reach you if they're interested in connecting.
Create a subject line that stands out – with so many emails, you want to make sure yours stands out from the crowd and gives a clear idea of what the message is about.
Try to mention something you have in common – whether it's having a mutual connection, attending the same event, or working in the same industry, a mutual interest will make the recipient more interested in what you have to say.
Do your research – before you send an email, do a quick Google search or check out the recipient's LinkedIn profile to learn more about them and their work. This will help you write a more personalized message.
Summary
Now that you know the best practices for writing a networking email, it's time to get out there and start making professional contacts. You never know who you might meet or what opportunities will come from it. Networking is a great way to build relationships and expand your career, so don't be afraid to reach out and start connecting with people today.