What is a customer efforts score?
Are your customers happy? Are they satisfied with your service and product? You can measure it with Customer Effort Score – CES. It is a metric, which shows how your clients feel about the effort they have to make to interact with your customer support team and get a solution to their problem.
Choose a suitable question and ask your customers. Then calculate the percentage of Customer Effort Score based on customer answers. There are many ways to measure it, e.g. via emails or questionnaires.
Watch a video about customer effort score
Customer effort score (CES) is a metric for gauging customer satisfaction. It's calculated by collecting feedback from customers about how difficult it was to complete an interaction. LiveAgent help desk software provides an automated system for measuring customer satisfaction by monitoring each customer's satisfaction score as they interact with customer service agents. This information allows customer service teams to track problems and solve them before customers get frustrated. Additionally, LiveAgent helps teams to customize the customer experience by making sure customers get the help they need quickly and easily.
Metrics That Matter! Customer Effort Score | MetricNet01:03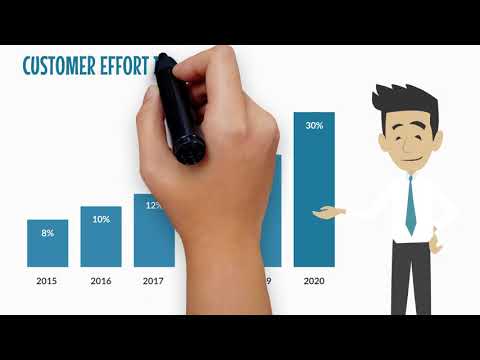 MetricNet
Topics
customer effort score
customer satisfaction
Net Promoter Score
Video summary
This video discusses the importance of measuring customer effort in order to determine how easy or difficult it is for customers to do business with a company. The customer effort score (CES) is measured through surveys and is rated on a scale of 1 to 7. A low CES score indicates a difficult experience, while a high score indicates an effortless experience. Along with CES, customer satisfaction and Net Promoter Score are also important metrics to track for overall customer experience. These three metrics can be combined for an overall measure of customer experience. The video recommends visiting metric Netcom to learn more about these metrics.
Frequently Asked Questions
What is customer effort score (CES)?

The Customer Effort Score (CES) is a metric that shows how your company's customers feel about the effort they must put in interacting with your customer service team and finding a solution to their problem. Thanks to this, you can test the effectiveness of your customer service.

How to calculate customer effort score (CES)?

To calculate the Customer Effort Score (CES), select the appropriate question and address it with customers. This can be done e.g. on the basis of a questionnaire. The easiest way is when customers answer on a scale from 1 to 10. Then you divide the sum of their responses by the number of customers polled and you get this ratio.

How to improve customer effort score (CES)?

To improve your Customer Effort Rate (CES), gather your customers in a dedicated online space. Thanks to it, they will be able to easily connect with customer service, as well as other customers and experts. The second idea is to create a knowledge base that will help you solve customer problems quickly and easily. The third (and the most important) way is efficient customer service, which is possible thanks to the right software.
Expert note
Measuring Customer Effort Score (CES) shows how easy it is for customers to interact with your company. Improve by simplifying interactions and focusing on critical touchpoints.

Andrej Saxon
Sales manager