What do you do before making a big purchase or investment? You probably conduct an Internet search or ask family and friends for recommendations, as that's what most consumers do too.
No wonder, word-of-mouth marketing (WOM marketing), is perceived as the most credible form of advertising by many marketers. Why is it so powerful? Because friends that recommend a product don't have anything to gain by recommending it. So, when you get a brand recommendation from someone, you are likely to give it a shot.
Because WOM marketing is so effective, all businesses should strive to provide such a service that prompts customers to recommend it to others.  But how can you make sure your customers are satisfied enough to recommend your business? By measuring the right metric — the Net Promoter Score.
What is Net Promoter Score?
Net Promoter Score (NPS) is a customer satisfaction benchmark that measures how likely your customers are to recommend your business. It's a proven methodology for measuring customer loyalty. NPS measures a customer's overall sentiment about a brand, and that's why it's different from other metrics such as customer satisfaction score or customer effort score, which measure singular interactions or purchases.
There are many channels that you can use to conduct an NPS survey. It can be sent by email, which is a relatively non-intrusive and inexpensive method. You can also gather customer feedback in-app to ensure a high response rate and fresh, relevant feedback. Text messages are also a great way to reach out to your customers to ask for their opinions about your brand since it requires minimum engagement from a user to answer and is rather cheap too. An NPS survey can also be conducted via the phone, which is a channel that benefits from high response rates and provides in-depth insights.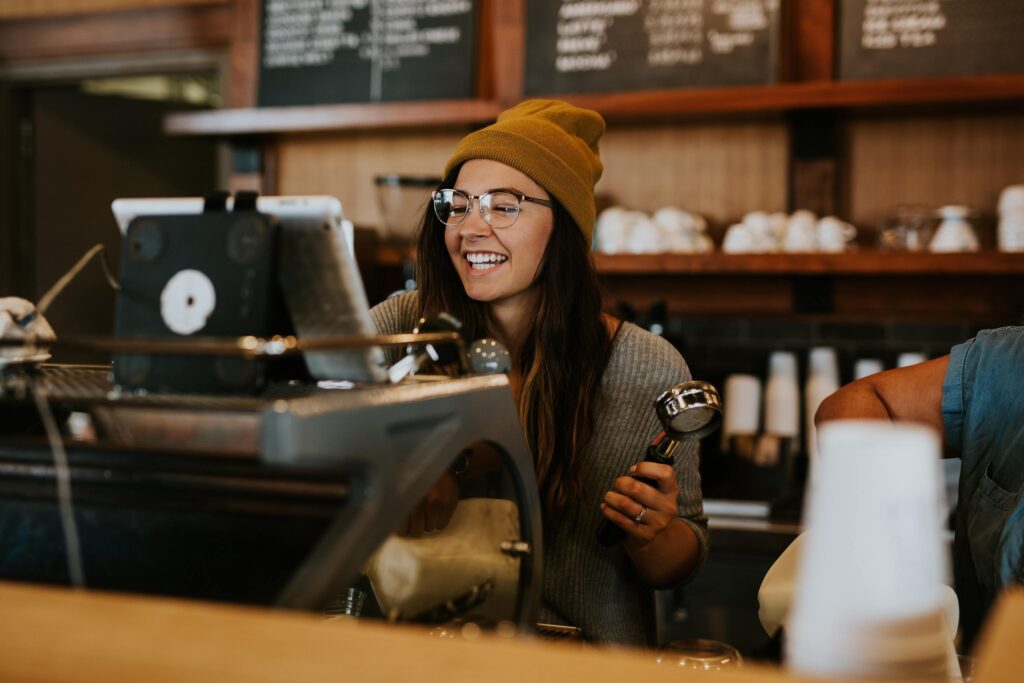 How to measure NPS
One of the advantages of measuring NPS is that it only asks one question such as: "How likely are you to recommend our business to a friend or colleague?", or "Would you recommend our service or product to a friend or family member?"
The answer can be a number on a scale of 1 to 10, with 1 meaning highly unlikely and 10 meaning very likely. Responders who answer with a 9 or 10 rating are considered promoters. Those who answer 7 or 8 are among the passives, so their votes don't count. All users who answer 6 or below are considered detractors.
To calculate the results of the NPS survey, use the following formula:
% of all promoters – % of all detractors = Net Promoter Score 

The highest score your company can achieve is 100 and the lowest is -100. If every customer loves what you're offering, then your NPS is 100. But that's impossible, sorry 😉 However, everything from 1 up to 100 is considered to be good. Each positive number is seen as a sign that your customers are satisfied. A score from 50 up to 100 is usually considered extremely good. 
Thus, NPS gives you a good measurement of how your consumers perceive your brand. However, it's important to remember that different industries and markets have different benchmarks. Do some research on how other companies in your field are doing in terms of NPS to see how you're doing.
Now that you know how to measure NPS and what questions you should ask your customers, its time to learn how to run an effective NPS survey.
What should you consider before running the first NPS survey? 
1. Understand customer touchpoints 
The first stage of implementing your NPS system is identifying contact points and their impact on your customers. After you analyze all communication channels used by your customers, decide when you will collect answers from your clients, and which touchpoints you will use.
2. Determine links between NPS questions and KPIs
It's essential to link your NPS survey questions to your company Key Performance Indicators. You also need to decide on the type of NPS survey you want to use. There are two types of NPS surveys: transactional or relationship (relational) focused. A relational NPS survey measures loyalty to a brand based on the customer's overall experience. A transactional survey (tNPS) gathers feedback from a specific interaction. It can generate more focused, actionable insights if used in conjunction with a traditional NPS survey. If you want to get feedback on a specific interaction, ask something like: "based on your most recent interaction…"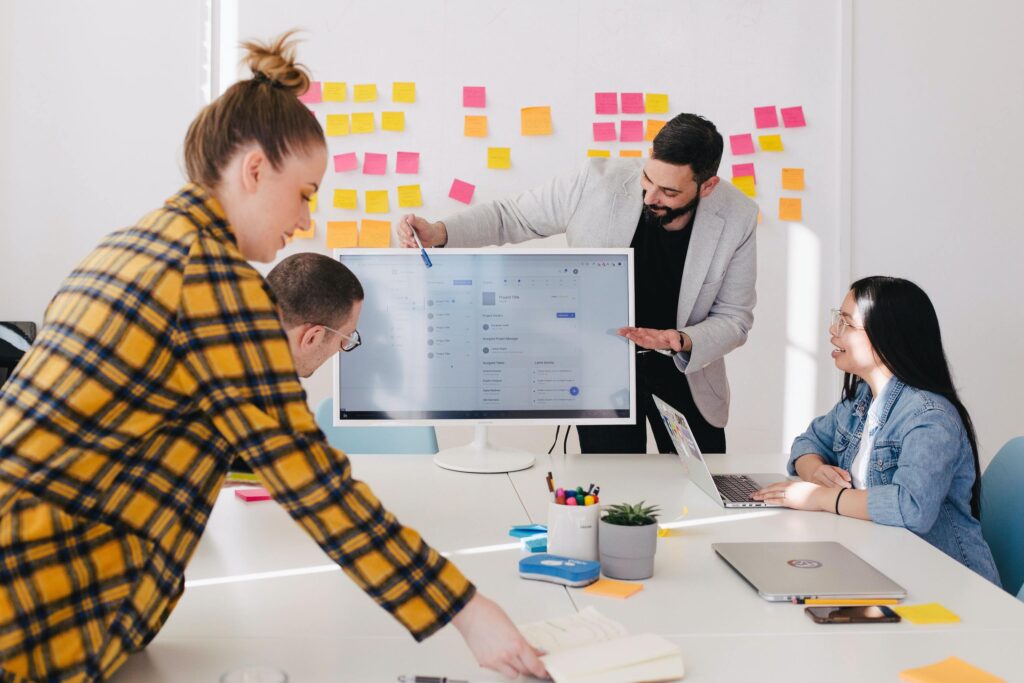 3. Understand what affects customer loyalty
To get the most out of your NPS surveys, you need to understand what drives customer loyalty in the first place. Do you know what influences the behavior of your promoters, passives, and detractors? Remember that the feedback they provide is based on their own personal experiences with your brand. That's why to get deeper insights, you may consider conducting a post-survey follow-up to clarify the feedback gathered in the primary survey.
4. Close the loop 
Each employee plays a key role in the process of improving the customer experience. Customer service representatives, technical support, and sales representatives all contribute to creating brand promoters as well as detractors. Middle managers should handle outstanding customer experiences and provide performance coaching. Senior managers should ensure that NPS results remain in line with strategy development.
Why should companies measure NPS?
NPS is a clear way to align organizations around the customer experience. It's easy to understand, and it keeps the focus on the customer. Regularly conducted NPS surveys are a valuable source of insights for any company as the gathered data helps identify areas of improvement.
Recommendations are a powerful marketing asset. According to a study by Ogilvy Cannes, 74% of consumers identify word-of-mouth as a key influence in their purchasing decisions. Word-of-mouth is also the most popular channel for sharing information, as 72% of people get news from friends and family. Moreover, It is estimated that 92 percent of consumers trust recommendations from others, including those they do not know.
Get the feedback you've been missing
In the case of most companies, feedback arrives via a small percentage of users who contact customer support for specific issues. Every consumer has their story or opinion, but most of the stories go untold. NPS surveys provide feedback from customers who you would not have otherwise heard from.
NPS measures customer loyalty
The results of NPS surveys help companies evaluate customer loyalty and the likelihood of them recommending a product or service to a family member or friend. NPS also helps businesses spot customers at risk of churn. According to the Harvard Business Review, it's anywhere from 5 to 25 times more expensive to acquire a new customer than it is to keep a current one. Therefore, empowering and retaining existing customers has an even higher ROI than attracting and converting new ones. That's why it's really important to monitor customer satisfaction using recurring NPS surveys, which provide companies with the necessary feedback to turn the experiences of unsatisfied customers around.
For businesses of all types and sizes
No matter what kind of service you provide or what product you sell, NPS is a great way to connect with your customers and understand their needs. Regardless of where you sell — online or offline.
Boost referral marketing and leverage positive WOM 
Customers who indicate that they are super happy with your service can also be your brand promoters. After you identify your promoters through an NPS survey, ask them for testimonials, case studies, or reviews of your company on third-party websites. According to a study by Nielsen, more than 80% of happy customers are willing to provide recommendations — so don't hesitate to ask! Having positive testimonials on the web will help you bring in new customers in the future. Moreover,  referred customers are more profitable and more loyal – they have a 16% higher lifetime value than others — so it's definitely worth it to ask for some reviews!
NPS aligns your team
Make your NPS a key metric for customer service teams. Setting a clear goal and removing all barriers that may prohibit your representatives from reaching that goal is a great way to boost the growth of your company.
Calculate Net Promoter Score with LiveAgent 
As a LiveAgent user, you have all the tools needed to conduct NPS surveys and measure customer satisfaction. You don't need to look for external solutions, study methodologies, or best practices. LiveAgent offers Nicereply integration. Nicereply is a fully customizable  all-in-one customer satisfaction survey tool that provides multiple survey distribution methods.
You can enable Nicereply to collect feedback by placing a link directly in your LiveAgent email signature, in any custom email templates you send, through triggers, or after a live chat session. All the results of your NPS surveys are gathered in one dashboard featuring ratings, charts, and trends so that you can analyze and control the performance of your agents. And you can do it in real-time, as Nicereply notifies you every time feedback from a customer is received. So instead of waiting days for the results of a survey, you can act quickly and proactively — create action plans to increase customer satisfaction and prevent churn.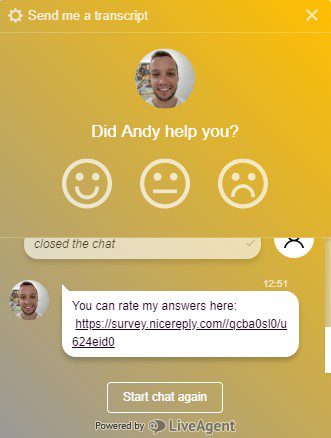 Moreover, this native integration enables you to customize your NPS surveys according to your branding needs, so that the surveys match your company's style.
 Check out the integration guide or this article to learn more about the integration.
Measure customer satisfaction and improve
Customers are the backbone of your business. Unhappy clients tend to share their negative experiences much more often than satisfied customers. That's why it's important to survey and evaluate customer feedback systematically through NPS surveys. By measuring NPS, you can easily measure customer loyalty and identify areas of improvement.  If you start conducting NPS surveys today, you'll soon be on your way to gaining more loyal customers. Try Nicereply today.
Start measuring NPS today
Integrate customer satisfaction surveys into your live chat widget, or place satisfaction surveys directly into your email signature. Start benefitting from real data insights today!