Often, the way customer service is handled, or mishandled, will ensure your businesses' success or failure. Some customer service representatives will consider the word "service" to mean "get rid of the customer's problem". You may be transferred without notification of where or why. Some of the worst representatives will just hang up on a caller with a complex problem, leaving the caller with two options. He can call back and start all over, or he can give up.
Be positive
A simple sentence such as, "I'll be happy to help you with this matter" can make all the difference between a satisfied customer and a disgruntled one. The customer should be made to feel important and this can be accomplished with a little empathy. For example, saying, "I can imagine how frustrated you are over this situation" can show that the caller's problem is an important one to you. The caller should be made to believe the empathy is sincere by the tone of voice that is used. There's a vast difference between, "Frustrating, huh?" and "I'll be happy to assist you through this frustrating experience."
Phrases that sound positive using optimistic words and sentences will assure the customer that you care enough to help resolve the issue at hand. Never make the caller feel as if you are trying to get rid of him and his problem by saying, "I'll get back to you in a few days" or "I don't know what can be done." Instead say "I'll be happy to investigate this matter and provide you with the right answer."
Stand out from your competitors with a strong
customer service culture​
Show empathy
If you must transfer him and the other department doesn't pick up the call, return and let him know you are transferring him to the department he needs as quickly as possible. "I'm sorry that line is still busy, may I ask you to hold for another few minutes?"
A brief apology for the wait will let him know his time is important to you and the company you represent. You may want to ask if the customer minds waiting a few more minutes by saying, "Would you prefer to have me find the information and call you back to supply an answer?" When you do that, be sure to stay in touch by calling or emailing within a day or two. If you still haven't found the solution you might say, "I am still working hard to find the best solution to your problem. We certainly appreciate your continued patience."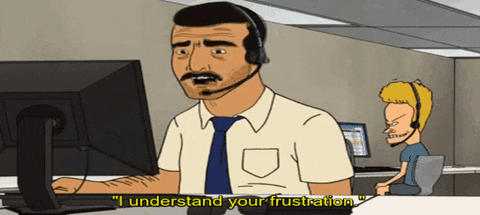 Placating an angry or dissatisfied customer is vital to the company's success. Let that frustrated individual know that the company is serious about pleasing each customer. Saying something such as, "I appreciate your understanding about getting this issue resolved to your satisfaction" will sooth any feelings of anger at being misunderstood or made to wait too long for a resolution.
Prior to ending each call, ask the caller, "Is there anything else I can help you with today?" This will make sure he doesn't feel you are rushing him or trying to get rid of him. You should express genuine happiness at being able to resolve a problem or let him know you wish you could help. Say, "I really wish I could provide a satisfactory conclusion."
Be thankful
Explain why something is done a specific way. It may be soothing to say, "Your idea is good; I'll give your suggestion to my supervisor."
The use of please and thank seems to have disappeared from the English language. A sentence prefaced with "please" will have a positive impact. Ending a phone call or email with "thank you for being a valued customer" leaves the customer with a good feeling towards you and the company you represent.
If you must say "no" to a customer, make certain he knows you regret doing so. "I would love to help you with that, but it simply isn't possible to do so." Basically, it is important to convey the thought that you genuinely care about his satisfaction. It is your job to resolve his problem. End the conversation or email with, "It was my pleasure to assist you today. If I can help you in the future, please feel free to contact me."
Even when the resolution is not what the customer hoped for, you leave him knowing that they weren't rushed. You paid complete attention to their concerns and did your best to provide a satisfying response. If you impart a sincere attempt it shows that you and your company care about him. These positive and sincere answers make it likely he will return with any future business or recommend your company to friends through words of mouth marketing.
Have bad memory? Save these phrases!
Remember to ask the right questions and say the right things when assisting customers. With canned responses it's easy. Simply deploy each phrase with a single click!
36 English Phrases For Professional Customer Service
36 English Phrases For Professional Customer Service | Derek Callan - English for Professionals08:17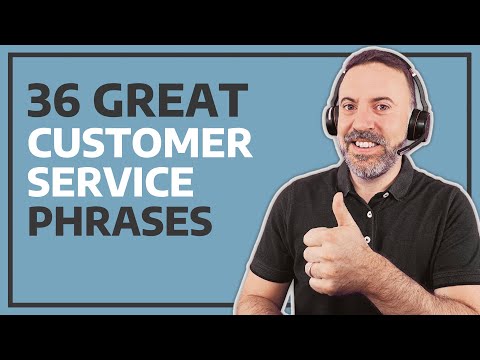 Derek Callan - English for Professionals
Topics
Useful English phrases for customer service
Dealing with complaints
Transferring customers to appropriate department
Video summary
This video focuses on 36 useful English phrases for professional customer service. It covers answering a call and greeting a customer, dealing with complaints, transferring customers to the appropriate department, and asking for customer information. The video emphasizes the importance of showing understanding for the customer's situation and staying professional and calm when there is an issue. It also provides different ways to close a call.