Communication with customers (responding to customer requests) can make or break a business.
The ability to communicate clearly and effectively leads to more satisfied customers, referrals, and better overall online image. On the other hand, failure to do so results in an undermined reputation, disappointed customers, and, of course, lower sales.
In fact, there's evidence that U.S. businesses lose about $41 billion as a result of poor customer service every year.
That's a lot.
Besides, no one can ever calculate the damage to reputation caused by ineffective and unprofessional customer service. That's why businesses invest so much in customer service training. Today, customer service has become a brand, and many people are willing to pay more to get quality treatment.
In fact, PwC's "Future of Customer Experience" study found that respondents from a range of different industries were willing to pay as much as 16 percent more for better service. On top of that, 74 percent of those surveyed said they wanted more human interaction and reported that many businesses "have lost touch with the human element of the customer experience."
Bridgette Hernandez, who is responsible for a major piece of content at Grab My Essay and Studicus, shares her thoughts on this:
"A few years ago we sent over several thousands of emails asking a direct question. In the responses people asked for services that we had been already delivering, but faster and cheaper. Then we sent another questionnaire offering several options including the services that we planned to launch soon. This time most of the responses showed excitement with the new options. Bottom line: people don't want to think about your business, it's your job."
The most important rules of customer service
Before we proceed to actual writing tips, let's make something clear: we're going to avoid the mistakes that hurt your business and stick to the golden rule of customer service (more about in a second). Many customer service representatives make a mistake by telling customers what they want to hear.
This is a sure-fire sign of an unprofessional representative who either was poorly trained or had low motivation to do their job. People like these want to close customer service tickets as soon as possible and go home.
Clearly, a bad idea.
To make sure that we're covering all bases, we're going to use the golden rule of customer service:
Don't delight your customers. Reduce the work a customer must do in order to solve their problem.
Why is this the golden rule? Because, as Harvard Business review found, it's the key to customer loyalty, which, as you know, is critical for repeat business and positive image.
To resolve a customer's issue, 2.4 emails, on average, are required, according to HBR. Clearly, meeting this goal is impossible with clear, effective, and customer-focused communication.
So, this is where customer service writing comes in. Let's see how to respond to a customer request in a way that reduces their effort.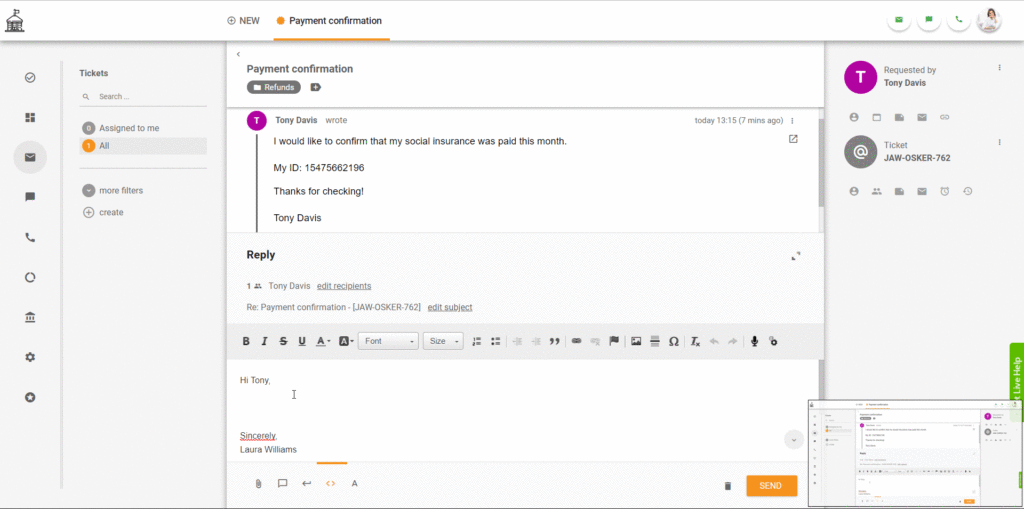 How to reply to a customer request: 7 tips
1. Ensure that you have all information you need to respond
A good multi-channel customer support system typically provides all the information you need. This includes the name of the customer, the time when the customer request was made, related tags, etc. To make sure that your answer works to resolve a customer's issue, review everything.
The more information you have about the customer and their problem, the better your chance is to solve it.
2. Avoid unnecessary complexity
Anything that can make your response hard to read or understand – jargon, long, complex words or sentences, fancy fonts that may not be supported by a customer's device, etc. – should be avoided to achieve the best customer outcome.
Failure to do so is likely to result in a need for further clarification. Or, in many cases, the customer would have to find out what that fancy word that you wrote them means. Clearly, this adds more work, which is the opposite of what we're trying to achieve, so make sure that the customer will understand your message without having to clarify the meanings, etc.
3. Use the language of the customer
As a general rule, the vast majority of customers use natural, conversational language when they message service teams. You have to respond in a similar manner/ language they prefer to communicate with you. Besides, this helps to avoid making customers feel like they're doing work.
Reinforce your message by using positive language. This means avoiding phrases like "you need to" and "you have to" as well as words like "don't" and "won't" because they're widely perceived as negative.
Bad example:
"No, unfortunately, we can't allow you to track five orders at a time."
Good example:
"At this moment, our website allows us to track three orders at a time only, but we really appreciate you letting us know about this improvement idea. We're constantly looking for those, and we're definitely going to consider this one. Thank you for messaging us!"
4. Ask questions in a polite and professional manner
Isn't that disappointing when a customer service representative has no idea what you're talking about but still doesn't ask you for clarification? Don't make this mistake, and make sure that your response is professional and polite.
For example, instead of asking "What did you mean by that" try "Could you please clarify what you meant by this?"
5. Follow the three S's when asking a question
Your questions will be more effective if they are:
Simple. Make them easy to understand; complex questions discourage customers to respond.
Short. Make every question as short as possible and make sure that you don't ask a lot of them; only one or two per message!
Specific. Focus on one problem in one question to avoid making them vague and difficult to understand.
6. Use formatting for important information
If your reply contains something of great importance, be sure to use bolding or underlining to get your message across. For example, this might be important information that the customer needs to remember in order to achieve their goal.
7. Always proofread
A silly mistake like a typo when responding to a customer request makes entire customer service look amateur. So take a quick look before you hit "Send." This also applies to unfinished sentences, wrong names, and more.
Customer service is an art
While customer service is complex, your business simply cannot afford to drop the ball, because well, poor customer experience equals bad things. Hopefully, these tips were helpful to you to understand how to write effectively, and therefore, provide effective support.
Discover on your own
Knowledge is important, but only when put into practice. Test everything in our academy right inside the LiveAgent.
LiveAgent 2021 | Better Customer Service Starts Today | Live Agent01:12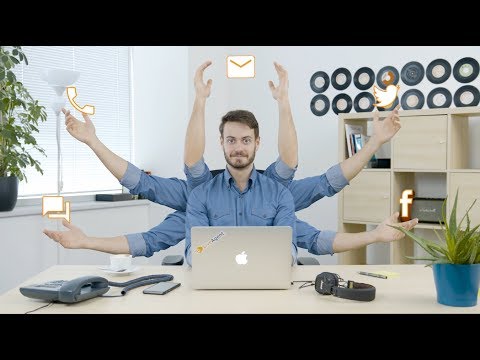 Live Agent
Try out LiveAgent for FREE
Handle all customer inquiries from one interface. Start improving your customer service with a 30-day free trial right away!
Frequently asked questions
How do you handle customer requests?

To successfully handle customer requests, make sure you listen. Thus, you can address all the customer needs. Utilizing a consumer engagement platform can assist in effectively addressing those needs. Stay calm and apologize if necessary. Ask questions to identify all the underlying issues. Last but not least, provide or suggest solutions.

How do you prioritize customer requests?

The best approach is first come, first serve. Help desk software can help you prioritize customer requests automatically. Set SLAs and effectively deal with customers based on the priority.

How do I reduce service requests?