Key takeaways
Pros
Overall a great and very well functioning ticketing system
Good looking interface with easy navigation
Plenty of integrations
Cons
Features don't offer everything
Twitter integration only available in expensive plans
Getting started with Gorgias ticketing
Gorgias ticketing software is easy to get started with. It requires only a simple registration, but it's impossible to do for people who don't have their own website. This is an unusual choice for a modern ticketing system; not all businesses necessarily need to run a website and a lot of them work only through social media or other channels that are much more relevant to their target customer groups. Nevertheless, the registration process takes just a minute with the right information, and you can start getting familiar with the Gorgias interface.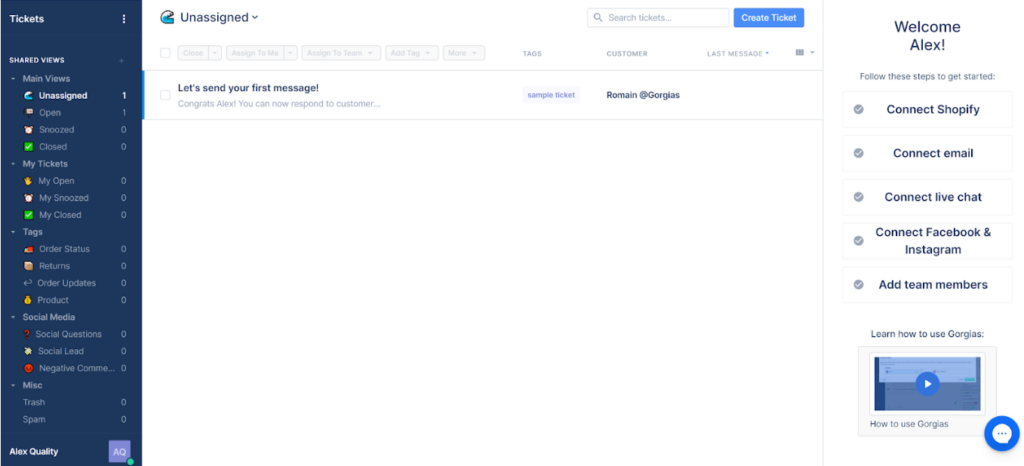 The introductory screen is the ticketing system interface, so you can already guess that Gorgias doesn't waste time and brings users exactly where they want to go. The interface itself is alright and quite well designed. The ticketing system looks pretty good at first glance and it definitely is focused on what matters without too much clutter going on. You have the main menu on the left and it's main purpose is to help you filter tickets according to various criteria. The left panel invites you to get started with more tools such as chat and socials, as well as Shopify. You can find the settings by clicking on the three dots icon at the upper left corner, next to the Tickets title.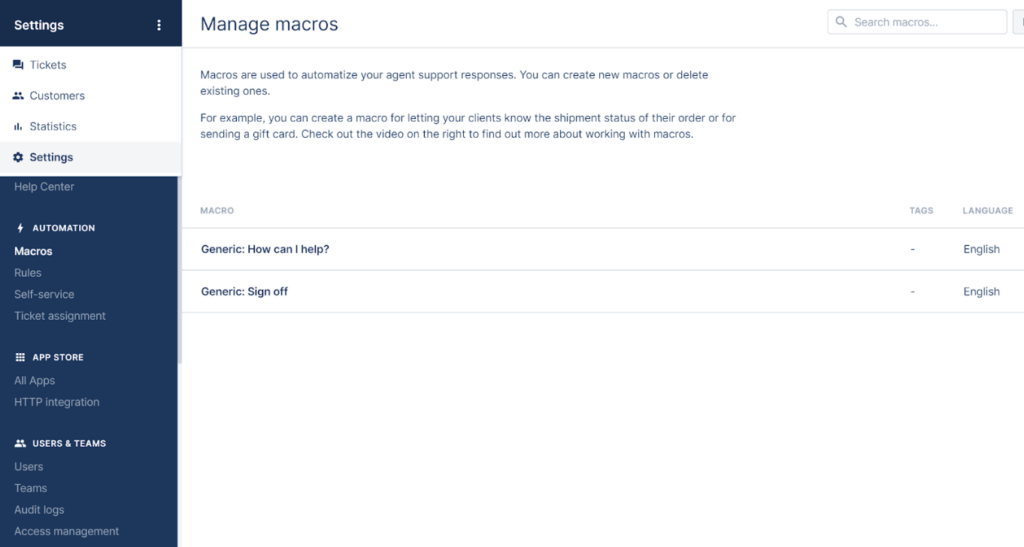 There is no startup guide at the beginning, but it's not really necessary either as everything in the interface is clearly labeled and you shouldn't have any trouble with finding any tools or settings. The ticketing system also offers a sample ticket to give you an idea how the system works and how tickets look like. You can find your default email address for Gorgias ticketing in the settings under the Email section.
Gorgias ticketing system features
Now let's take a look at what ticketing features you can get with Gorgias. Many of these features might be unavailable due to plan limitations, but you can always try them out first with the free trial. Gorgias offers an extensive set of features, so let's mention some of the most important ones, such as their direct integrations with popular eCommerce website building services. You get Shopify in the cheapest plan, but if you go upwards, you can get access to Magento and BigCommerce integrations.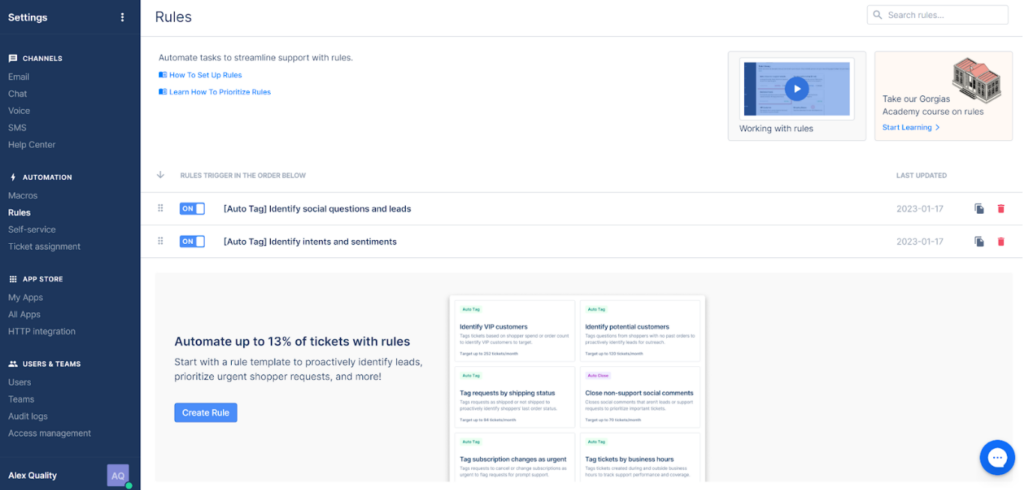 Each plan gives you access to ticketing with email, live chat, Voice, SMS Facebook,and Instagram. Twitter is available only in the two most expensive plans. Furthermore, you get access to around 94 application integrations with each plan, which can be pretty useful. Gorgias also offers automations of various kinds with each plan, as well as statistics and analytics features available at all times.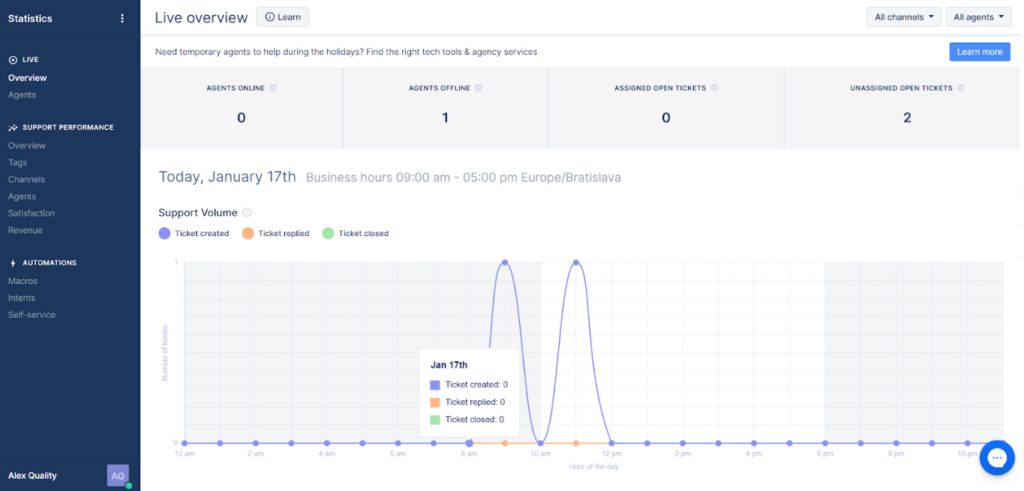 Gorgias ticketing system performance and user experience
I've tested the Gorgias ticketing system mainly from the agent's perspective to find out what the experience is like. I sent myself a couple of test emails and they arrived almost immediately without any problems or hiccups, nothing got lost. Gorgias has a handy notification that informs you whether you're about to deal with a new or existing customer based on the contact information in your Gorgias account. The system recognizes if there's a match in any contact information and lets you know about if you already handled requests from a specific customer.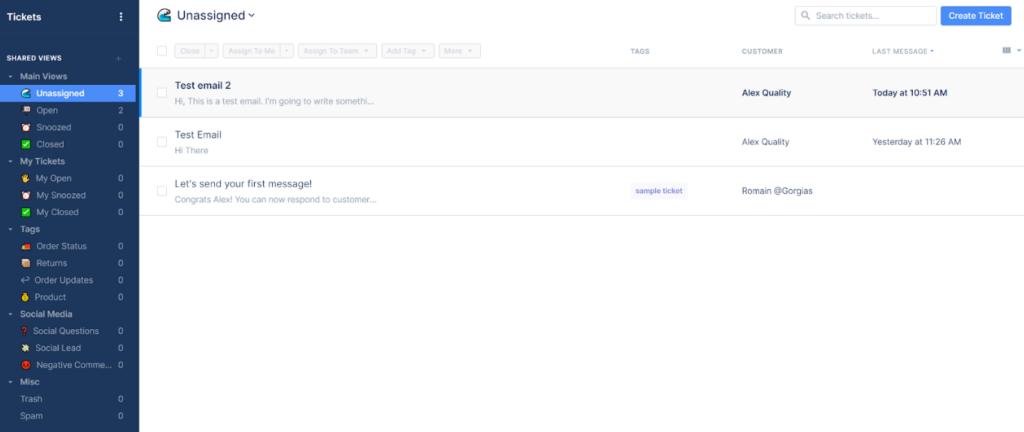 All tickets arrive as unassigned by default. Once you open any ticket, you can access all the tools for effective communication, including the formatting and text editing features. The interface in the ticket itself looks alright; it's focused on the communication and there is no clutter going on. You can search for customer data and add notes in the right panel. The main part is the ticket itself, along with the ticket reply field. It's quite small but it stretches out once you start writing a longer message. The tool icons could be a bit bigger, but it's not a huge issue in an overall well-designed interface.
Overall, the ticket interface of Gorgias is very good and everything works as intended. You can customize your text with sufficient text editing options and add attachments of various kinds. The tickets support pictures and videos, and you can add links and emojis. You can find canned responses under the Macros section in Gorgias settings, and also set up auto replies outside of business hours to handle communication until you get back.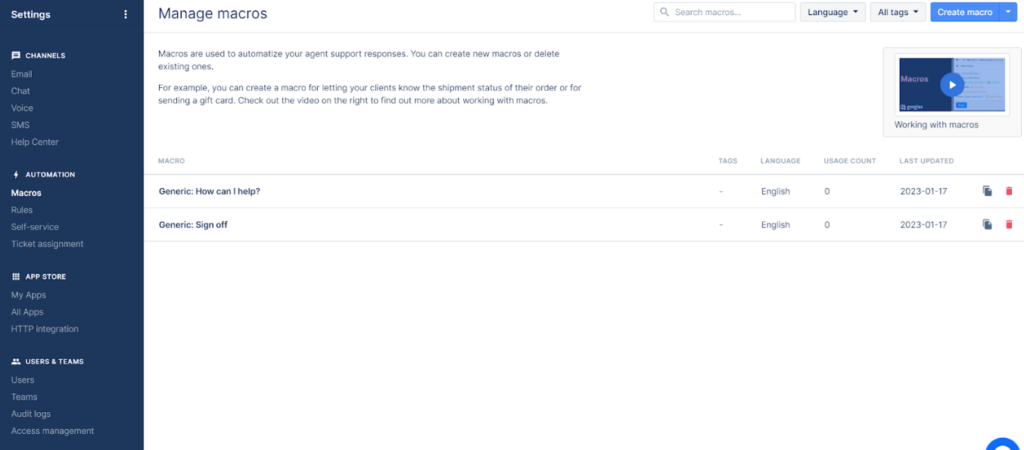 Gorgias also offers other functionalities such as merging tickets, snoozing, SPAM marking, and a couple of more. You can add tags or assign tickets to specific teams. I haven't found any ticket splitting features or anything extra. While these features are sufficient enough to help you communicate and handle inquiries via ticketing effectively, it would be nice to have some additional features for more elaborate problem solving.

From the general perspective, Gorgias offers a good and efficient ticketing system with a clear, easy-to-navigate interface and organized communication. While the feature set is not the widest among ticketing systems, it's wide enough to help you with any type of ticket and won't let you down. It's functional and works without any major hiccups.
Pricing
Gorgias offers a varied selection of pricing plans which combine various feature limits and access to features. Each plan is suitable for a certain type of business and it mostly depends on ticket volumes you want to handle, user seats, and type of communication channels you want to use. Let's take a look at each plan and see what you can get for your money.
Starter
The Starter plan costs $10 per month and offers three user seats. You get 50 billable tickets per month and pay an extra $0.40 for each additional ticket. Gorgias will give you access to Facebook and Instagram ticketing, limited active integrations from a library of 94 applications, reporting features, self onboarding, access to Gorgias Academy, and customer support by email.
Basic
The Basic plan costs $60 per month with monthly billing, or $50 per month with annual billing, both with 500 available user seats. You get 300 billable tickets per month, and you can get an additional 100 tickets for $40 per month. You get access to Facebook and Instagram, as well as 150 active integrations from a library of 94 apps, support reporting features, and basic customer services with Academy, email and live chat, and office hours.
Pro
The Pro plan costs $360 per month with monthly billing, or $300 with annual billing, both are available with 500 user seats. The offer is the same as in the Basic plan, but you get 2000 billable tickets per month with $36 per month for an additional 100 tickets. You get Support & Revenue reports and Pro customer services with Lite onboarding, as well as previously mentioned support features.
Advanced
The Advanced plan costs $900 per month with monthly billing, or $750 with annual billing, both offer 500 user seats. You get 5000 billable tickets per month with the option to get 100 more extra tickets for $36 per month. You get mostly everything from the previous plan but with access to even more advanced customer services with a dedicated success manager.
Enterprise
The Enterprise plan has custom pricing and a custom number of billable tickets per month. You get everything from the previous plans with the option to customize certain options.
Conclusion
Gorgias is a well thought out ticketing tool with essential ticketing features for most occasions. While it doesn't offer anything extra, it's very well designed and functional at all times. The pricing plans are generally affordable, but they can get pretty expensive with higher plans if you don't have a need for all they offer. Overall, they can be very affordable and help you maintain your budget.