When you're wanting to improve your customer service, the tools that you use are just as important as the training of your agents. In fact, 42% of service agents state that they are unable to resolve customer issues efficiently due to numerous disconnected systems and archaic user interfaces.
By sticking to an email inbox when dealing with your clients' inquiries, you are actually making your life much harder than it needs to be. If you still haven't implemented a ticketing system in your workflow, it's about time you changed that.
The ticketing system
The implementation of a ticketing system is a good starting point for taking your customer service to the next level.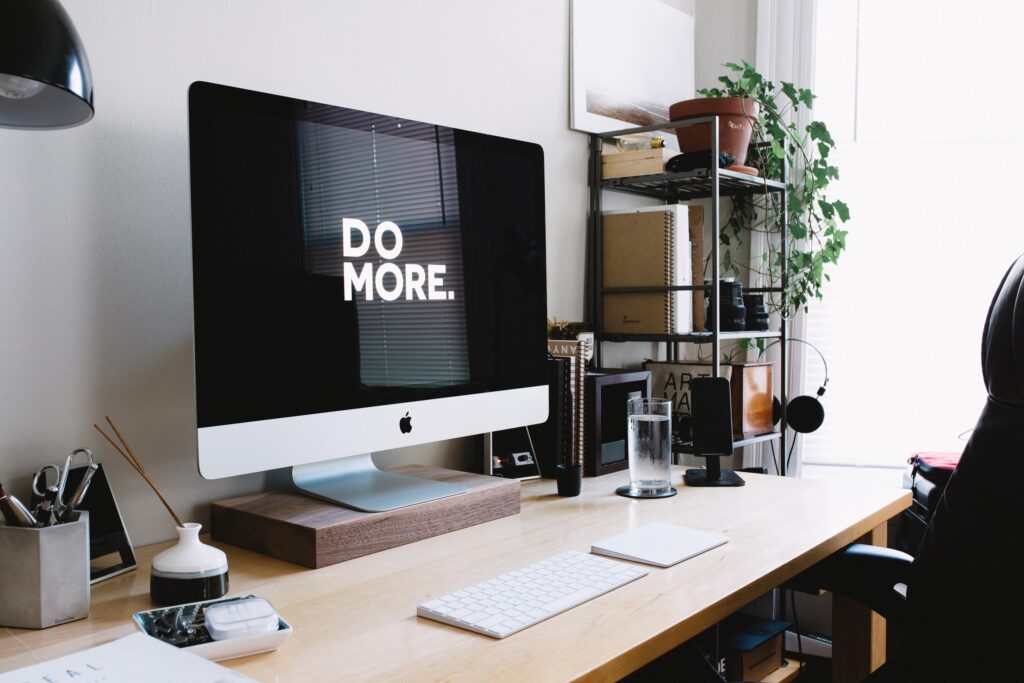 What is a ticket?
Whenever a client reaches out to you, their inquiry gets registered as a ticket. Using a ticketing system, you can easily store all of your customer communications in one place; not only emails, messages or calls, but also your customer's past purchase history, contact information, as well as your internal notes. With the help of a ticketing system, you can view tickets at a glance to get a quick overview of how each particular customer query is being managed.
What does a ticketing system do?
A ticketing system is usually the core feature of advanced customer support software. In essence, it is a universal inbox that stores all customer queries. A good ticketing system allows you to stay in control of all tickets and, by streamlining the management process, gives you more time to work on perfecting the customer experience instead. There are free ticketing software that you can try to see how they work.
Why do you need it?
If you've been using an email inbox to manage your customers' queries, opting for a ticketing system may prove to be a real game-changer for you. Let's take a look at how it can improve your daily workflow.
Keep track of customers' issues
When using a regular inbox, especially a separate one for each communication channel, it's only a matter of time before you mistakenly overlook a customer query. You can prevent this situation from happening by creating a ticket for each conversation you have with a customer.
Moreover, by using a ticketing system you won't lose any important customer information while solving their issue. Whether you have to quickly check out the status of their query or analyze the process to gain a deeper insight into the problem, you will have all of the necessary data accessible and well organized inside your ticketing system.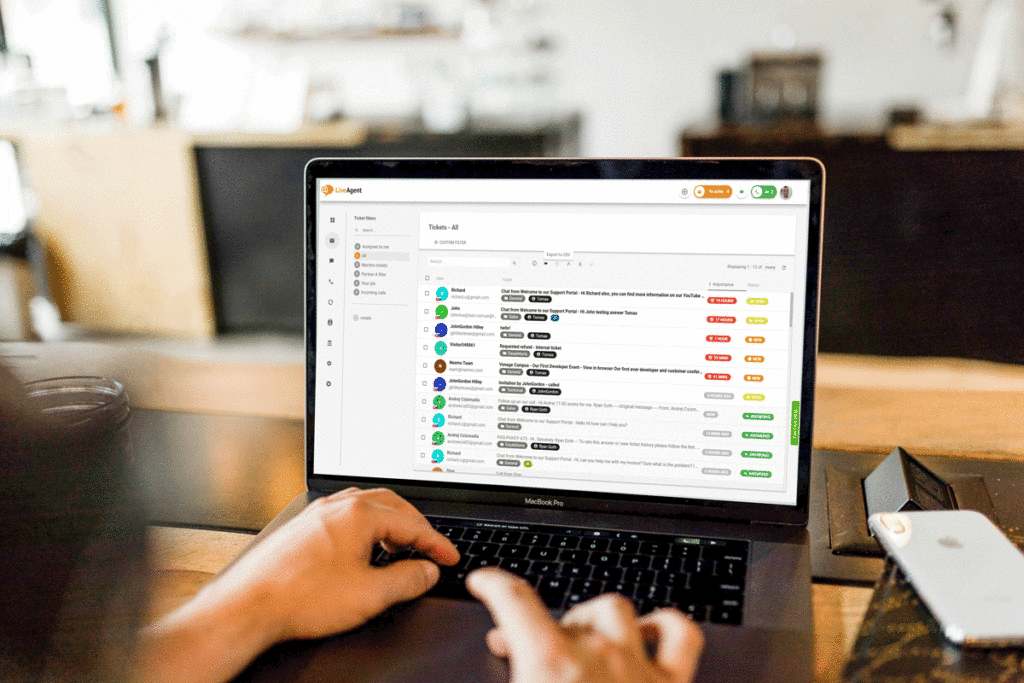 Manage the workload of your team
A ticketing system will let you assign tickets to different agents depending on their workload, efficiency, and experience. In this manner, you can ensure that you make the most of your team's potential and make better, more informed management decisions.
In addition to having easier access to organized data, like the time spent on resolving each ticket or the total number of tickets solved, the system will also help you spot agents that may need further training or, conversely, agents that should be rewarded based on their performance.
Automate repetitive actions
If you currently assign ticket transfers and tags manually, we've got some good news for you: these tasks can be automated. By automating mundane tasks, you're saving yourself tons of time which can then be spent on improving your customer service instead.
Leverage your customer support
All of the above-mentioned points have one thing in common — they enable you to perform your tasks faster and with greater efficiency. By choosing the right ticketing tool, you can improve your customer satisfaction metrics, such as the average response time or first contact resolution. As customers increasingly expect you to provide impeccably fast service, choosing the most advanced tool is a must.
What should you focus on?
There are various ticketing systems available on the market. Here's how to find out which of them is the best ticketing system for you and your business.
Ticket management features
Below we've outlined the basic set of features that should be included in your ticketing system. The most important thing to remember is that the ticketing system software you choose should be flexible and adjustable to your needs.
Editing your tickets
Tickets may be thought of as conversations with customers. It may happen that one ticket can concern multiple departments if a case is more complicated than usual. This is when your ticketing system should allow you to split the ticket into different departments. When you divide such a case into several smaller ones, it becomes easier to manage and track which parts of the query have been solved.
However, sometimes you may need to merge several tickets into one. Imagine that you received several messages about the same issue. By dealing with all of them at once, you can save a lot of time and keep your customer satisfaction high.
Organizing your tickets
When you receive a lot of customer queries, keeping your tickets organized is a must. This is where the tagging feature comes in handy–it helps you distinguish between various ticket types and statuses.
When you want to view certain types of tickets, you can quickly limit the scope of your search by using filters. Whether you filter tickets by status, source, or one of your custom categories, the system will only display the tickets assigned to these tags.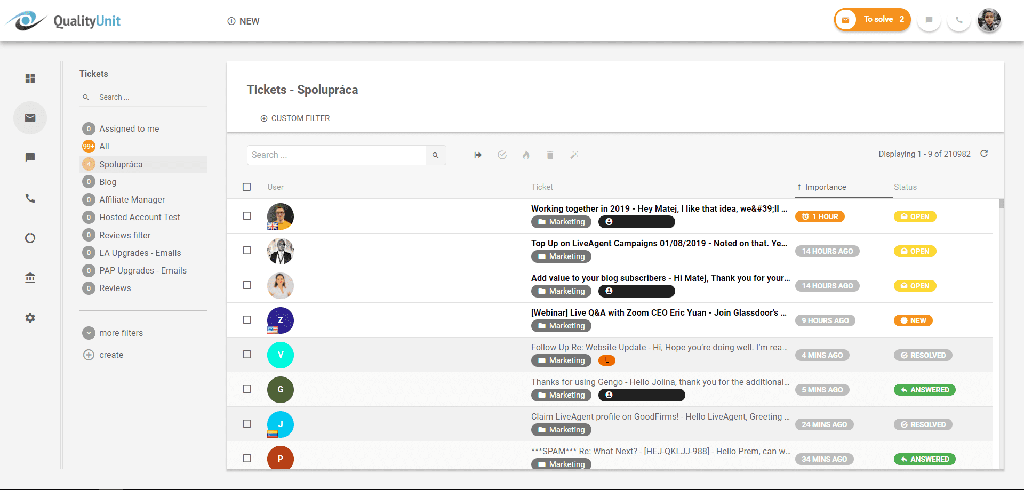 Making use of further information
Make your work easier by choosing ticketing tools that allow you to add private notes directly into each ticket. In this way, you won't have to look for separate files or scribbles in your notebook — all of the information you need will be right at your fingertips.
You can also opt for creating and filling in a custom ticket field, which allows you to input additional information such as an order ID or product name that is related to the ticket you're solving.
Another feature to make use of is data stored in other systems. When you connect your ticketing system to your CRM, you can see all the additional details about the consumer that you've collected over time. This will increase your effectiveness in ticket resolution and help improve the quality of your service.
Teamwork
Working towards the happiness of your customers is a team effort — and that's why your ticket management system should be working for you, instead of making you work for it.
Distributing tickets
Your ticketing system should allow you to assign responsibilities to your agents. Clearing up agent responsibilities will help you avoid situations that arise when no one handles a case because no one feels responsible for it. Moreover, it will also prevent situations where two or more agents are assigned to the same ticket, leading to a collision. Thanks to this advanced agent collision detection feature, your agents won't end up resolving the same issues twice.
In addition to all the above-mentioned features, you can also set up internal tickets that enable you to reach out to other agents or departments inside your company and speed up the flow of information.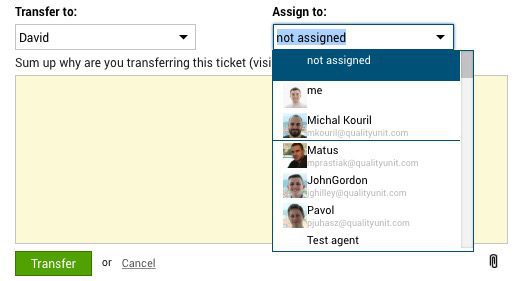 Service Level Agreement
SLAs, or Service Level Agreements, are important to customer service teams because they commit them to meet certain targets when replying to tickets. With the right ticket management system, you can easily track SLA compliance and performance.
Automation
To make your ticket management even more efficient, check whether the system you want to implement has extended automation features.
Rules
To save tons of time set up rules that are action or time-triggered. There is a wide range of conditions and actions that your rules can consist of. For example, the system can automatically add or remove tags from tickets depending on their status, set priorities depending on the message body of the ticket, or send messages when agents get rated.
Automated distribution
The most commonly used rule is the one that carries out automated ticket distribution. This rule ensures that all tickets are assigned to appropriate agents in the most optimal way, taking into account their workload, break times, timezone, and other important factors.
Bulk actions
When you have to perform the same action on multiple tickets, mass actions come in handy. Numerous possible mass actions include resolving tickets, marking them as spam, sending answers, or postponing the tickets to a later resolution date.
Ease of use
The last category is the most general one. We have included various features here that can help you in streamlining your ticket management.
Universal inbox
A ticket management system improves your customer service processes by storing all of the incoming conversations into one universal inbox. No matter where your clients contact you, whether it's through a text message, email, or contact form, all their inquiries will be stored in one place.
To maintain this usability, LiveAgent has a hybrid ticket stream that makes all tickets – no matter the point of contact – look alike. The hybrid ticket stream enables users to follow a customer's journey through various communication channels while staying in the same hybrid ticket. This functionality is especially helpful when you're providing omnichannel customer support.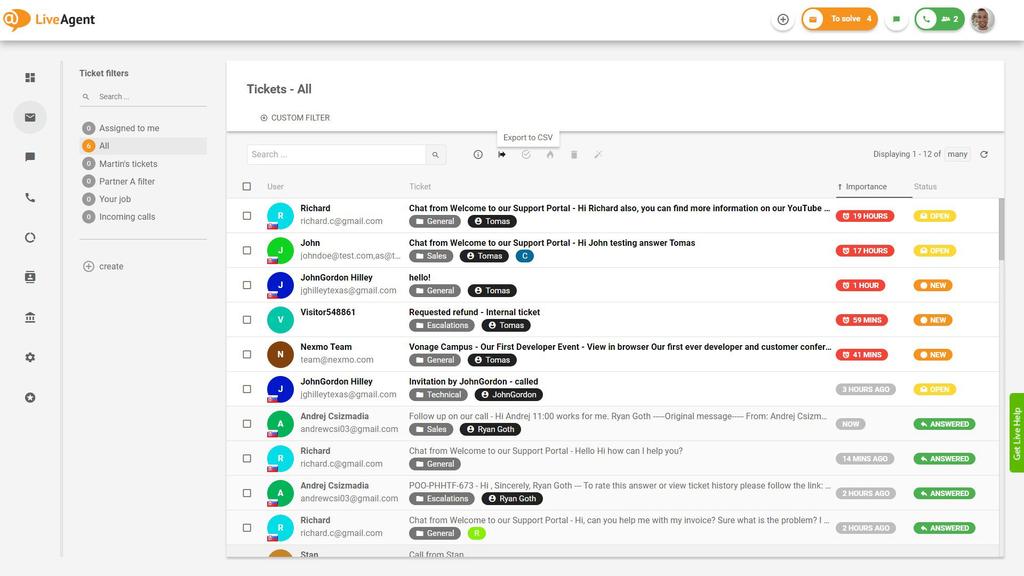 Sharing ticket information
The right support tickets system should give you the option of exporting tickets into external files like PDFs or allow you to share a link with the ticket's online history. By including a link to the ticket history in your email, you can maintain full transparency with your customers.
Ticket flow
The chosen method of dealing with tickets should fit your workflow. That is why LiveAgent allows your agents to open multiple ticket tabs and deal with various cases simultaneously.
Agents can also choose to work on tickets from the general list or only those that are marked with a To solve status. By hitting the "to solve" button, you can add incoming tickets to the queue, which can then be sorted by priority, time, or SLAs.
Break time
Everyone needs a break at work. To ensure that this doesn't reflect badly on ticket distribution, your agents should have the option to pause their work. In this way, they temporarily won't receive any new tickets to handle while on a break.
Added value
Your ticket management system should allow you to save time which can then be invested into nurturing customer relationships. That's why when considering a new ticketing system, you should take each feature that makes your work easier, quicker, and helps you avoid errors into account.
Final thoughts
Switching to a ticketing system from a regular email inbox will positively impact your customer support team's performance. You will gain control, clarity, and insights that can help your team perform their very best. Focus on the important and more complex issues, while letting your support ticket software do the rest.
LiveAgent is much more than a just ticketing system. Take a look at how we can improve the way your help desk works too.
The #1 ticketing software? Look no further!
Take advantage of our advanced automation rules, robust reporting and analytics dashboard, and omnichannel capabilities. Try it out today, no strings attached, no credit card required.