Welcome to LiveAgent's September Update! We're excited to present a host of carefully crafted improvements and fixes to enhance your user experience. Let's dive in and explore the latest improvements that will enrich your LiveAgent journey.
Agent ranking feature – revamped and refactored!
Our tireless developers have been hard at work, and we're excited to announce that we've given our agent ranking feature a new makeover! This revamp opens up the door for some nifty enhancements. You can now invalidate ratings instead of deleting them for good – they'll hang out in the agent's ratings report, ready when you need them. Plus, there are new options to filter agent ratings and even check out the percentage breakdown of those ratings. We've also laid the groundwork for custom rating scales in the upcoming future! And let's not forget the bug fixes – neutral ratings and non-rated chats are now tracked correctly.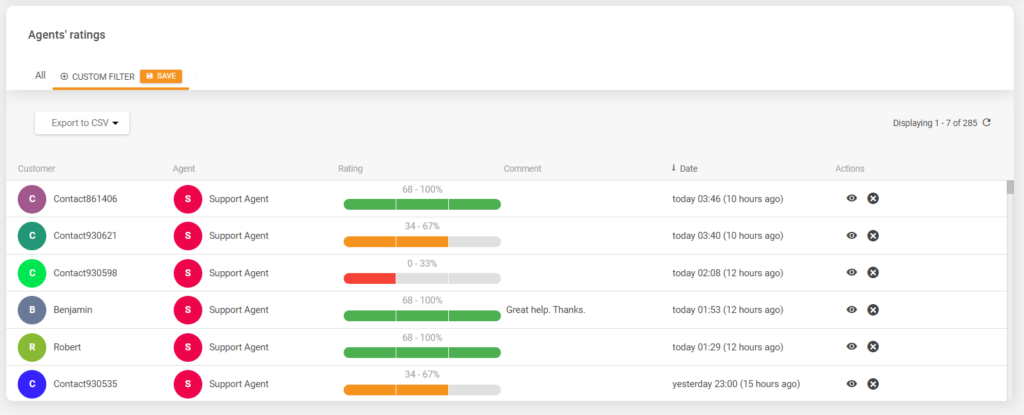 Facebook messages – bridging the gap!
We've got great news on the Facebook front! Our developers have worked their magic to ensure that those guest messages sent via the Facebook Chat Plugin can now make their way into LiveAgent. There was a tiny hiccup while making these changes – if you'd previously deleted a Facebook conversation, you might've received a message stating "Unable to load ID of Facebook recipient from conversation attribute" while replying to a new ticket created from the deleted conversation. No worries, though! We've waved our digital wands and refined this process, so everything's back on track.
Embracing smooth translations for a seamless experience!
At LiveAgent, we're all about ensuring your journey with us is as smooth as possible. While our platform is available in multiple languages, we know that language quirks can sometimes create hiccups. But fret not! We've taken proactive steps to eliminate these issues, especially with accessing the portal and using widgets. With our latest update, you won't encounter any more issues caused by incorrect translations. We've introduced a nifty solution that skips problematic translations during updates, ensuring a consistently pleasant user experience. So, no more language-related woes to hold you back, and smooth sailing from here on out!
Fresh knowledge base touch-ups!
Our knowledge base has been busy evolving. We've spruced up existing articles and written brand-new guides to keep you in the loop. And to make sure you don't miss a beat, we've updated links in the LiveAgent panel. It's all about keeping you informed and guided every step of the way!
Transparent ticket filters
We've revamped our ticket filters to make things crystal clear. In the past, you might have encountered confusion when seeing "99+" in the ticket count, even when there were plenty of new/open tickets. Well, that's history now! Our recent upgrade ensures that you'll see the precise number of new/open tickets in the filter.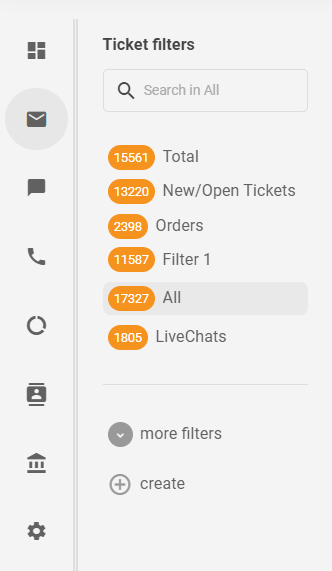 Conclusion
Our team is always tinkering away, making LiveAgent better, faster, and smoother. You can catch all these changes and improvements in the LiveAgent Changelog. We're not stopping here! We're actively working on revamping SLA and tags, plus cooking up more AI enhancements for you.
Speaking of AI, we've introduced a new fine-tuned model to give you even better results. Now, you have the power to customize prompts for those suggested answers!
And finally, we've got a design upgrade in the pipeline. A fresh theme and design overhaul are on the horizon, bringing you a modern, user-friendly, and mobile-responsive LiveAgent experience. We're all about making your journey with us a breeze.
That's all for now! Thank you for staying with us, and stay tuned for more exciting updates.
Discover the power of LiveAgent
Are you ready to revolutionize your customer support and engagement? Look no further than LiveAgent, your ultimate solution for seamless customer interactions.