Key takeaways
Pros
Free software
Good feature set
Cons
Mandatory ticket form is the only way to submit tickets
Outdated interface
It's free, but not bug-free
Getting started with osTicket ticketing
osTicket offers you two ways to get started. You can opt for the open source version which can be yours completely free, or you can get started with a free 30-day trial of the Cloud-Hosted version that will cost you only $9 per month per user after the trial ends. The registration only requires basic information for you to get started, but you do have to use your company email address. Once you finish the process, you will be able to take a first look at the osTicket interface.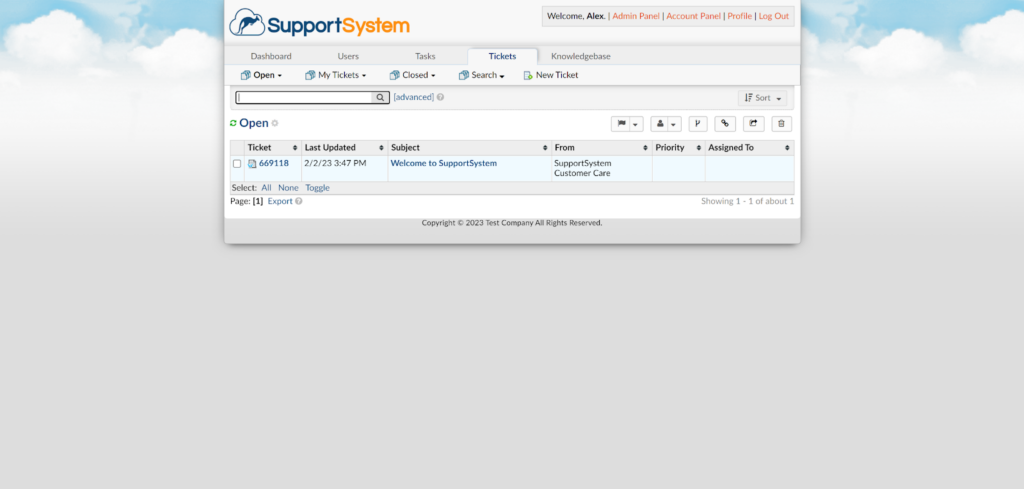 The interface looks pretty outdated but nevertheless functional. Users who might not remember that user interfaces used to look like this in the past may have some initial trouble with navigation, but that should go away pretty quickly once they start using the application. The most positive thing about osTicket interface is that it's very focused on the task at hand and you don't get distracted with anything unimportant.
One major problem is visible right from the start and it's with the login. Every time you leave osTicket for a while, you will be logged out. That's not the bad part, as many ticketing solutions log users out after some time of inactivity as a defense against misuse. However, it's often impossible to log in again. I kept getting the "Session timed out due to inactivity" error and I had no way to log in because this error kept popping up.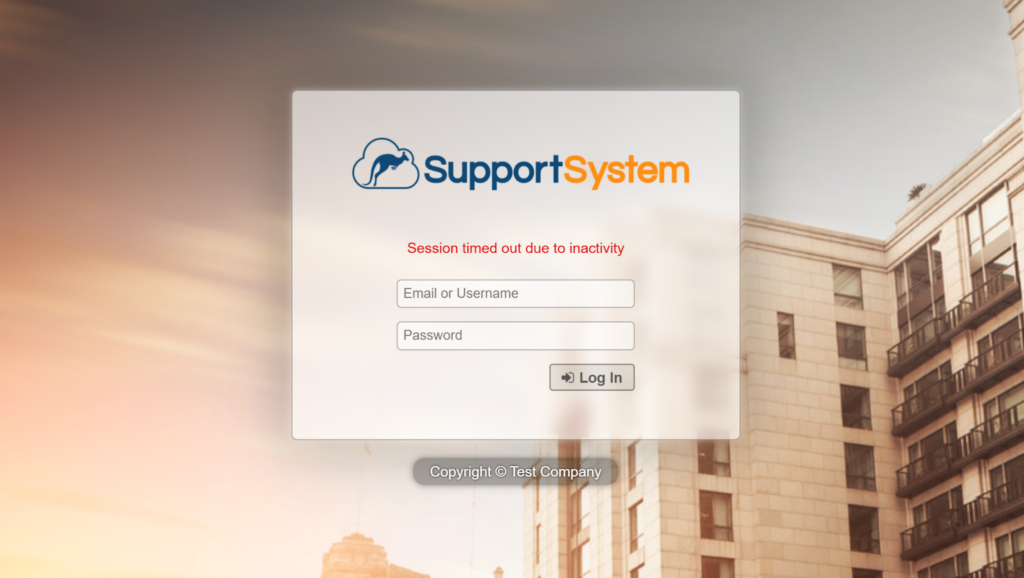 The only way I could log back in was to close the browser and wait for a while. This issue can be solved by increasing the login User Session Timeout limit in the settings. I recommend you to increase it significantly to avoid this problem completely, but make sure to pay attention to lock your device if you leave it with osTicket open.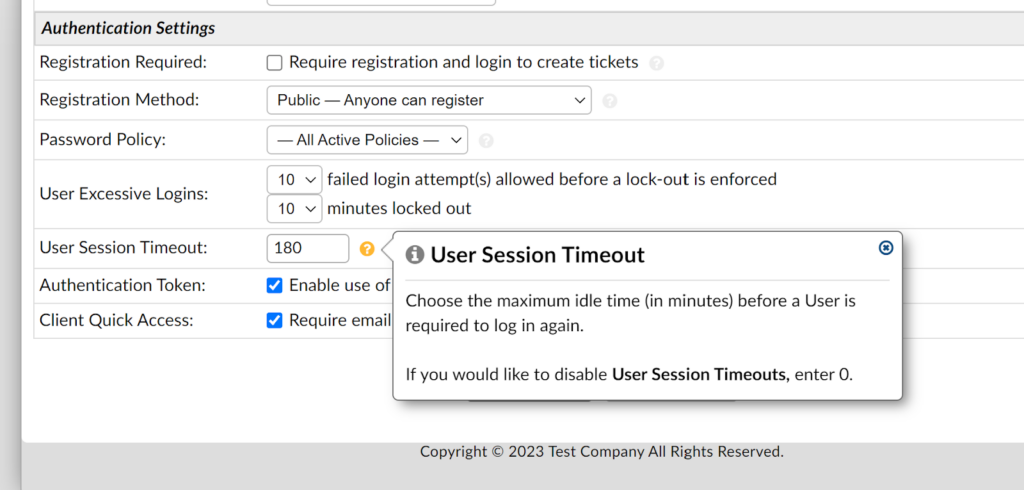 Another thing that could be considered problematic is that osTicket has a very unconventional or perhaps even outdated ticketing system out of the box. Customers can't directly send emails to the ticketing system, they have to access a unique link that will be generated during your registration, and send their tickets from a dedicated form. This is not the most flexible way to submit tickets, and you will need to push the website link a lot to make sure your clients will be informed about how to submit tickets to your ticketing system.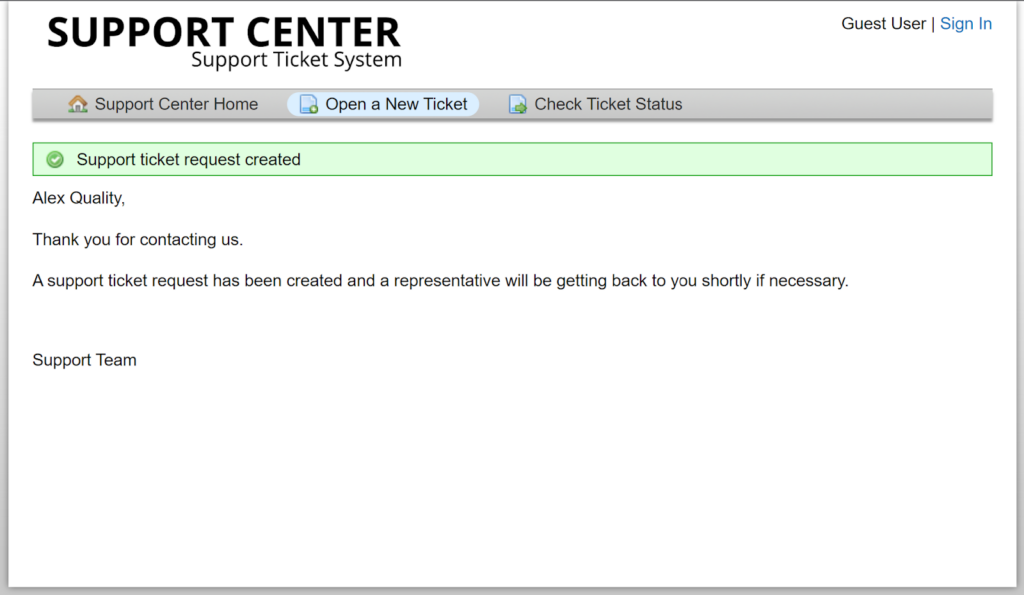 osTicket ticketing system features
Let's take a look at what kind of features you can expect to use in osTicket. Email integration with the system is present in all plans, while being the only listed feature in the free ticketing tool plan. Other plans list features include those such as email & phone ongoing support, a free walk through session, managed upgrades & maintenance, and a couple more. They don't reveal a whole lot about the ticketing functionality itself and what kind of subfeatures it offers. However, once you open the application, you can get a much better idea of what to expect from the osTicket feature set.
Ticketing system performance and user experience
Working with osTicket is not a bad experience but it definitely isn't the most modern ticketing software. However, I have to say that most of the interface is clear and works very well once you get used to it a little. The dashboard reveals many more features than described in the pricing section of the website. You get access to analytics features, as well as some standard ticketing features like ticket forwarding, assignments, ticket status, merging, linking, transferring and more. It's really good to see these essential features in a free solution like osTicket.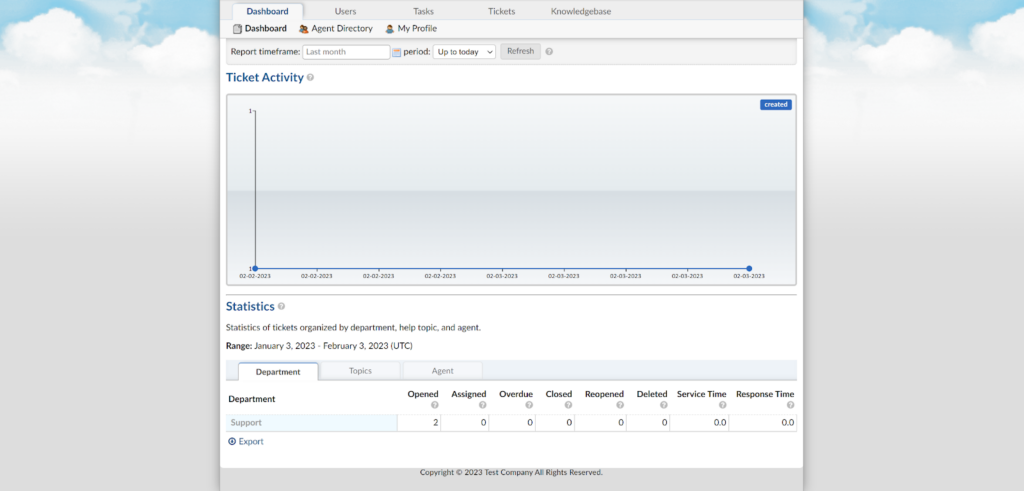 I tested the ticketing system by sending myself a ticket through the link I mentioned earlier in this review. The ticket form for customers is easy to use. It requires an email address, name, and a phone number, with the email and name being the only mandatory options. All users of this form also must select a topic of the ticket. It's quite simple to use and it can add some good organization capabilities into your help desk. However, sending an email to another email address is still the most popular method.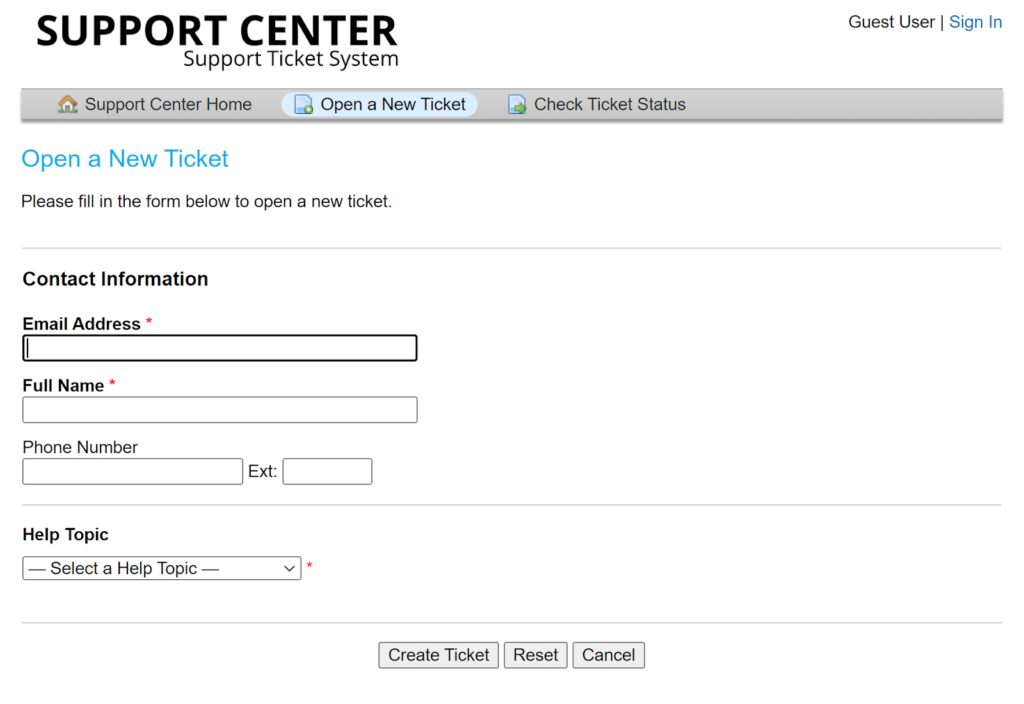 The tickets arrive almost instantly to the system, which is great. Now, the interface in osTicket gets a lot better once you open the ticket. It stretches out to accommodate longer messages and everything is clearly visible. The ticket reply field is also well designed, giving you plenty of space for your replies. Most importantly, all features are clearly visible. These things might not seem impressive at first, but let's remind ourselves that we're dealing with a very cheap, or even free, ticketing system.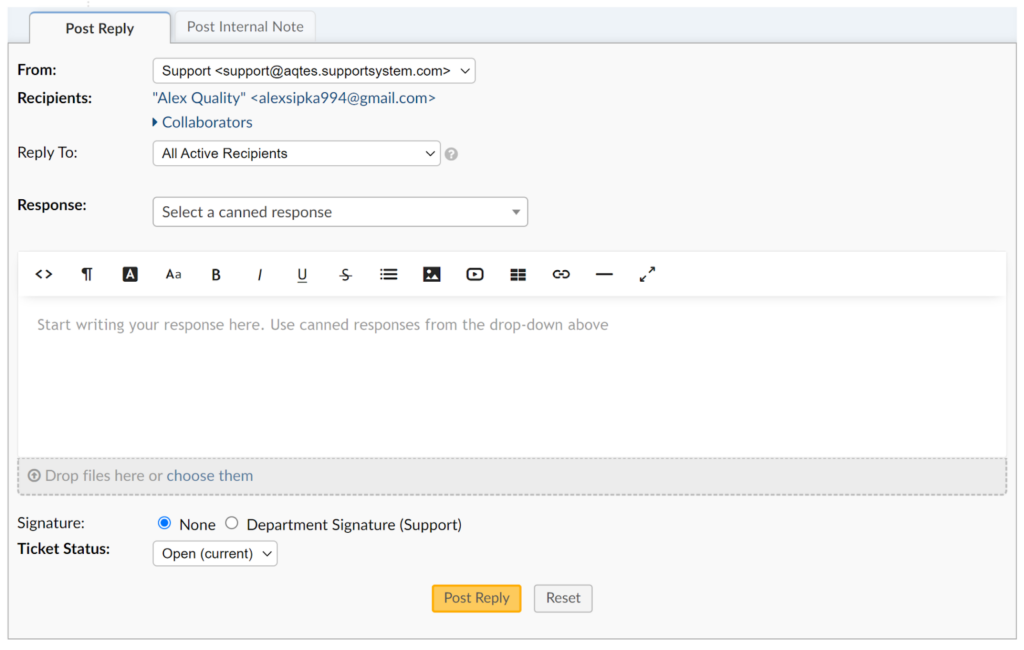 The ticket reply part of the interface also reveals more features, such as canned responses and text editing options. You get all standard text formatting features too, with the options to attach media, links, bullet points, HTML, or even visual elements like lines. One interesting feature is the option to switch to fullscreen mode, which significantly enlarges the reply field over the screen. This can be pretty useful for users who use devices with smaller screens. You can also use internal notes in tickets.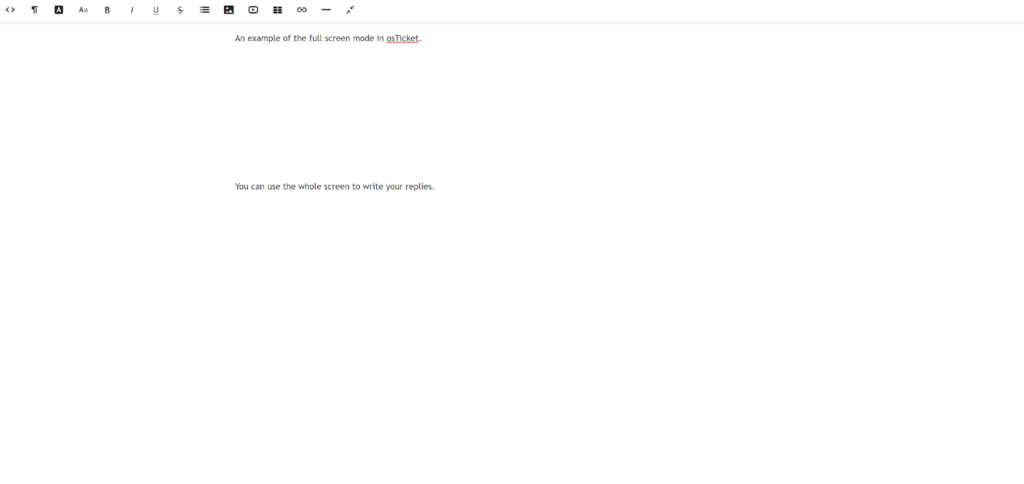 While osTicket might seem like an underwhelming solution at first, it definitely offers everything essential that a ticketing user might need to do their job. The only major drawback is the fact that customers have to contact agents via a ticket submission system, instead of simply sending a message via email. However, even this drawback can be turned into an advantage in the right situation and under certain conditions.
osTicket pricing
osTicket comes with three versions and different pricing options. They are not necessarily different pricing plans, but rather different versions of the same software that come with certain changes. Let's have a look at what you can get.
Open Source
The Open Source version of osTicket is available for free with support by the community. It offers only the basic email integration. You can download it from the osTicket website without any payment required.
Cloud-hosted
The Cloud-hosted version of osTicket is the only one that comes with a free trial for 30 days. If you choose to continue using it, it costs $9 per month per user. It offers almost all available features, including email & phone ongoing support, a free walk through session, managed upgrades & maintenance, rock-solid infrastructure & guaranteed uptime, and daily backups.
Virtual appliance
The Virtual appliance option of osTicket doesn't have available pricing. It's custom based on your requirements. The one and only addition is that osTicket will be customized according to your business needs, so you will be getting a tailor-made solution.
Conclusion
On one hand osTicket offers a pretty good ticketing system with important features available for free, however, on the other hand it has certain limitations when it comes to the use case. Either way, osTicket can be considered a contender full of surprises. If you don't mind the mandatory ticket form option out of the box, osTicket can be a very good ticketing solution for your business, albeit with less flexibility than other ticketing software offer.