What is GDPR?
General Data Protection Regulation is a regulation created to unify data protection inside European Union. Its main goal is to protect personal information of European citizens. GDPR becomes enforceable from 25 May 2018.
Unraveling the impact of GDPR
Explore the world of General Data Protection Regulation (GDPR) and its potential to transform your life. This video delves into the new data protection act, shedding light on its implications for individuals and organizations. Discover how GDPR strengthens your rights and safeguards your personal data. Gain insights into the key principles and obligations under GDPR, and understand how it can reshape the way your personal information is handled.
GDPR explained: How the new data protection act could change your life | Channel 4 News05:40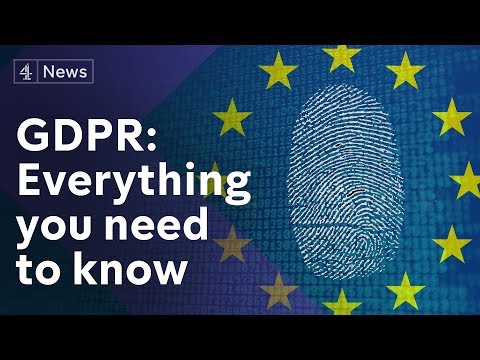 Channel 4 News
Topics
GDPR
data protection
consent
GDPR impact
Video summary
The General Data Protection Regulation (GDPR) is a new EU data protection law that covers personal data, including race and sexual orientation. Companies now have to prove they have a lawful reason for holding data, and show that they're keeping it safe. Consent is required for data retention, and users now have the right to see their own data and be forgotten in some cases. The potential penalties for firms that breach the GDPR are massive; up to 4% of a company's annual turnover. GDPR is something that could affect companies worldwide as organizations based outside of Europe who store data of EU citizens must also sign up to the rules. Campaigners say this is a chance for the biggest companies to rebuild trust with their customers after scandals involving the misuse of data. However, critics argue that GDPR contains loopholes, while others claim the new rules will become a burden to business. With the GDPR, governments have finally woken up to how much data companies collect about their citizens and what it should be used for.
Frequently asked questions
How do you define GDPR?

GDPR, or General Data Protection Regulation, is a legal framework that defines the guidelines for the collection and processing of personal data of people living in the territory of the European Union. The regulation applies regardless of where the website is located, so it must be applied to all websites that attract a European audience.

What are the principles of GDPR?

The GDPR defines seven key principles regarding personal data, i.e. legality, fairness and transparency, purpose limitation, data minimization, precision, storage restrictions, integrity and confidentiality, i.e. security, as well as liability. They clearly define how the data can be collected, how to process it, and how to safely manage it.

Where can you learn more about GDPR?

You can learn about the GDPR directly from the GDPR.eu website, which contains a complete guide to GDPR compliance. It is a source of information for individuals as well as organizations that examine the compliance of their activities with the GDPR, and what they must do to make their activities compliant with the GDPR.
Expert note
<p>GDPR is a key regulation for protecting customers' data privacy. It may require extra effort for businesses, but it's worth it to ensure trust and loyalty from customers.</p>

Andrej Saxon
Sales manager