How to maximize the impact of customer gifts
Statistically, about 75% of the business gifts are given at Christmas time. 25% of customer appreciation gifts are given on birthdays, anniversaries, for promotions, spontaneously, or at other times of the year. A simple but effective technique for improving the impact of business gifts is to give them at times other than the holiday season. It will increase the chances that your gift will not be lost in the shuffle.
Try including the element of mystery into the gift-giving process. The study from the University of Miami School of Business Administration found that when a product that triggers more emotion is offered with a free gift, shoppers are more likely to buy that product if the type of gift is unknown than if the type of gift is revealed. 
According to an article in the Journal of Marketing, giving away free products or related extras creates immediate word of mouth. Giving away a full product, in particular, is associated with approximately a 20% boost in overall WOM. Besides loyal customers, you can also target first-time buyers when giving away freebies to generate positive first impressions.
Consider giving gifts to your brand advocates, those customers who are usually active on social media, and have a large outreach as well as those who have already previously shared their positive experiences with your brand on their social networks. This can bring in new referrals.
How to choose the best client gifts
When selecting the right gifts for customers, there are a few key things to remember. The gift should have a perceived value to the customer. It should preferably be useful and have some practical purpose. It should be related to your business in some way and serve as a reminder of your company. You might also need to choose different corporate client gifts for different customer segments taking into account customer demographics. Below are 15 client gift ideas that may be helpful.
15 customer gift ideas to show appreciation
1. Free products
The simplest, yet one of the most efficient ways to show customer appreciation is gifting a free product (a full version, not a sample) from your catalog that could naturally enhance or complement a customer's original purchase.
2. Free service or upgrade
For SaaS businesses, it would make sense to offer customers a month of free service, surprise them with a free upgrade that adds additional features to your product or provide personalized product customization.
3. Branded gifts
Branded products are very often chosen for business thank you gifts. Some of the items featuring your company logo may include clothing, bags, tea and coffee cups, sports accessories, stationery, and office supplies as well as fun items.
4. Industry themed gifts
Industry themed gifts (such as real estate agents giving their customers house-shaped items) are a smart choice if you want customers to think of your product or service. These gifts should include a logo and match your corporate colors.
5. Gift baskets
Well-thought-out baskets filled with relevant, customized products will always make great gifts for clients for various holidays, anniversaries, or any other occasions. Inside the baskets, there can be anything from gourmet foods and hygiene items to office décor and specialty accessories.
6. A gift card
If you are not sure what to choose, gift cards are a classic gift option that grants your customers the freedom to get exactly what they want from a wide range of products of either your store or your partner merchants.
7. Flowers
When targeting female customer segments, flowers and potted plants can be great client gifts for almost any occasion like birthdays, anniversaries, and specific holidays. For instance; Mother's Day, Valentine's Day, or Women's Day.
8. A magazine subscription
Magazine subscriptions have become a popular corporate gift choice. If you know what kind of magazines your customers would find relevant and useful, gifting a subscription would definitely be appreciated.
9. Books
Books are among some of the most valuable business thank you gift ideas. Depending on how well you know your customers' preferences. A well-considered book that relates to their professional or personal interests makes a timeless, personalized gift.
10. A gift of learning
Whether it's online courses on the topics that complement customers' purchase or some classes that pertain to their interests – giving a gift of learning can go a long way and resonate well with certain customer groups.
11. A gift of experience
One more option of going beyond the material items is giving the gift of experience. It could either be something health-enhancing (fitness or yoga classes), relaxing (spa day or massage), entertaining (tickets to local sports events or concerts) or anything else.
12. Birthday gifts
Sending customers gifts on their birthdays can truly show your appreciation and win their loyalty. Though the birthday gift-giving can become a mandatory obligation, as the absence of the gift in the following years might make customers feel unvalued.
13. Local treats
Locally sourced goods and services such as; local coffee, local farm items, local art, local crafts can make great business holiday gifts. These will not only delight your customers but also help to improve your brand perception.
14. A customer appreciation event
Hosting a special customer appreciation event can also work well as a corporate gift idea for some of your most loyal customers. Such events might provide additional professional value to customers by letting them network with each other.
15. A charity donation
When it comes to unique client gift ideas, making a charitable donation on behalf of your customers and letting them know what purpose that money will serve is a truly meaningful gift option to choose. Obviously, only if appropriate to your business.
16. Send a GIF
Sometimes, something so simple as GIF in a chat conversation can be a great way to say thank you, we appreciate you. In LiveAgent, you can use GIFs, after activating a plugin. It is a nice way to make the customer's day better. However, use it carefully and respectfully.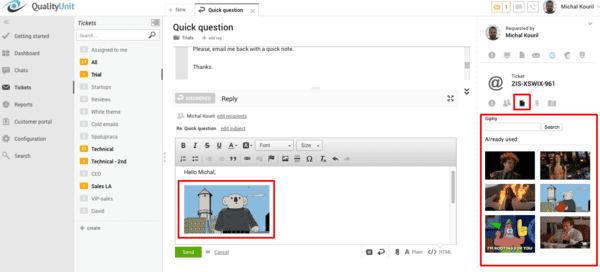 If you would like to learn more, read LiveAgent – GIFs.
Discover on your own
Knowledge is important, but only when put into practice. Test everything in our academy right inside the LiveAgent.
Try out LiveAgent for FREE
Handle all customer inquiries from one interface. Start improving your customer service with a 30-day free trial right away!
Frequently Asked Questions
What is a good gift to show appreciation?

To express appreciation to your customers, offer free products/services, gift cards, gift baskets, books, flowers, magazine subscriptions, or a charity donation.

Why should you give gifts to brand advocates?

Brand advocates are usually active on social media and have a large outreach. Thus, any positive feedback can bring in new referrals.

What is the right gift for customers?

The right gift should have a perceived value to the customer. It should preferably be useful and have some practical purpose and be related to your business or serve as a reminder of your company.