According to research by Virtual Incentives, 75% of customers value brands that offer incentives and loyalty programs. Moreover, when considering a company to buy from, 28% of people defined customer incentives as a decisive factor, coming second to the only price.
Moreover, a survey by Vibe indicates that 61% of consumers subscribe to and enable mobile push notifications only for news regarding loyalty program incentives. What this means it that loyalty program incentives open new doors for communication with customers.
Why do you need to use customer incentives?
Incentives can be defined as something that brings additional value to an already provided service or product. Offering your customers additional benefits such as free items, bonuses, discounts, loyalty programs, or special deals is what turns a regular buying experience into something memorable. These are all examples of price incentives as they provide additional value to encourage a certain type of customer behavior.
If your company is ready to offer something more than just your products or services to customers, it can be easily considered as customer-centric. Price incentives are a very powerful tool when used in the right way.
It allows businesses to:
Improve retention
Stimulate the desired action (participate in a survey, leave the feedback)
Make amends after a negative customer experience
Build a trustworthy relationship with long-term clients
Make returning customers spend more
Stimulate more impulsive purchases
Improve brand promotion
Stimulate social media engagement
Just like providing a free mint after a meal in a restaurant increases tips by 26%, providing your customers with extra perks will increase the number of returning customers and boost your sales. And that is exactly why so many businesses use various price incentives to reel in customers.
Customer incentives ideas
What can your business offer as an incentive? There are so many things that your customers will enjoy. Check out our customer loyalty ideas below:
Discounts are great incentives as customers appreciate the opportunity to save money. Moreover, discounts can also push customers towards additional purchases in the future. A great example of this is when you buy something and get 20% off for your next purchase.
Bonuses can be applied to the sum of money you've spent. For example, for every $1 spent, you get a $1 bonus, which can then be applied towards your purchase as a discount.
Free samples and trial-sized items are a perfect incentive to make a customer interested not only in your brand but also in a particular product too.
Free items — some brands allow their customers to choose a free gift in a certain value range, while others give out the same standard free gift to all customers.
Memberships or loyalty programs offer special deals for their customers such as early-bird discounts or free shipping.
Free upgrades work well for brands that sell software, program, and application subscriptions.
Coupons can be used towards purchases to take advantage of a fixed discount deal such as a "buy one — get one free" deal.
In essence, businesses can offer tons of services, activities, compensations, discounts — whatever works for their particular sphere of business.
6 Reasons to use customer incentives
Incentives can be used as a tool for increasing sales, stimulating desired actions, rewarding customers, or just to set the tone and send a message about your brand.
1. To stimulate feedback
Feedback allows you to pay attention to and fix the problems you may have not noticed previously. If you lack feedback, you can always use customer incentives to stimulate people to communicate with your customer service team more. For example, you can ask to rate the last piece of communication with your manager, or leave comments you can manage in the Feedback&Suggestions section. In exchange, you can offer a discount for their next order, or extra bonuses for the members of your loyalty program.
2. To apologize for a mistake
Apologies are essential in any business. If your customer has a problem, you need to show that you care. Offer a discount for the next order, compensation, or free products. If the problem took too long to solve, you can make a note to remind your managers that this customer deserves special treatment as an apology.
Example:
Christina Peterson (customer service team lead for EssayTigers service): "Once we experienced a power outage and missed a few deadlines for our editing services. We were not ready for such situations back then and didn't have a power generator. But we took full responsibility and admitted our mistake. We apologized and provided a refund to every client with whom we worked that day. This allowed us to keep part of our clientele, but some were lost anyway."
3. To reward customers for reviews
Reviews written by actual customers are much more credible than polished advertisements. That's why they are essential for attracting new customers, who will rely on them when making a decision.
But not many people are willing to write reviews, especially positive ones. Of course, many brands solve this problem by writing reviews themselves. But let's face it, genuine reviews are more valuable.
Using incentives in this situation will do things. You can offer discounts, bonuses, customer rewards cards, or free samples for every review, and grow their number to increase your conversion rates by 4.6% according to Reevoo statistics.
4. To reward customers for reporting bugs or making suggestions
Even the largest companies aren't secure from making a mistake. Sometimes only an attentive user can report a problem that a company can quickly fix after. Improving the quality of your service is important for brand development, so use every opportunity to reward your customers for their time by providing them with free upgrades, discounts, or memberships.
5. To reward long-term customers for their loyalty
The customers who are loyal to your brand and keep returning to you, again and again, need special treatment. You can always check the history of communication with that particular person to know how long they have remained with your brand, like by using the history of the universal box. It's easy to email your customers to say that you appreciate their loyalty, and to reward them with a special discount or loyalty program bonuses.
6. To stimulate social media engagement
If you create most of the content for your brand's social media accounts, but still face insufficient engagement, you can try customer incentives as a way to stimulate sharing and commenting on your content. Provide a discount for shares, or free items for a piece of user-generated content, such as a delivered order.
This way you will get content that other users will find credible (as it is provided by users who have already purchased from you) and will motivate your followers to be more active on your social media page. You can easily track shares and tagged images, so there will be no worries about breaking your promise.
Superior examples of incentive marketing
Dunkin' Donuts. With almost five million members of the loyalty program, this chain knows everything about incentives. They encourage their customers to buy more to get bonuses for every dollar spent. Later bonuses can be used to get free beverages on their shopping trips.
Sephora's Beauty Insider. This is a loyalty program that makes up to 80% of Sephora's total sales each year. This implies rewarding customers with bonus points for each purchase, and an opportunity to use them to redeem gift cards, and limited edition items.
Google Chrome rewards users for bug reports. If they find a report to be valuable and containing a reliable exploit, they might reward them up to $15,000.
Would you like to learn more? Then, check out our in-depth article about Customer service soft skills.
Discover on your own
Knowledge is important, but only when it's put into practice. Test out everything you learn in our academy right inside of LiveAgent.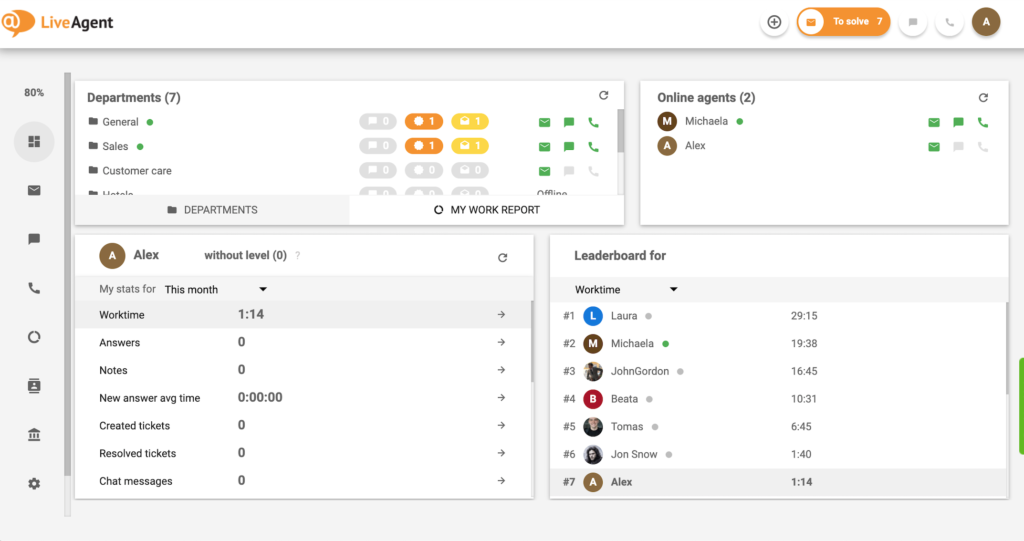 Try out LiveAgent for FREE
Handle all customer inquiries from one interface. Start improving your customer service with a 30-day free trial right away!
Frequently Asked Questions
Why do you need to use customer incentives?

Incentives can be defined as something that brings additional value to an already provided service or product. Offering your customers additional benefits such as free items, bonuses, discounts, loyalty programs, or special deals is what turns a regular buying experience into something memorable.

What are the benefits of customer incentives?

The benefits of customer incentives include; customer retention, SoMe engagement, improved brand promotion, and customer loyalty.

How can you provide customer incentives?

There are so many things that your customers will enjoy. For example, discounts, bonuses, free samples, free items, memberships, or upgrades.