What is customer service philosophy?
Customer service philosophy is a strategy. It is designed for agents that provide customer service. It's all about serving the customers. If the customer service is not up to the mark, the business will not flourish. It is one of the goals of every organization to serve their customers at their very best. There needs to be a strong strategy in place for that to happen.
Benefits of implementing customer service philosophy:
Customer retention
Customer engagement
Effective workflows
Increased profits
How do you write a customer service philosophy statement?
Start with a mission, vision and values
Understanding/writing these pillars will help your company draft your statement accurately. Your customer service represents your company. They are usually the people who come into first contact with the customers. The customer representatives are the voice of the company. Thus, having a clear mission, vision and values can help you educate them accordingly.
Mission – is the reason why a company exists. It should be clear, preferably a few sentences. This helps your employees and ultimately your customers to understand who you are as a company.
Vision – is what your company wants to reach. Your goals for the future. 
Values – the one aspect that would help you write down your company's values is market research. Understanding your customers is a key factor when writing your statement. The marketing research can help you target possible improvements as well as determine the customer values. Remember, the company's and customer's values should be aligned.
Provide self-help option as a part of philosophy
One important goal for each company is to provide exceptional customer service. But make sure to write down HOW you are doing it. One way to provide great customer service is a self-help option. For instance Knowledge base articles or FAQs. This helps customers find answers/guides easily, which is a low effort option. It creates fewer customer inquiries for your agents. This can also prevent the possibility of bad customer experience. Thus, increases your customer retention.
The best customer service is if the customer doesn't need to call you, doesn't need to talk to you. It just works
Be honest
The most important factor when writing such a statement is honesty. If you know your company has some limitations, own up to it. Create a vision to improve or highlight the good things you're providing. But do not promise what you cannot deliver. This way, your company is setting proper expectations.
How can customer service software help you fulfill the customer service philosophy?
One way to improve customer service is to make the customer experience fast and easy. A lot of times, this can be hard, due to the number of platforms your agents use to respond to your customers. Having software, such as LiveAgent helps you deal with all inquiries from one interface.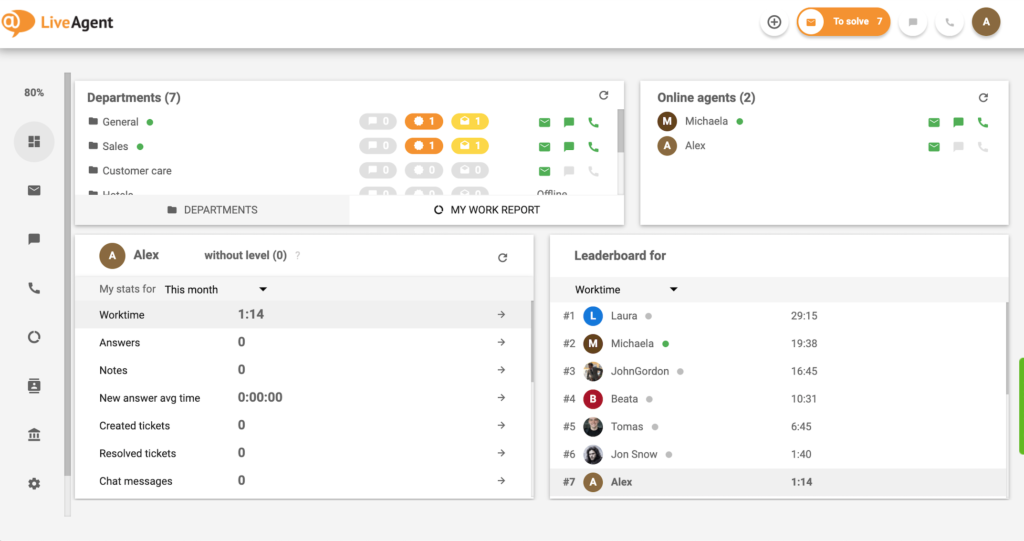 Here are other beneficial LiveAgent features:
Live Chat, Email, Call center, and Social media inquires all in one interface
Create Knowledge base articles (customer service center)
All the customer data in one place
Ability to merge customer inquiries
Automate the distribution of your customer inquiries
Track your agents work
Create seamless workflows for agents with SLAs and Time Rules
Try out LiveAgent for FREE
Handle all customer inquiries from one interface. Start improving your customer service with a 30-day free trial right away!
Frequently Asked Questions
What customer service philosophy is about?

The customer service philosophy is the mission that the customer service team should follow. It is usually presented as a set of rules that ensure that values are respected in the interaction between the customer and customer service. Most often it consists of two parts: vision and values.

What are the basics of customer service philosophy?

The basis of the customer service philosophy is to strengthen the positive feelings of customers towards the company. When creating a philosophy of customer service, the company should carefully analyze what the customers are, and what their expectations are for your company. Be based on the way your clients think and also focus on them. This is the most important principle in the philosophy of customer service.

Should companies follow the principles of customer service philosophy?

If a company sets rules for a customer service philosophy, it must follow them. Thanks to this, customer service enters a higher level, thanks to which the company is better able to cooperate with customers, as well as build relationships with them and strengthen their trust. A company that does not follow these rules is not considered reliable and customers may no longer trust it.
Expert note
Customer service philosophy is a strategy designed to serve customers and increase business success. It includes a clear mission, vision, and values, as well as self-help options and honesty.

Andrej Saxon
Sales manager