What is a customer service email?
Customer service mail is a one type of communication channel. Communication through customer service mail is not happening in a real-time. There is no need for both sides present to start a communication. Messages arrive almost instantly to receiver.
Through customer service mail, customer representatives try to troubleshoot any customer's problems they have with products or services. It is also an important business tool. Every email should be written with the personal touch to each response.
Learn about customer service email
Customer service email is an important tool for companies to maintain and build customer relationships. LiveAgent help desk software is a great platform to streamline customer service email communication. It allows users to create automated customer service email sequences and build out customer service workflows that enable them to respond to customer inquiries quickly and effectively. With LiveAgent, companies can help build loyalty with their customers by providing prompt and personal support.
Basic EMAIL Customer Support Tips | EMAIL Customer Service Tips for Beginners | Rea Ninja07:10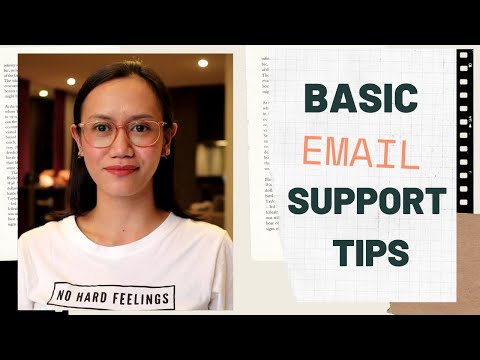 Rea Ninja
Topics
Email customer support tips
Personalizing and customizing emails
Following a certain flow in addressing customer issues
Explaining things simply
Maintaining a positive tone
Video summary
The video discusses tips for email customer support. The first tip is to familiarize yourself with the company's brand or style guide to determine the tone of voice for writing emails. The second tip is to personalize and customize emails by using the customer's name, writing a catchy subject line, and acknowledging their issue. The third tip is to acknowledge the customer's issue down to the root cause and follow a certain flow of acknowledgement, empathy, apology, probing questions, resolution, offering alternatives, and closing the email properly. The fourth tip is to explain things in a simple manner using layman's terms. The fifth and final tip is to maintain a positive tone throughout the email by using positive scripting and conversational language while still maintaining professionalism.
Frequently Asked Questions
What is customer service email?

Customer service emails are a way of written communication with customers. Their goal is to solve a specific customer problem. It is important that customer service email address is easily accessible to every customer, and that the reply is received within a maximum of 24 hours.

Can you send customer service email using LiveAgent?

LiveAgent of course offers the possibility of sending e-mails. It is one of the basic forms of communication between the client and customer service. Make sure that your service through this channel is as effective as possible, and send meaningful messages that address the problem.

Where to find customer service email templates in LiveAgent?

In LiveAgent you will find templates email by going to 'Configuration'. Then you need to select the 'E-mail' tab. There you will find the available templates by selecting Agent Templates.
Expert note
Effective customer service email communication is key in building loyal, lasting relationships with customers. Clear and prompt responses, personalized attention, and a human touch convey empathy and appreciation.

Andrej Saxon
Sales manager