What is an activity log?
An Activity Log is a report of all actions taken in a specific period of time. An activity log, also known as a job activity log shows how somebody spends their time working. In LiveAgent, an activity log shows all created or edited tickets.
This gives the admin/supervisor a chance to review the work of each agent. It also gives them a chance to suggest improvements on how to work more efficiently in LiveAgent.
Thanks to activity logs, agents can stop focusing on low-value activities and manage their time better. An activity log is a great tool for ensuring employees are on track with proposed company plans. On top of that, they are an important part of every reliable ticketing system for IT support because they help ensure all standards and SLAs are being met, while not overwhelming the employees.
Why are activity logs important?
Being able to identify who logged in to your account is crucial for security. Because companies come into close contact with tons of data on a daily basis, it's important to be able to identify misuse immediately. If any misuse occurs, activity logs can identify the person responsible immediately.
Activity logs also show that you have proactive measures in place if misuse occurs. This is important if you have business partners or stakeholders invested in your business.
Audit logs are also important because they provide comprehensive insights.
Let's take a look at a simple example. Imagine a customer is complaining about your customer service. Having insights from activity logs can help you look into the situation. Once evaluated, you can provide feedback and create an appropriate action plan to salvage the situation.
Why should you evaluate the activity log? 
Reviewing the work of your employees is an important part of ensuring maximum efficiency.  LiveAgent offers over 180 features that you can use to improve your customer service.
Activity logs can give you insight into how your agents are using these features. For example, if you see that one support agent is doing a task that can be easily automated manually, you can tell them about automation.
Thus, through audit log reviews you can find opportunities to improve your customer service.
By reviewing audit logs you can also track your agent's progress towards fulfilling company goals and metrics.
Benefits of the activity log/audit log:
immediately identify problems, which avoid months of potential mistakes
recognition of customer support agents' skills – good/bad performers
helps with measuring employee Key Performance Indicators (KPIs)
opportunity to reward the best performing customer support agents
opportunity to recognize the need for more agent training
Where is the activity log in LiveAgent?
Steps to navigate to your Activity Log:
Log in to your LiveAgent account
Search for Configurations
Click on Tools 
Finally, open the Audit Log
As mentioned before, the Activity Log is, in other words, called the Audit log.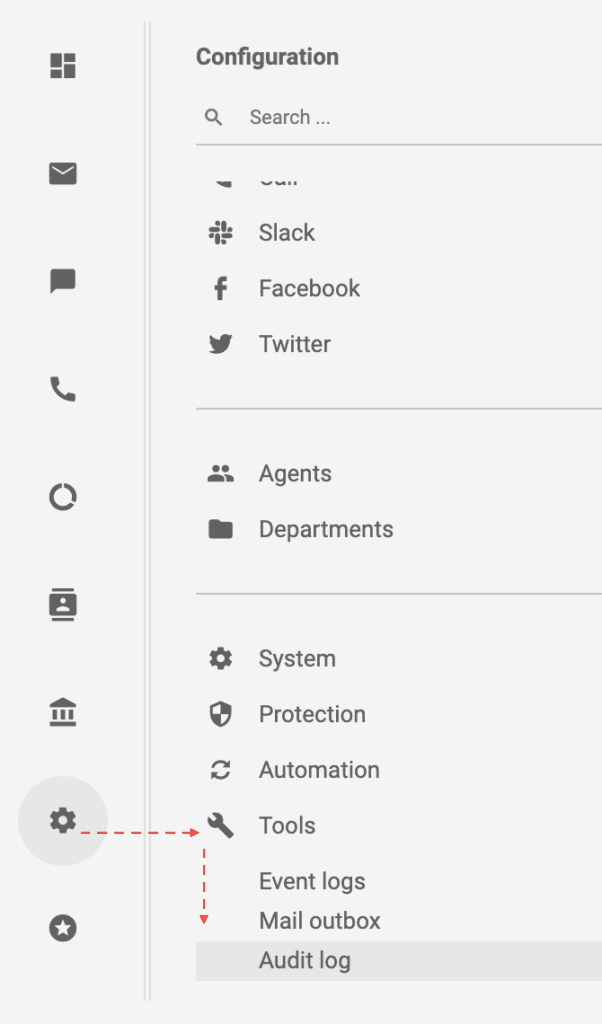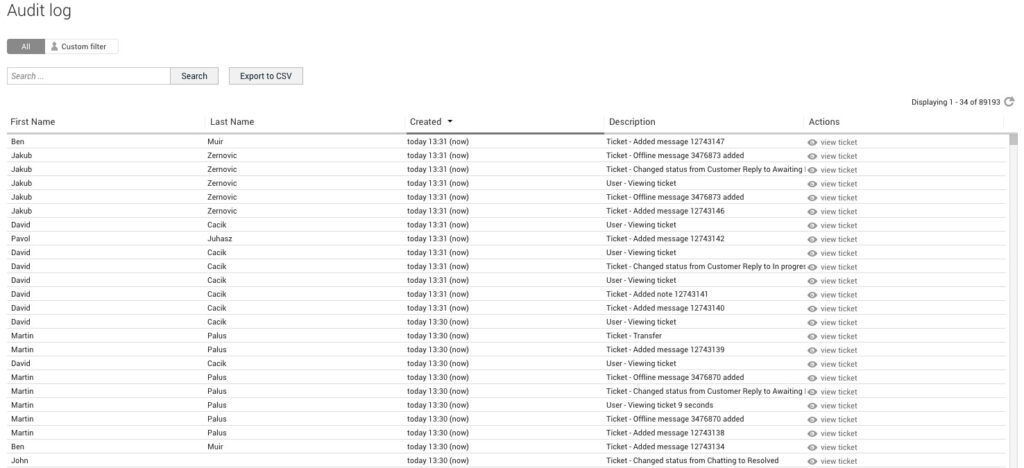 What does your activity log in LiveAgent show?
The Activity log provides a full report on the actions that customer support agents take.
It shows:
the name of the agent
the amount of time the agent spends working on the ticket
the number of the tickets the agent worked on
a brief description of each action
exact agent actions/changes in each ticket
Watch how to measure activity log
It's crucial to have a clear view of the activities and productivity of your team members. With LiveAgent's activity log time tracking, you can easily measure how well your team is performing in terms of tasks completed and time spent on each task. This way, you can identify productivity issues and assess how your team manages their time. Time tracking provides valuable insights, and helps to keep track of how much time is spent on each project or task. With the right measurement, you can optimize team performance and increase productivity. LiveAgent does the time tracking automatically for you, which means you can focus on achieving your sales and marketing goals while LiveAgent provides you with detailed reports.
Activity Log: Logging Your Time and Activities | Management Courses - Mike Clayton07:35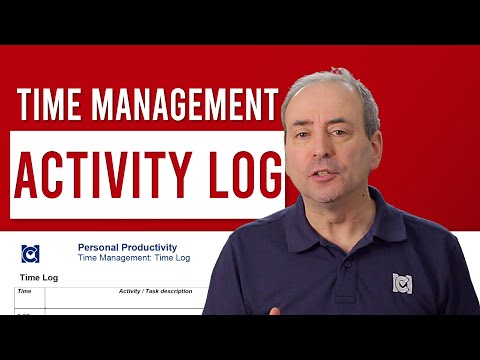 Management Courses - Mike Clayton
Topics
time management
keeping record of activities
types of activities and interruptions
energy levels
planning and thinking time
estimating time accurately
prioritizing tasks
avoiding multitasking
Video summary
The video talks about the importance of time management and how keeping a record of activities can help in understanding the usage of time. The speaker suggests keeping a time log and notes down all the activities and interruptions in it. The discussed topics include the types of activities and interruptions, energy levels, planning and thinking time, and the importance of estimating time accurately. The video emphasizes the need to prioritize tasks and avoid multitasking for effective time management.
Frequently Asked Questions
What is log activity?

The activity log is a record of your activity and how you spend your time. You can run a log of activity in the real world, but also in the virtual world. In organizations and companies, the activity log is primarily used to monitor how employees spend their time while working. Thanks to this, it is possible to assess who and what is spending a certain time. The analysis of such data helps to increase employee productivity, improve time management and supports productivity.

What activities can you log in LiveAgent?

In the activity log in LiveAgent you can see all the activities that have been completed by the customer support staff. They are collected in the form of a report. The data you will find there are: how much time the agent spent working on one ticket, how many tickets the client has worked with, description of each activity, all changes and activities carried out by the agent on the given ticket.

How do you find your activity log in LiveAgent?

If you want to find your activity, you can refer to the audit log, which is a chronological set of records. It contains all the actions that have been taken by technical support staff. You can find the activity log in your LiveAgent account. Log in to your LiveAgent account first > find the Configuration > click on Tools > finally, open the audit log (that is, the activity log).

What is a ACD report?

An ACD report is an automated customer data report. It is a compiled report of customer data that is gathered and analyzed by a computer.
Expert note
Activity logs provide comprehensive insights for employee performance and customer service improvement. They help track progress and identify problems, promoting efficient time management.

Andrej Saxon
Sales manager