Managing tasks in various businesses and departments can become overwhelming if you're not using the right solutions. Tasks snowball on you and you don't know what to do first. Your task management lacks prioritization of immediate tasks and you might slow things down if you don't guess right. 
Luckily there is a solution for this problem and it's called task management software.
What does task management software do?
Task management software is an important tool for many businesses worldwide. It can be used to keep track of schedules, tracing your work, organizing tasks, and have effective collaboration. This type of software helps you visualize your work and see concrete information about what needs to be done. It can be also used for planning, scheduling, communication within a company, and much more.
Everything depends on what a specific software offers for its users. There are plenty of tailored solutions for exactly this purpose, however, that also means you have to pick the right one. So how do you choose the right one?
What makes a great task management software?
A great solution for managing tasks should do one thing right – make your job clearer and easier. This can be achieved by providing users with a visual clarity of the tasks, simplicity in making various actions, and integrations with other software. 
ClickUp does all of the things above right. Let's get into the details about its tools and features.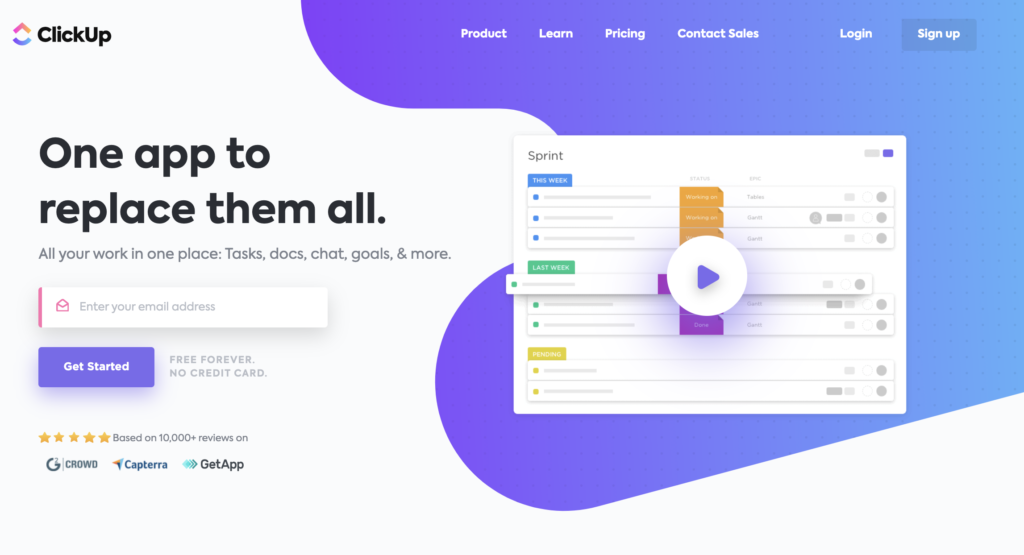 Efficient dashboard
ClickUp focuses on providing clear information about tasks for its users. It's all about great visuals that are easy to see and understand for all types of users, regardless of their job title. What also makes it great are different options when it comes to task management. 
To-do lists, step-by-step project management, alerts, and reminders – it's all there for you to take advantage of and stay ahead of your work.
Customizability and viewing options
Do you prefer a list view or a board view? ClickUp not only has both, but it has also even more options when it comes to viewing your tasks. Customize your dashboard in any way you want to see what requires your attention and when to do it. 
Create mind maps and timelines to see how your projects are doing, have a look at a map to see where you need to go, and create text documents with custom templates for your colleagues.
Suitable for any department or industry
Every team, company, or department can customize their workspace thanks to ClickUp's feature. Make a simplified space for departments that need clear, concrete information flow, and switch it up when you're dealing with elaborate tasks. 
Customer support agents can greatly benefit from this feature and keep track of customer issues, agent availability, and other data outside of LiveAgent if you prefer that.
Enhanced productivity features
These are features that help you stay on track and simplify your work with various smart actions. Use slash commands to do quick actions such as create and edit tasks. Take advantage of real-time chat that can be used to make conversations about projects with your colleagues. 
While you're chatting or working on a task, keep the most important tasks in the queue right in the tray so they will be easily accessible. Did we mention you can create tasks from comments too? Nothing will get lost with ClickUp.
Integrations and more integrations
Integration support is an important feature of most modern software. They allow users to connect the workflows of two apps or create an entirely new one. When you integrate software, you get the ability to perform actions from one tool in the second tool. 
ClickUp supports more than 1000 integrations with other software, and LiveAgent is one of them. Let's see how you can use ClickUp and LiveAgent integration to improve your customer support.
What does the ClickUp integration with LiveAgent do?
The ClickUp integration speeds up the process of solving customer issues and adds enhanced functionality to LiveAgent. Anytime you receive a ticket you will have the option to convert it into a task in ClickUp. The task will get exported from LiveAgent to ClickUp immediately so both you and your colleagues can see it right away. 
This is especially useful in cases of more complicated customer problems that need more attention. Not every issue can be solved right away with the sole effort of a customer support agent.
Trouble with customer support tasks?
Solve customer inquiries faster with LiveAgent's multi-channel ticketing system
Here's an example…
Let's assume you work as a star customer support agent for the Awesome company – the world leader in providing awesome services and awesome products. One day, you receive a ticket in LiveAgent. It's from a loyal customer and they are complaining about your services and products not being as awesome as your name suggests.
Things like that can happen even in the Awesome company.
Luckily you have ClickUp integrated with LiveAgent and you can report the issue immediately to your support colleagues and get it solved faster. You click on the ClickUp integration and report it. Your colleagues see it right away and prioritize it so it gets solved sooner. 
When it gets solved, you let your customers know because you saw an update in ClickUp. The customer thanks you and they're happy you solved their issue so quickly.
How does the ClickUp integration work?
The ClickUp integration is a part of LiveAgent. All you have to do is activate a plugin in configuration and provide some data. Look at how easy it is to do.
Open LiveAgent and go to Configuration > System > Apps. Find the ClickUp integration plugin and click on activate. Then click on Configure cogwheel to get access to the API field.

Now go to ClickUp settings, find API and generate a new API token.
Put the ClickUp API token into LiveAgent and click on Save.
That's it. When you've finished, have a look at any ticket in LiveAgent and look for the ClickUp icon on the right panel. Turn a ticket into a task in ClickUp anytime you need to. Would you like to see the full integration guide? Head over to our ClickUp integration page and have a look at the extended integration guide.
LiveAgent Product Tour | Live Agent02:25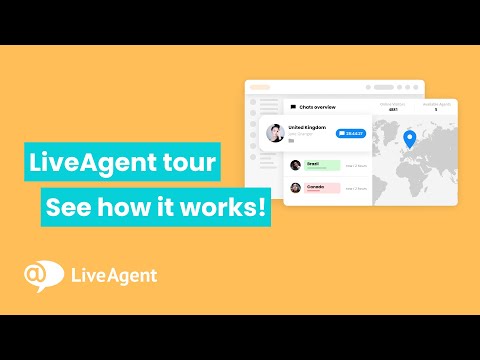 Live Agent