The term 'eCommerce experience' is quite broad, incorporating everything that goes into making an online buying experience easy and seamless for your customers.
That said, failing to provide a top-notch eCommerce experience may cost you dearly. Relying on second chances isn't the best course of action, as 91% of customers who aren't satisfied with a brand simply leave without complaining. With such a low possibility of redeeming your brand after an unsatisfactory experience, it's crucial to get it right from the start.
Therefore, providing a top-notch eCommerce experience is necessary.
The plus side of providing a quality eCommerce experience is that happy customers are more likely to return and recommend your business to others — positive word of mouth.
But, revamping the whole user experience of your eCommerce website is a huge undertaking that demands a lot of time and effort. Fortunately, there are factors that you can consider when looking to dramatically enhance the buying experience.
First, let us proceed to understand the basics of eCommerce UX.
What is eCommerce UX?
The eCommerce user experience (UX) acts as a bridge between the eCommerce website and your customer's journey touchpoints. It involves adopting a human-centered approach to crafting digital content guided by the desires of the targeted audience.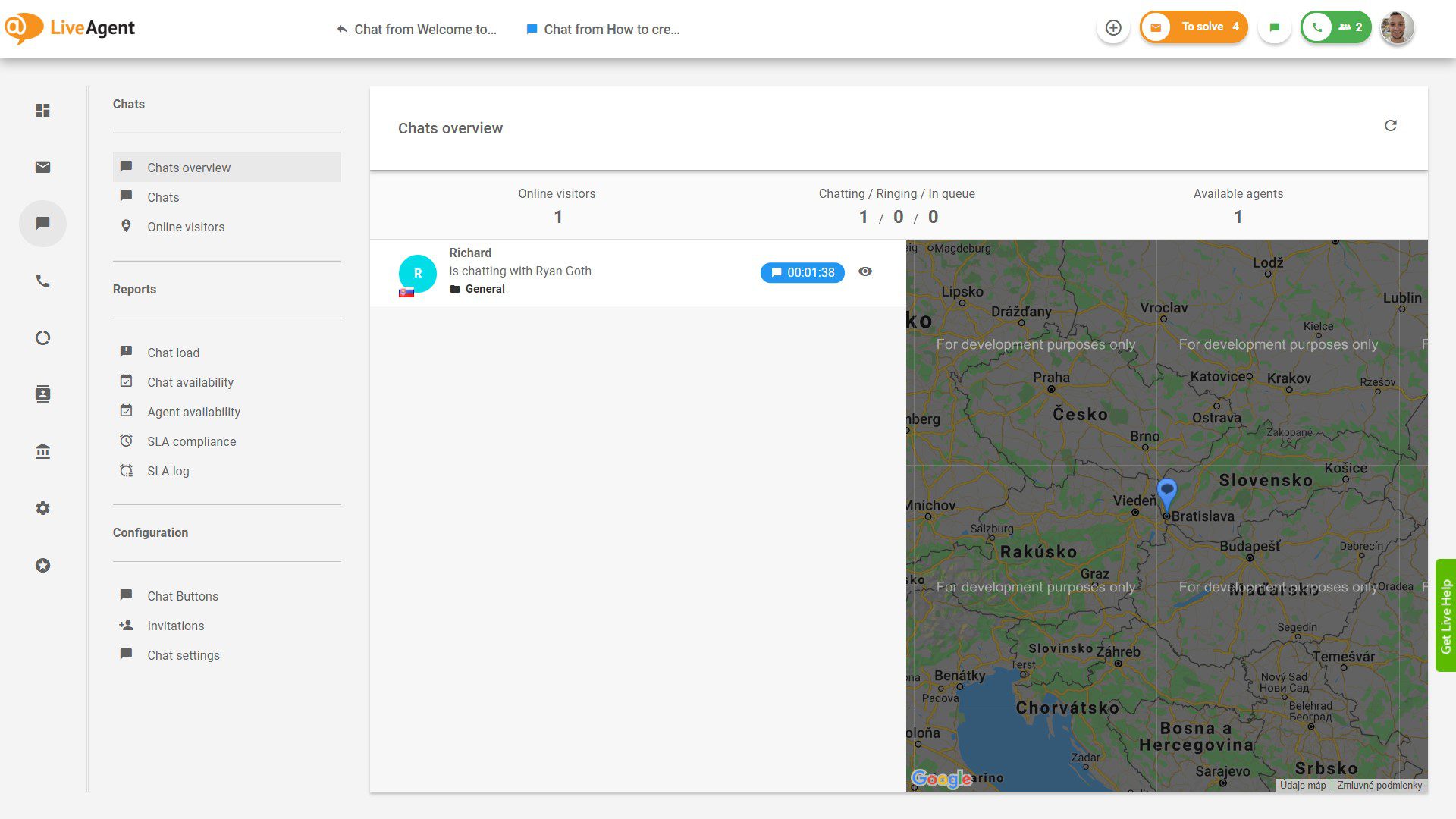 When analyzing your eCommerce store design from a UX perspective, you must ask the following:
What is something that every visitor wants and expects from your eCommerce site?

The answer lies in converting user expectations into business goals and setting UX KPIs to deliver results.

Why would a user want to engage on your site? And why would they choose your business over competitors?

Answer these questions by identifying your USPs. Identify various factors that can offer a unique shopping experience to your users, such as virtual shopping assistance or using VR to 'try the product'.

When you answer the questions mentioned above, think of 'how' you can implement what you analyzed.

When you get the answer to 'what' and 'why,' you will need to identify 'how' you will implement website features and functionalities that assist users in reaching their interaction goals (buying a product).
Getting answers to these basic questions helps:
Drive clarity on creating website goals
Aligning your UX teams with the right set of KPIs
Determining actionable items for every team that help make your eCommerce store user-friendly and visually appealing.
Let us hone in on what goes into making the eCommerce experience great.
What makes a good eCommerce experience?
An ideal eCommerce experience aims at turning customers into brand ambassadors. This involves exceeding customer expectations and motivating them to publish user-generated content such as positive reviews, feedback, and social media shoutouts about the product.
Customers expect eCommerce businesses to woo them. Regardless of the e-commerce business model you use, attracting customers requires you to develop creative and original methods that make you stand out. Based on your target audience, there are many opportunities to catch a potential client's eye. They include running exclusive discounts, festival offers, loyalty bonuses, or simply offering a smooth buying experience.
A customer's journey becomes easy with a well-designed eCommerce user experience. In particular, the benefits of ecommerce are becoming increasingly evident in today's digital world with its convenience and accessibility. When customers are satisfied, you'll see an uptick in visitors and sales.
For this, you can start following some of the best practices for your eCommerce business.
8 Best Practices to Improve Your eCommerce Store's User Experience
Extensive research into facilitating a flawless user experience is an integral part of developing customer relationships and creating a reputation for your business. An exceptional user experience results from the synergy of many combined variables. Every step of the journey, from search and navigation to checkout, should be seamless for buyers who only want convenience during their shopping. Myriad factors contribute to running a successful online store, from appealing web design to a smooth interface. But, to start improving your eCommerce user experience, you need to focus on just a few key elements.
Therefore, we've listed some of the tried & tested best practices that can help you strengthen your eCommerce business.
Let's get started!
1. Create intuitive navigation and website architecture
Simplicity is key! Whether you constructed your own website, hired a website developer, or utilized an ecommerce website builder, you must remember that keeping things concise is the trick to success. A less cluttered, clean, and minimal website design is the starting point. It is best to avoid website baggage to provide a clear and focused user experience.
Intuitive navigation leads customers toward making a purchase. Such navigation needs you to take control of the following:
🟡 Visual design
Consider how well your eCommerce design can work to represent and magnify the features and benefits of your products. Here, you'd consider color consistency to reflect your brand identity and ensure readability by using high-contrast text and backgrounds.
Different colors can stimulate certain emotions or moods, meaning an appropriate color choice is crucial for your brand's image. It's a good idea to refer back to a color chart when creating your brand's color palette to avoid clashing hues and potentially impacting readability on your site. Putting together a group of colors that are both harmonious and representative of your brand is ideal for visual design.
An appealing web design also includes maintaining visual consistency by using typography that grabs attention, and by aligning iconography to match your brand colors and overall aesthetic.
🟡 Information design
Your website design should promote an easy understanding of product details. Organize the information structure and logical placement of relevant content, such as banners or texts, to avoid distraction or information overload. An example of this could be placing the product under the right categories and forming breadcrumb trails. It is best to test the user journey by interviewing them, A/B testing your website, or using the card sorting method.
🟡 Interaction design
Think of your eCommerce website as a series of interconnected dots, like milestones on a journey that lead to a final destination (conversion). The interaction design will have User Interface (UI) elements trigger action — add to cart, save to wish list, or buy now, among others. Designing such interactive, actionable elements should simplify goal completion for website users.
🟡 Navigation design
First, determine the website's characteristics and information structure that begins with a sitemap, representing the many content layers. Take control of primary eCommerce category pages that help users explore sub-categories (e.g., Shop for Men > Winter wear > Jackets). The sub-menus help people jump to their desired section just as they would in a supermarket or a showroom.
All the elements mentioned above help showcase products with the help of a cohesive design flow. Also, remember to add images that complement the visual, informational, structural, and navigational design. For instance, think of adding high-quality images, displaying a consistent background for product images, or having a fixed pixel size.
Let's dig deeper into how to adopt a cohesive website design approach.
🟡 Accessible design
Proper, robust navigation is instrumental in rendering your store as accessible. Users relying on screen reader technology depend on proper navigation to be able to browse your store. If you have a Shopify store, you'll need to integrate with specific solutions to ensure you are ADA compliant (i.e. compliant with the appropriate web accessibility standards).
🟡 Creating a prominent and super-organized navigation
Navigation makes it easy for customers to find what they are looking for by browsing categories and sub-categories. They should be able to search based on different categories; by brand, new arrivals, color, etc.
🟡 Have simple website architecture
Taxonomy is also an important element in information architecture. It is a hierarchical structure that is classified.
This is equivalent to classifying products in an eCommerce store. Taxonomies used in eCommerce often have a vertical, "tree-like" structure.


Taxonomies are the hierarchical structures in these two screencaps, arranged in a parent-child relationship from broad to specific themes. The usage of a controlled vocabulary, which is a limited collection of phrases, names, labels, and categories, is one method of creating eCommerce taxonomies.
2. Have lightning-fast load speeds
The cost of running a slow-loading eCommerce site is high in terms of unrealized business loss. For example, if your eCommerce site earns $100,000 per day, then a one-second slower load speed could result in a loss of $7,000 every day.
Ideally, your website should load in three seconds or less, and around two seconds if it's an eCommerce site. Bounce rates soar in the two-to-three second range, and if your site takes more than three seconds to load, 40% of users will go elsewhere.
Improving your eCommerce website speed begins with mitigating redirections and optimizing images. You can also increase server response times by identifying performance bottlenecks and applying technologies to compress CSS, HTML, and JavaScript files.
3. Ensure easy access to support and self-service
Your product description may not be enough to help customers who have questions about your eCommerce website or products. Therefore, providing online assistance and backing your products and processes (such as shipping or returns) with self-help content is best. This can come up as a knowledge base that is easily accessible by users, as well as in the form of how-to guides, troubleshooting guides, FAQs, or manuals.
For this, leveraging great customer service software like LiveAgent becomes crucial.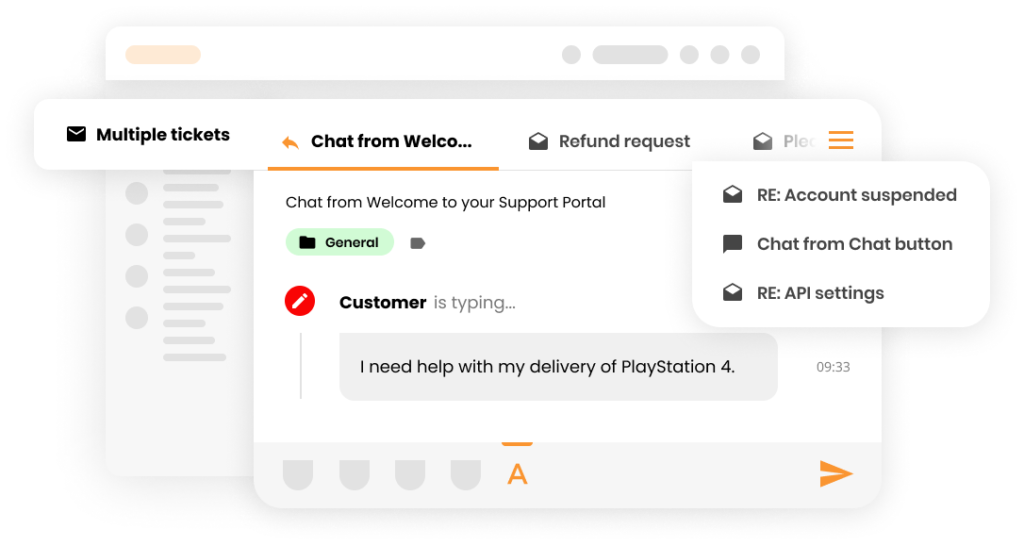 Apart from the knowledge base, it provides extensive tools such as chatbots, live chats, 24/7 call support, and social media support as a part of customer support.
You can also use social media customer service by leveraging platforms like Facebook, Instagram, and Twitter. These can help establish a strong following for your brand. Moreover, you can respond to customers' complaints on social media more quickly than via a standard customer care service.
It is a good practice to regularly interact with customers on social media and address all comments, including negative ones, to show prospective buyers how proactive you are in helping customers.
4. Invest in high-quality visuals
An eCommerce store's display logic works similarly to that of the brick & mortar store. Keeping the merchandise easily accessible, visually appealing, and simple to understand (for instance, its color, shape, or design) can help improve conversions.
Images need to make up for the lack of tangible feel and atmosphere that physical stores offer. Therefore, your website ordering system should provide high-quality videos, 360-degree views, or zoom functionality to compensate.
For instance, videos help explain to buyers how to use the product, get an inside-out view effectively, and how the product appeals to a certain section of the consumer market.
The same goes for providing high-quality pictures. A report suggests that 90% of online shoppers think the quality of the photos is an essential consideration when making a purchase.
Key tips to offering the best eCommerce visual experience include:
Offer multiple angles of the product for customers to make a choice
Get the product placement right based on categories, price range, or demographics
Highlight unique product features
5. Minimize friction in the checkout process
Your goal as an eCommerce business is to enable easy shopping for customers, right from finding the desired product all the way to checking out. As part of this effort, generating custom invoice terms and conditions at the checkout can help create a streamlined process when customers shop online.
Offering multiple payment options at checkout, such as credit cards, PayPal, and Apple Pay, as well as optimizing for mobile compatibility, can also help to drive more conversions. Additionally, enabling customers to save billing information to their accounts provides faster checkout experiences on future purchases, boosting customer convenience and satisfaction.
Take apparel retailer Anthropologie for example. They redesigned the UI and offered Express Checkout, which resulted in a jump in sales by 24%.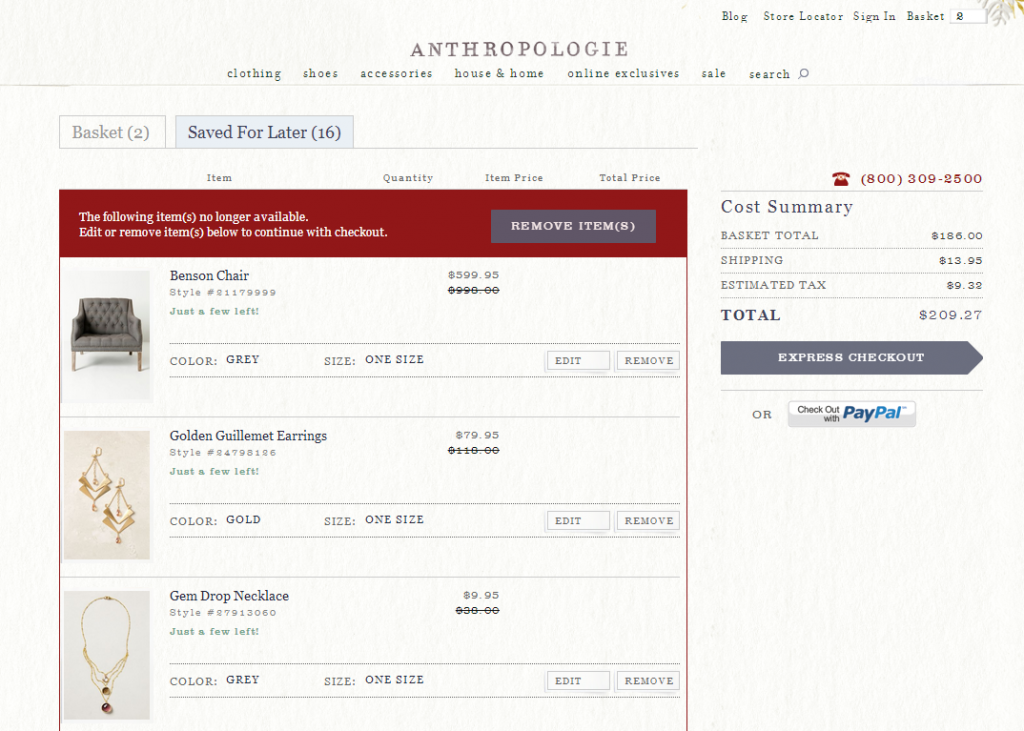 A good practice is asking buyers for minimal information to complete their orders. In turn, this can reduce the cart abandonment rate.
So, provide a visual progress indicator like the one shown below.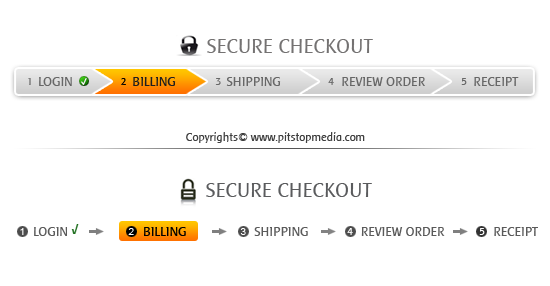 Take your checkout UX a notch higher by fine-tuning some of the key eCommerce website elements:
Create a cohesive checkout experience by hiding the central navigation bar on the checkout page
Get rid of the 'mandatory' account creation rule
Recommend complementary products within the cart for faster checkout. (For example, if they have selected a shirt, let AI suggest complimenting ties, bows, or socks)
Accept multiple payment methods such as credit cards, debit cards, and PayPal
6. Build credibility with abundant social proof
When making a buying decision, 74% of customers consider word of mouth as an important factor. People prefer shopping on a website if they can check other buyers' reviews on your products. This emphasizes the value of social proof.
Alza store is an excellent example of a business that uses social proof effectively. They show how many times a certain product was purchased in a given week or day. Right above the product, in red ink, you'll see an 'i' signifying information, along with some statistics.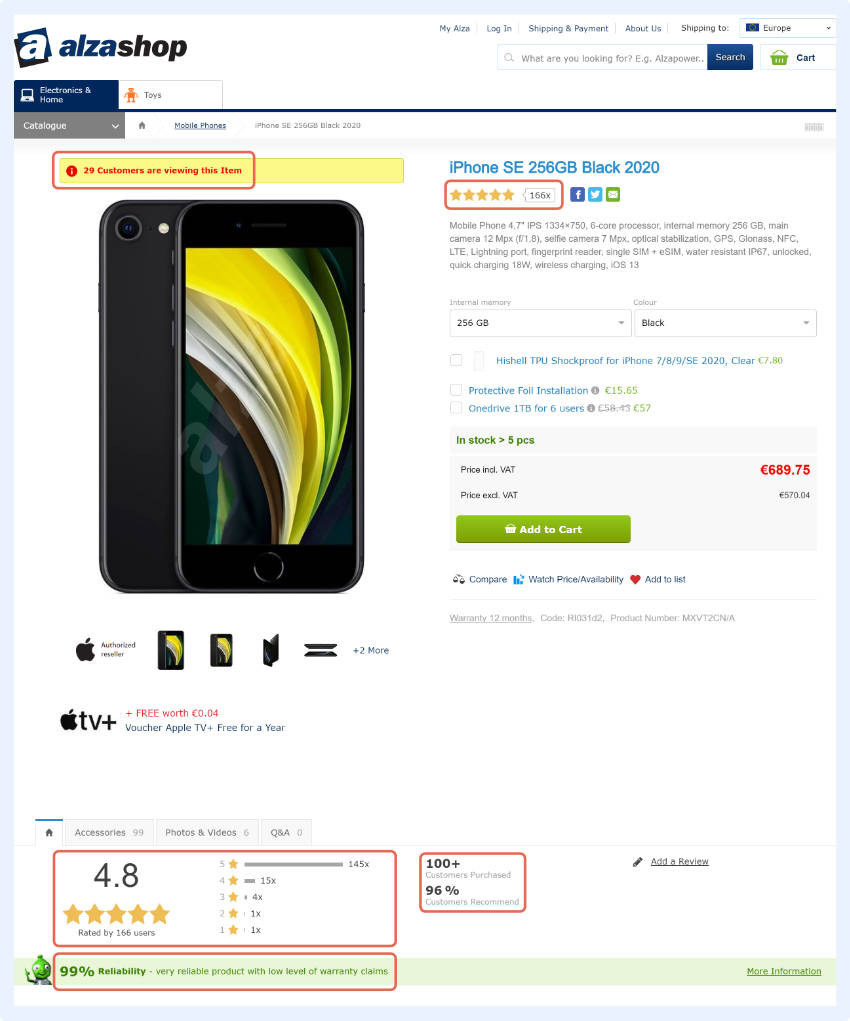 Here are some quick tips for building stronger social proof:
Providing customer testimonials and reviews
Onboarding influencers and posting their videos
Displaying the number of customers who have bought from your eCommerce store
Displaying trust and certification badges
7. Reduce the no-result page rate
Keep your eCommerce visitors engaged by showing them the closest possible result of their query. One way to do this is by optimizing synonym search which helps you eliminate the 0-result pages that lead users to bounce.
Taking two random examples for the query 'summer jackets':
GAP returned zero results when searching a particular product

Compare this with Argos which displayed relevant results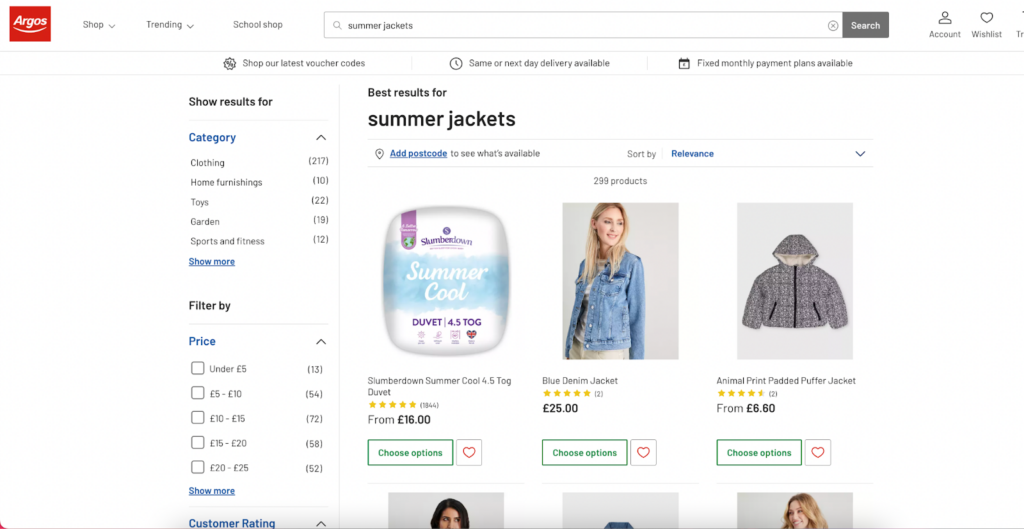 Example A (GAP) shows what happens when your website is not perfectly optimized for synonym search.
Therefore, optimizing synonym search to eliminate 0-result pages that are dead-end searches results in a lower bounce rate. Alternatively, you can show similar products from similar brands.
You can add a synonym search to help users locate the products they're seeking since they don't know the actual name per your stock keeping units (SKUs). For any eCommerce business whose product names are not well-known, or if there are many different names for their products, synonym handling can be a real game changer.
Here, users need not accurately guess the site's product name to get the desired results.
8. Personalize as much as possible
The success of your eCommerce customer experience lies in how well you can personalize it.
Providing basic product suggestions and calling customers by name is no longer enough. It is becoming more important to personalize promotions depending on the actions and circumstances of individual consumers throughout their journey.
For instance, when customers are abandoning the cart, send them an email with an enticing offer.
60% of customers engage in repeat purchases if the store offers personalization. For example, Stitch Fix offers their regular customers hand-picked fashion items based on their preferences and interaction history.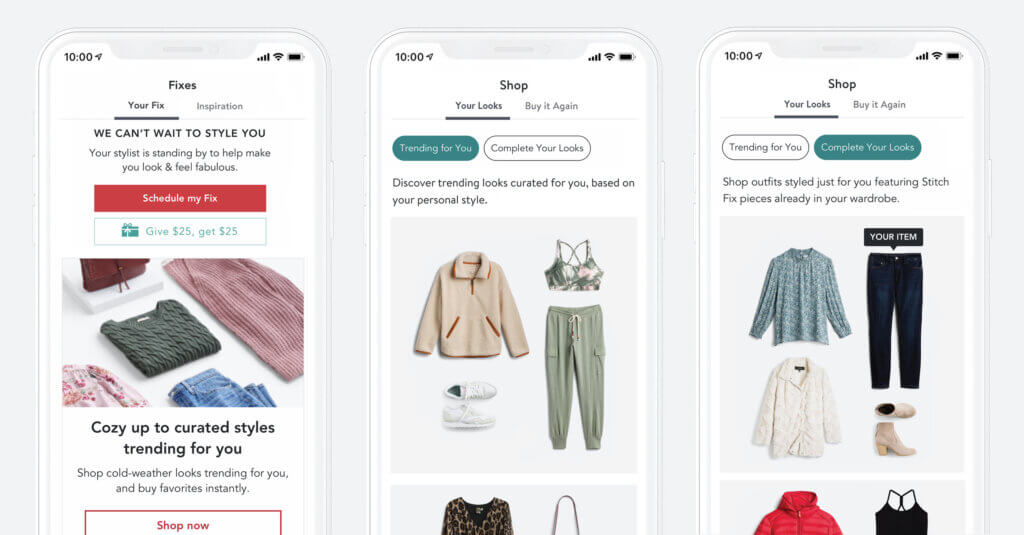 Here, think of introducing loyalty programs as the majority of shoppers expect some exclusive deals during holidays, Black Fridays, and special occasions. One right way to achieve an optimized customer experience is by creating an experiential approach that uses predictive selling from user data. This drives customers to redeem their loyalty points and upsell your products.
9. Provide flawless product tours
Lastly, for any self-respecting and valued business, a cool product tour is essential. Get everything ready beforehand so you can optimistically present the key features and benefits in your presentation. Additionally, having an interactive format during the product tour allows customers to ask questions and provide feedback.
Your goal should be to build trust while maintaining clarity and conciseness throughout the product tour. With a well-designed product tour, customers will be more likely to make a purchase decision which is what every business owner strives for.
Wrapping up
When it comes to transforming your eCommerce business with recurring business and referrals, the user experience is the most important factor. Adopting any of the above-mentioned eCommerce best practices, along with implementing customer experience management tools, can go a long way in creating a compelling user experience. These tools help you monitor and optimize the overall customer journey, ensuring a seamless and enjoyable experience for your clients.
Improve your user's eCommerce experience
Ensure top-notch user experience on your eCommerce store with best-in-class live chat and knowledge base solutions from LiveAgent. Start your free trial today!
Customers who have a positive experience buying on your website can work as a yardstick for success. This will help identify what works best amongst your customers and how a particular approach creates a definite impact on buying experience.