Want to know what to deliver to changing customer expectations? Keep reading to learn more about live chats and how live chat website integration can be used on financial websites. Whether you are looking for a bank live chat or help desk solution for your financial business, we have some great tips for you.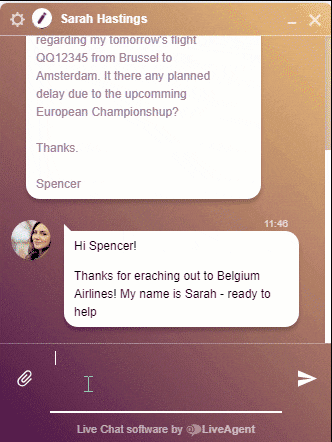 In our world of digital experiences, financial institutions have to keep up and employ technological advancements to increase customer satisfaction and loyalty. In the past years, technology has completely changed the face of modern financial services. No matter if it is a bank, an insurance company, a financial consulting firm, or Tax Defense Partners customers require assistance and financial advice regularly. More and more people handle their finances using digital wallets and banking apps.
While customers harness the benefits of digital transformation, financial institutions have to keep us with the latest technological advancements. The financial industry faces the challenge of creating efficient self-service channels with high levels of security and encryption for their websites. Live customer service is a cost-effective and secure way to prolong your open hours.
Using live chats for financial needs 
From a customer perspective, live chats are a great tool for problem-solving. Managing banking accounts becomes easier with live chats. Operators can help with resetting online banking and respond to queries about customer's accounts. Also, it's simple to get live updated information on mortgages, loans, current interest rates, mortgages, or annuities via live chat.
Clients can also inquire about their pending transactions, due dates for loan repayment, opening accounts and many more. Online forms, electronic signatures and the ability for customers to upload documents speeds up operations. Think about customers who are currently abroad and have to pay high roaming fees to reach you. Use live chats to connect with those clients and make their life easier.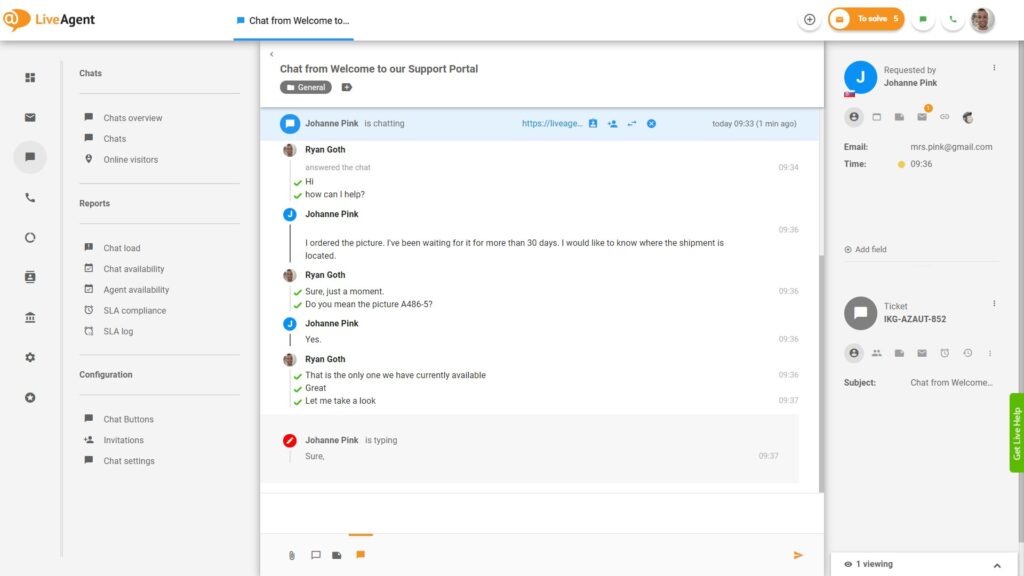 Benefits of using live chats 
Live chats do more than just bridging your financial institution and customers. Here are the benefits of employing live chats on your finance niche website:
No need to call customer service. We all know that calling a customer service number and staying on hold can be quite frustrating. Live chats solve the problem of awaiting available customer service representatives. It also can be less stressful for specialists since they don't have to be on the phone all the time. Plus, since we chat all the time, employing a live chat on your website can make it more casual and appealing to the clients.
Multitasking. Live chats are a faster alternative that allows operators and customers to multitask. Customers can talk to specialists and manage their finances while working, shopping, or enjoying their free time. It is also a huge benefit to your customer service center. Unlike operating over the phone, support specialists can manage multiple chat boxes (= customers) simultaneously. Live chats increase productivity and help your operators do more in the same time frame. 
Co-browsing options. Support specialists can co-browse your website with the clients. This option can be used if customers need help navigating a website. Showing is always better than just telling. If your client has a hard time finding something on your website, screen sharing and co-browsing become real game-changers. 
Real support specialists. With a rise in technology, meaningful personal interactions often get lost in the online experience. There is a demand for personalized live communication with human customer service representatives. It is always refreshing to talk to an actual person online, plus specialists can assist with resolving a wider range of issues. Trust us, your customers will appreciate a meaningful human interaction. 
 …well, not all of them. As much as people enjoy talking to people, there is no way your chat can exist without a chatbot. Make sure that bots and humans work together to provide the best user experience. It is unlikely that chatbots will fully replace human support specialists. Still, use them to handle the most basic inquiries from start to finish with no human help. Chatbots are also a cost-effective way to stay accessible for your customers 24/7. 
Secure information sharing a channel. Your clients trust your company with their money. Sharing your banking or financial information needs a safe transmission channel. Field masking used by operators for online form-filling is a secure way to gather all required information. It's crucial to have high data protection standards and use secure servers.  
Fraud detection. The live chat software allows you to see and track visitor's locations (particularly their country and city). When unusual activity occurs, an operator will be able to detect and prevent potential scams and frauds. For instance, if it shows that a customer located in Germany is trying to access a file located in the US, it may signal potential fraud. If this client has never visited Germany and never put a travel notice, their account information might have been stolen.
Increased customer satisfaction. As a result of the above-listed benefits, live chats make customers feel more important and boost customer satisfaction. As cited in Forbes live chats scored the highest 92% among other communication options (like social media, email, web forms, etc.) on a subject of user satisfaction. According to the Forbes contributor and customer experience specialist, Dan Gingiss "Higher handle times lead to higher customer satisfaction as well – perhaps because customers appreciate the individualized attention from the service agent." But remember that a fast response does not mean a quality response. Provide specialist training to ensure and maintain a high quality of service. And remember: an increase in customer satisfaction goes along with improved customer loyalty.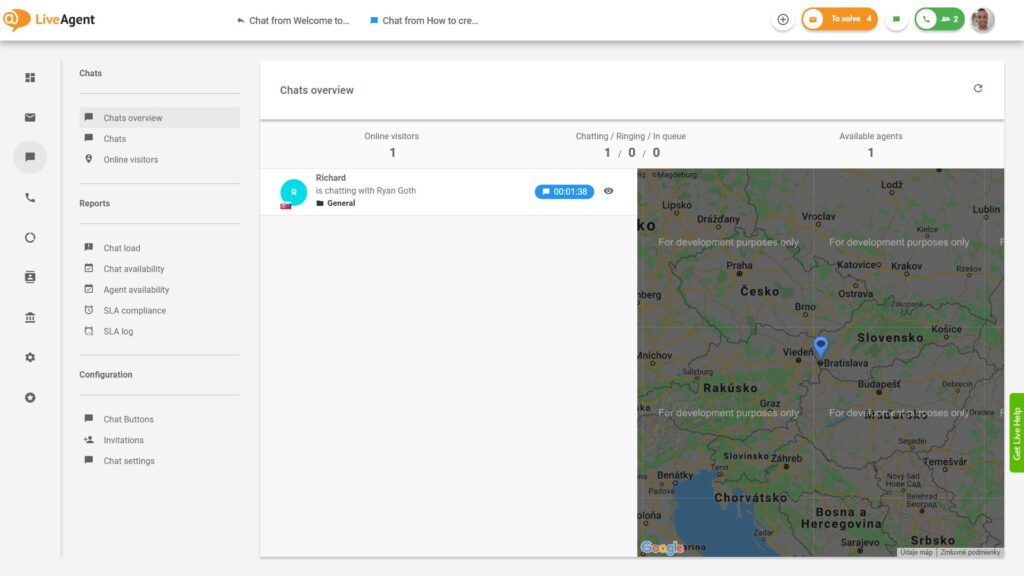 How to make the best out of your live chat? 
There is no step-by-step guide on how to promptly use a live chat, but there are some useful tips that will make the most out of the lifetime of your live chat. Following them will guarantee the effective work of your chat. 
1. Design a chat button
A well-designed chat button will help you to attract and engage with clients better. Make sure it's visible and easy to access and locate. Avoid making it too distracting or irritating. 
2. Use an activation prompt
Consider adding an activation prompt in 5-10 seconds after your website loads. It will call additional attention to your website and increase the percentage of customers who will use the chat feature.
3. Add trigger-based notifications
Send instant notifications to customers who are online to match them with the right financial products. For instance, you can offer additional services by sending notifications of price changes in securities to online users. Customize important reminders and targeted promotions critical for your needs.
4. Address clients personally
Use names to provide a personalized experience that customers appreciate so much. You can employ this strategy by greeting returning customers by their names. It will make your conversation starter more personal and appealing.
5. Use chatbots
As mentioned before, bots are a cost- and time-efficient way to stay connected 24/7. Give a name to your chatbot and make it clear that the customers are speaking to a bot. Concise and clear communication is key when it comes to bots. Make sure to keep it simple and make your message easy-to-answer and clear.
6. Design "canned" answers
Use pre-built answers for common questions to save time and effort. If your system does not recognize the question let a live agent handle an inquiry.
7. Automate live chats
Make sure that queries are automatically redirected to the right specialist from the right department. Automatization will save a lot of time for your operators and clients. When it is unclear which department is responsible, always have the option of contacting an operator directly. 
8. Advance customer authentication process
Your service specials have to know how to verify a customer to prevent frauds from happening. They must follow all required security protocols, including asking security questions, account and personal information. Use secure VPN services to prevent data leaks. 
9. Redirect customers
Unlike phone conversations, chat sessions are a great way to show and share information. You can use them to quickly redirect customers to the page of your website that suits their queries right.
10. Make personalized chat for each representative
The chat window can be designed to display your company's logo, colors, or motto. Use extra design features to show the representative's picture, name, and email address to make them accessible to the clients while they are not online.
11. Use chat scripts for improvement
Chat transcripts can be automatically saved and emailed. Use this feature to maintain quality control and training of new employees. You can also determine areas where you need to improve your website and evaluate customer satisfaction.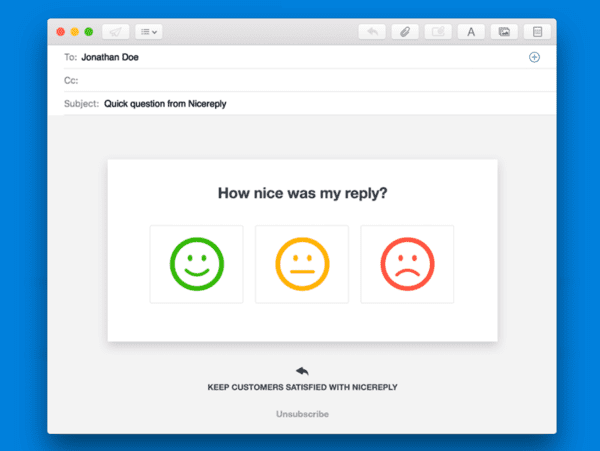 12. Collect customer feedback
After a chat ends, collect customer feedback using a post-chat survey. This will show that you care about your customers' opinions and do a quality check. Consider using a five-point scale and remember to keep it simple and fast to fill out to get more responses. For instance, CapitalOne bank uses emojis (from the sad to the happy one) to make it more engaging and appealing to the users. 
Specialist training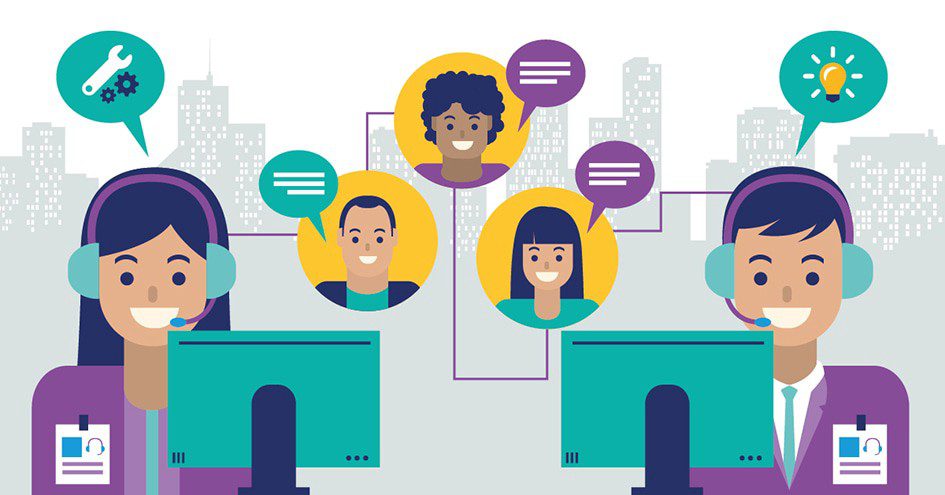 A crucial part of live chat employment is training your support specialists. When rolling out a chat for your financial institution, you need to set the ground rules and design a customer support guide for your specialist to follow.  First, you need to identify what kind of queries you allow to solve over the phone and in chat. Some companies prefer to resolve more complex and money-related issues only over the phone or in-person because it's easier to verify the client's identity. Others allow operators to handle different queries in chats following special authentication procedures. If you want to manage account-related transactions (like paying off a bill) in chat, your specialists have to verify their account using a standardized identity verification process while following all necessary security protocols and complying with regulatory requirements. Choose how to manage different types of inquiries based on your institution's security needs and policies.
When you've figured out the types of inquiries that will be managed through live chat, you need to train your specialist to provide accurate responses. They have to be fast in decision-making, know the answers to customer's questions, and able to communicate clearly. Teach your support representatives on how to handle difficult customers and resolve conflicts with keeping up the reputation of your institution. Remember that clients expect fast and efficient service and are easily irritated by poor customer support and slow responses. 
Keep in mind… 
More and more customers are managing their finances online and require their financial institutions to keep up with modern customer service expectations. Live chats have become a vital component of websites, not just an additional feature. They allow you to provide easily accessible, convenient, and quick support. Improve your financial niche website by adding this vital feature and increase customer satisfaction and loyalty.  Live chats satisfaction in finance/banking scored 80.2% and this means that there is always room for improvement. 
If you have not made your mind yet, we suggest trying out the benefits of live chats on your niche financial website. Make sure your support specialist provides fast responses to clients' queries to increase customer satisfaction rates. Your clients will appreciate you personalizing each message and letting real people handle complex problems. Consider using live chats not only on your website but also in your mobile app. Many banking apps successfully employ chats into their interface. And the mobile chat experiences are expected to advance and grow. If you are thinking about going mobile, pay special attention to user experience and quality of responses. You will need to balance surveys, chatbots, and human representatives to make the most effective experience.
Allow your customers to choose which department can help with a question. Don't forget to balance human interactions with AI to save your money and time. Pay special attention to the way your chat is designed and located on your website. Now you have a recipe for getting the best out of a live chat for your financial website!
Want to learn more? Check out the best 25 WordPress live chat plugins.