You've heard it before:
Your customers aren't buying a product; they're buying an experience.
Unfortunately, this mantra gets thrown around so much that it's difficult to really understand what it actually means. Think of it like this:
When a customer makes a purchase, they're not just paying you for the product they're walking away with. They're paying for the service they receive from the moment they show an interest in what you have to offer to the moment they shell out their hard-earned cash – and beyond.
Think of every interaction you or your employees have with a customer – whether before, during, or after a purchase – as an investment. When you invest in providing the very best service to each and every one of your customers, you make it that much easier for them to feel comfortable returning to your company the next time they're in need.
Additionally, by actually rewarding your customers for continuing to do business with your company, you not only increase the chances that they'll remain loyal, but you also make them more likely to recommend your services to others in their network.
The Benefits of Providing Customer Support
You may have noticed we've used the phrase "customer support" rather than "customer service." In our mind, there's a subtle difference between the two and we define customer support as follows:
Customer support is an ongoing, proactive process
Exemplary customer support benefits both the customer and the company, and does so on many different levels
With these two things in mind, let's go over exactly why supporting your customers is essential to the growth of your business.
Customer-Facing Benefits of Customer Support
By providing excellent support to your customers at all times, you do your part to optimize their overall experience with your brand.
According to a survey by Genesys, the main reasons companies invest in improving overall customer experience are to improve customer retention and satisfaction.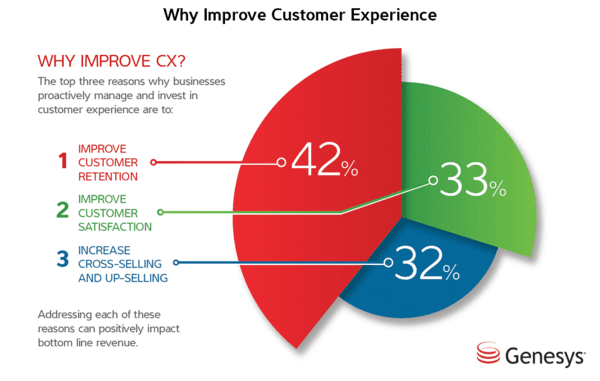 It's no secret that getting customers to return to your company in the future should be one of your major business goals.
But how important customer retention is may come as a bit of a surprise.
According to data collected by Fieldboom, "A 5% increase in customer retention can lead to an increase in profits of 25%-95%." 
Of course, getting to the point of retaining a customer requires that you ensure said customer is completely satisfied with the service you've provided them.
Take a look at this article from the National Business Research Institute describing ten factors that affect customer satisfaction. You'll immediately notice that each of these factors relate, in some way or another, to providing exemplary customer support.
To put it simply: without proper customer support, your customers won't be satisfied with your overall service. If your customers aren't satisfied, you have little chance of getting them to come back.
But, by providing proper customer support throughout each stage of the buyer's journey, you make their decision to return to you in the future a no-brainer.
Company-Facing Benefits of Customer Support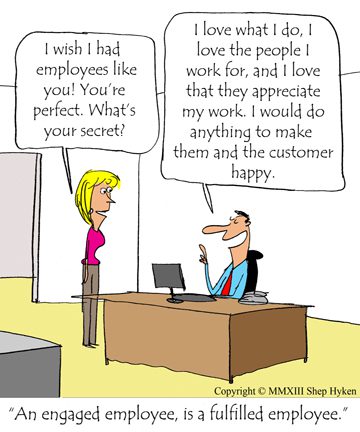 Taking the initiative to provide incredible customer support can also do wonders for your business and its annual investment return.
As mentioned earlier, when employees adopt a mindset focused on supporting each customer they come across, they begin to see such instances as opportunities for growth – in turn leading them to become more engaged in their work. Though other factors are involved, employee engagement is one of the main characteristics of a successful and productive company.
Focusing on providing exemplary customer support can also help a company improve its overall functionality, as well.
Because providing customer support inherently involves becoming more engaged with customers, company personnel will become much more in-tune with what customers actually want (or need). In turn, managers and executives can analyze and assess the qualitative and quantitative data collected "on the floor," and improve company-wide processes as necessary.
Consider this analysis of the relationship between customer insight and business performance from Nokia. Here, Greg Owens explains how focusing on providing superb support to your customers allows you to:
Gain a true understanding of what your customers expect to get from your company
Better communicate this need throughout the numerous teams within your organization
Develop a clear vision of how to improve various aspects of your organization in order to better serve your customer base
Perhaps the most important thing to realize is that, when you shift your company's focus to truly supporting your customers, you also make continuous quality improvement the norm within your organization. In doing so, each member of your company – from on-the-ground salespeople to managers and executives – will always be looking for ways in which they can provide more value to your customers. In turn, said customers will be more likely to come to you when they're in need of the services you provide.
The Benefits of Loyalty Initiatives
Whether a customer returns to your company or decides to go elsewhere in the future, they still have a relationship with your brand. However, whether this relationship is positive or negative depends on their experiences while interacting with your company.
Your goal, of course, is to cultivate an incredibly positive relationship with your customers – and to do everything you can to turn them into loyal followers of your brand.
"Customer loyalty" is a rather subjective term, as different companies may have different criteria for defining such. Without attempting to nail down the technical specifics of what makes a customer "officially" loyal, we can agree that a loyal customer is one who:
Seeks out your company's services often and consistently
Engages with your brand in ways beyond simply making purchases
Recommends your company's products or services to others in their network
We mentioned earlier that customer retention can have a dramatically positive effect on a company's profit margin. In addition to this, the cost of bringing a new customer up to the same level of profitability as an old one can be up to 1,600% higher. Furthermore, loyal customers are worth, on average, up to ten times as much as the amount of their first purchase.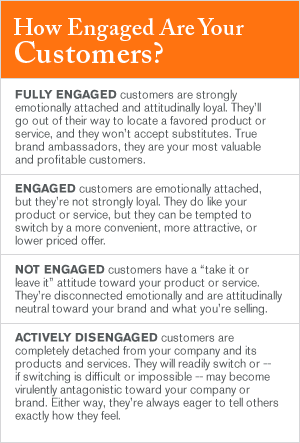 Additionally, research by Gallup shows that customers who are fully engaged "represent a 23% premium in terms of share of wallet, profitability, revenue, and relationship growth over the average customer." As with "loyal" customers, the definition of an "engaged" customer is subjective (though you can see how Gallup defines it in the image above). In general, though, an engaged customer is:
Responsive to a company's outreach initiatives
Involved with other aspects of a brand (e.g., comments on a company's social media posts)
Driven by their overall experience with your company – not just by low prices
The above graphic reiterates some of the benefits we've mentioned regarding customer engagement and loyalty, and brings up one more incredibly important aspect of the customer-company relationship:
Evangelism.
If you've invested in ensuring a positive experience for your customers whenever they engage with your brand, you can be all but certain that they will become loyal to your company, becoming strong believers in your product or service. Building on this loyalty will help create evangelist customers and create a bandwagon effect for your brand, as these customers help to recruit new people into the fold for your business through word-of-mouth marketing.
According to the New York Times, referrals from current customers generate an average 65% of new business. It doesn't matter whether they're company-generated (such as referral programs or incentivized bonuses) or customer-generated (such as product reviews or social shares); referrals can be your company's most valuable asset in terms of generating new customers.
Conclusion
Kevin Stirtz once said, "Know what your customers want most and what your company does best. Focus on where those two meet."
Your customers are literally the reason you stay in business. So why wouldn't you do as much as humanly possible to ensure they receive the support they deserve each and every time they engage with your company?
By making customer support a focal point of your overall organization, you make it clear to your target audience: You're not in the business of making sales; you're in the business of helping people.
Provide the best experience with LiveAgent
Ensure your customers receive personalized, knowledgeable, and timely service across all channels. With LiveAgent, it's easy!