Key takeaways
Pros
Ticketing system with focus on IT support
Great design and user experience
Interesting features for a specific use case
Cons
Limited mostly to IT support
Can get expensive
Getting started with SolarWinds ticketing
SolarWinds is a well-known IT support solution that focuses on creating a good IT help desk software experience for businesses. This focus is reflected in the interface and available features. However, SolarWinds is not focused only on IT service providers, it can do a lot more than that. Its product catalog can provide solutions for virtually any problem related to IT management.
If you want to get started with SolarWinds without paying first, make sure to enter the free trial through a simple registration on the SolarWinds website. Once you get into your account, you will be welcomed by a screen asking you what you want to do next. It presents multiple options for continuing your startup journey. Alternatively, you can also engage with a pop-up that will offer to show you the ropes via a quick tour.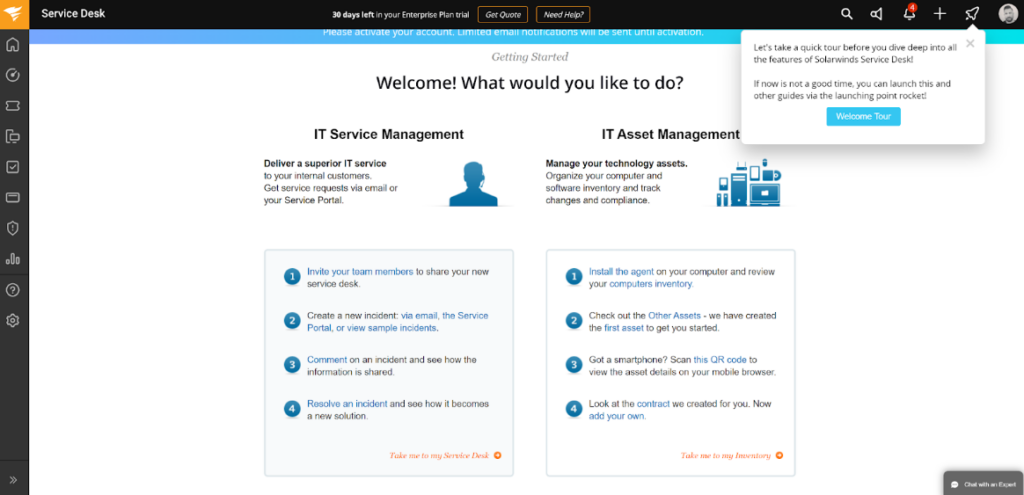 Once you click on 'Take me to my service desk', you will be taken to the incident management dashboard, which is the ticketing system in SolarWinds. The web app will give you a quick introduction into incident management and give you the option to take a full tour or watch the introduction video. If you want to skip these options, simply close the window and continue on to the ticketing system.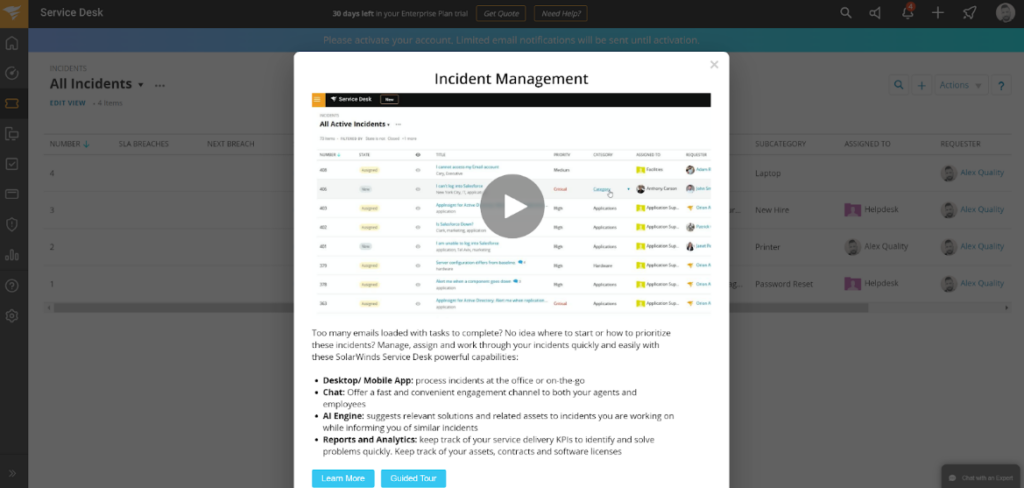 The interface of SolarWinds is pleasant to use. The design is executed very well, with all features and tools available at all times. The menu on the left can take you to different sections of SolarWinds, and reveal task functionality, device management, procurement, risk management, analytics, settings and other interesting options. You can also find the ticketing system here. Before we get to the testing, let's see what kind of features SolarWinds offers.
SolarWinds ticketing system features
SolarWinds offers a feature set focused mainly on businesses that provide IT services. While the ticketing system, better known as incident management, is a feature in itself, as it is just one part of the entire SolarWinds software. It does, however, come with its own set of sub-features that make your ticket management easier. SolarWinds ticketing system is multi-channel and can support management of tickets via email, phone, service portal, mobile app, or chat.
Incident management also supports automated rules and task management, ticket routing, automated incident tracking, or ticket export to multiple formats. SolarWinds also utilizes artificial intelligence to increase agent productivity. This concerns mainly ticket categorization and agent routing, where the artificial intelligence automatically picks out the best matches for agent specialization and ticket category.
Ticketing system performance and user experience
Now, it's time to take a look at the performance of SolarWinds incident management system. I sent myself a couple of test emails to emulate the experience of chatting with an employee or a customer requesting customer support. It took a slightly longer time for the ticket to show up in the SolarWinds incident management system.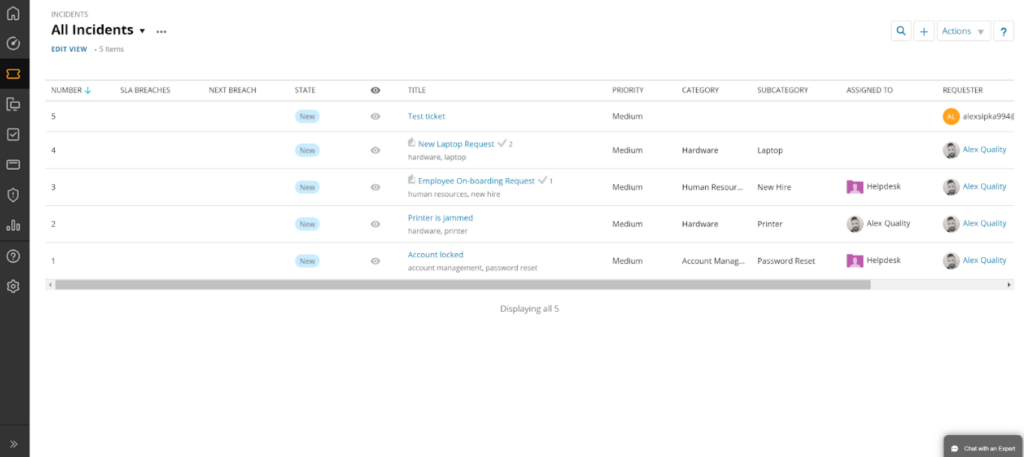 While it didn't take longer than a minute, it still points to this ticketing system being a bit slower than most. Regardless of that, it's not a deal breaker. The email arrived and transformed into a ticket without any problems. The automatic ticket assignment and ticket categorization are not available out of the box, but they work after you activate them in the settings. The interface inside the tickets is quite satisfactory, presenting information and tools in a clear way.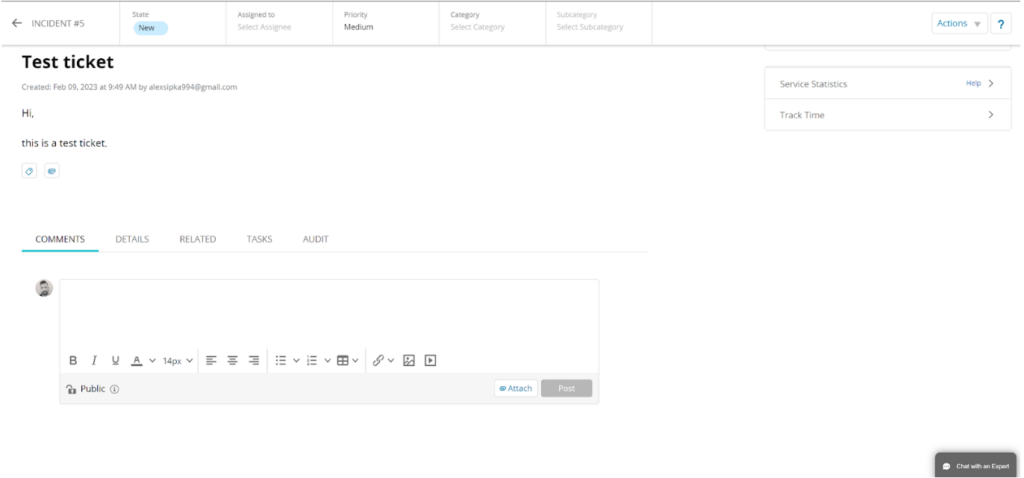 Although the field for replying might seem quite compact, it stretches out accordingly when your text reaches the appropriate length. This is good for saving screen space. You can access all tools for text editing within the reply field. Additionally, you can find other options in the ticket – ticket details, related items, tasks, and audit log. All of them have some pretty good use cases in various scenarios.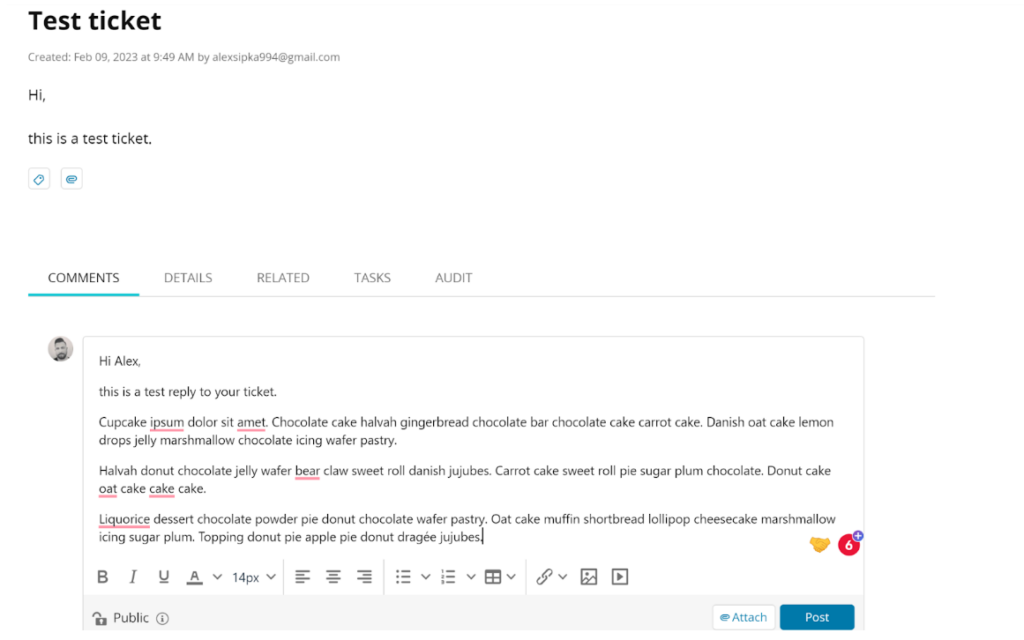 Overall, the SolarWinds ticketing system is a pretty good contender. The interface and access to features are not on par with standard customer service solutions, but we need to remind ourselves that SolarWinds focuses on IT support. This means it provides a great toolset and interface with focus on providing a good user experience for specific types of help desk departments.
SolarWinds pricing
SolarWinds offers four pricing plans that differ in Service Desk features. Each plan is aimed at a different type of team or organization. Let's see what kind of bang for your buck you can get with SolarWinds.
Team
The Team plan is focused on providing all necessary tools for smaller teams. It starts at $19 per month per user. It includes incident management (ticketing system), a service portal, and unlimited requestors.
Business
The Business plan focuses on growing teams, with the price tag at $39 per month per user. It includes everything from the Team plan, as well as service catalog, change management, SLAs, groups, custom roles, internationalization, and real time 24/7 live chat support.
Professional
The Professional plan is meant for IT organizations at full strength. It costs $69 per month per user. You get everything from the previous two plans, and in addition custom fields and forms, advanced automations, network discovery, contact management, license compliance, scheduled reports, API access, and more support options.
Enterprise
The Enterprise plan offers full customizability for $89 per month per user. Everything from the previous three plans is included. In addition, you can get visual CMDB and dependency mapping, multi-factor authentication options, and up to 1500 API calls per user per minute.
Conclusion
SolarWinds can provide a very effective, and affordable ticketing solution for any type of IT department or business. Its toolset is very well adjusted for this type of use case, and it makes SolarWinds one of the most sought after solutions. SolarWinds can get a little expensive with higher pricing plans, but you will always get the tools to match the value accordingly.