Key takeaways
Pros
Good interface
Relatively easy to use
Getting started with Zendesk social media features
Starting with Zendesk is already a very familiar process for me, as I got to test some of their other features in other review categories. All it takes is a simple registration and confirmation of your email address. Zendesk also asks you a couple of questions about your company, number of users, and how your customers contact you, among other things. Once you enter the Zendesk web application you can engage with the elaborate tour and tutorial options, or get started on your own.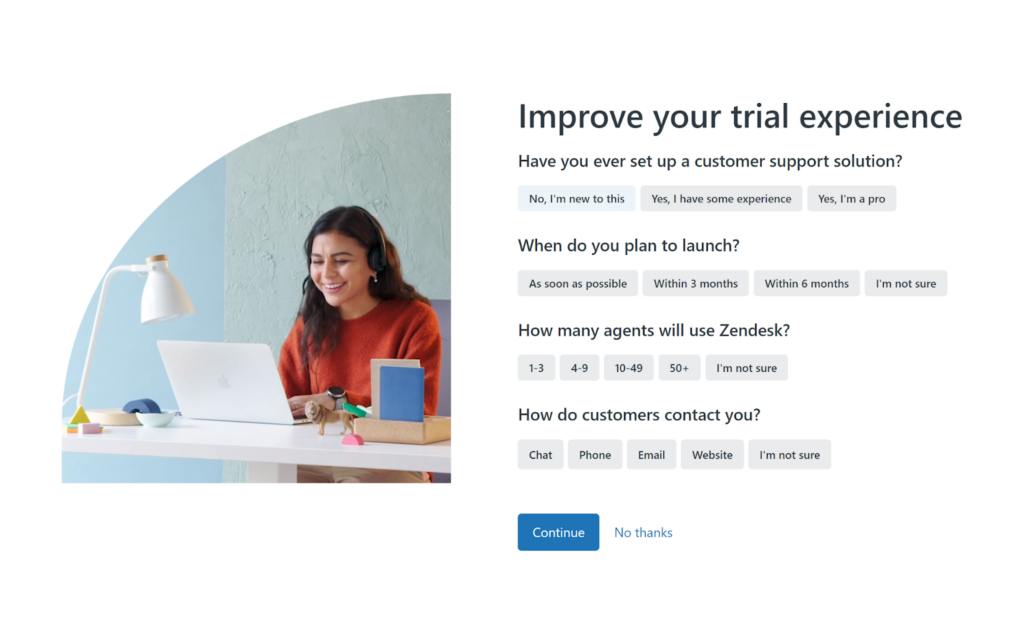 I skipped the tutorial as I went through it a couple of times before, but I highly recommend it for all new Zendesk users. Zendesk is a well-designed solution that is mostly easy to use, but new users might find it a bit harder to get every tool set up in the beginning. This also happened in my case – getting started with simple email ticketing is much easier than getting the job done with social media. The main problem that halted me from finding social media integrations was related to certain wrong choices in the user experience design.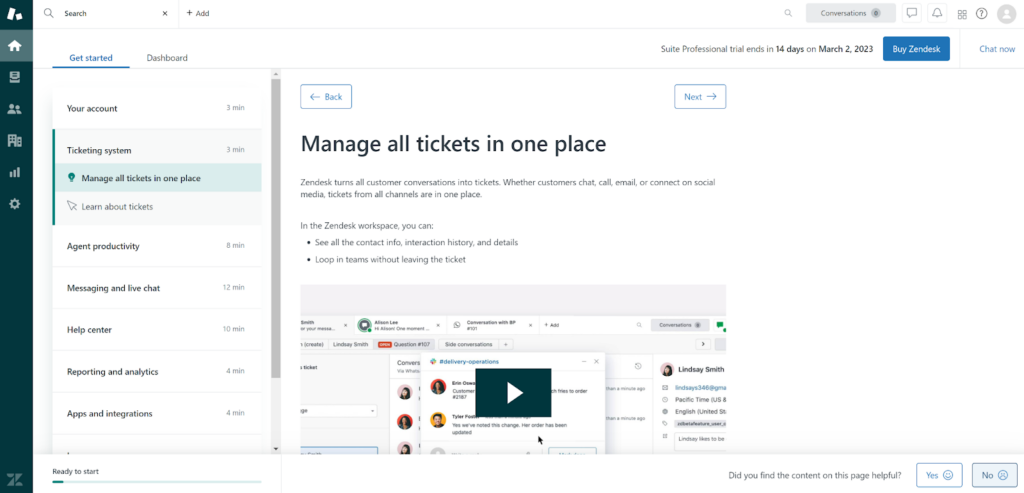 For example, the ticketing section in the guide mentions social media ticketing, yet it doesn't provide any option to easily connect your channels. The same thing goes for the app store and even the settings. You can find the social media channel settings under the settings, but the option is somehow weirdly hidden under Admin Center, which is essentially another settings section with a different name.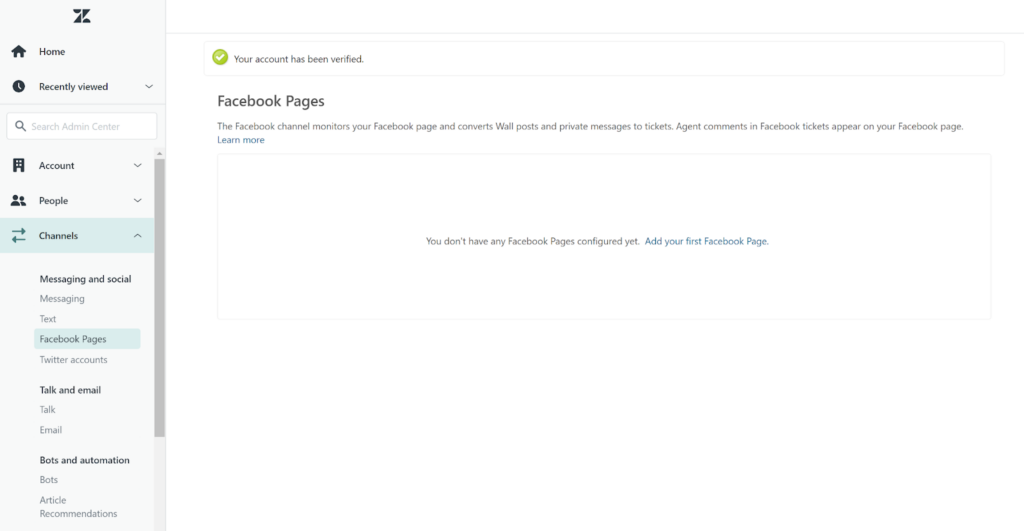 Nevertheless, once you find the option to add social media channels, you should be golden. I added my test Facebook page. The process is quite simple, you only need to select your Facebook account, the Facebook pages you want to connect, and provide permissions to Zendesk to handle your data. That's it, once you click done, your page should be connected with Zendesk. That's not what happened in my case, as I received an error message that the page couldn't be connected with Zendesk.
I've tried to connect my Zendesk account with my Facebook page multiple times with hopes that the problem will fix itself, but nothing like that happened and I was completely stuck. Zendesk offers a plethora of various online guides that address this issue from different angles, however, it's not easy nor is it pleasant to search for the correct solution for your particular variation of this problem. The online chat available at the Zendesk website would be a great support option, if it wasn't run by a chatbot with limited answers.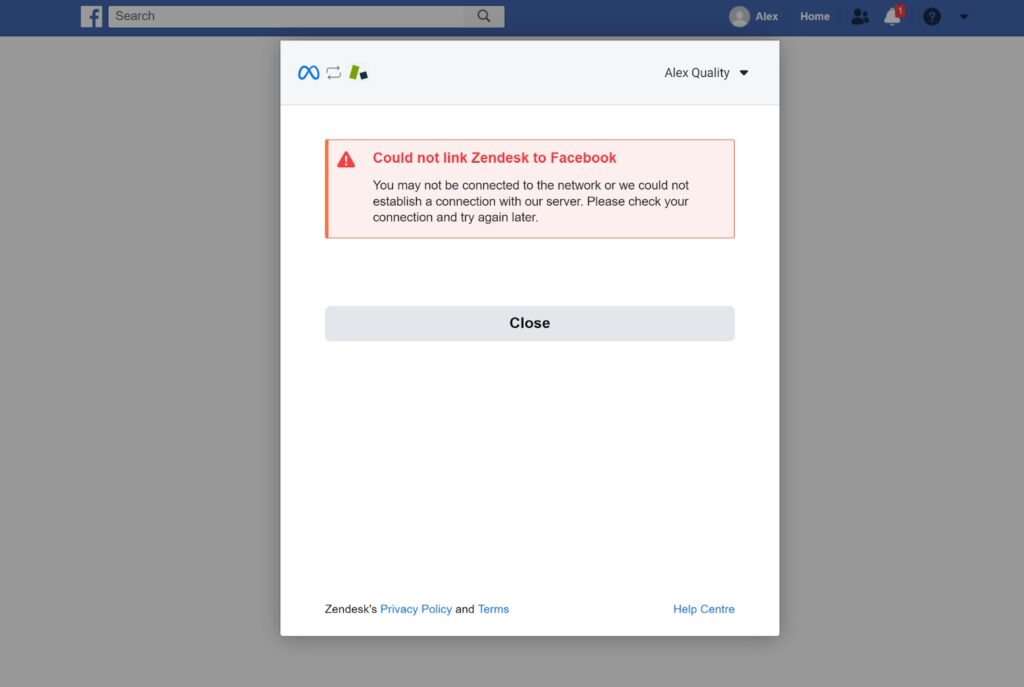 After a couple of days, I decided to give it another try. The Facebook integration worked and it took me just a couple of seconds to finish it. I don't know what magically fixed the problem I was having, but I suspect it was simply related to browser cache. I was also successful in integrating my test Twitter account, and it took just a minute to finish the process. With that, I was ready to start testing out the social media customer service functionality of Zendesk. Before we get to the actual test, let's take a look at some of the features related to social media in Zendesk.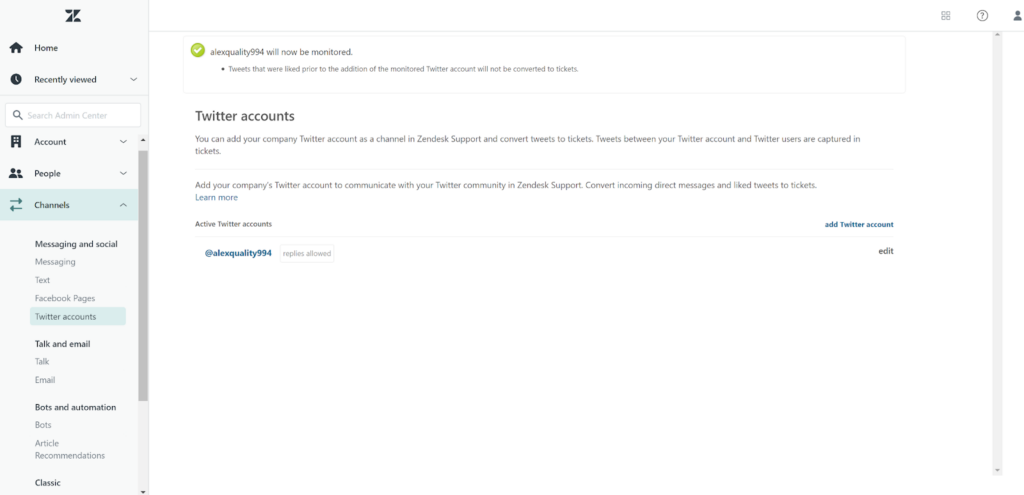 Zendesk social media functionality & features
Zendesk's ticketing system allows users full control over messages received over Facebook and Twitter. Each message is turned into a social media service ticket, which can be easily solved from the Zendesk ticketing system's universal inbox. All available ticketing features should function in tickets received from social media accounts, as long as they are supported by the social media functionality.
Each ticket displays essential information about the customer contact, while the user can interact with this element and fill in missing information if they want to. The Zendesk system automatically fills in certain information gathered from incoming tickets, including tags. You can handle ticket status and priority from this field as well. Zendesk supports sending canned messages in social media support tickets as well. Certain features might work differently from ticket to ticket based on which social media channel they arrived from.
Zendesk social media features user experience
After I semi-successfully integrated both my Facebook and Twitter accounts with Zendesk, it was time to test out these channels and get the firsthand experience of working with them. I was able to simulate a standard use case with the help of my dear colleague over Twitter, as well as by messaging myself over Facebook with the use of a different account. Let's take a look at Twitter tickets first.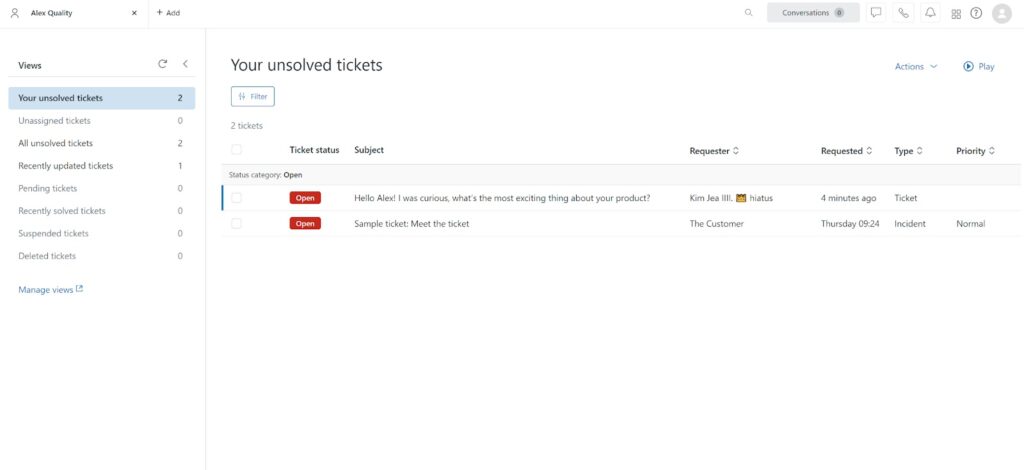 My colleague sent me a message on my Twitter account, and I waited for it to appear in the ticketing system. The message didn't appear at first, because it was hidden in message requests on my Twitter account. While this is not an issue of Zendesk, all users should be aware of this, as it can cause frustration and trouble if messages simply won't come through to the agents. After I accepted the message request, everything worked smoothly and without any further hiccups.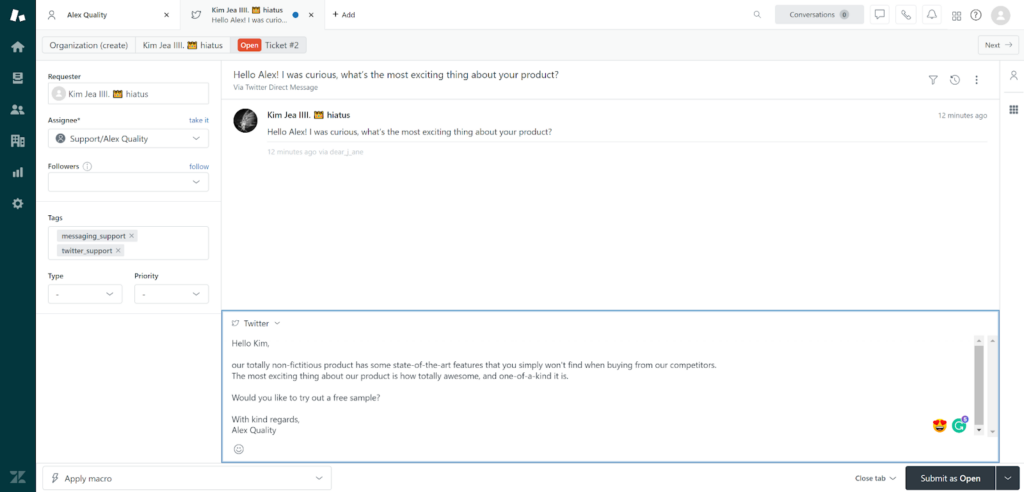 The ticketing system treated the Twitter message just like another ticket, and it was a pleasure to see it in the universal ticketing inbox. What surprised me a little was that I had no option to use attachment features, even though messaging on Twitter does support sending images and GIFs. Nevertheless, the replies worked quite well and even if the integration isn't perfect, it shouldn't cause any other major issues. Mentions in Tweets work very well, and all of them show up in the ticketing system within a minute.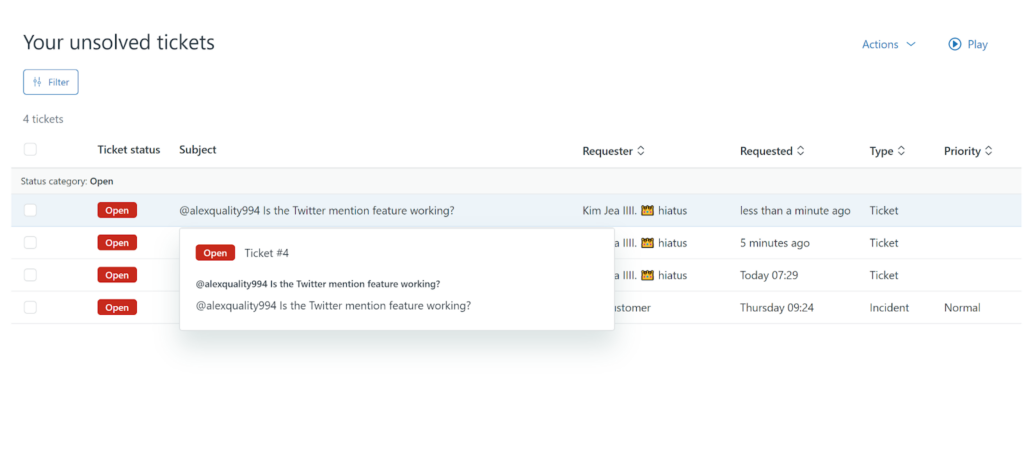 Facebook integration didn't work for me at all. I am not entirely sure if Messenger is or isn't a part of this integration, but no messages came through. The same goes for comments and basically all other functionality. My Facebook page was connected correctly, or so it seemed, so I don't understand the cause of this issue. I had no other way to try out the integration so in conclusion, I have to say that Zendesk's Facebook integration is not stable, nor viable, for professional use.
Zendesk pricing
Zendesk has a very extensive selection of pricing plans, based on various use cases. We'll, however, take a look at only some of these plans, specifically those that focus on multi-channel ticketing with social media channels. It's important to mention that each of the plans mentioned includes Twitter and Facebook integrations, so your decision will boil down to deciding whether you need other types of features as well. Let's take a look at each of them and see what kind of functionality they can offer for your business.
Support Team
The Support Team is the cheapest plan available, with a €19 price tag per agent per month with annual payments. It offers essential functionality – ticketing integrations with email, Facebook, and Twitter. You additionally get access to rules, history and customer details, analytics, more integrations, and a couple of other features.
Support Professional
The Support Professional plan will cost you €49 per month per agent with annual billing. This plan includes everything from the previous plan, and adds other functionality – business hours, surveys, support of multiple languages, service level agreements, and more.
Support Enterprise
The Enterprise plan is the most expensive of all Zendesk support plans. It costs €99 per month per agent with annual billing. You get access to all features from the previous two plans and in addition access to roles, customizable workspaces, third-party data storage options, a test environment, permission management features, and more.
Conclusion
Zendesk is a very well-known help desk solution, however, its social media customer service features are below average. The Twitter integration allows you to handle basic replies to mentions and messages, while the Facebook integration makes you feel lucky if it's even working. Zendesk is a great solution for many help desk use cases, but if you need to focus on social media, you probably should consider a Zendesk alternative that specializes in social media customer service, and that provides a more advanced set of features to enhance your social media support efforts.
If you're looking for a more comprehensive solution, consider a different provider that focuses more on social media customer service software and can provide you with more advanced features and capabilities to enhance your social media support efforts. Don't limit yourself to one option – explore the market and find the perfect fit for your business.
Frequently Asked Questions
Can I use Instagram with Zendesk ticketing?

While Zendesk doesn't have a native Instagram integration, you can get a third-party integration for Zendesk from the Zendesk application store. You need to already have your Zendesk account and go to the Marketplace. Install the Instagram app from the marketplace. Then go to the Settings, click on Add an account and sign into your Instagram account.

Facebook integration error

If you're receiving an error message while trying to integrate your Facebook account with Zendesk, try clearing your cache or exiting the browser for 15 and more minutes. Return to the Zendesk application after the time passes and try to integrate your Facebook account again. If you're still having problems with the integration, you most likely will need to contact Zendesk support.