Key takeaways
Pros
Easy to integrate and use
Detailed reporting
Cons
Getting paywalled during the trial period
Occasional issues uploading images
Getting started with Statusbrew
Signing up for Statusbrew was incredibly easy. Without requiring me to confirm my email address, I was greeted with an organization setup window and an automated live chat greeting.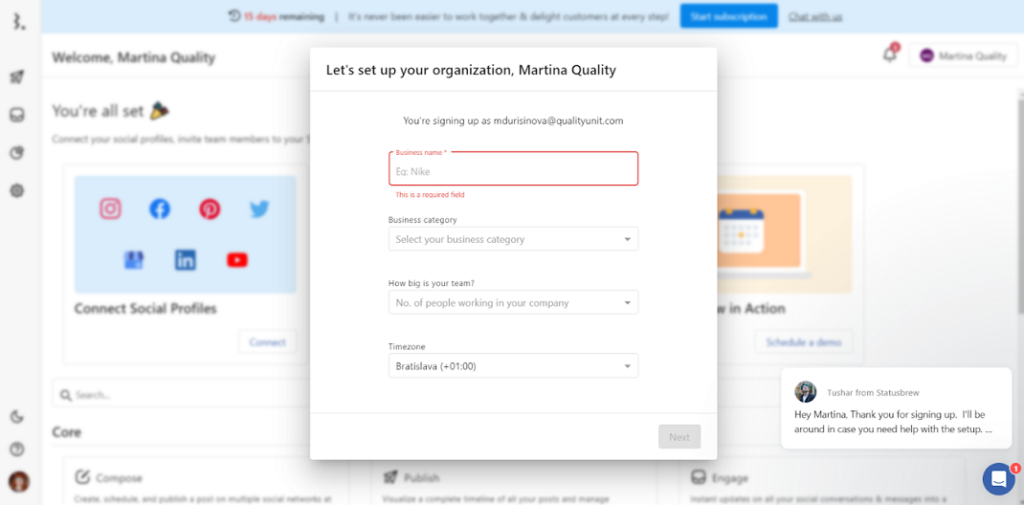 Once I filled out the required information, Statusbrew asked me a few more questions to learn about my imaginary business to better understand my needs and preferences.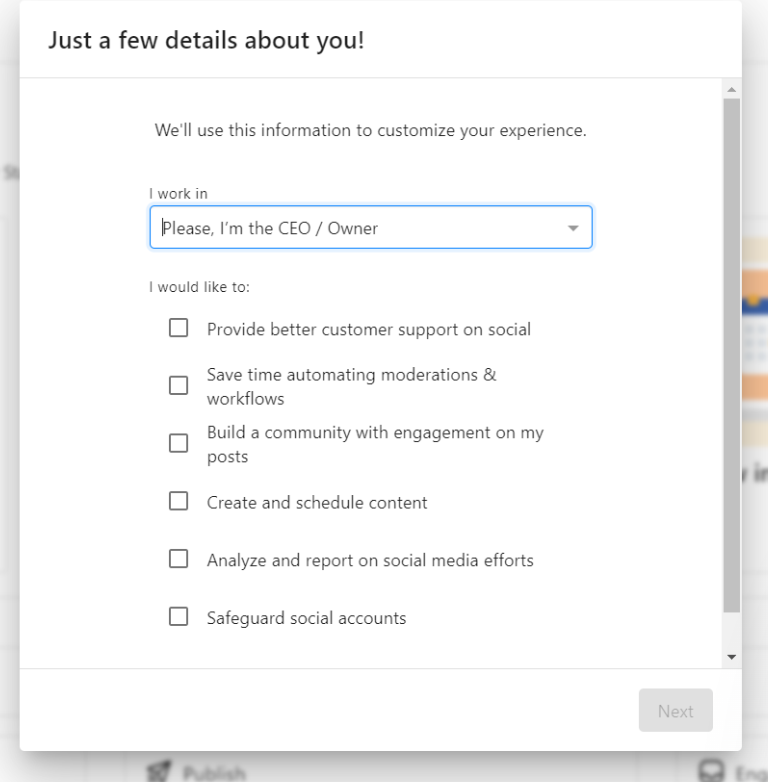 After I provided the essential info, Statusbrew immediately asked me to connect my social media in another pop-up.
So I got to it. I started with my business Facebook account. First, it asked me to authorize Statusbrew on Facebook, so the application could access my account and have the necessary permissions to do its job.
So I clicked the big blue button a few times, logged in to my account, and voilà! I had my Facebook page linked.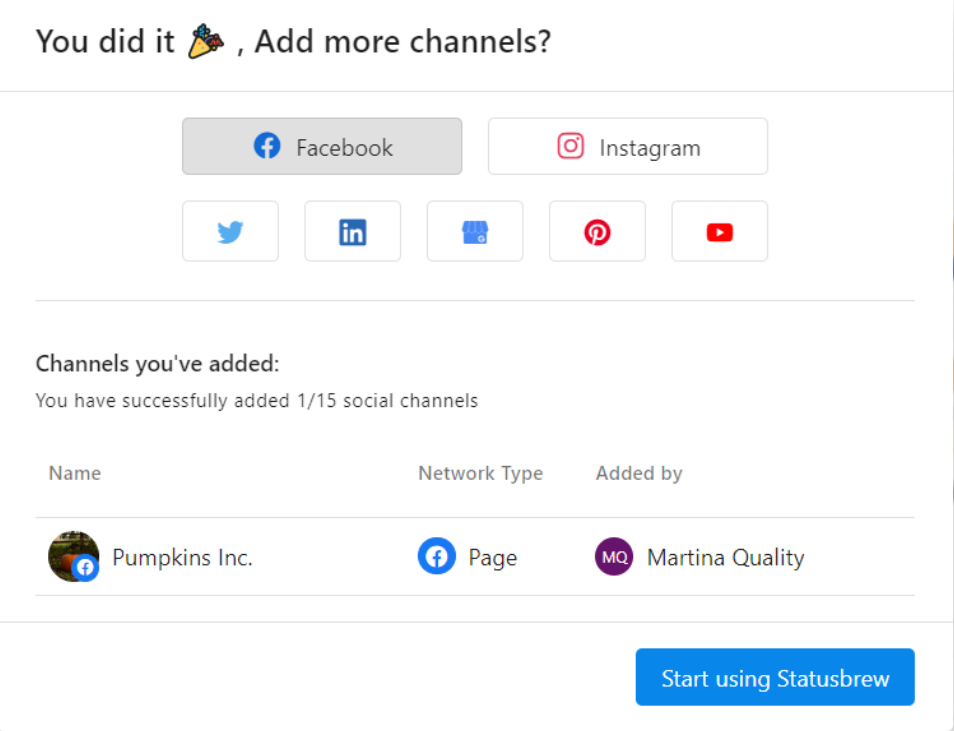 Then, I moved on to Instagram. The process was almost the same, except I was asked some follow-up questions about my business and my Instagram business page. It only took a few seconds to complete, and my Instagram was set up.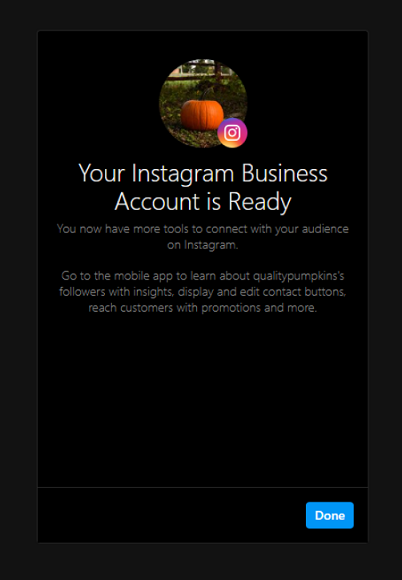 Connecting the Twitter account required only my credentials without further questions or permissions. And so I was done setting up my essential social media accounts and was ready to look around and find out what Statusbrew could do.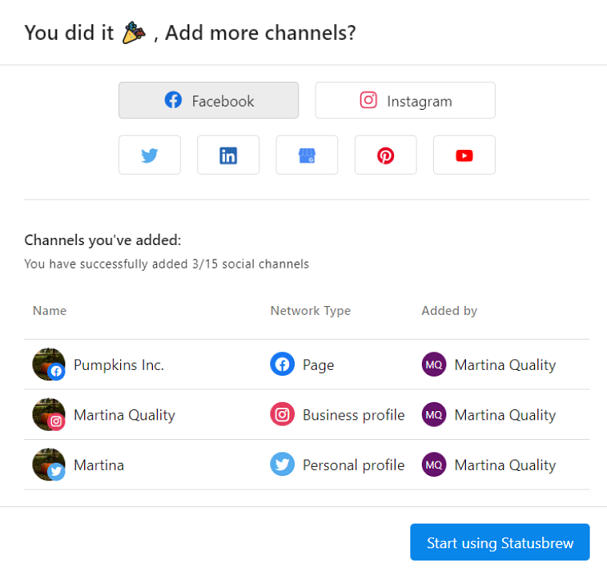 Statusbrew social media functionality & features
Statusbrew offers a browser-based application and an iOS and Android app. I used the browser option, but as far as I can see, the interface is well-optimized for mobile too.
A polished-looking and user-friendly dashboard ensures quick access to everything you might need.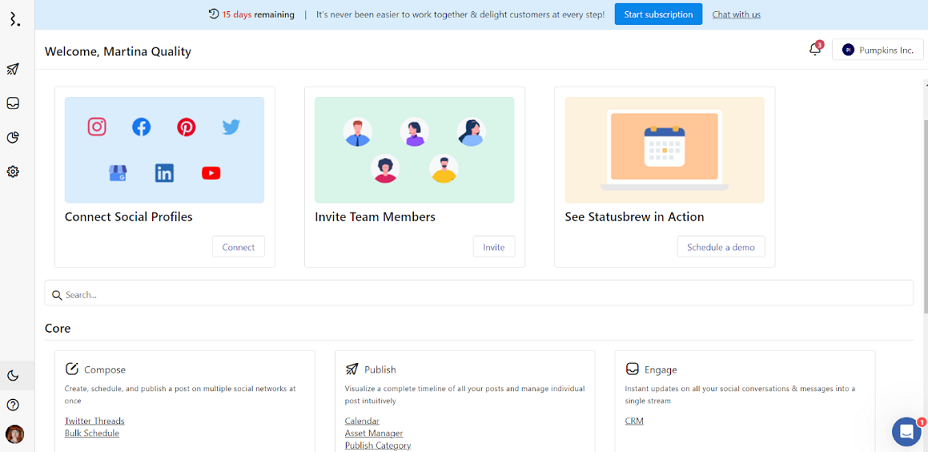 In the Engage portion of the interface, you can see all previous customer interactions, even from before you connected Statusbrew to your profiles.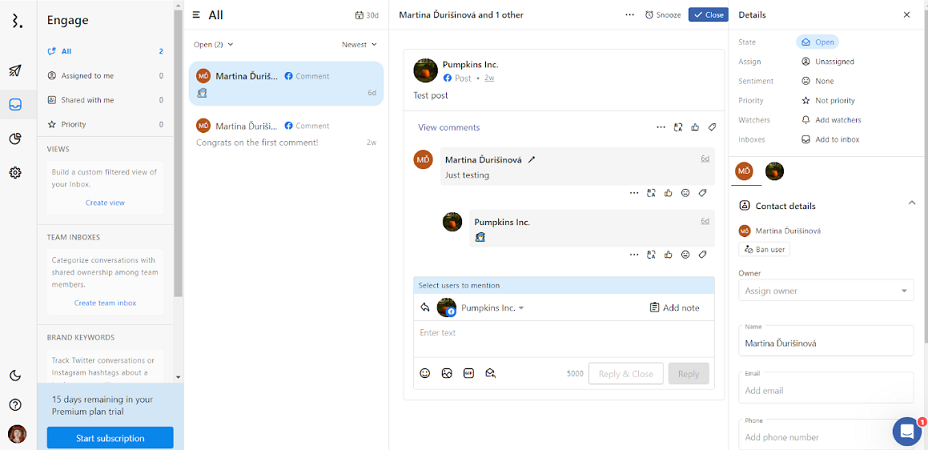 Handy reports provide an overview of your social media activities, engagement, and other necessary information. On top of that, the reports are quite robust as they allow you to study each social media channel separately. You can generate keyword reports, look into hashtag insights, and much more.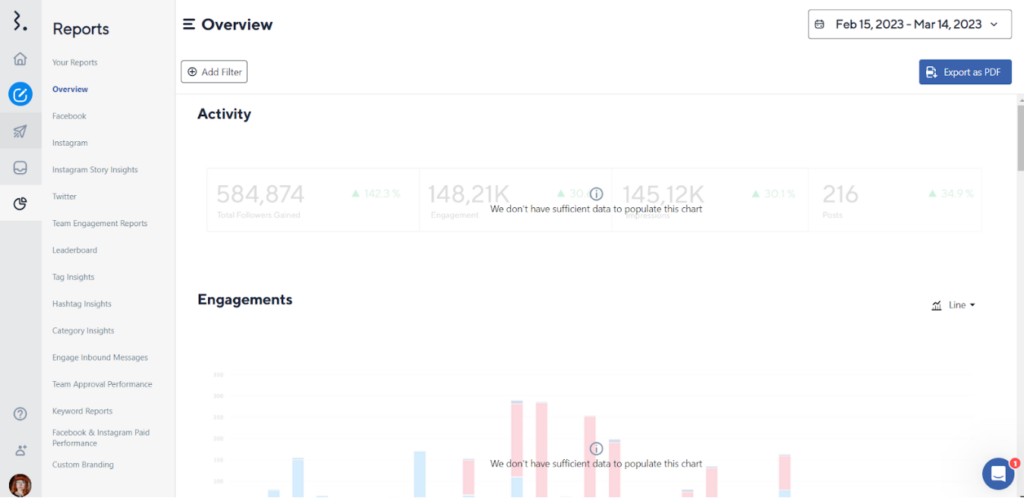 I also liked the number of settings and configurations users can play around with to tailor their experience with the software to their needs.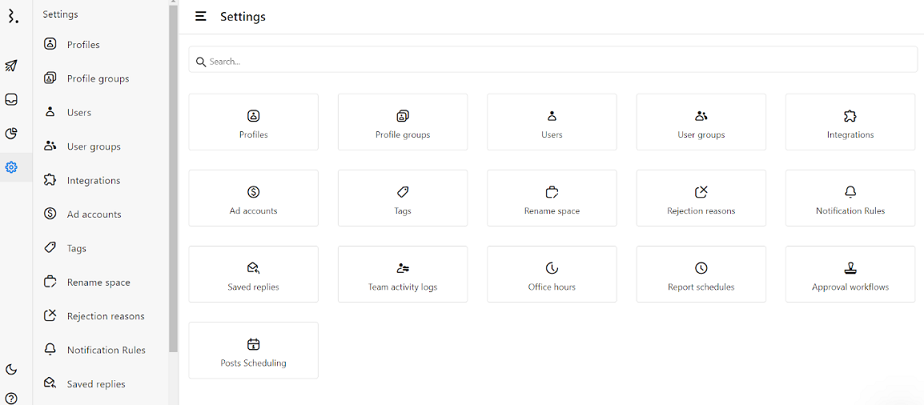 Statusbrew social media features user experience
After I had successfully linked my social media accounts to Statusbrew, I had a "customer" write a comment, a DM, and leave a review for my imaginary tearoom business. Although I would've appreciated some pop-up notifications to alert me about incoming customer interaction, everything appeared in the Engage portion right away.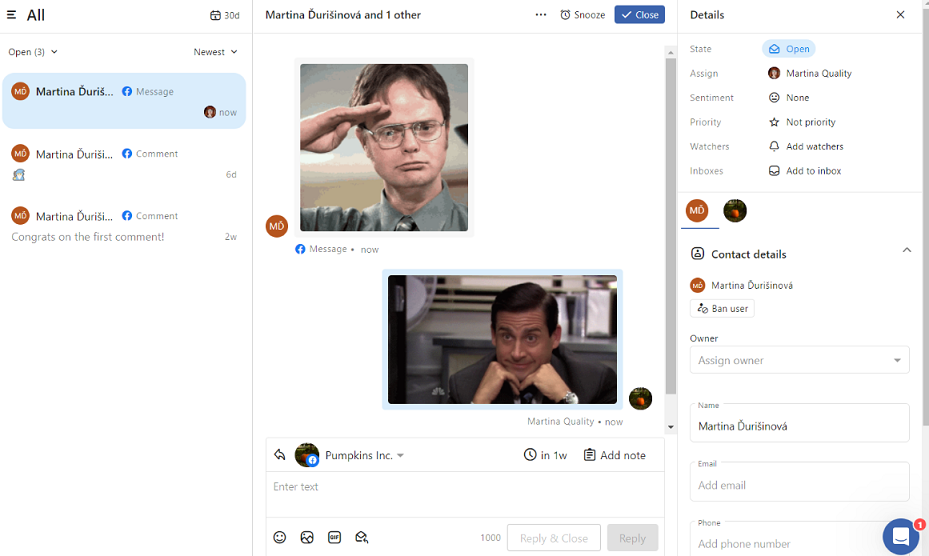 Statusbrew lets its users send pictures, GIFs, and add public and internal notes. Even though the software doesn't behave like a typical ticketing system, it has a few similar functionalities. You can assign priority to the interaction, add watchers, close or snooze it, and so on.
I was well impressed with Statusbrew's capabilities. Even though I wouldn't call the system a customer service software as much as a social media management solution, I can see it being used as such.
And then I ran into a problem. When you go to the Dashboard, you can see a countdown of when your trial account expires.

And even though Statusbrew claimed that I could use it for free for the following fifteen days, I was surprised by it notifying me that I needed to pay to continue using it.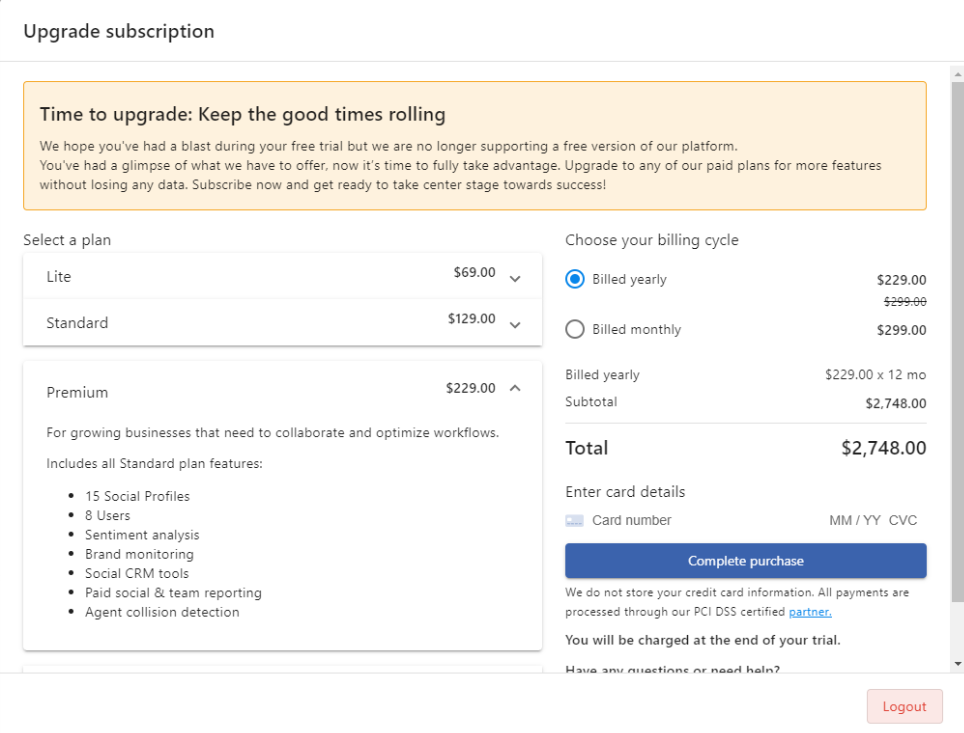 I tried to look for a solution online, as I expected Statusbrew to let me use it for the promised two weeks. Unfortunately, I didn't find anything, and the only option without entering my credit card details and spending $2 748.00 was to log out. Although I wanted to continue testing this solution, I wasn't able to log back in or start a new account.
Statusbrew pricing
Lite
This pricing plan comes up to $69/month billed annually or $89/month billed monthly. At this tier, you can connect up to 5 social media profiles and have a maximum of 2 users operating the system.
Standard
For $129/month/license billed annually, or $179/month/license billed monthly, Statusbrew lets you set up 10 social media profiles and 5 overall users. You can moderate comments on Facebook and Instagram ads, use automated comment management, and more.
Premium
Statusbrew's Premium pricing tier costs $229/month/license billed annually, or $299/month/license billed monthly, and allows you to set up 15 social media profiles and have 8 users manage them. At this tier, you can use everything from the previous ones, plus additional features like customer sentiment analysis, approval and assignment workflows, and more.
Enterprise
Statusbrew's most robust package comes with custom pricing, so if you are interested, you have to contact their sales team and request a product demo. On top of all the features from the Premium plan, Enterprise includes personalized 1-1 team training, custom integrations, a dedicated account manager, and other advanced features.
Conclusion
When I started this review process, I was expecting to give Statusbrew a pretty high rating. Why wouldn't I? The interface was nice and responsive, and it even allowed me to send The Office GIFs back and forth. However, getting kicked out of my account and requiring me to pay during the trial period really spoiled my experience.
I would've recommended Statusbrew primarily for social media management, and even as a customer service solution if your company primarily uses social media for engaging with its clients. However, I can't responsibly do that when I'm not sure whether you'll be able to test it out for yourself before Statusbrew asks for your money.
If you want to make an informed decision, try looking into multiple options when choosing social media customer service software. While Statusbrew offers a nice range of functionalities, it can also be slightly more expensive compared to other providers. It is still an affordable option, however, make sure you get the best value for your money in terms of features, integrations, and capabilities.