Key takeaways
Pros
User-friendly design
Automation options
Detailed reporting and analytics
Cons
Missing notifications
Can get expensive
Getting started with NapoleonCat
Signing up for NapoleonCat is very easy. Once you fill out the essential information, the software asks you to link your social media right away. I connected my Facebook and Twitter pages by simply providing my credentials. With Instagram, I had to configure NapoleonCat's permissions first. However, this only took me a few seconds.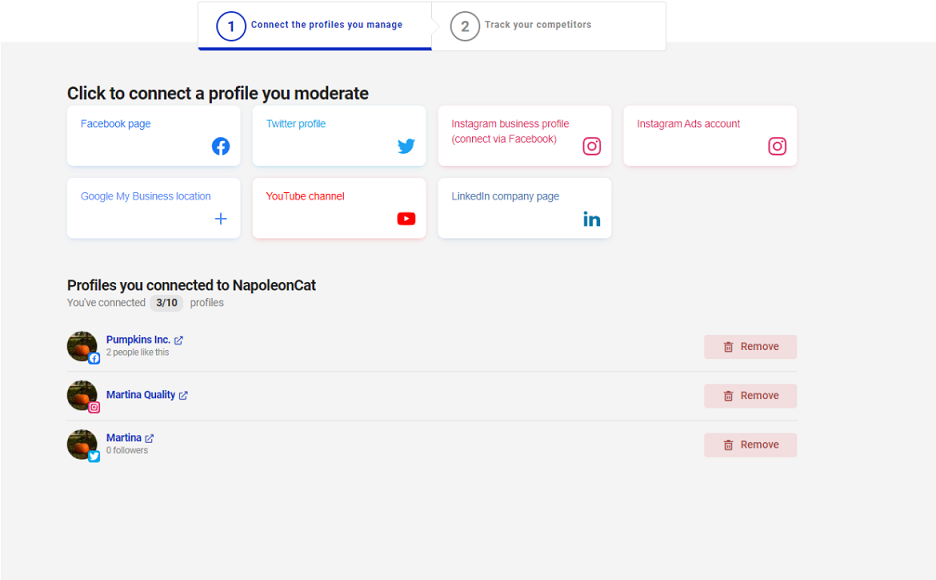 After I did that, my social media profiles were ready to go.
From there, the second step NapoleonCat suggested was to track my competitors. As a sample, I chose NapoleonCat's own Facebook page. Then I hit the Start using NapoleonCat button.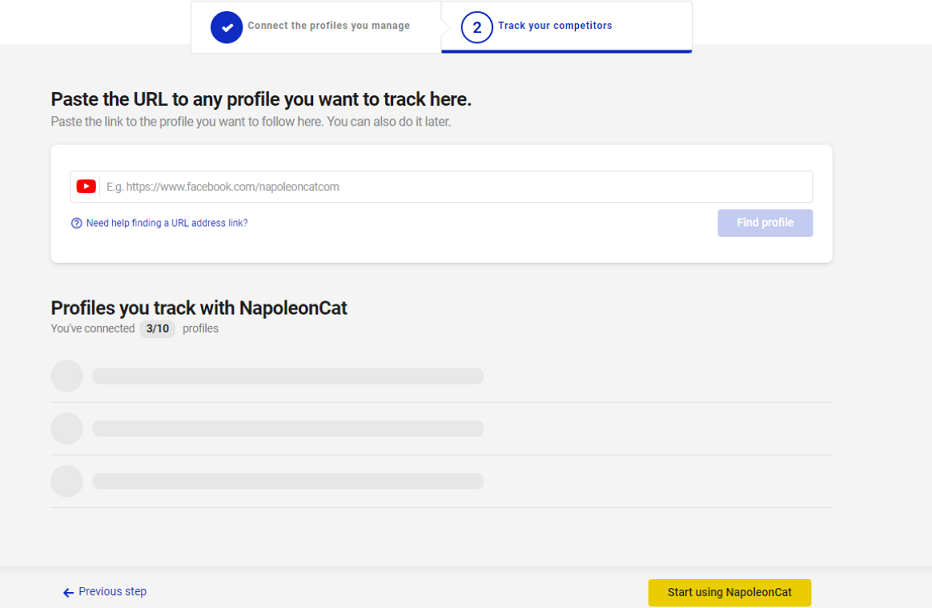 The setup was incredibly easy and quick. After just a few seconds I was taken to my dashboard, accompanied by a pop-up greeting window.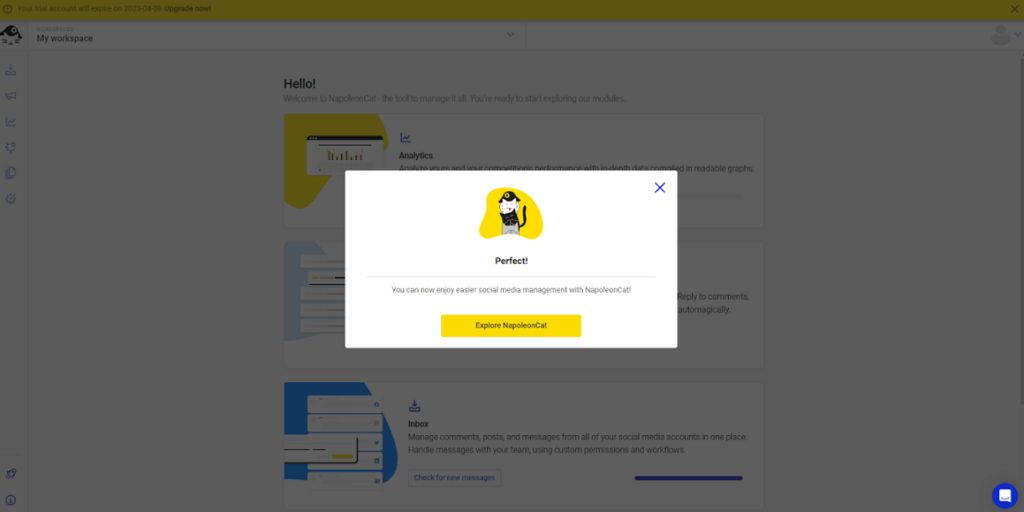 NapoleonCat social media functionality & features
NapoleonCat comes with a plethora of useful features and functionalities that can help you manage your brand's social media presence. It stores all your customer interactions in an inbox where you can further categorize them.

NapoleonCat, of course, lets you configure what type of customer interactions you want to receive in your inbox.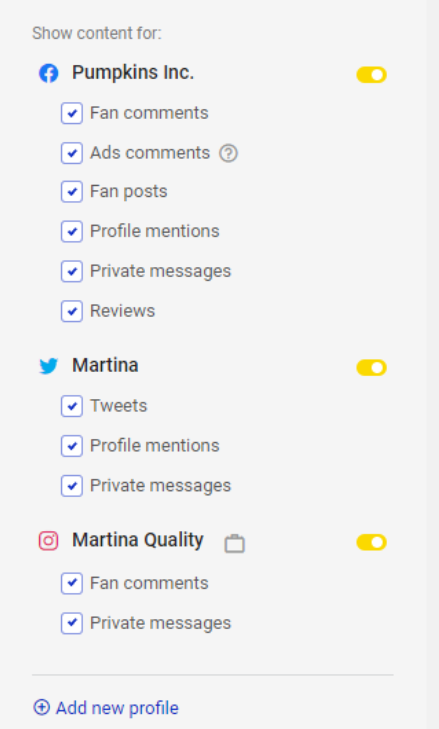 Once a new DM or comment comes in, it is automatically added to the New and the Tasks tabs in the inbox.
Besides managing customer communication, NapoleonCat lets you schedule posts on your connected social media channels.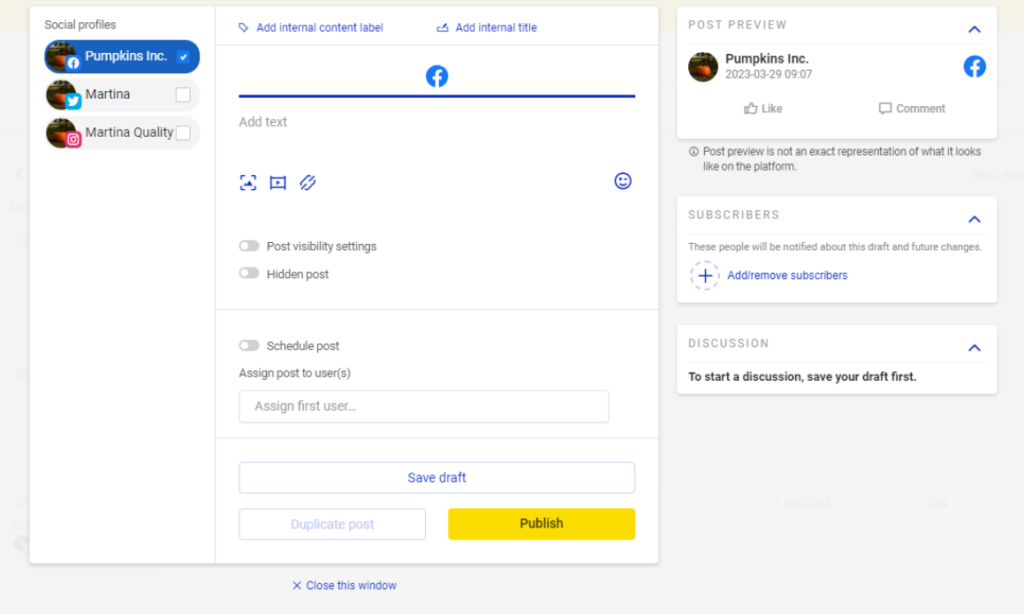 This solution also offers different downloadable reports and analytics. You can create new reports or schedule them for later. Of course, you have the option to export this data. NapoleonCat lets you do this in the form of an Excel sheet or a PNG file.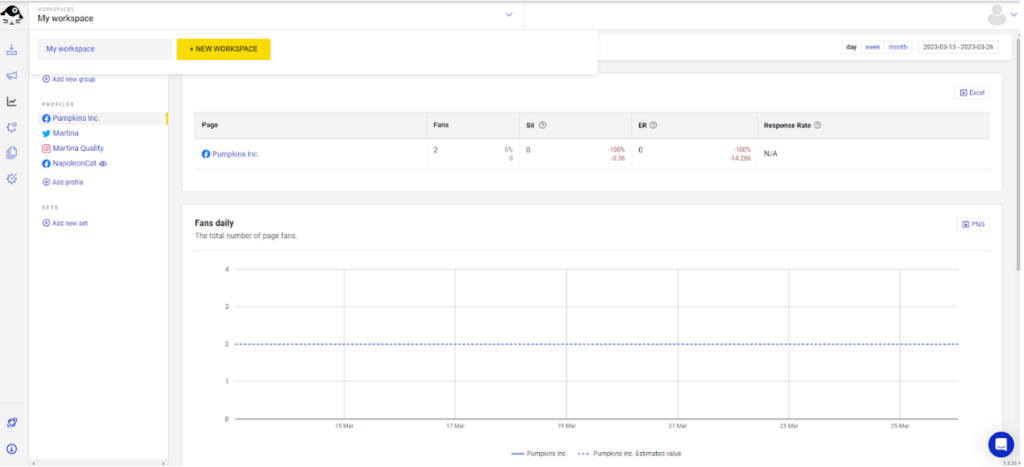 Clicking on Auto-moderation in the left-side menu, you can set up automation for your social media profiles. NapoleonCat lets you configure automation rules from scratch or you can use one of the premade templates.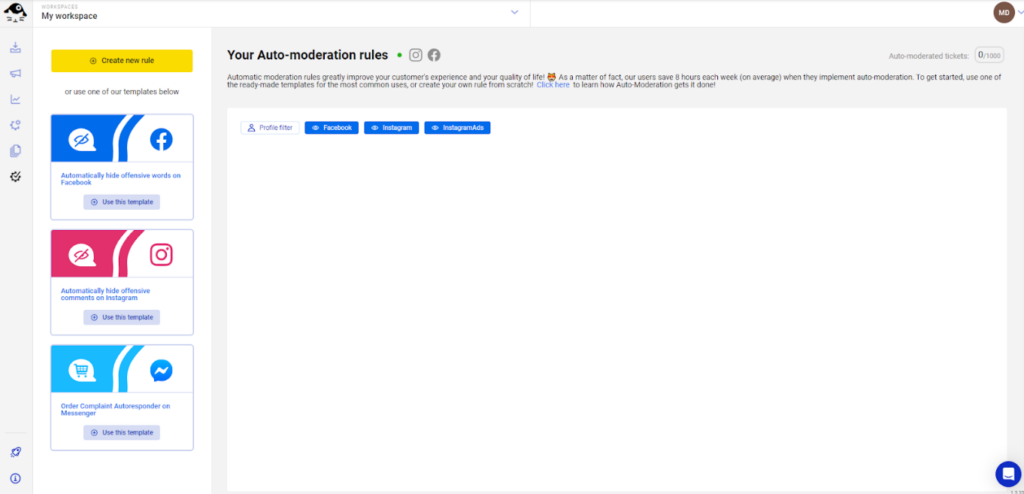 The last feature I want to briefly talk about is the NapoleonCat feature suggestions. Here, you can see which features are in development, and you can suggest what you'd like to see them add, as well as what has already been launched. I liked it because it provides transparency and lets NapoleonCat's customers feel like they are a part of the software-building process.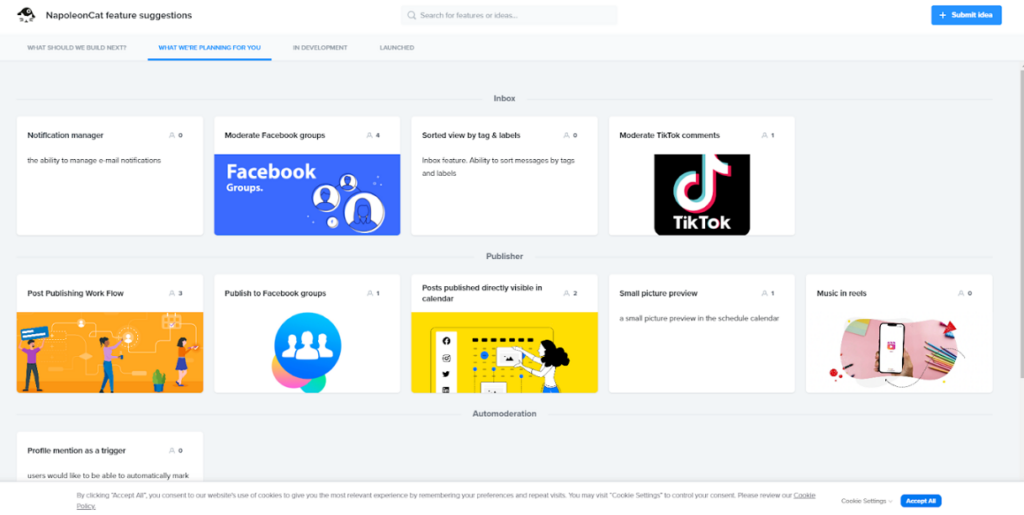 NapoleonCat social user experience
NapoleonCat's software is very reactive. I had a sample subscriber write a message to my business and react to a Facebook post. These interactions showed up in the NapoleonCat's interface immediately.
A little detail I was missing was some sort of notification tab. The type of thing that lets you know you've got a new message loud and clear. However, it definitely didn't ruin my experience.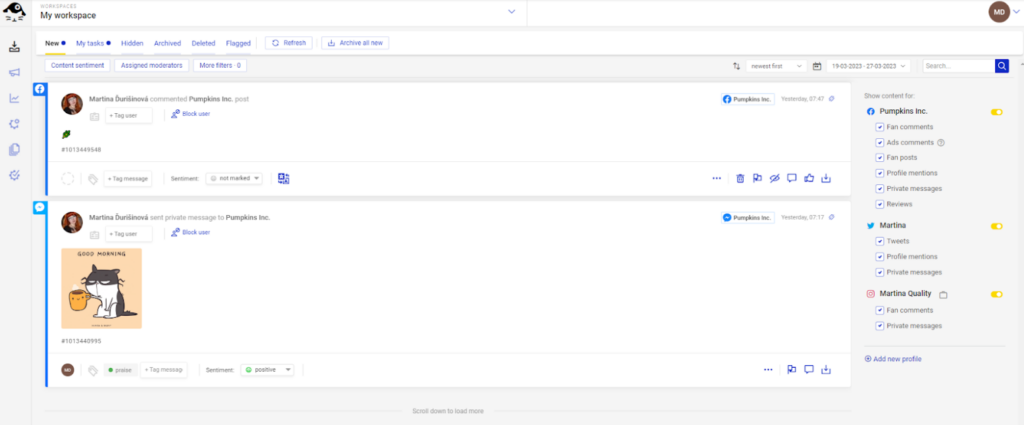 By clicking on each interaction, you can open and further manage it. NapoleonCat lets your reply to it or reply and archive. It even has a translator built into it, which can save a lot of time.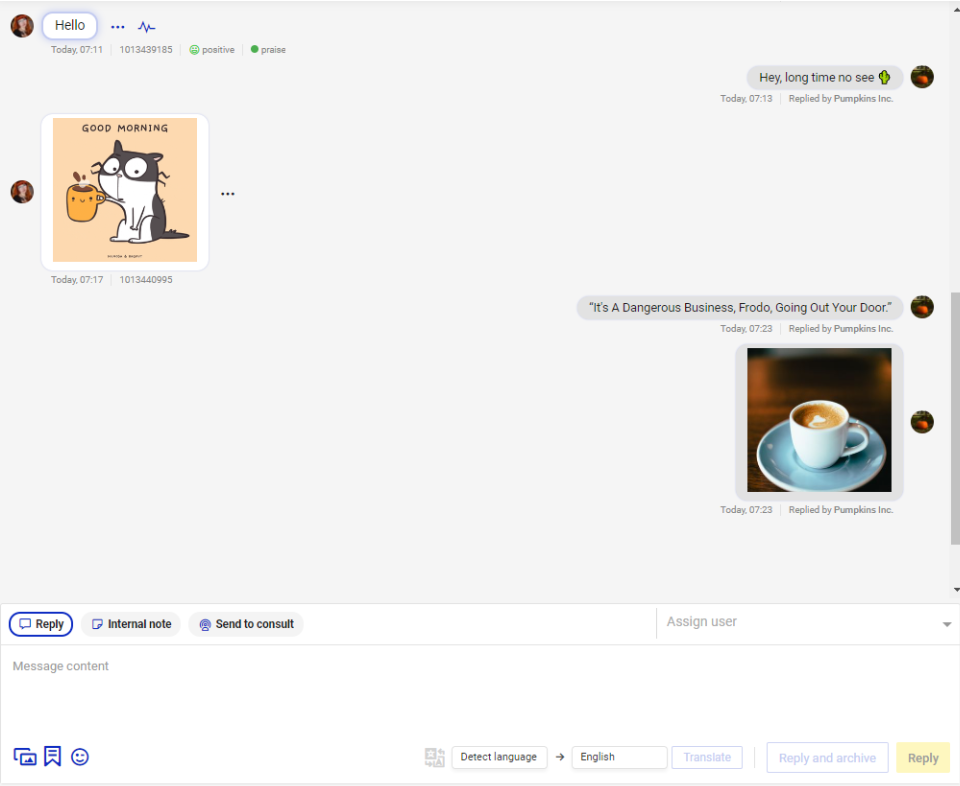 Replying is really quick in the agent's UI, as well as in the customer's. On top of sending plain text, you can use GIFs and emojis and add pictures and files from your computer. Besides that, you can add internal notes to each conversation and send interactions via email for a consultation using the Send to consult button. You can assign a user to the interaction, or the system does it for you automatically. I find it very reminiscent of a ticketing system.
Clicking on the three dots next to the customer message, you can assign tags, as well as sentiment to the interaction. This not only helps you organize your customer communication but also lets you create more detailed and tailored reports.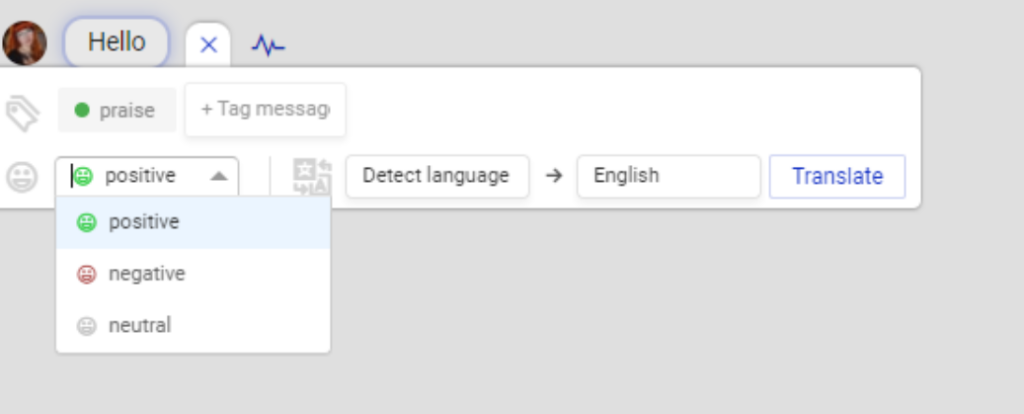 By clicking on a little pulse sign next to the three dots, you can see an activity log with timestamps.

Pricing
NapoleonCat has 2 main subscription tiers, and their price depends on the number of profiles you want to connect and the number of users that will have access to your NapoleonCat account. Below, I am going to discuss the cheapest versions of both tiers, so keep in mind that based on your own configuration, the price might be higher.
Standard
For $31/month billed monthly, you can set up 3 social media profiles and have one system user. Billed annually, the price comes up to $25.82/month. This tier lets you go up to 10 profiles and 3 users with added costs. You can schedule your content, assign incoming messages to various team members, and work with analytics.
Pro
With this plan, you can connect 3 social media profiles and one system user for $76/month billed monthly, or $63.31/month billed annually. NapoleonCat's most popular tier has a limit of 100 social media profiles and 30 users, so it's suitable for bigger teams with higher social media engagement. It encompasses all the features from the Standard package, plus additions like inbox search, auto-moderation, team performance reports, 2FA, 1-on-1 onboarding training, and more.
Custom
Starting at $465/month, you can contact NapoleonCat's team to set up a fully customized tier. It includes all the features from the Pro package, except most features are unlimited.
Conclusion
NapoleonCat is an intuitive and reactive social media management software. Although it could be argued that that's all it is, I can see it being used as a reliable customer service platform. Its many features and user-friendly design make it a great solution for every business that strives to drive engagement through social media.
Even though nothing is without faults, NapoleonCat doesn't leave much to be desired. It bears some features you can find in most ticketing systems, which puts it above a simple social media post scheduling tool.
So, if you are in need of reliable social media customer service software, it's worth taking advantage of their free trial before committing to assess if the software meets your needs and provides all the necessary tools. While NapoleonCat offers intuitive and reactive social media management features, it's important to consider the value you get for your money. Don't hesitate to explore other options to ensure you make the right choice for your business.