Key takeaways
Pros
Incredibly easy to use
Very easy to integrate social media accounts
Works without any trouble or bugs
Fast integration process
Cons
Twitter only available in higher plans
Getting started with Gorgias social media features
Gorgias offers an extraordinarily easy registration process, but it comes with one catch as it needs your website URL. What happens if you don't have a website? Well, you can't finish the registration process. Nevertheless, it took me literally just a minute to finish it and start getting familiar with the interface. Gorgias is pretty straightforward in this regard too, which is always a good thing in software, especially during the setup phase.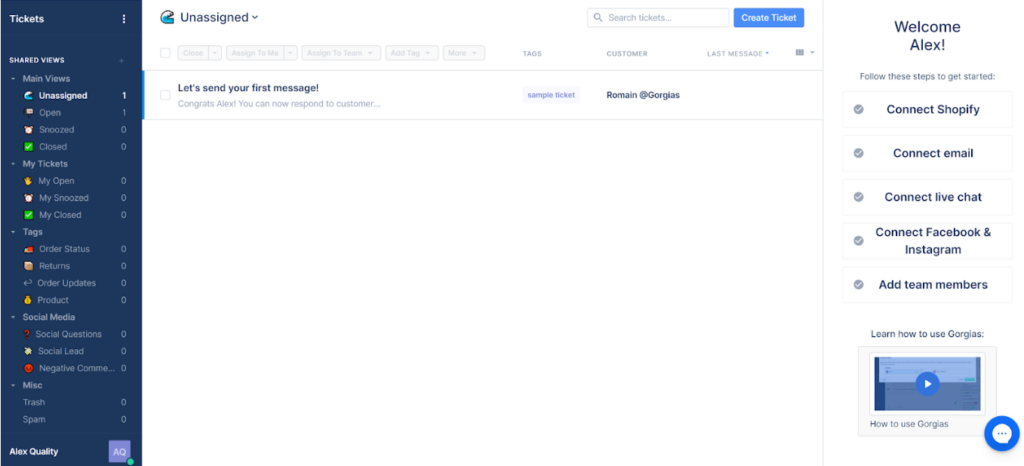 The main screen is the ticketing system, which provides easy focus on the tasks at hand. Gorgias has very few distractions in the interface, which is a great thing to have in a social media customer service and management system. I was able to access all ticketing categories in the left panel, while the main screen focuses on the task at hand. The right hand panel serves as a handy setup guide took me through the setup of various channels, including Facebook & Instagram.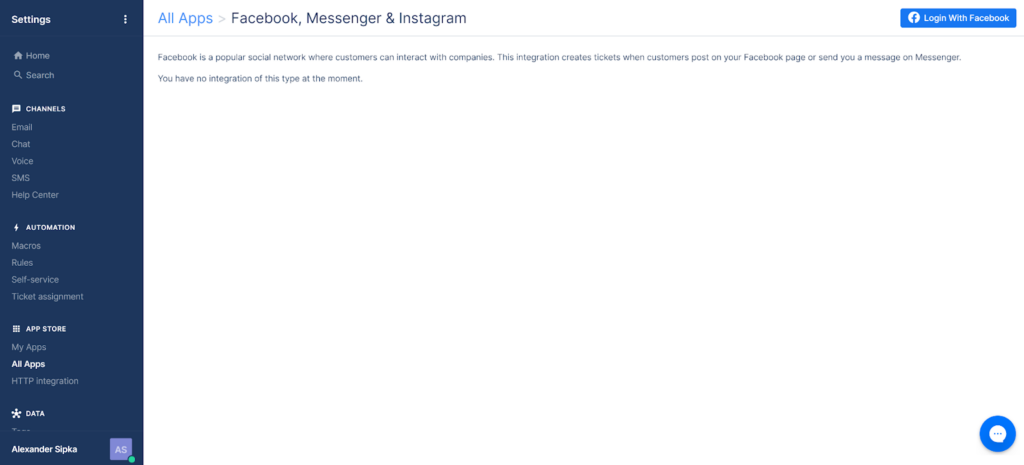 Once clicking on the social media setup, the interface is very simple with only a short explanation of how the integration works, and the option to log in with Facebook. The process is super simple and I completed it without any issues. A huge part of the setup is the option to decide what parts of your Facebook communication will be fetched by Gorgias into your system. You can enable comments, mentions, Messenger messages, and much more in this part of the setup.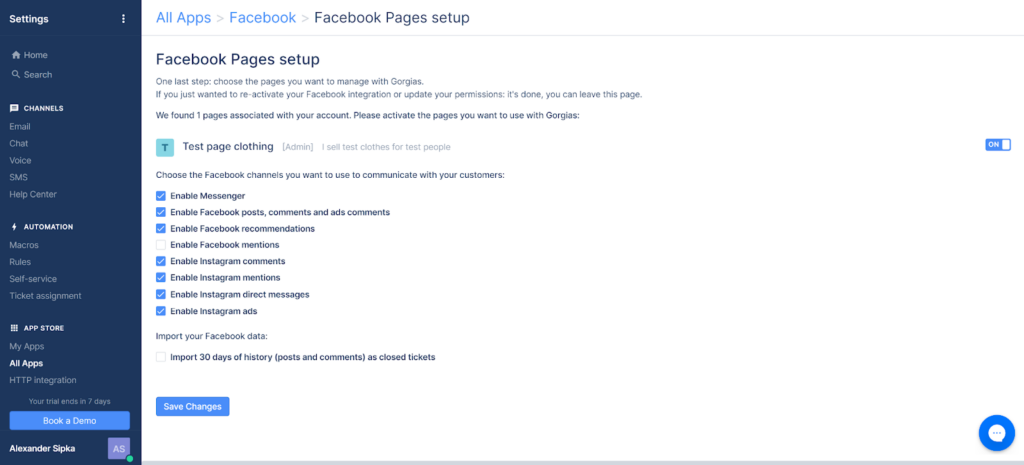 One important thing to mention is that you should have your Instagram account already connected to your Facebook business account. That way Gorgias will automatically integrate your Instagram account along with Facebook. It's truly one of the simplest integration processes I've experienced among social media customer service software.
Gorgias social media functionality & features
Gorgias offers social media functionality in the form of Facebook, Instagram, and Twitter. All functionality offers easy integration processes which can be completed very quickly. The social media functionality is directly connected to the ticketing system, which offers plenty of useful features and adds some functionality into your social media communication.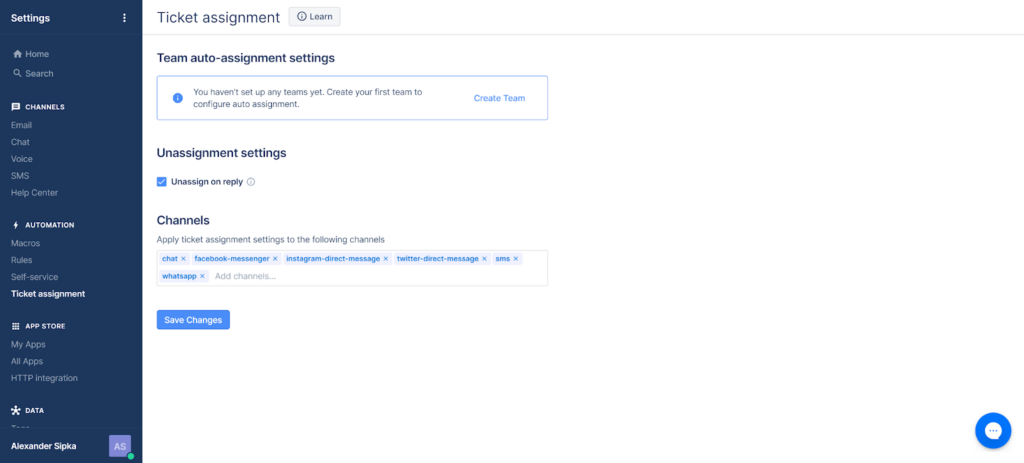 One thing I haven't been able to try even with the free trial is the Twitter integration. It's available only in higher plans, but based on my experience with Facebook and Instagram, I assume it works just as well. Gorgias also offers macros for creating easy automated replies and other workflows, rules for improved organization of tickets and more, as well as ticket assignment settings.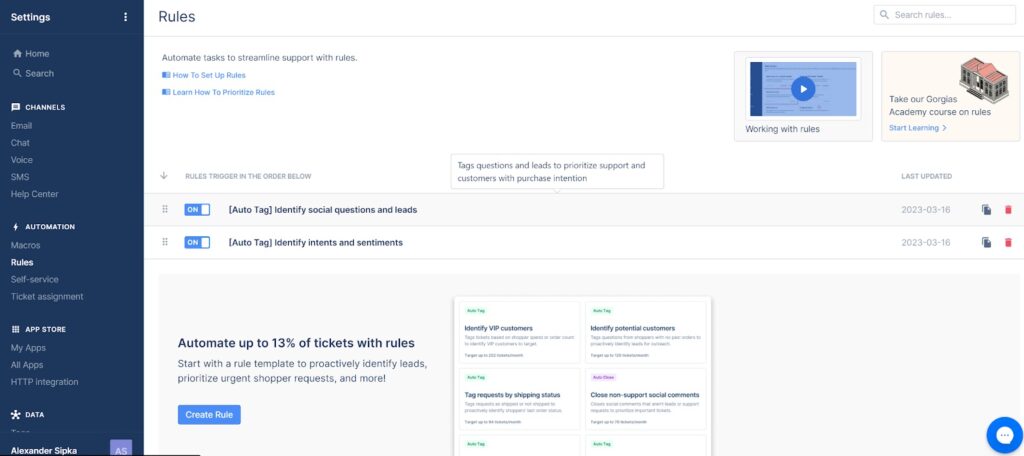 Georgias social media features user experience
Once you connect all of your social media accounts, Gorgias will neatly organize them in the ticketing system. You can click between various shared views to see Messenger messages, FB recommendations, IG mentions, IG direct messages and more, or less, depending on what settings are chosen during the integration process.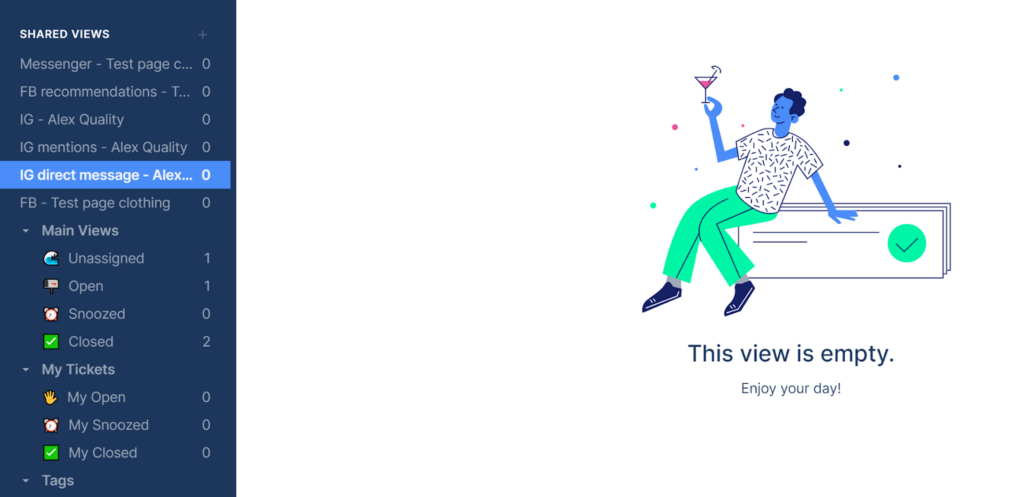 The first thing I tried was sending a message via Messenger, and I'm pleased to say that it was delivered to the ticketing system right away, within just one second. Replying works very well, and you can utilize features such as attachments, emojis, or send videos and pictures. I appreciated that the reply box also offers macros suggestions to help reply faster.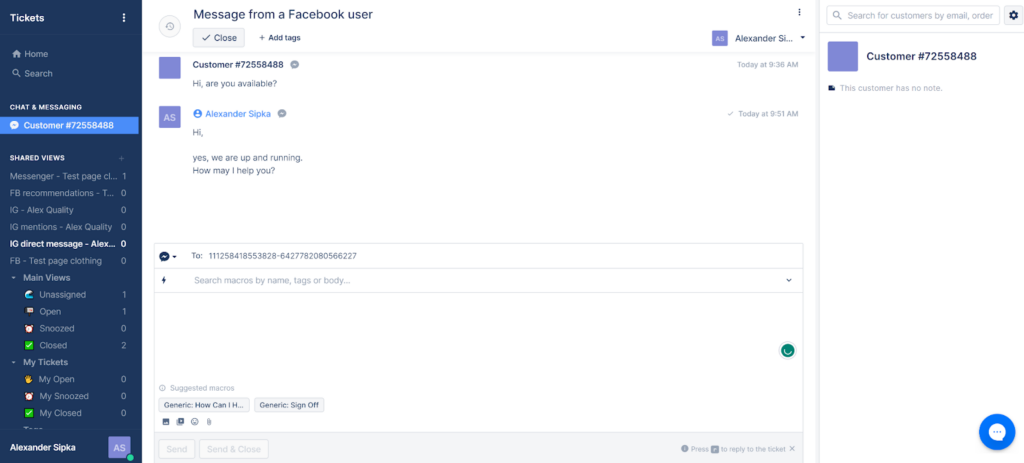 The integration with Instagram works just as well. The message arrived very quickly, and Gorgias popped up a notification, as well as a sound effect to notify me about the incoming direct message. The features remain pretty much the same in Instagram direct message ticketing, the only change being that I cannot send pictures, only videos.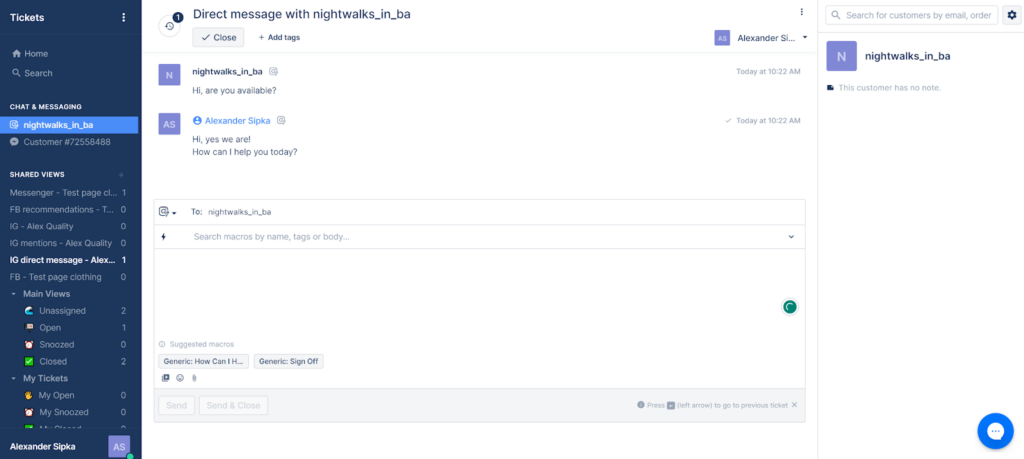 The social media ticketing tools work swimmingly and without any problems. I haven't experienced a single bug or any other type of issue that would hinder me from receiving tickets or replying to them. The entire user experience felt very good. It's a pity that I didn't get to try out the Twitter features, but based on the experience with the rest of social media features, I can't imagine the Twitter integration wouldn't work just as well.
Gorgias pricing
Gorgias offers pricing plans that aim to scale with your business. They are focused on providing specific maximum numbers of tickets per month and user seats, as well as some additional features. While all plans offer a Facebook and Instagram integration, only the two most expensive plans offer an integration with Twitter. This Twitter integration is not available even in the free trial. If you need a Twitter integration, you should therefore focus on the two most expensive plans, as they offer maximum social media functionality.
Starter
The Starter plan will cost you $10 per month and it has three user seats. It includes 50 billable tickets monthly, Facebook and Instagram integrations, limited access to a library of 94 apps, reporting, access to Gorgias Academy, email customer support, and more.
Basic
The Basic plan can be yours for $60 per month with monthly payments, or $50 with annual payments. It has 500 user seats. It gives you access to 300 billable tickets per month, Facebook and Instagram, 150 integrations from the app library, email and live chat, office hours, support reporting, and more.
Pro
The Pro plan goes for $360 per month monthly, or $300 annually with 500 user seats available. The offer is very similar to the previous plan, but additionally you get access to 2000 billable tickets per month, support and revenue reports, Pro customer services, support features, and more.
Advanced
The Advanced plan costs $900 per month with monthly billing, or $750 with annual billing. This plan also has 500 user seats. It includes 5000 billable tickets monthly. The features include everything from the previous plans, but offers much more advanced customer services which include a dedicated success manager.
Enterprise
If you need a custom number of billable tickets per month, you can opt for the Enterprise plan. It comes with customizable feature options, as well as custom pricing.
Conclusion
Gorgias offers a very well rounded social media customer service solution. It provides a perfect combination of easy integration, great interface, and ease of use in one convenient package. The only thing that's stopping it from being the best is the Twitter integration, which is not available in every plan and if you plan to use it, you need to pay for a more expensive plan. However, if you can do your job well with just Facebook and Instagram, you are in for a great ride with Gorgias.
Based on everything mentioned above, consider exploring various social media customer service software providers when you are looking for the most suitable option for your business. Each provider offers unique features, integrations, and pricing plans that can better align with your requirements and business goals. When it comes to Gorgias, take advantage of their free trial to evaluate its performance, user interface, or ease of use to ensure that you make the right choice.