Key takeaways
Pros
Free social media customer service management
Great ticketing and interface
Easy integration with no hassle
Easy to use
Getting started with Freshdesk social media features
Most help desk software users are already familiar with Freshdesk to at least some degree. It's one of the most commonly used help desk solutions available today, not only because of its well rounded ticketing system, but also thanks to its social media features. Getting started with Freshdesk is quite easy as it offers a very fast registration process. You can get to your help desk within a couple of minutes and start getting familiar with the interface.
Freshdesk maintains a very well designed interface with fairly straightforward and simple navigation that shouldn't cause any problems to newbies and advanced users alike. The introduction screen after the registration is the ticketing system, which can help you get the feel for Freshdesk immediately.
While the ticketing system is usually where social media customer service takes place, Freshdesk has an entirely separate section dedicated to social media. You can find it in the left menu bar, it's called Social. Once you click on it, Freshdesk will give you a short introduction over here as well.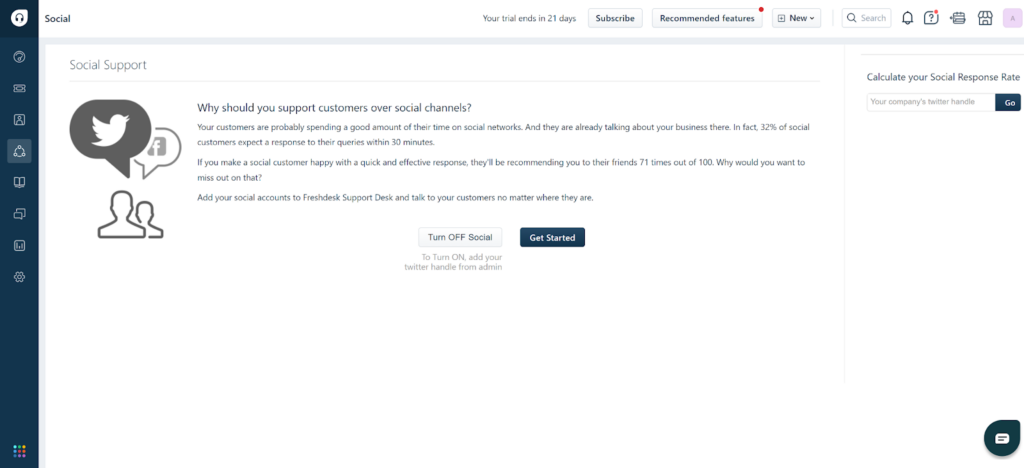 Once you click on the Get Started button, you can start integrating your Twitter account. The integration process should be simple enough, you simply click on Add Twitter account and provide all the necessary information for the system to correctly integrate your account. However, the first time I tried to do this I received an error message and I don't know the reason behind this. The second time worked like a charm and I managed to connect my Twitter account without any trouble.
The integration menu also gives you some options where you can choose whether you want to start converting tweets into tickets, and start converting direct messages into tickets. There are a couple of more options you can play around with, and you can customize the integration a bit more to your liking.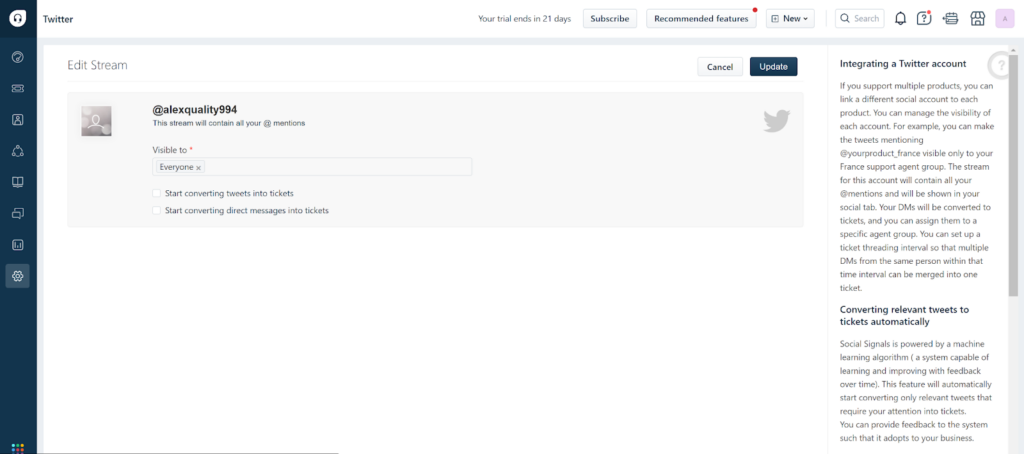 In an unusual design choice, Facebook is not an option in this section of Freshdesk. I had to search for it in the settings to find it. It's not a huge issue but it should be mentioned, since the Freshdesk interface is generally pretty good. The process remains just as easy as with Twitter, you simply need to provide necessary permissions to Freshdesk to handle your Facebook data. It takes just a minute to complete.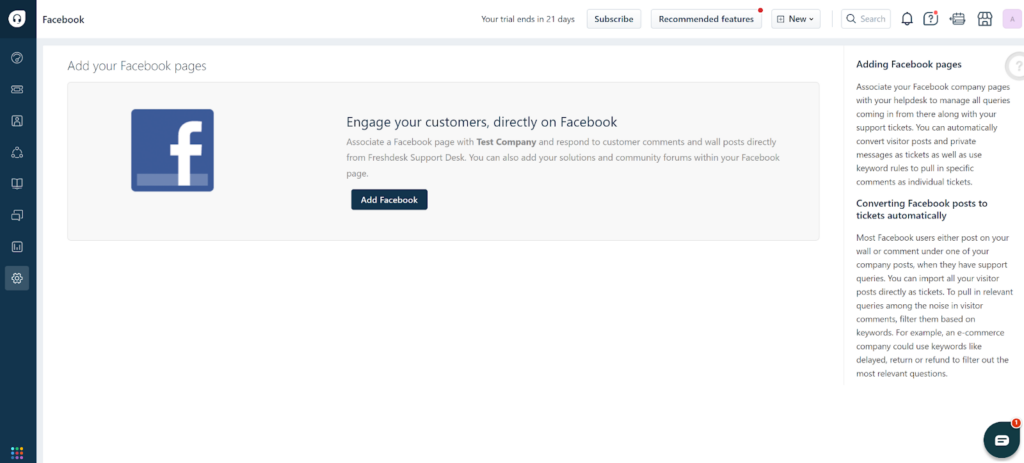 Freshdesk doesn't have a native integration with Instagram, but you can access two integrations via the app store. The first one allows agents to manage Instagram comments and it costs $35 per month per account. The second one allows you to manage direct messages from Instagram, and it's free for everyone. I haven't tried these integrations since they're made by a third party, but it's nice to have an alternative option for users who want to connect their Instagram accounts.
Freshdesk social media functionality & features
Freshdesk offers main social media functionality in the form of native Facebook and Twitter integrations, both offering a very easy integration process. The Facebook integration taps directly into the Freshdesk ticketing system. It converts incoming Facebook communication into tickets, so you can reply to comments and posts directly from the ticketing system. You can also enjoy many benefits of the Freshdesk ticketing system and use ticketing features in your Facebook replies.
The Twitter integration has a separate section within the Freshdesk toolset. Once you click on the Social menu item on the left menu bar, you will access an interface that's entirely dedicated to managing Twitter communication. Freshdesk doesn't offer a native integration with Instagram or any messaging apps, but you can access some extra functionality in the app store. The store offers a variety of external integrations, not only for social media customer service, but also other use cases.
Freshdesk social media features user experience
I decided to test out the Facebook integration first, and I'm pleased to say that it works very well. Once I received a message from a customer on my test Facebook business page, it immediately showed up as a ticket in the Freshdesk ticketing system. There were no delays with delivery, so Freshdesk provides a stable and efficient way of delivering tickets straight to your system.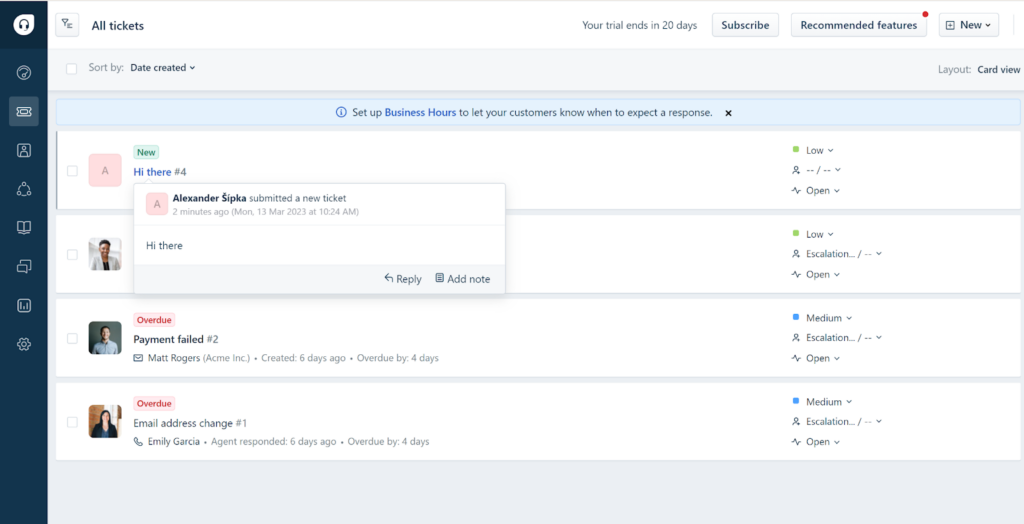 The interface remains easy to use once you open a ticket. You have the buttons for replies, forwarding, or adding notes to your Facebook tickets. Other functionalities reveal themselves once you start writing a reply. You can choose if you want to change the ticket status after sending a reply, add attachments, use canned responses, or look through suggested solutions. The suggested solutions button opens a new window within the interface that gives you access to knowledge base articles. You also get access to customer information and ticket information.
The Twitter integration gets its separate section under in the menu – Social. Once you access this section, the experience gets a bit different than before. You can manage tweets and Twitter communication entirely from this section, regardless of how many accounts you have available. Alternatively, the ticketing also creates new tickets from tweets. You get the options to write your tweets from here without leaving the application and switching between browser tabs.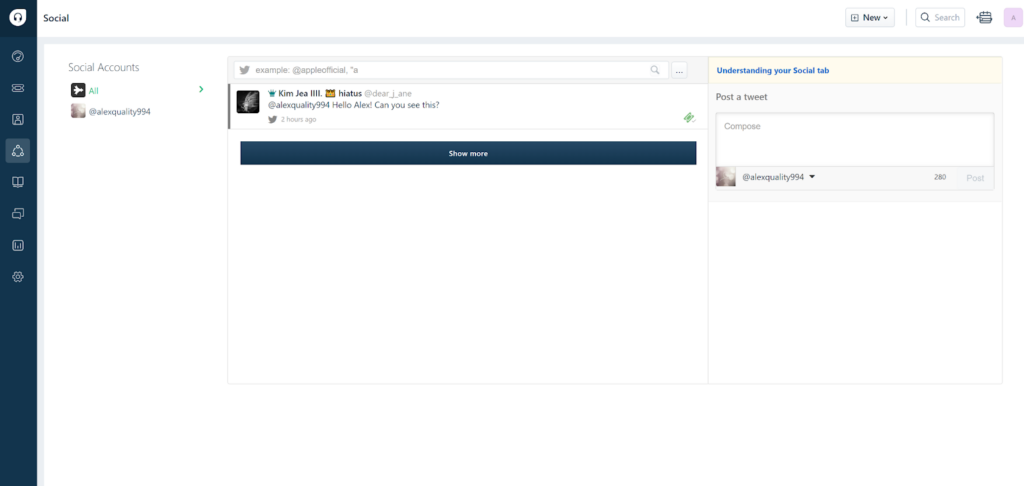 All mentions immediately show up in your system, and you can engage with the tweets from the Social tab or directly from the ticketing. The experience in the Social tab allows you to write and post new tweets from a dedicated section, but you can also reply to any tweet that comes your way. Just like in the case of Facebook, if you reply to tweets from ticketing, you can use additional ticketing features to enhance your experience.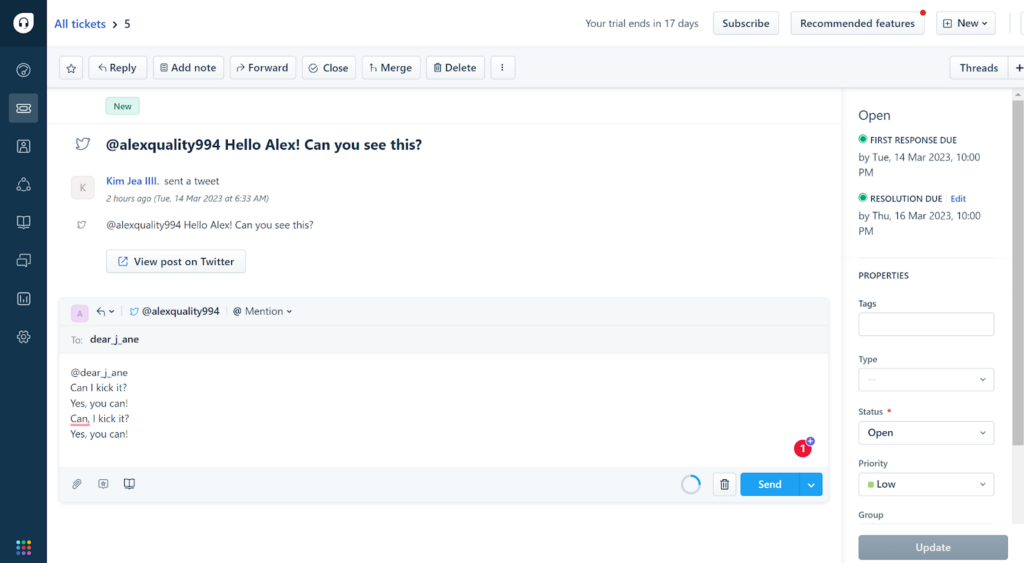 The social media features in Freshdesk are pretty easy to integrate, and they work very well. It's an interesting design choice to separate Twitter into its own section, but it works great and provides a dedicated space for replying to tweets. The only thing that's missing is the native Instagram integration, and even though you can get third party integrations from the Freshdesk store, one of them will cost you.
Freshdesk pricing
Freshdesk includes social media functionality and integration in each plan, including the free plan. Therefore, your decision will most likely revolve around selecting the right type of different features. Let's take a look at the pricing and see what each plan offers.
Free
The Free plan costs you nothing and is available for up to 10 agents. You get access to a ticketing system with email and social media, and even a knowledge base. Other features include ticket trend report, analytics and reporting, team collaboration features and 24/7 email support among others.
Growth
The Growth plan starts at $15 per agent per month and gives you access to everything from the Free plan. In addition you get automation, collision detection, access to over a 1000 marketplace apps, in-depth help desk reports, SLAs, business hours, a custom email server, custom SSL, and much more.
Pro
The Pro plan will cost you $49 per agent per month and gives you access to everything from the previous two plans. Additionally you get up to 5000 collaborators, custom roles, custom reports, customer segmentation, customer journey features, canned forms, community forums, and much more.
Enterprise
The Enterprise plan is the most expensive option, with a price tag of $79 per agent per month. Besides the previously mentioned features from all plans, you get access to sandbox, assist bot, email bot, skill-based routing, flexible knowledge base hierarchy, article suggestion, AI-powered social signals, and more.
Conclusion
Freshdesk might not offer the widest selection of social media integrations, but it performs excellent with what it has to offer. Another added benefit is the option to purchase or download integrations for Instagram if you want to extend the Freshdesk functionality even further. There's very few things that Freshdesk doesn't do well, including the pricing. It can get expensive, but only if your help desk demands are higher than social media functionality. You can access social media integrations even with the free account.
When it comes to finding the right social media customer service software, it's important to explore all options available. While Freshdesk is known for its excellent performance and integrations, it's worth considering other providers to ensure they meet your specific requirements. Depending on your budget and the level of social media functionality you require, there may be other solutions on the market that are a better fit for your business.