Key takeaways
Pros
Easy to navigate
Affordable
Customizable live chat button
Cons
No real-time typing view
Not very responsive
Free trial doesn't let operators send attachments
Broken views
Getting started with HelpOnClick
The first thing you'll notice when signing up for HelpOnClick, is that you can create an account just for their live chat software or their entire help desk solution.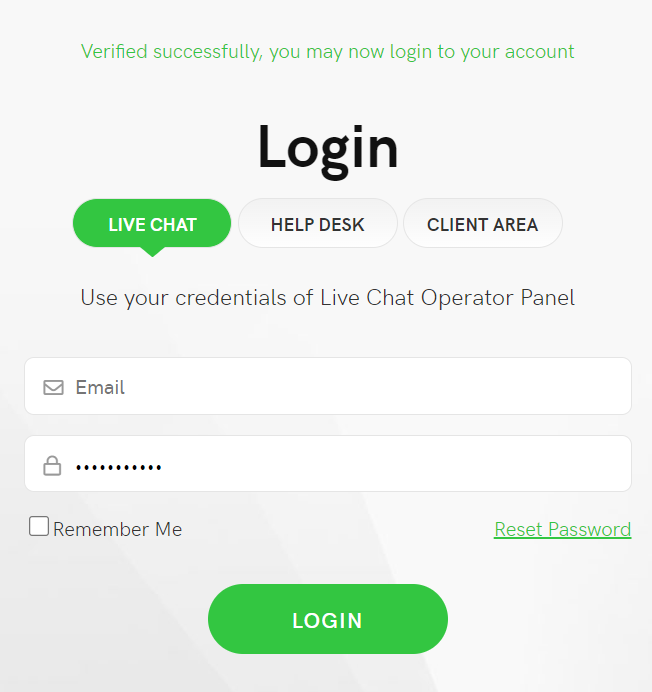 After I confirmed my email address, my account was ready within seconds. After I logged in, I was greeted with a clean, although a little bare-bones interface.

However, I appreciated the immediate pop-up window that offered me a tour of the app. I had a quick look around, and then I dove right into setting up live chat for my test website.

I liked how much customization there was right off the bat. You can adjust almost all visual aspects of the live chat button that will be displayed on your site.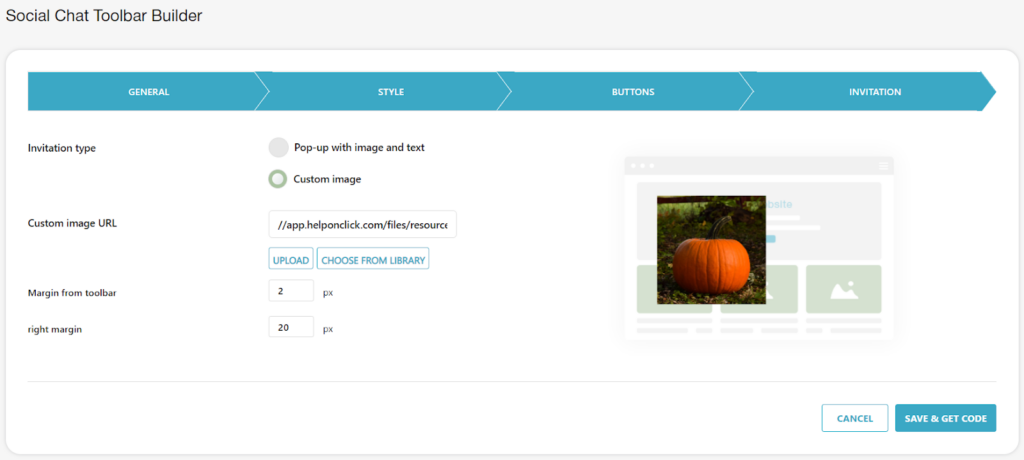 After I finished customizing the button, HelpOnClick provided me with a piece of code I added to my site, and voilà, HelpOnClick's live chat was on my site.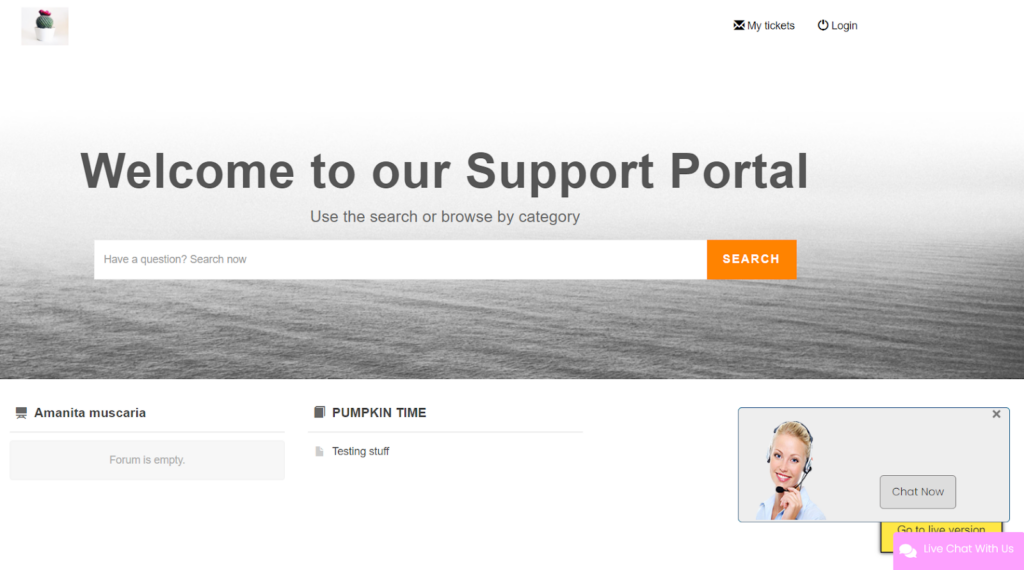 I decided I didn't like the generic default image my live chat button was initially accompanied by, so I changed it and started chatting.
I expected smooth sailing. However, I had issues with initiating the conversation. I wasn't able to send a first message. All I got was "Waiting for the operator" on the visitor's side, and "Waiting for incoming chat" on the agent side. I fiddled with it for a while but couldn't resolve the issue, so I contacted HelpOnClick's support.
I have to say that the same image I was offered as a default didn't give me much hope. Although, I was pleasantly surprised to talk to a human representative instead of a bot. I explained my case, and they suggested opening a ticket for developers and waiting.
Of course, I was too impatient to wait 24 to 48 hours for a response, so I looked at more documentation, logged in and out a few times, refreshed everything, cleared the cache, and on my fifth or sixth attempt, it miraculously started working.
Features and user interface
I used HelpOnClick via Chrome, but you can also run it on Safari, Edge, Opera, and Firefox. It also works as an OS app on Windows and macOS. On top of that, you can also use HelpOnClick on mobile devices as it is compatible with Android and iOS.
What I liked about HelpOnClick's live chat is how customizable it is. You can adjust virtually everything, so the chat button suits your branding perfectly.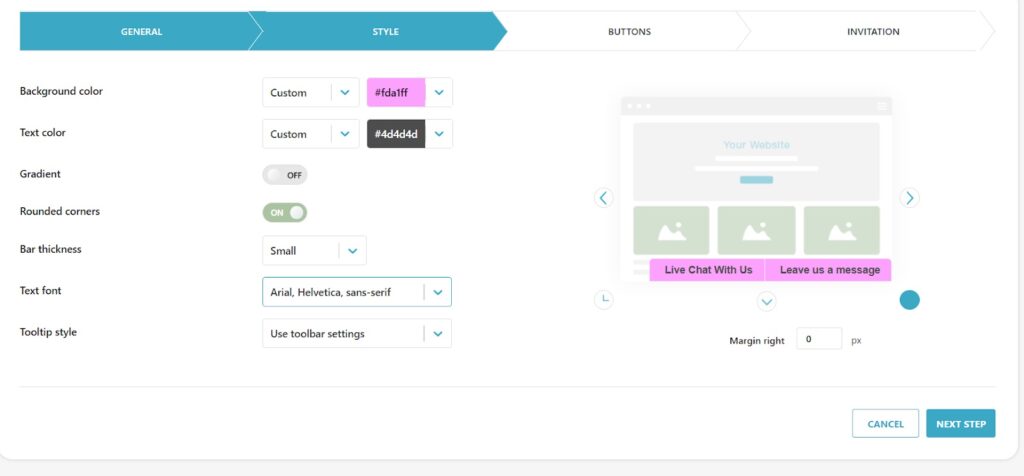 Another helpful feature is the data HelpOnClick automatically collects for you about a visitor you're chatting with. This data includes the visitor's location, browser, IP address, and more. After you have finished your conversation, you can come back to this information and read through the entire chat from the archive.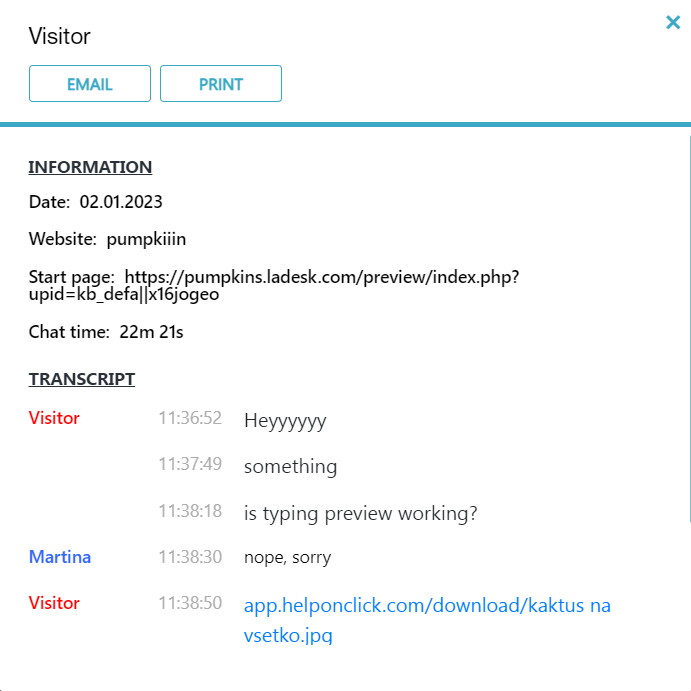 What I found lacking in this software was the real-time typing preview. One other thing that I consider to be tainting the experience is that when using the free trial, the operator can't send attached files without upgrading to a paid plan.
Live chat performance and user experience
When it comes to the UX, HelpOnClick doesn't impress. Don't get me wrong, it's usable, but once I started testing it out, I found it quite inconvenient. After I finally started the chatting session, after a few messages back and forth, the live chat window simply broke.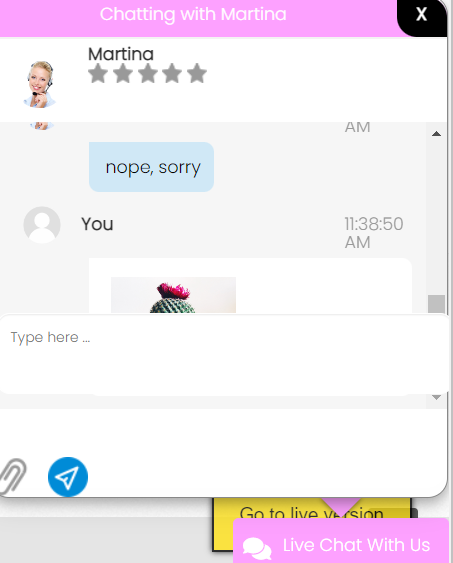 I couldn't see all the messages I sent, and the typing bar didn't always react to my input. Closing and refreshing didn't work, so I had to put up with it.
I encountered another issue when I tried to use a split screen to see the visitor's and operator's sides at the same time. Although technically possible, the HelpOnClick's interface didn't agree with that.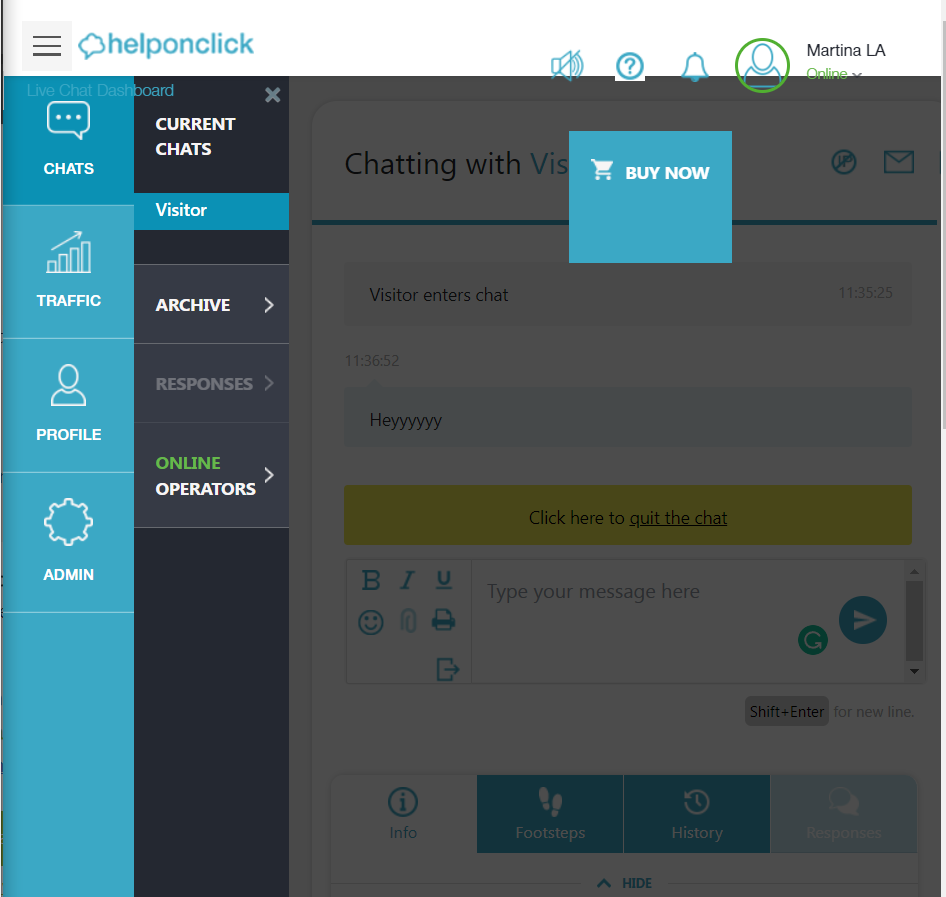 Pricing
Free
This tier is free of charge and allows you to have one operator. You can have up to 100 chats per month, and the chat history goes back 30 days.
Silver
For $12.99 per agent/month, you can have an unlimited number of operators, up to 300 monthly chats, and a 90-day chat history.
Gold
This package costs $19.99 per agent/month and allows you to have an unlimited number of operators, departments, and chat history.
Platinum
The most expensive, as well as extensive pricing tier, lets you enjoy all the features from the previous packages on up to 10 websites for $49.99 per agent/month.
Conclusion
If I were to sum up my experience with HelpOnClick's live chat software, I'd have to say that it was a hit or miss. Implementing the live chat on my website was very easy, and I was pleasantly surprised by how customizable it was. In case you're struggling with this part, HelpOnClick offers a convenient and informative tour that includes tutorials on how to set everything up.
However, when it comes to my experience with actually using the live chat, I was a little disappointed. From the issues with starting a conversation to clunky and broken views of both the chat window and the operator's app, HelpOnClick didn't convince me it was the best site if you prize efficiency.
Frequently Asked Questions
I don't know to set up an encryption security protocol

If you're using any other than the basic plan, HelpOnClick allows you to set up the Secure Sockets Layer (SSL) protocol. To do this, go to the Admin tab, and click on Settings. Tick the Force SSL security box. This will enable SSL security for operators and website visitors.

I don't receive live chat notifications when I'm offline

The easiest way to address this issue is to set up a mobile chat via SMS. You will receive your live chat messages as SMS. To do this, go to the Admin tab and click on Setup. Then, choose the Operator and click on them. Tick the SMS checkbox and then hit Save.

I'm being automatically logged out of my account

To set up or adjust automatic logout, go to the Settings tab. Find the "Auto logoff time" and adjust it based on your preference. You can also turn off this functionality entirely.