Key takeaways
Pros
A fully-featured knowledge base feature
Great text editor
Well-designed interface
Cons
Could use better organization features
Zoho Desk knowledge base offers everything you want from a knowledge base software. It's easy to use, it offers all necessary features, and it works without a hitch. There's not a whole lot to complain about Zoho Desk's knowledge base. All that you have to consider are the other features related to different parts of the extensive Zoho Desk toolset, as well as the overall price and value.
Getting started with Zoho Desk
Zoho Desk is a well known help desk solution that caters to the customer support needs of a great number of businesses worldwide. It's known for its more than capable ticketing system that can handle communication channels important for general customer communication. This includes the Zoho Desk Community feature, which is essentially the solution's name for a knowledge base.
Getting started with Zoho Desk is as easy as making your trial account. It doesn't take very long until you start getting familiar with the user interface. All it takes is to sign up and log in to your account. You don't have to go through any demo calls or provide your credit card information to get started, which is always appreciated from any type of software.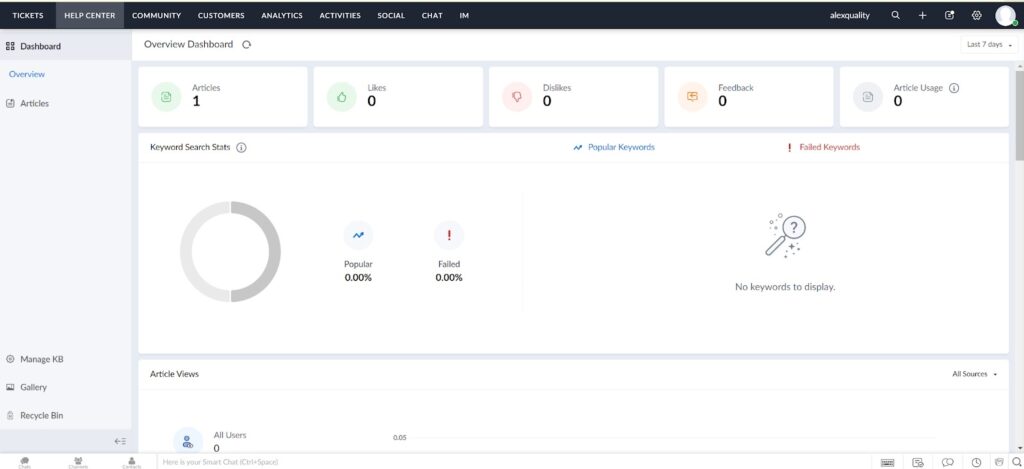 Zoho Desk is a well designed app with a plain but very effective interface. It looks professional and is easy to navigate. You have the main menu options highlighted with a contrasting dark bar at the top of the web application. The user interface in Zoho Desk is very clean and tidy looking, albeit I personally found some things a little confusing. For example, the knowledge base feature in Zoho Desk is called Help Center. This might've been just a minor lapse on my part, but it took me a couple of minutes of Googling to realize how easily accessible the knowledge base feature is in the app.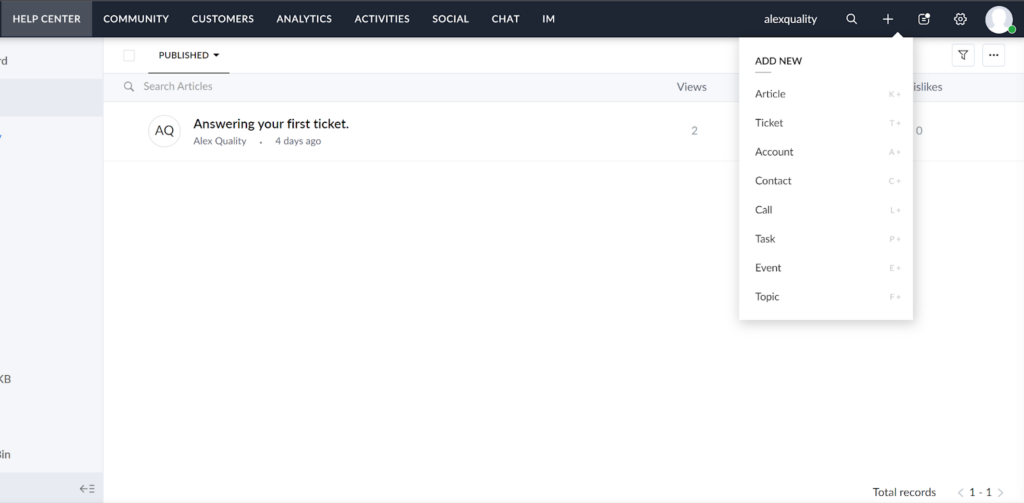 User experience and features
Another minor confusion happened when I finally opened the knowledge base and I couldn't find the option to write a new article. For those reading this before using it yourself, you can find the option under the plus button at the right side of the top menu panel. I have to say that this button could be much more prominent to make the user interface a little more pronounced for new users. However, I have to admit that what comes next is truly an example of great design.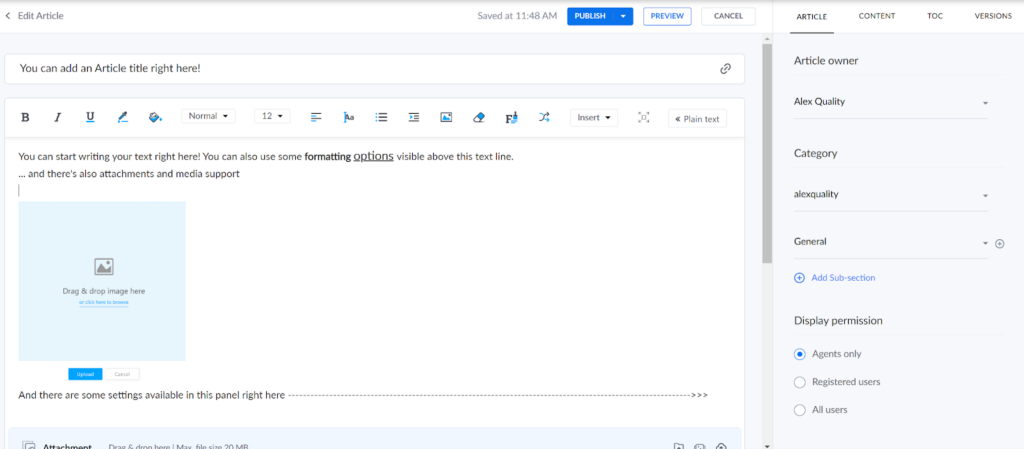 The knowledge base article editor is simply great. All essential writing and formatting functionality is visible right away, as well as the text fields, and attachments options. There is little to none to complain about Zoho Desk's knowledge base text editor. You also have some additional settings for SEO, permissions, article expiration, categories, and a couple more.
Working with the article editor is smooth and you won't have any trouble finding any functionality at any time. Writing articles is absolutely unproblematic, and you can add pictures. There's also the option to embed videos, HTML codes, tables, and other items. You can always switch to a full screen view to better focus on your writing. This is truly a great knowledge base that is not missing anything important.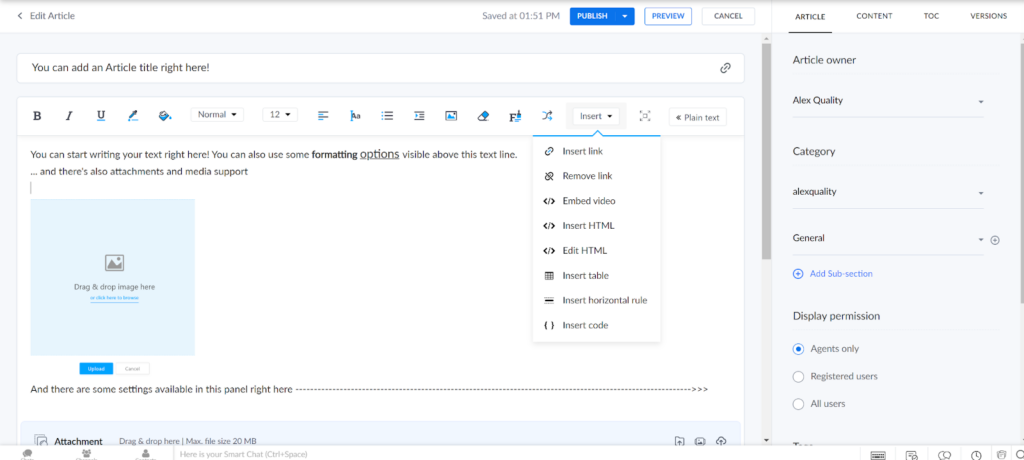 When you save your article, you can get back to the knowledge base home screen to see all the articles. Article organizing, while sufficient in its functionality, could be more convenient. You can select an article category inside every article detail, but there is no way to change article categories in one bulk action. You have to change the category for each article separately, so don't forget to do it before you publish the article.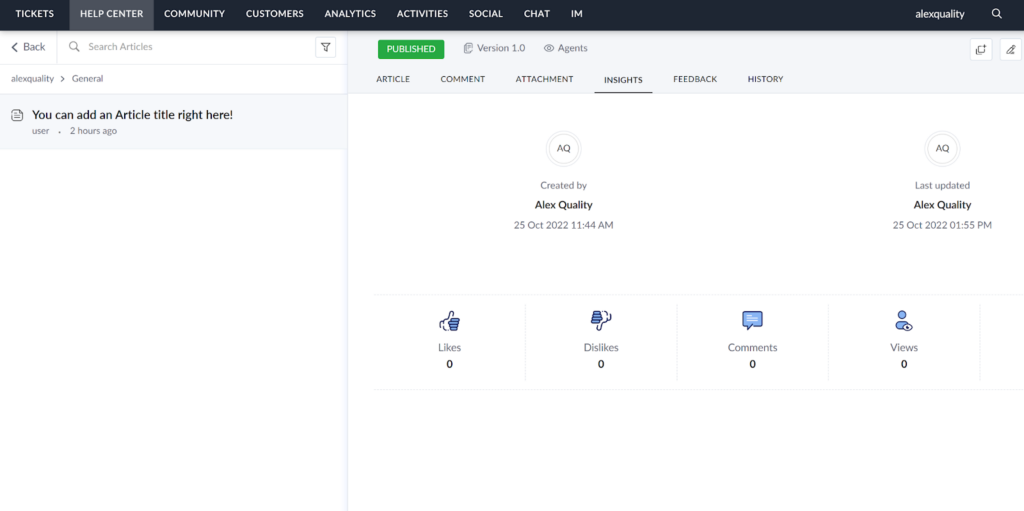 Pricing
Zoho Desk pricing comes with three plans with price differences depending on if you want to pay an annual or a monthly subscription. Each plan scales up feature sets with price, so it's only up to you to decide how much you want to pay for this knowledge base software.
Standard
The Standard plan is the cheapest Zoho Desk plan, and it costs €20 per user per month, or €15 per user per month with the annual subscription. It offers all essential help desk features, such as 5 email channels, help center (knowledge base), five advanced web forms, and one social media brand support, among other features.
Professional
The Professional plan costs €30 per user per month, or €23 per user per month with the annual subscription. With this plan you get everything from the Standard plan in larger volumes – ten email channels, ten advanced web forms per department, a telephony feature, and much more.
Enterprise
The Enterprise plan starts at €50 per user per month, or €40 per user per month with the annual subscription. You get the entire available Zoho Desk feature set, which includes a multi-brand Help Center and HTML customization abilities.
Conclusion
Overall Zoho Desk's knowledge base feature is a strong contender. You get everything you need from a text editor, and it's unlikely you won't find the features you're expecting or needing from a knowledge base editor. The user interface is easy to navigate, and you won't experience any bugs with this solution. While it could use slightly better organizational features to manage your articles, this is only a small issue in an otherwise well performing knowledge base software.
Frequently Asked Questions
I can't find the knowledge base in Zoho Desk

Zoho Desk's knowledge base is called Help Center. Simply click on the Help Center at the top menu and you will be redirected to the Zoho Desk knowledge base.

I don't know how to create a new article in Zoho Desk knowledge base

Zoho Desk knowledge base articles can be created by clicking on the plus button at the top menu panel. You can find the option to create a new article there.