Key takeaways
Pros
Intuitive and clean interface
Great writing and user experience
Atypical but efficient feature command
Cons
Knowledge base isn't in the free plan
Pricing can be expensive if you can't utilize other apps
Odoo is a great knowledge base solution with an interesting attitude towards article formatting and editing. It offers a clean interface that's easy to navigate, and an awesome article editor that has all standard editing features available through a simple keyboard shortcut. The pricing is also affordable, but it depends only on the number of other available applications you want to use. Read the full review and find out what makes Odoo a great choice for your knowledge base needs.
Getting started with Odoo
Odoo is an extensive and customizable open source software dedicated to various areas of business management, including knowledge base. It integrates a large number of applications suitable for sales, marketing, customer relationship management, project management, customer support, and many more. Odoo includes a knowledge base plugin as a part of its deals, so let's take a look at it and see how it performs.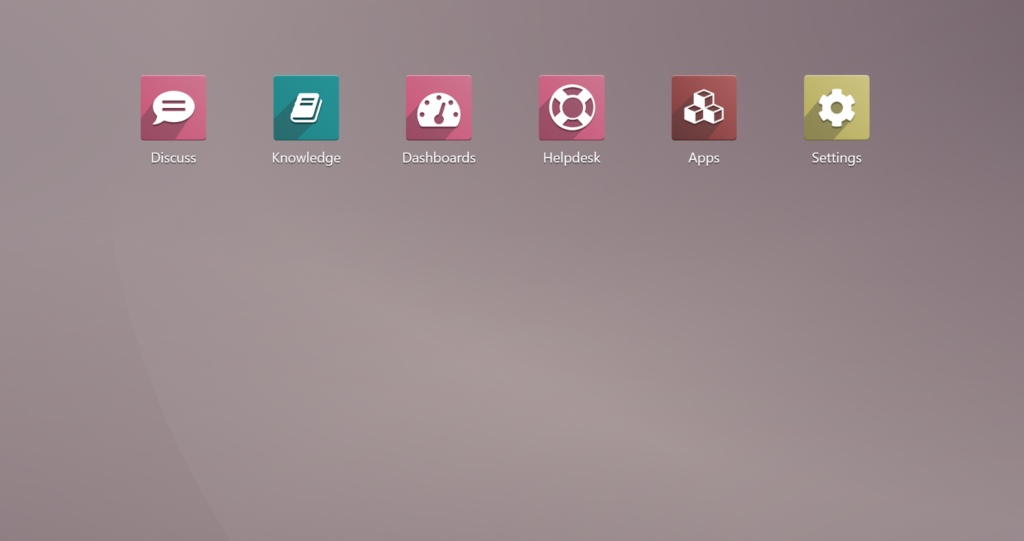 Odoo offers a free trial for each of their plans, as well as a free version of their solution. It can support an unlimited number of users, but allows usage of only one app out of their extensive list. You can get started with Odoo in under two minutes. Just register on their website and confirm your email. However, you need to decide which app you want to use. The Odoo knowledge base is not visible in the introductory app store, so you will need to add it later in the web application.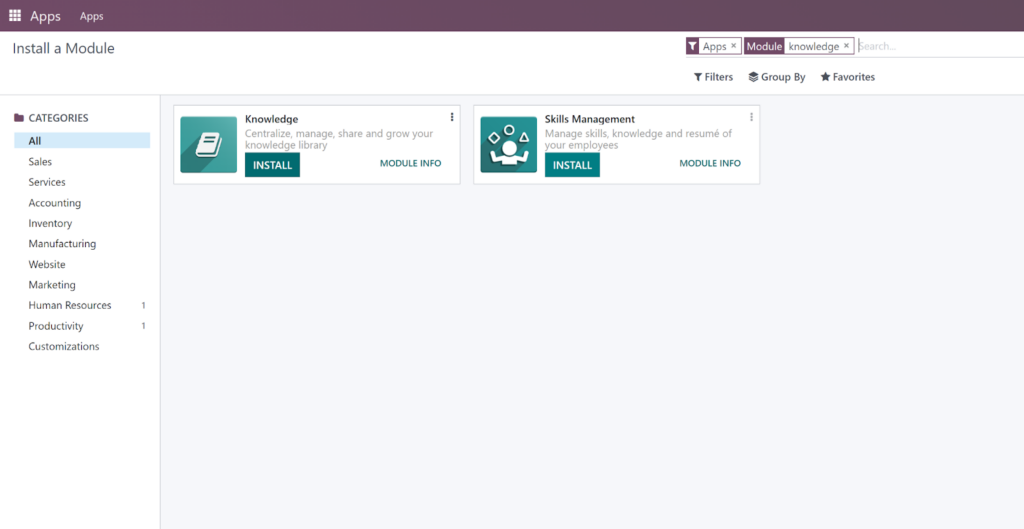 You can always add more apps to your Odoo account, regardless of which functionality you picked initially. Getting started with the Odoo knowledge base feature is incredibly fast. It took me less than 5 minutes to start writing my first article, and you can also take a look at a sample document that explains all knowledge base editor functions.. But before I take a deeper dive into the knowledge base editor, let's have a closer look at the interface.
The user interface in Odoo is minimalistic and effective. It doesn't give its users a lot of opportunities to get lost, and I haven't experienced any major confusion during my use. While I didn't use other apps besides the help desk, ticketing, and knowledge base, I can't imagine people getting overwhelmed even if they decide to use a larger number of apps. This is because each app has a separate interface and they never share any confusing menus on any of the main screens.
User experience and features
Now, let's take a look at the knowledge base editor. The user interface here remains just as simple and effective as in the rest of the app. There's nothing distracting to draw your focus away from writing, and the knowledge base editor offers all standard functionality you need to write elaborate articles with media and proper formatting included. However, what's interesting in the user experience is how you can access all of this functionality. The answer is "/".
Whenever you're writing in the knowledge base editor, you can simply hit the "/" button and bring up a list of all possible features. While this didn't seem like the most intuitive way of working at first, I have to say I got used to it very quickly, and I even dare say that it made my writing faster in some cases. I never had to look for a specific function in menu bars, all of the functionality can be brought up with a simple hit of a button and I could write the name of the function I needed at any time, which also helped me keep my focus on writing.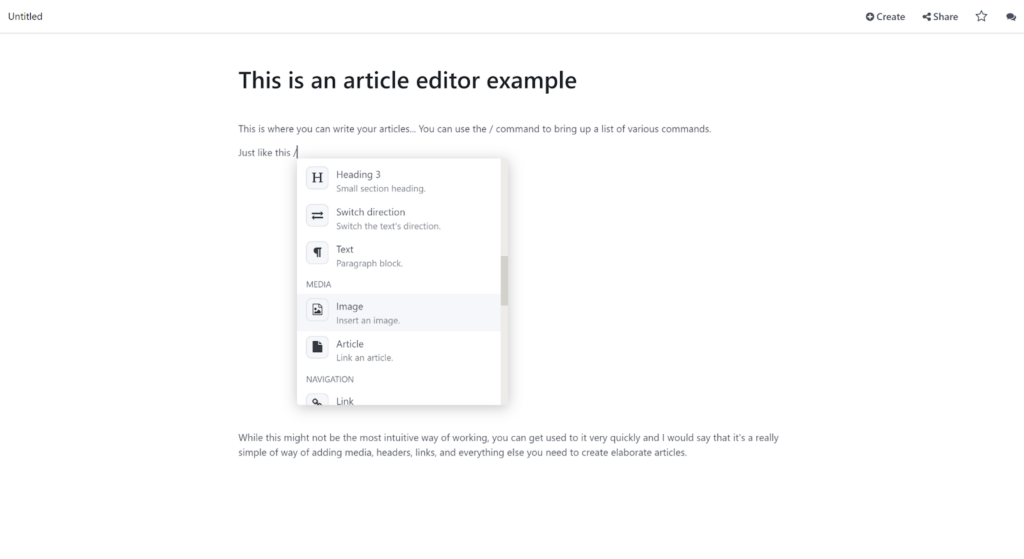 With a simple hit of the aforementioned button, you can access various headers, bullet points, add media or code, columns, paragraph options, links & buttons, checklists, or even add your signature. The feature set is simply rich and it doesn't lack anything that a good article editor should contain. It's simply great and easy to use by anyone. There's not much more to add about the editor, I think it will be satisfying to use regardless of what type of user you are.
The Odoo knowledge base article organizing is also pretty good. While there aren't any folder or category options, you can create article levels, or "trees". This way, you can write a main article about any topic, and add sub-articles under it, effectively creating a comprehensive and structured hierarchy. Finding the articles will be quite easy, but you need to take care of the names early on so you won't create confusion for yourself when the number of knowledge base articles grows significantly.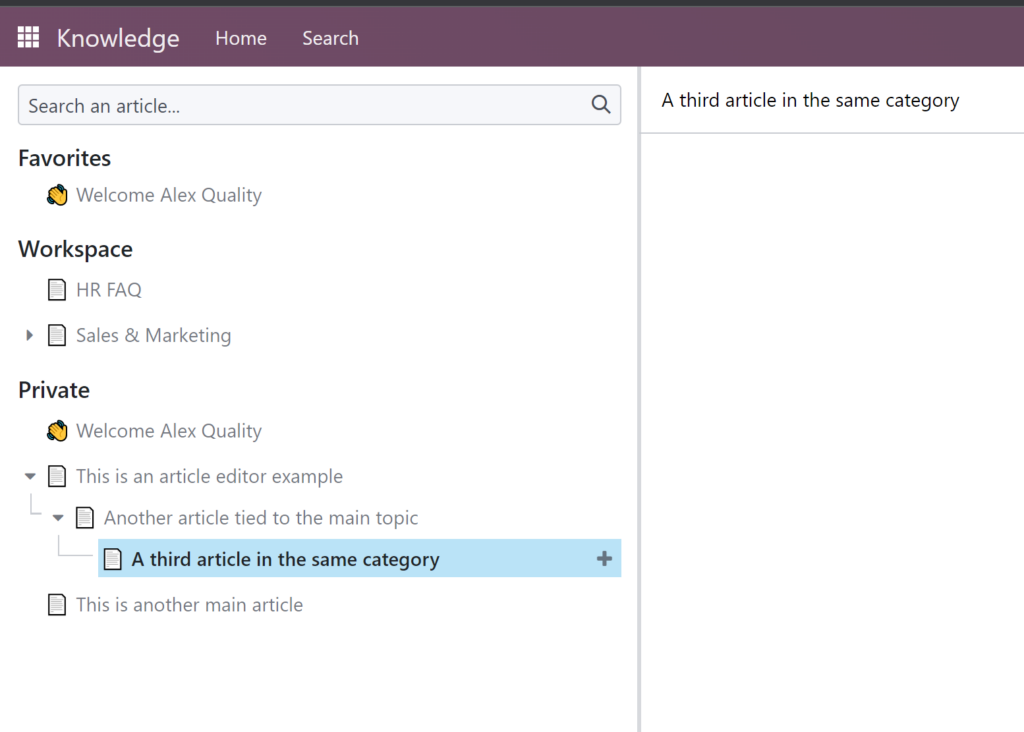 Pricing
Odoo offers two paid plans as well as a free plan. You can get only one app from the extensive app list with the free plan, so there's no option to get a free knowledge base, as it's not available as a separate app option during your account registration. Let's take a look at what you get in each of the plans.
One App
The One App plan is free, and you get unlimited user access too. However, you can only work with one app at a time, and you have to upgrade your plan once you get another app from the app store. If you don't upgrade, you will automatically enter a free trial.
Standard
The Standard plan gives you access to all of the apps for $14.89 per month per user. You pay less if you get the annual subscription. The apps include every single app that Odoo has to offer, including help desk, finance, human resources, productivity, and other types of apps.
Custom
The Custom plan gives you extra flexibility for $22.38 per month per user. You get access to all the apps, plus Odoo Studio, Multi-company capabilities, External API, as well as Odoo Online, Odoo.sh, and the On-Premise version.
Conclusion
Odoo knowledge base is a well balanced and fully featured solution that won't disappoint any type of user. Whether you need your knowledge base to be light, or heavy on the number of articles, the article organization feature is good enough to help you keep track of them in most circumstances. The atypical access to features with a simple slash (/) command is confusing at first, but it works so smoothly in day-to-day writing. Overall, the Odoo knowledge base is simply great, and it's hard to find any deal-breakers in this affordable solution.