Key takeaways
Pros
An advanced way of building a knowledge base
Feature-rich and easy to navigate
Great customization options
Cons
Might be unnecessarily complicated for some users
Time consuming building process
The Bitrix24 knowledge base is an extensive feature very similar to popular website builders. This can be both a good thing and a bad thing depending on what type of user you are, and what you expect from a knowledge base software. Some users might appreciate the advanced customization options, while others might be intimidated by the sheer number of options. In either case, Bitrix24 has a well designed knowledge base builder, and is easy to use once you get used to it.
Getting started with Bitrix24
Bitrix24 is a Russian CMS, CRM, productivity, task management, and collaboration software founded in 1998 with their first official release in 2003. It's a popular choice for many small and large businesses worldwide thanks to its wide feature set, giving users the option to work with many tools in one all-rounder solution.
Those familiar with Bitrix24 know that registration is super easy, all it takes is filling out a registration form and confirming your email address. Afterwards you get access to your Bitrix24 account and you can start getting familiar with the user interface. I used the Bitrix24 web application for the purpose of this review, and although I am already familiar with it, it took me a while to start remembering how to effectively navigate it.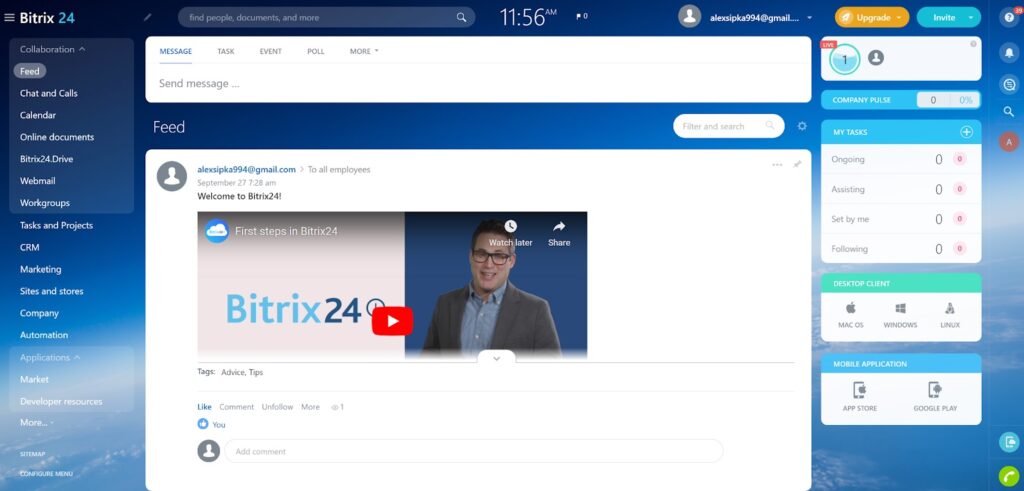 The user interface is doing what it can to keep things tidy, but it can get frustrating at times, especially if you want to work with multiple tools and features at the same time. Bitrix24 is a very extensive solution that covers the most popular CRM capabilities and more. This explains why the menu and interface are not the easiest to master for new users.
The menu options are incredibly broad, so take a while to get adjusted to them when you start using Bitrix24. Finding the knowledge base feature can therefore be a fairly challenging task if you don't know where to start looking. The knowledge base feature is hidden under the Company section in the left menu. Once you click on Company, you can see the Knowledge Base option at the top menu panel.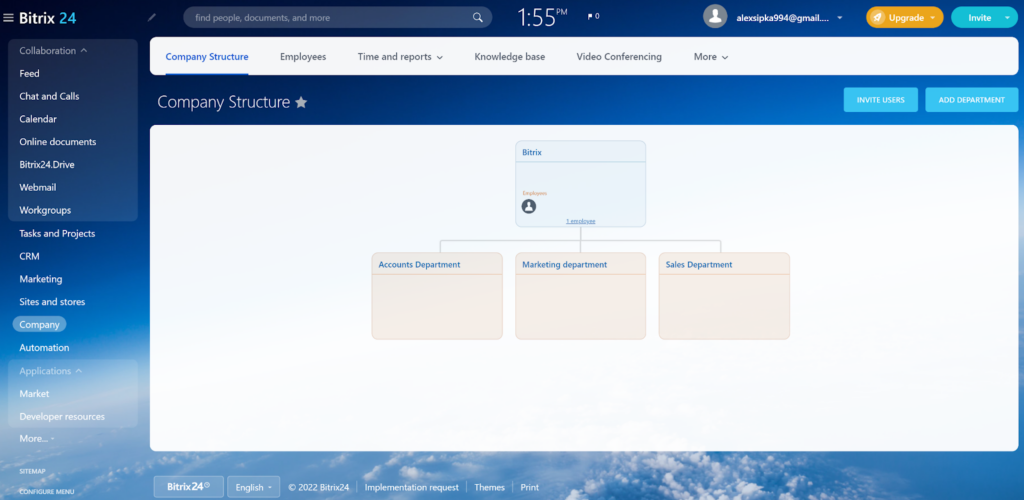 User experience and features
The introduction to Bitrix24's knowledge base looks pretty good. This is thanks to a well designed welcome screen that offers you two options – create a new knowledge base, or consult the help guide. Once you click on Create a new knowledge base, the pleasant experience continues. You have the option to either pick a knowledge base template to get you started, or you can start from scratch. Either way, what comes next are great customization options.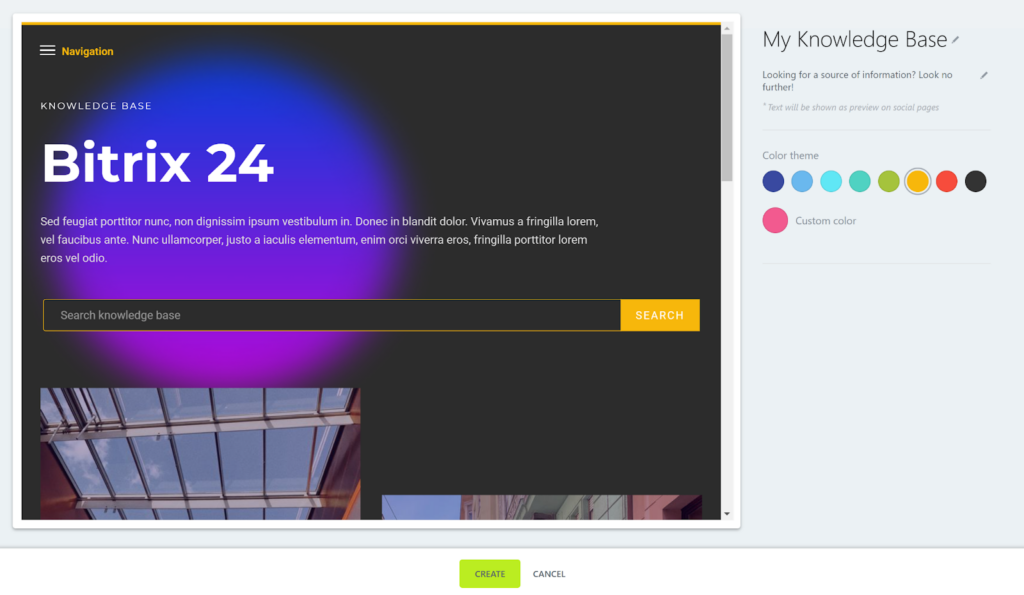 The entire knowledge base builder is very similar to website builders like Wix. This can be seen as both a good and a bad thing, depending on the angle you're coming from. The builder is a great way for businesses to plan, design and manage their knowledge base, but at the same time it can be a very time consuming process, especially for users without affinity for building websites. Creatives can enjoy letting their creativity go wild, while users who need a working knowledge base out of the box might be disappointed. However, the knowledge base builder is intuitive to use, and it's easy to navigate.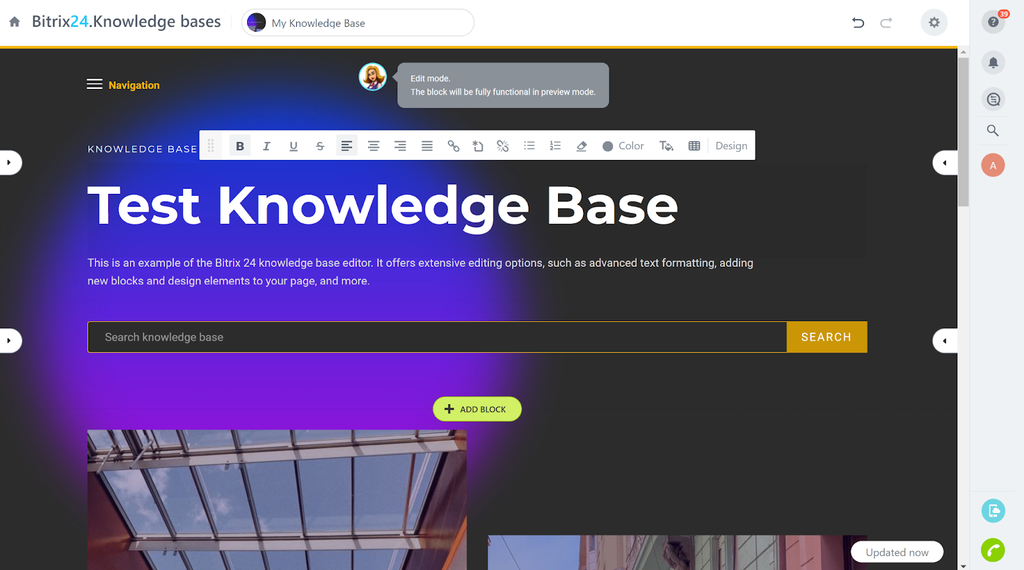 Bitrix24's knowledge base editor lets you customize pretty much anything. You can add new blocks and choose from an immense variety of options – text fields, images, videos, and titles, as well as website elements like menus, footers, buttons, links, CRM fields, or even an online store. I don't know why anyone would want to add an online store to their knowledge base, but I suppose it's nice to have the option available. This knowledge base editor is truly something else, and you can always find what you need in any circumstances.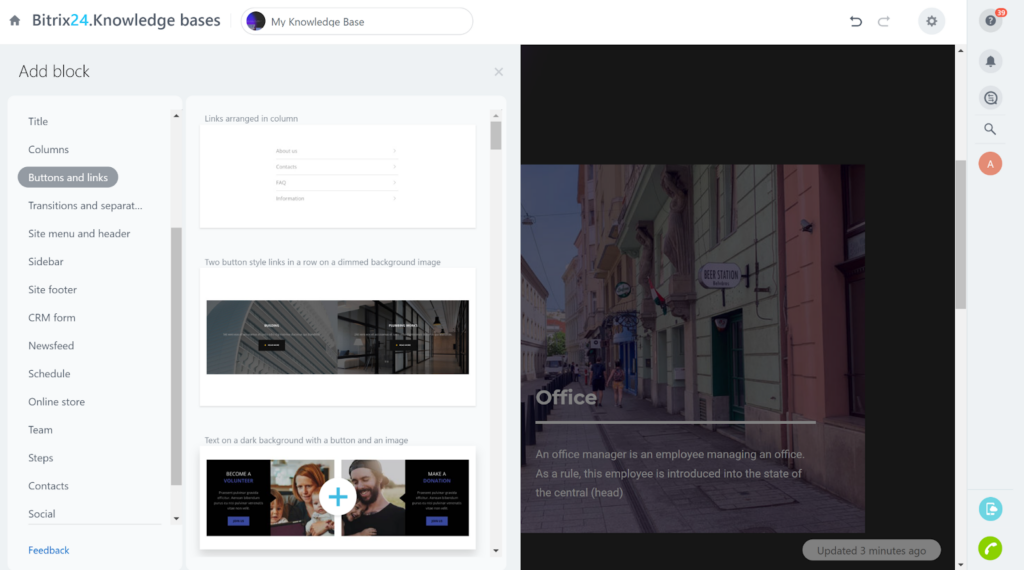 However, with the abundance of options, it's just too easy to make a poorly designed website without the intention of doing so, especially if you lack some basic knowledge about user interfaces and user experience. Therefore, some planning is a must before you actually start building separate pages for your articles. This might be problematic, especially for businesses with a large volume of topics they need to cover, on top of having to decide how exactly you want your knowledge base to look and navigate. Just the text field options can be overwhelming on their own for certain users.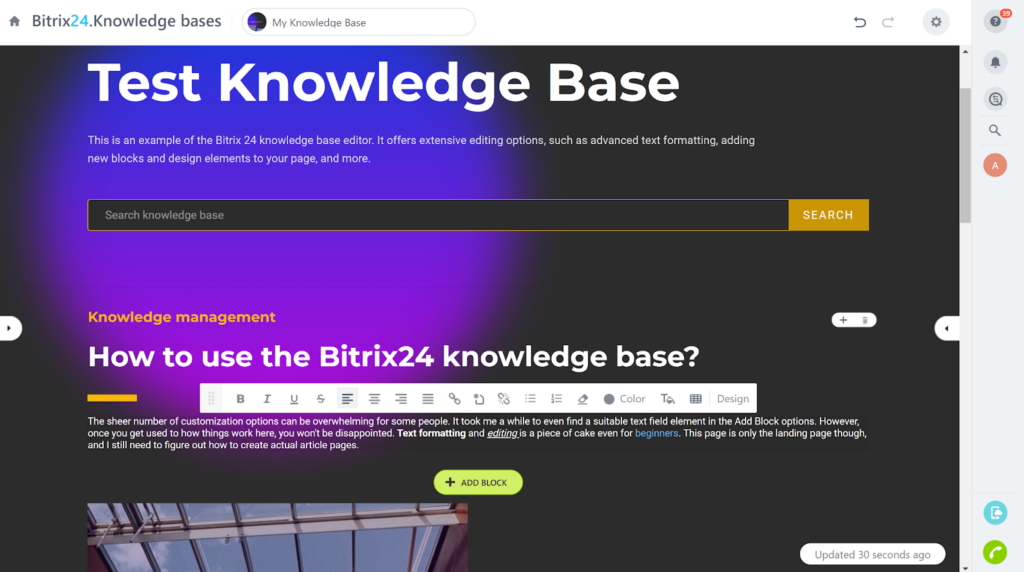 Once you find a suitable text field element for your design, you can start writing. There are a lot of options with various compositions and designs, so I highly recommend doing some page planning first. Bitrix24 offers a straightforward text formatting set of options that won't disappoint. You can expect the usual set, just like what you see in popular text editors – bold, italic, and underline options, alignment settings, link options, text and background color settings, and more.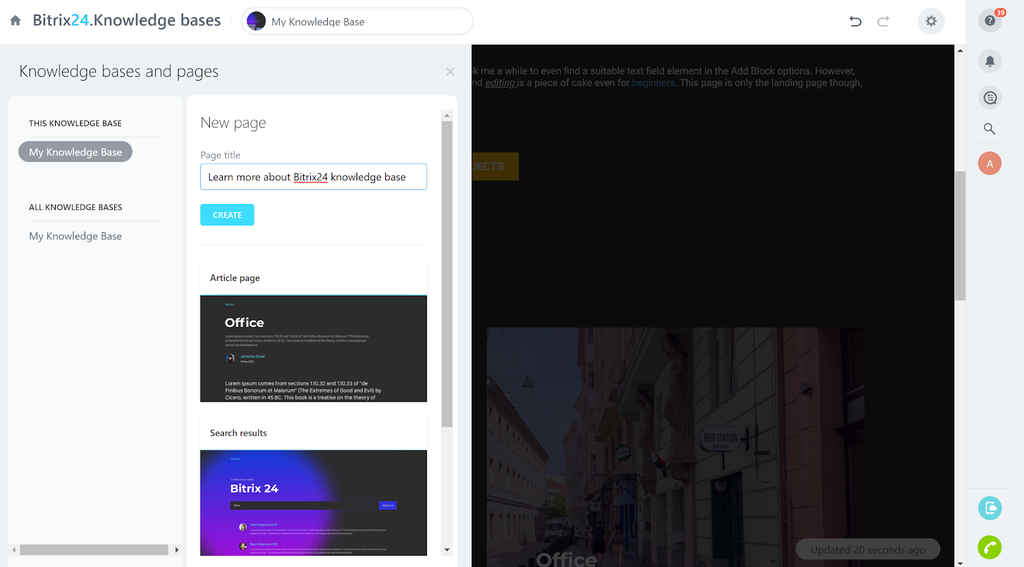 Overall, the knowledge base editor in Bitrix24 is quite effortless to use, but you have to give yourself some time to get used to it. As I mentioned before, not every user wants to engage with a fully fledged website editor. If you need to make a simple knowledge base fast, I recommend sticking with just a couple of elements, and definitely utilize a template as a starting point. It will make your work much easier and faster.
Pricing
We covered the Bitrix24 pricing plans in another feature review, but let's go through them again just in case. Bitrix24 offers four pricing plans, each of them adding new features for a higher price. All plans include a knowledge base, but the more expensive ones add a couple of more related features. You get a company knowledge base in the free plan.
Free plan
This plan is completely free and includes one company knowledge base, as well as other features such as 5GB of storage, collaboration features, task and project management, storage drive, a website builder, and more.
Basic plan
The Basic plan costs $49 per month for 5 users. It adds the option of having three company knowledge bases plus every feature from the free plan. You also get 24GB of storage, online store options, CRM options and more.
Standard plan
The standard plan costs $99 per month for 50 users. You can have five company knowledge bases, plus a project knowledge base and the option to customize knowledge base permissions. It adds marketing features and online document management.
Professional plan
This plan is the most expensive one, and costs $199 per month for 100 users. You can have an unlimited number of knowledge bases with all knowledge base features from the previous plans. You get the full feature set with automations, human resources tools, and more.
Conclusion
The Bitrix24 knowledge base feature is essentially a fully-fledged website editor which allows users to completely customize the entire knowledge base experience for every user. While you probably won't find a more feature-rich knowledge base feature, you can find many that are easier to use and implement. The knowledge base builder is Bitrix24's strength, but also its weakness. What one user might find awesome, the other one might consider unnecessary and tedious. If you're looking for a knowledge base software that allows you to deeply customize and adjust your knowledge base, you found it. If you require something simpler, easier to use, and easier to implement, you should look elsewhere.
Frequently Asked Questions
I can't find the knowledge base in Bitrix24

The knowledge base can be found under the Company menu item in the left menu panel. Click on it, and then select Knowledge Base in the upper menu.

I don't know how to build a knowledge base in Bitrix24

The Bitrix24 knowledge base works as a website builder, similar to services like Wix. You can create a blank page, or work with a template. Each element on the page can be customized or deleted at will. You can add new elements by clicking on the Add Block button. The process can be a little daunting at first, but with some patience and practice (and the use of a help guide included in the knowledge base under the question mark button), you will surely be able to build an impressive knowledge base.