Key takeaways
Pros
Very favorable pricing
Knowledge base performs as expected
Cons
Slightly outdated interface design
You can't use videos in KB articles
Apptivo knowledge base is an average performer that, with all its faults, does the job objectively well. There is plenty of space for Apptivo to grow in this aspect. While it's not perfect, nor the best knowledge base software available, it's incredibly cheap for what it offers. The knowledge base could use some extra features for organizing, but considering its low price, you will be getting good value from Apptivo. However, users who have higher expectations from a knowledge base software should definitely compare it with other solutions first.
Getting started with Apptivo
Apptivo is an extensive business software composed of a large number of integrated apps for various purposes. It's a cloud based application that can truly do anything – contact management, sales, customer service, marketing, and even knowledge management. But, given so many features, can it perform equally strong on all fronts? I've decided to take the Apptivo knowledge base for a test to find out if it's worth the price.
I started by creating a free trial of the Apptivo's cheapest Lite plan. What surprised me the most is how the web application tried to force me into a demo call instead of a trial. However, it was easy to surpass this measure by simply clicking on the Try for free button again after I created my account. I quickly got to the trial version of the Apptivo web application and started getting familiar with the interface.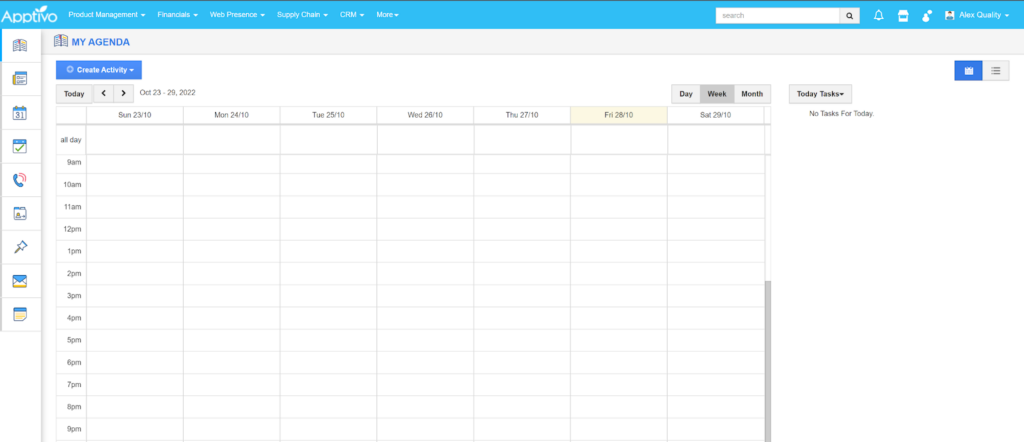 Apptivo is an extensive software with many functionalities, so it's only natural that the interface will not be the easiest to navigate. A quick look and clicking on every possible menu item didn't help me find out where the knowledge base is, and neither did the search widget at the top panel. Apptivo is known for its extensive app list, so I tried searching for a knowledge base app that could be added to the system. I wasn't successful with this option either.
I decided to do a Google search for the knowledge base and found out that it is included between the apps, but the name of this app is 'Answers' instead of 'Knowledge base'. Nevertheless, I added the app to the system and got started with testing. While this is not the most intuitive knowledge base software, it's understandable that not every Apptivo user will be using it. Giving the option to not have it is completely understandable. You can find it in the App section under the Web presence category.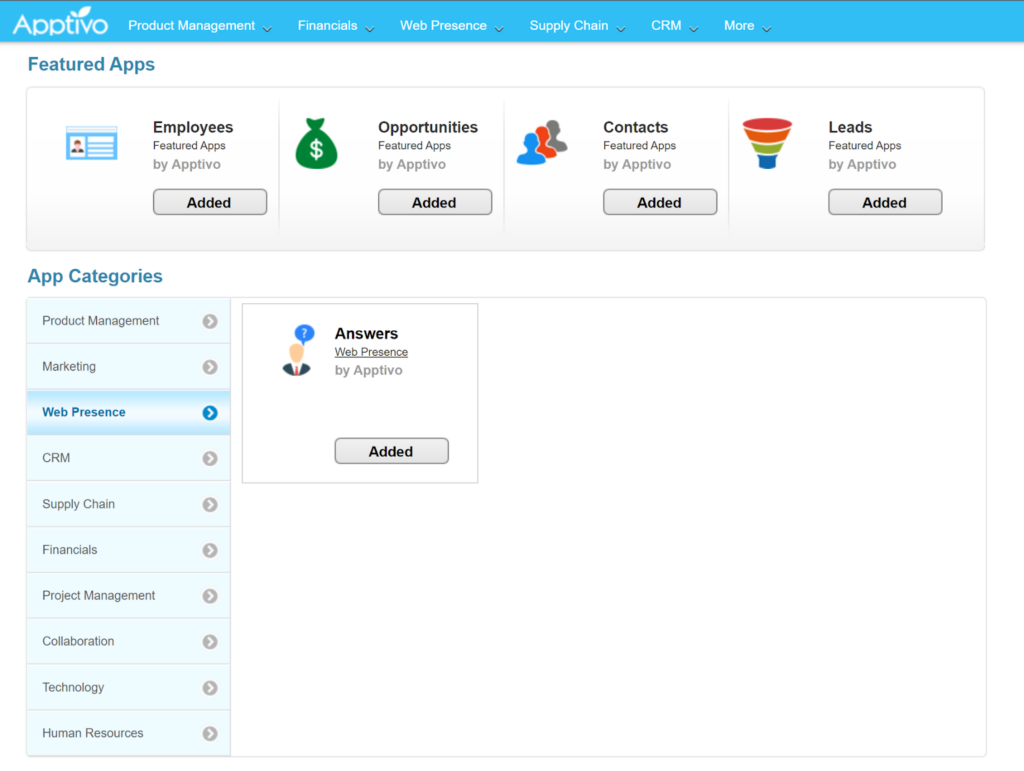 User experience and features
The Apptivo knowledge base is a rather plain-looking knowledge base, leaving it in the average range in terms of appeal compared to the others out there. The design is functional and that's what matters the most. The left panel includes filtering options, and the button to create a new article. Once you enter the knowledge base, you can see the entire list of articles you have. If you just started out it's obviously going to be empty, so let's get to fixing that right away.
Once you click on the Create button, you can start writing a new knowledge base article. The editor itself is pretty standard, and although the writing field might seem too small at first, it stretches out once your text reaches a certain length. Typing in it is therefore not an issue at all and your writing experience should be just fine. You have multiple fields, the most important ones being the question and answer fields.
The text editor's feature set is pretty standard, you have the usual text editing and formatting options just like in a proper document editor. There's also the option to add pictures, but no option to add videos in your articles. You can't resize the pictures after uploading them, so you'll need to either resize them in a different editor, or adjust the size during the upload. This also requires knowing what exact dimensions are the best option for your content.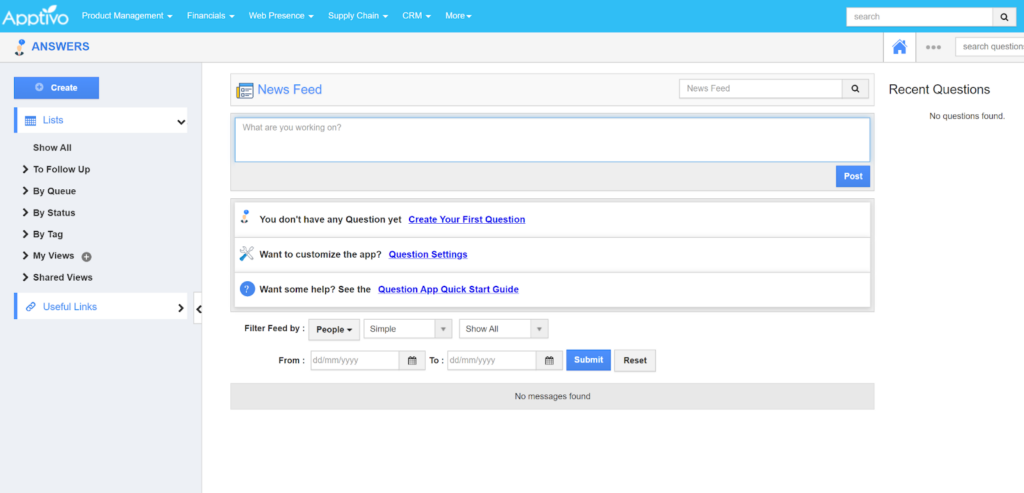 Overall, the text editor is just fine for most use cases but it could use some visual upgrades and the addition of video media support. Once you're done with writing, you can take a look at the SEO settings. After saving, you can see the article in the article overview. You can do some quick edits if necessary, as the article will open in a new window if you click on it when in this overview. I couldn't find the option to put articles in folders or categories, which is a pity. However, the knowledge base has a search widget.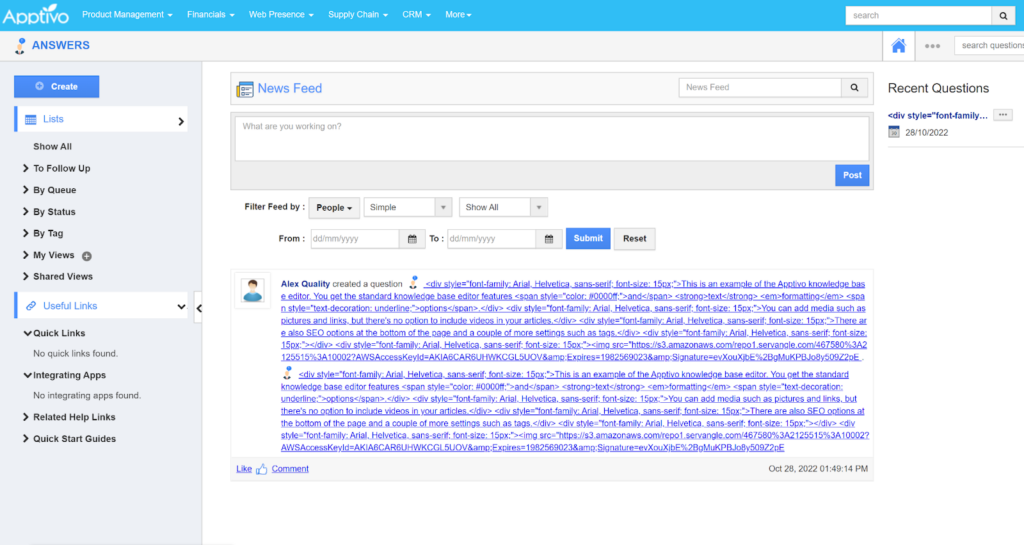 Pricing
The pricing is probably one of the best parts of Apptivo, as even the most expensive plan is cheaper than some of the cheapest plans for competitors' knowledge base software. Apptivo comes with four plans and each of them upscales from the previous one. All plans have the knowledge base feature included, so deciding which plan is just a matter of looking at the other functionalities that may benefit you. Let's have a look at what you get in each of the plans.
Lite
The Lite plan costs $10 per month per user and is focused on small sales teams. You get 18 apps, 100 custom fields pre app, 25 workflows, 8 custom dashboards, 3rd party service integration, and 24/7 customer support.
Premium
The Premium plan costs $15 per month per user. This plan is suitable for growing teams. In the plan you get 46 apps, 250 fields per app, 75 workflows, 25 custom dashboards, 3rd party service integration and 24/7 customer support.
Ultimate
The Ultimate plan costs $25 per month per user, and is focused on large teams. It includes 57 apps, 350 custom fields per app, 150 workflows, 50 custom dashboards, 3rd party service integration, and 24/7 customer support.
Enterprise
The Enterprise plan has customizable pricing. It includes 65 apps, 500 custom fields per app, 300 workflows, 100 custom dashboards, custom integration, 24/7 customer support + SLA, and account manager.
Conclusion
In the end, I'd rate Apptivo's knowledge base as good, but not great. It hasn't exceeded expectations in many of its aspects, but doesn't disappoint with them either. It will perform very well and is not definitely not underequipped, especially considering its cheap pricing. However, businesses that tend to rely on knowledge base use will probably appreciate a better solution for the task. Apptivo is still a great piece of software with amazing functionality in other regards. It's only up to you to consider if you're willing to utilize it in your day-to-day work.
Frequently Asked Questions
I can't find the knowledge base in Apptivo

Apptivo's knowledge base feature is called Answers. You first need to get the app from the extensive app selection. When in your account, go to the App Store and find the Answers app under the Web presence category. Once you get the app, you can find it under the Web presence menu button in your dashboard.