Key takeaways
Pros
Easy to set up and user-friendly
Affordable
Supports elaborate IVR setups
MessageBird's Flow Builder is a great option for those looking to set up a simple IVR menu. The UI is intuitive and easy to navigate, so you don't have to worry about getting overwhelmed or lost in heaps of code. MessageBird provides you with a quick tutorial upon the first interaction with its Flow Building feature. It's a great way for even the not-so-tech-savvy users to easily set up their own flows. The only issue I have found is the lack of customization when it comes to IVR messages. However, I don't think this is something that should discourage users from choosing MessageBird's IVR software.
Getting started with the MessageBird IVR feature
Signing up for a trial version of MessageBird is quite simple. After you fill out your details and add the number of your agents, you are greeted with a clean-looking dashboard that doesn't seem overwhelming for a first-time user.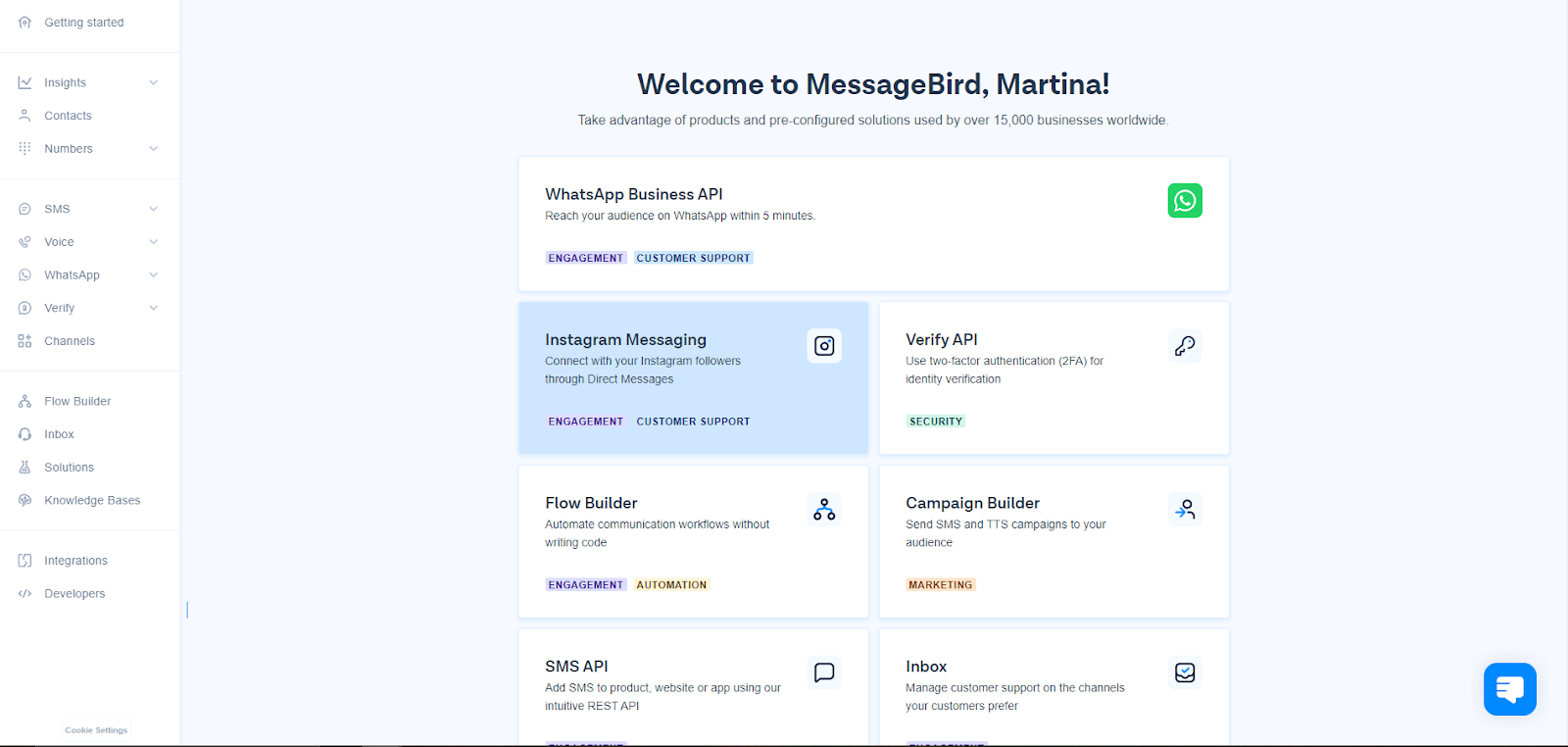 Although you will not find the IVR functionality right away, this setup still makes it easy to find your way through the dashboard. To configure the IVR function, you can access it either straight from the dashboard or the left-side menu under Flow Builder.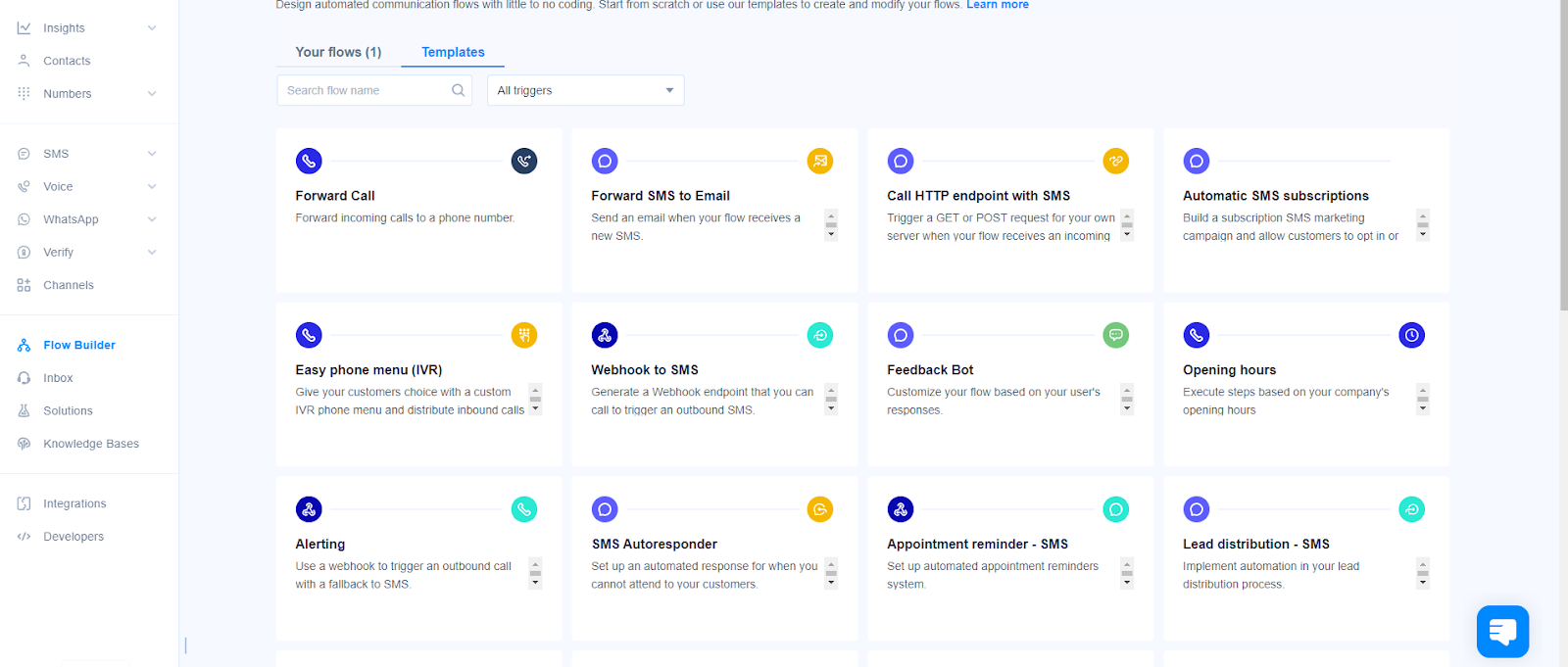 Next, click on Templates. There you will find quite a large selection of flow-building and automation options. To proceed with the setup, click on the Easy phone menu (IVR).
What I found very helpful is a tutorial MessageBird offers you once you access the IVR configuration. This tutorial guides you through four simple steps on how to create flows in an omnichannel environment, phone calls, etc. You can choose to either complete this tutorial or skip it if you wish.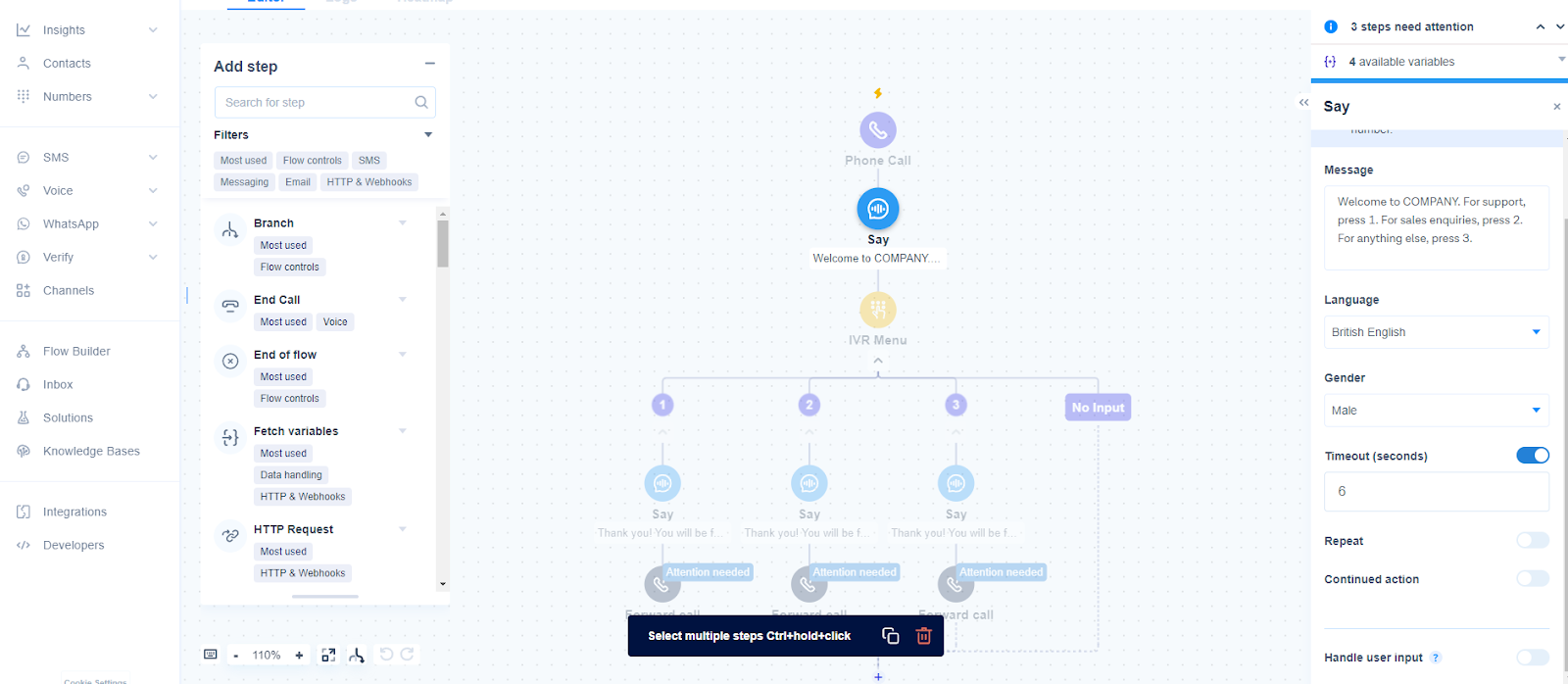 The first thing you need is to buy a phone number. You can do this directly from the Flow Builder by clicking on a pop-up window.
Once you have the phone number ready, you can start configuring your call trees. Continue by clicking on the Say button, you're able to create your message and configure variables like language, voice, and others.
Unfortunately, you are not able to add an audio file with your message, so you're constricted to the text-to-speech option. You have multiple language options to choose from, including different English accents. You also don't get many voice options, so you can choose between a male and a female voice.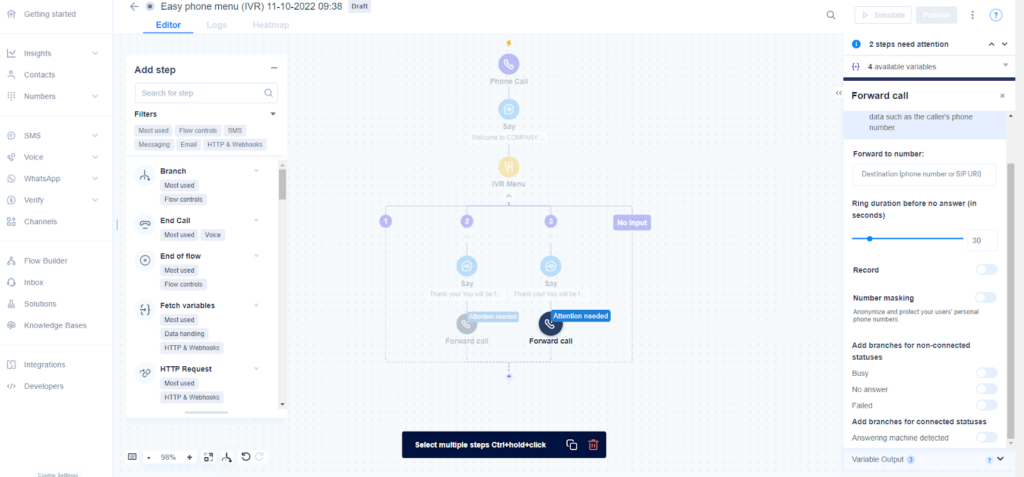 Once you've set up the message, you can move on to creating your branches. You can create multiple branching options with separate messages and triggers. Although you can quickly configure a very simple IVR Menu, MessageBird allows you to create quite an elaborate IVR setup. After adding your primary IVR options, you can create further branches and configure other actions, or you can close the branch.
This menu allows you to configure a simple IVR setup that lets your customers contact your business quickly and without a fuss. However, if you require a more elaborate setup, you can achieve that too with many branching options and additional settings.
How does the IVR perform?
The whole Flow Builder function works great and without issues. The setup is quite intuitive thanks to the GUI and the tutorial at the beginning. The IVR unfortunately doesn't allow for custom audio media files but if that is not an issue for you, the text-to-speech functionality works without hiccups. The IVR performance itself is great, and if you're searching for something simple and easy to use, it should meet all your expectations. However, if you're struggling to understand branching, variables, or anything else regarding the IVR configuration, MessageBird provides an easy-to-follow tutorial in their Support center.
Pricing
You can use MessageBird's flow-building capabilities for free if you don't need more than 2 seats and are willing to purchase a phone number. If you want to expand your operations, you can upgrade to the 30$ per month option that allows 3-10 seats.
Conclusion
This is a great option mostly for smaller contact centers. MessageBird provides you with many capabilities, a simple IVR setup, and multi-level IVR options at a reasonable price. The whole UI is intuitive and easy to navigate. Even though it is not as customizable as one might wish, MessageBird will not disappoint if you're looking for a simple and affordable solution.
Frequently Asked Questions
I don't know how to purchase a phone number

To use MessageBird's IVR functionality, you need to purchase a phone number. To do so, sign in to your account and click on the Numbers icon in the dashboard. On the next page, you need to fill out the necessary information, and click on the Buy button. After that, check the order summary, and confirm your purchase. After you pay for the number, you can add it to your account.

My IVR is not working

You should double-check the flow design of your IVR and fix any errors you find. For more assistance with your IVR, you may wish to consult Messagebirds's help section or contact customer service.