Key takeaways
Pros
Great user interface
Easy to navigate
A very affordable solution
Cons
Slightly confusing IVR options
No multi-level IVR options
Getting started with Kavkom IVR feature
Kavkom is pretty easy to get started with, and is close to effortless for anyone to either pick a plan or get started with the free trial. Unlike some other software with IVR features, Kavkom doesn't require any unnecessary procedures to get started with a trial. No credit card information, no verifications by user teams, and no jumping through hoops of any sort. Overall, the process was very simple and pleasing, which I really appreciated.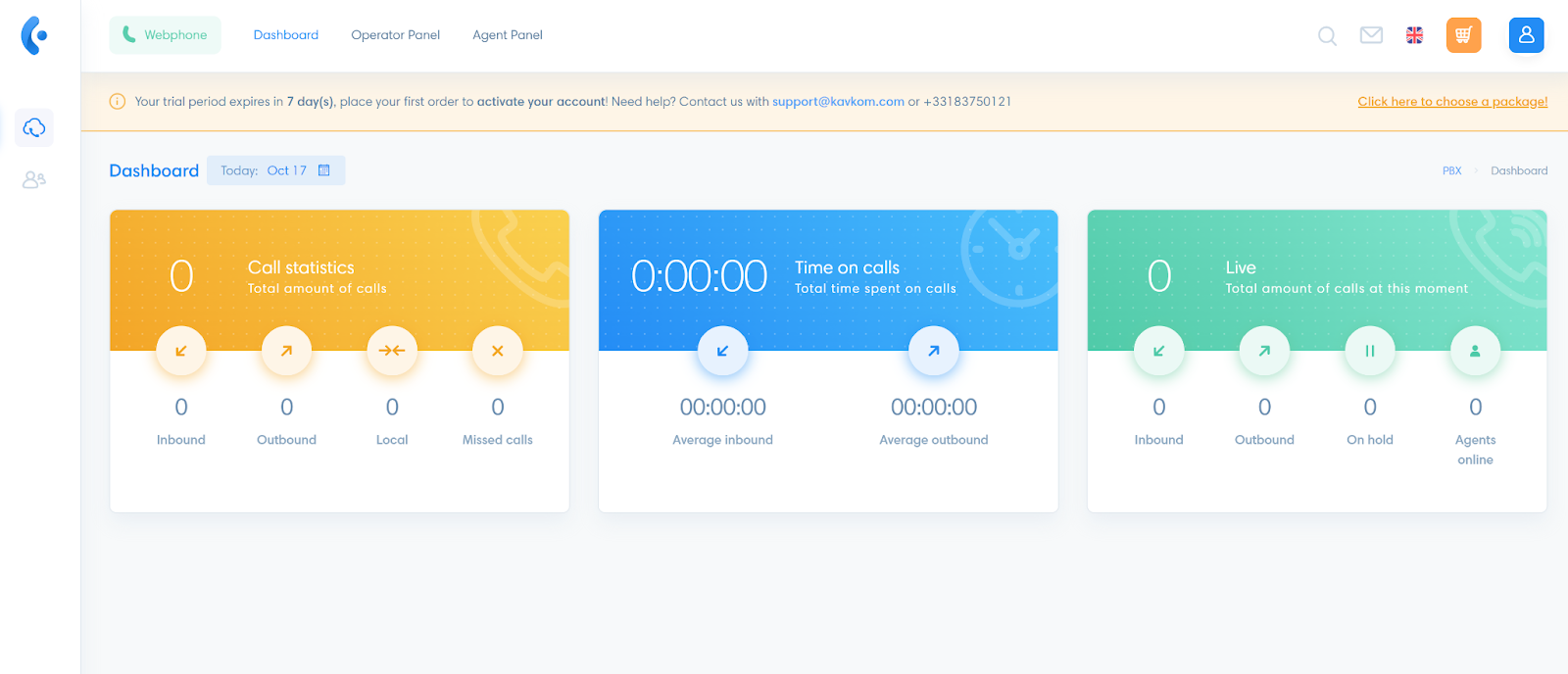 Once you get access to your account, you will be welcomed by a spacious, attractive, and very easy-to-navigate interface. I can't emphasize enough how pleasantly surprised I was with how straightforward it was to use. The main part of the interface shows data and general information in most screens, while the simple bar menu on the left allows for easy navigation. Kavkom works as a web-app, so you don't need to install any software on your computer, which saves a lot of time.
There are no difficult setups involved, and most configuration works straight out of the box. The IVR feature is in plain sight so there's no need to spend time searching for it. Simply select Apps from the PBX menu on the left, and find the IVR menu option in the comprehensive app list. Then, click on the Add IVR menu button and you can get started. There are no IVR presets available, so you need to start fresh, from scratch.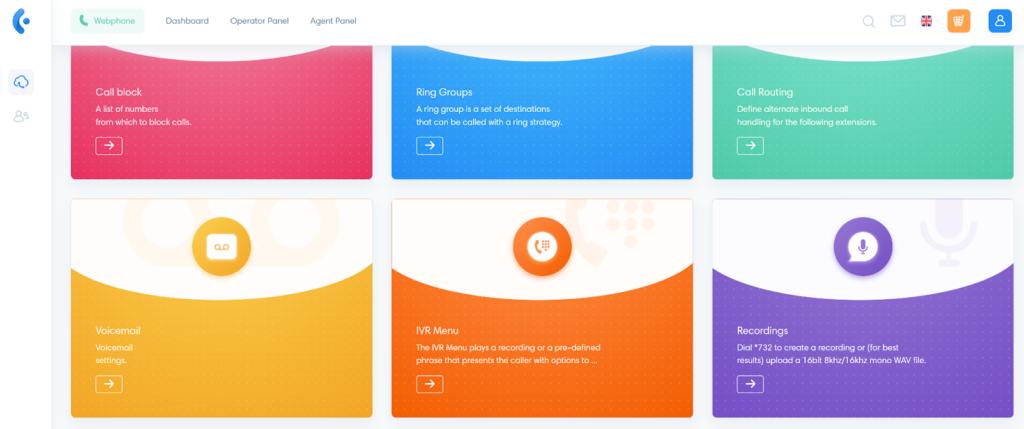 While the user interface is exceptional, the IVR feature suffers from a similar problem as most of the competition's IVR does – there is no helpful visual guide and no visual representation of IVR levels. Despite this, the Kavkom IVR setup is not difficult by any means; it basically takes just a couple of clicks to set levels and appoint actions to each one of them. The IVR levels are represented with a selection of button and action fields, each of them having a couple of setup options.
The builder works like the majority of related IVR software. The first part lets you name your IVR, select the Greeting, and an Exit action. Afterwards you can select an action for each button of your IVR. The action options are slightly unusual, e.g. you can select Voicemail, Hang Up, or Record as what will happen after pressing a chosen dial. However, you also have the standard option to route the call to an extension number, which is probably what you will use the most.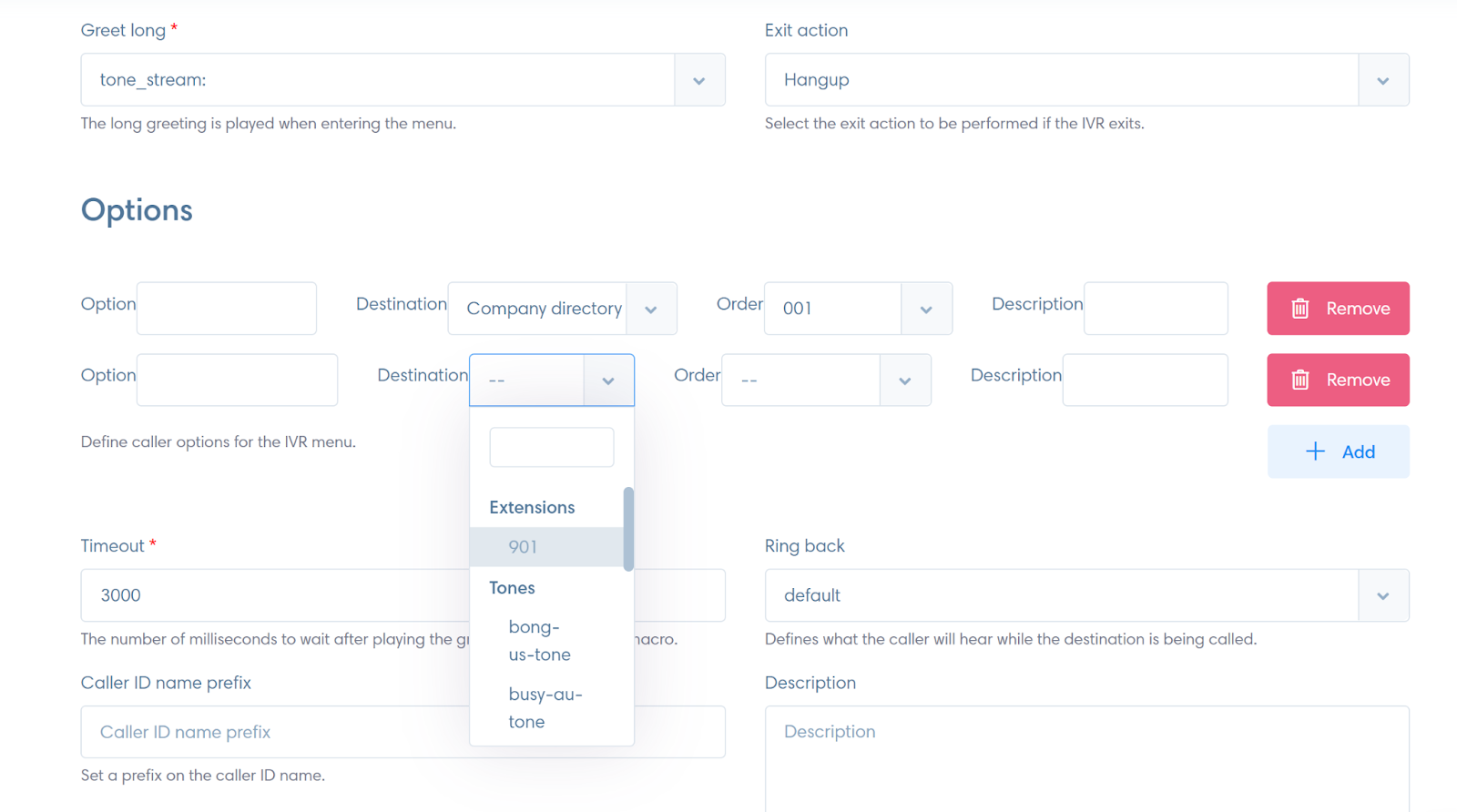 There seems to be no option to create a multi-level IVR. Apart from that, Kavkom IVR lets you select more advanced options in the next step. You can set macros and assign them to keys, select sounds, timeouts, and other advanced settings. This is a good option for users who want to really specify their IVR, and select exactly what will happen. Other users who prefer a less detailed and hands-on set up can simply use the preset options that are offered.
How does the IVR perform?
Kavkom IVR runs extremely smooth and performs well, as expected. You only need to take care to plan your IVR levels accordingly before you get started with the builder. While the setup is easy, you might want to try a couple of options before you decide which ones you want to go with. Overall, the experience with using the finished IVR was good, without any system bugs or problems caused by Kavkom itself. Ultimately, the Kavkom IVR should be considered, especially because of its pricing.
Pricing
While Kavkom is definitely not the absolute best solution you can get for your money, it's not one to throw to the side either. In terms of cost value, it's undoubtedly worth its price. Kavkom services are very affordable, and the IVR feature is included in each of its plans, so you don't need to upscale to get access to it. Let's take a look at what's available in each plan. Note that plan prices are only available in Euros.
Basic
This plan starts at a mere €10 per month per user, and you get IVR functionality right from the start. You also get 100% unlimited inbound calls, mobile redirection, and a virtual number.
Comfort
The Comfort plan starts at €20 per month per user. You get 100% unlimited inbound and outbound calls, a virtual number, as well as all the features from the previous plan.
On quotation
If you're looking to get a custom Kavkom plan, you can ask for a custom quote. There is no minimum pricing information available on the website.
Conclusion
While Kavkom is not the fanciest or most innovative IVR software, it will perform the job exceptionally, meaning you should keep it on your radar. It's especially enjoyable to see the good-looking user interface of the application and an easily accessible IVR without unnecessary procedures. Kavkom might not be the go-to app for large businesses that require multiple complicated IVRs, however, it will undeniably serve well for any smaller business without the downsides of an advanced, complicated software.
Frequently Asked Questions
My Kavkom IVR is not working

Make sure to check your IVR design and see if there aren't any mistakes that would cause your IVR to not perform correctly. The most common IVR issues are usually caused by planning mistakes.

I cannot create a multi-level IVR with Kavkom

Kavkom doesn't support a multi-level IVR, but you can simulate this option. Simply use the forward action in one IVR to route the caller to another IVR number and you will get almost the same results.