Key takeaways
Pros
Highly customizable
Easy to use
Robust
Cons
Lingo used can be confusing
Language detection can be a little clunky
With its many configurable options, this IVR feature is great for larger businesses that are looking to automate their contact center operations. However, small companies can find Infobip's software just as useful. Despite the sheer number of functionalities and options, you can set up without having to worry about getting overwhelmed or confused.
Getting started with the Infobip IVR feature
I tested Infobip's software on Windows 10, but it can also run on Linux. Setting up a free trial with Infobip was surprisingly tedious. After clicking on the "sign up" button, I got forwarded to their customer satisfaction survey. After looking around the website, I tried getting my free account with the help of the docs pages. After clicking through articles, I finally managed to sign up for a free trial account.
After receiving a verification email and an activation code sent to my phone, I was able to start setting up the IVR feature.
However, this presented a bit of a challenge. If you're anything like me, you're going to feel lost if you're looking for familiar terms like "flow" or "call automation". My best bet was to head back to the support portal. Finding information on how to set up the IVR feature is fairly easy. However, the support documentation does not mention setting up things like a personal profile, tags, channel events, etc. Once you do that, you can refer back to the how-to.
Although the first steps were a little frustrating, it was smooth sailing from there.
To set up the IVR function, click on Moments in the left-side menu. If you're doing this for the first time, Infobip offers a short tutorial that guides you through the basic steps.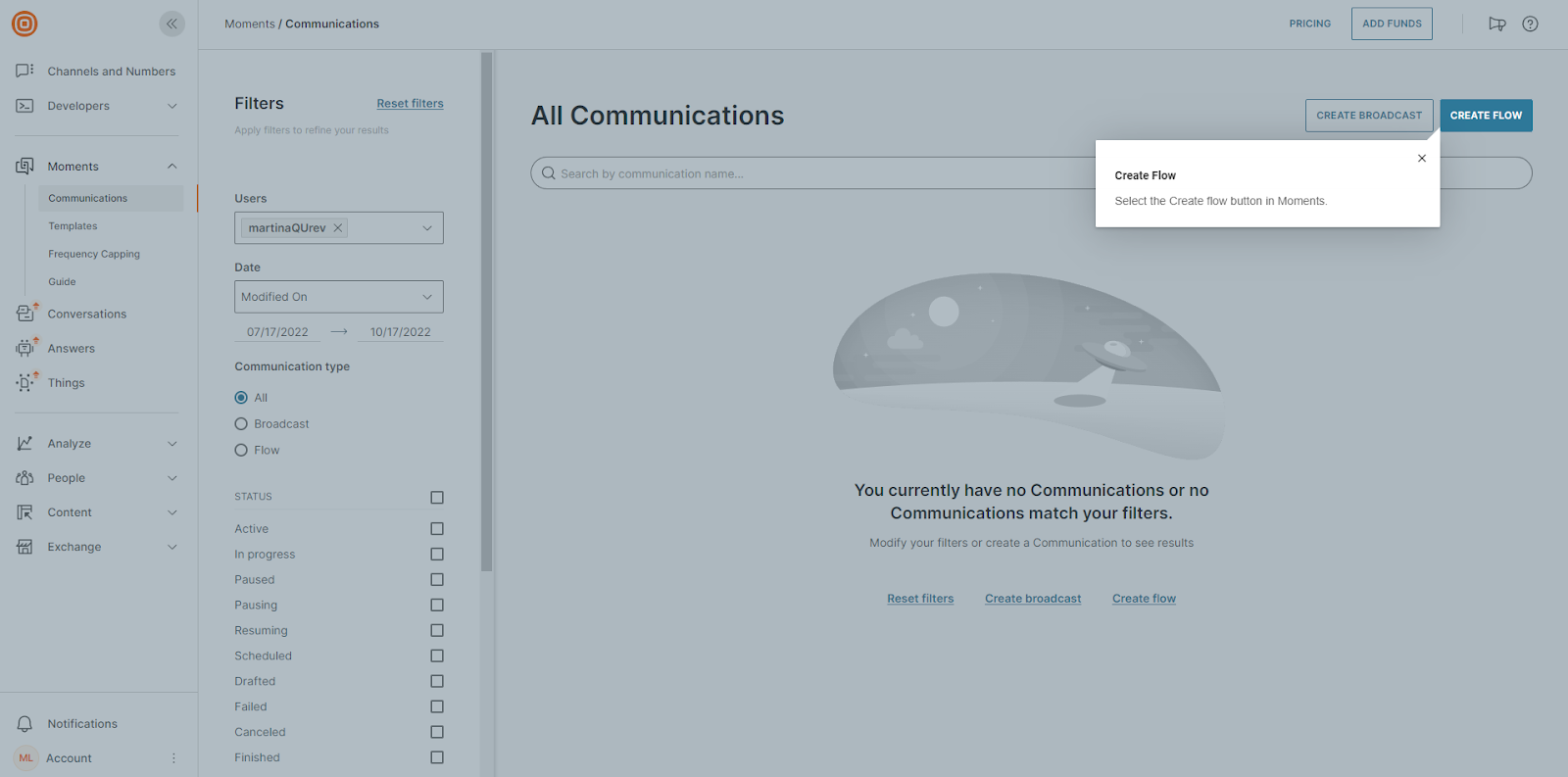 Continue by clicking on the Create flow button and then on Start from scratch.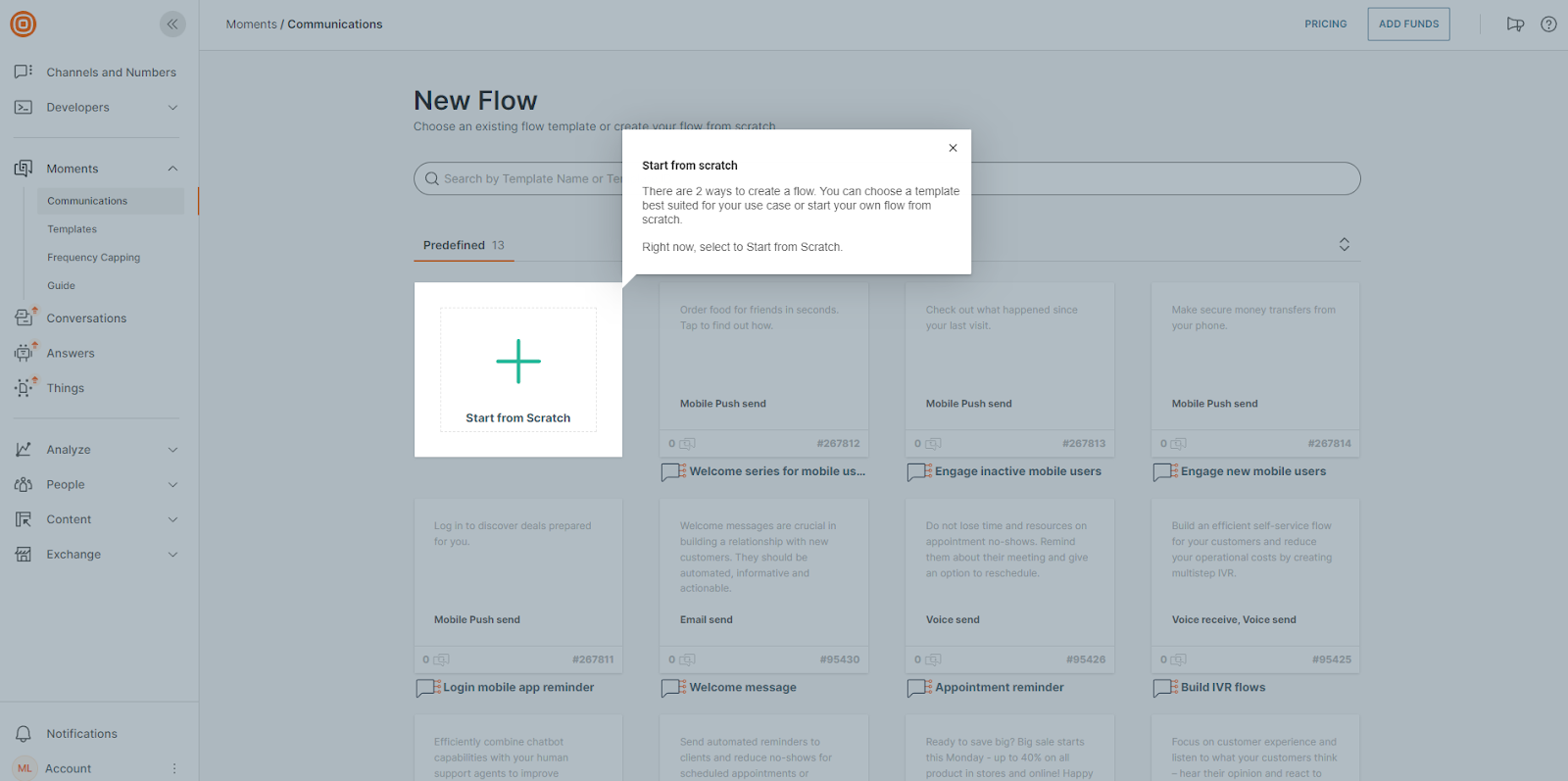 After that, you'll have a few trigger options to choose from. To create a phone tree, click on the Inbound Call tile.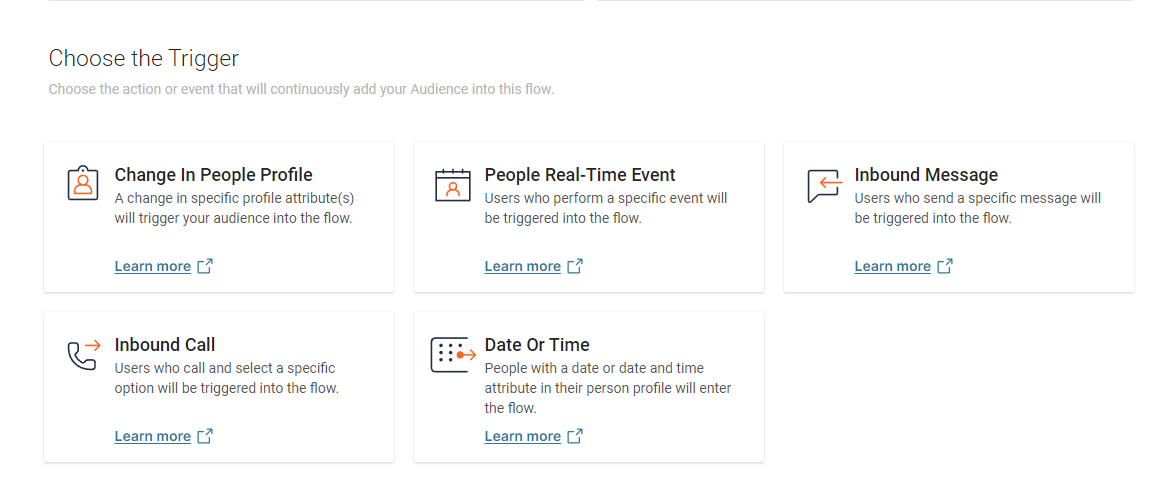 Now, you can start playing around with the IVR function. The Infobip user interface is very clean and intuitive, so even a new user will not feel overwhelmed.
You can use text-to-speech or pre-recorded audio files to answer an inbound call automatically with a message. You can just upload an audio file to the software directly from your computer. To customize the text-to-speech message, you can choose from multiple voice options. Other than that, you can configure speech rate, pause duration, and more.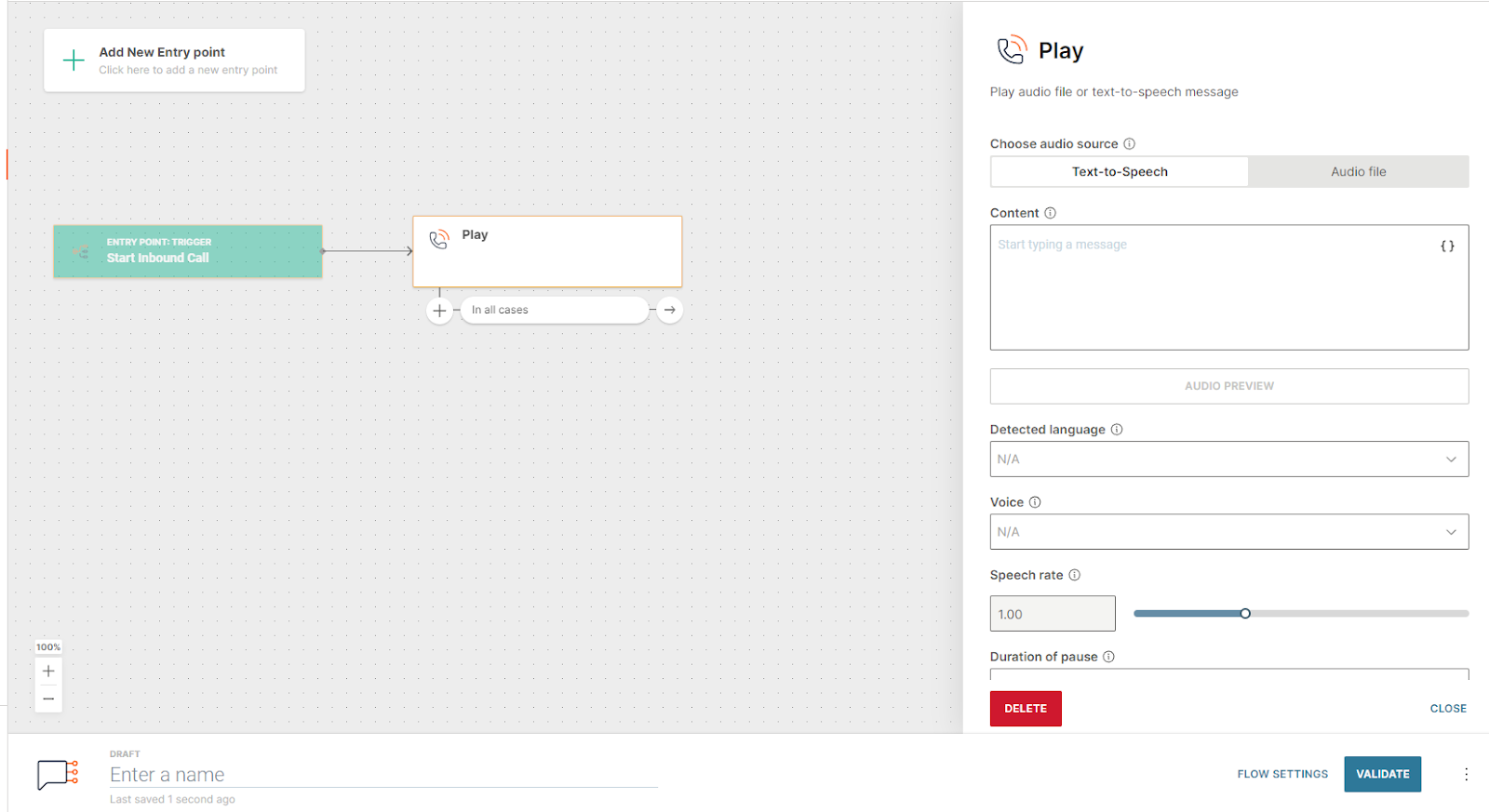 Infobip allows you to set up very simple call trees as well as more complex flows. You can add other communication channels to your branches like SMS, email, and Whatsapp messenger. This way, Infobip creates a multichannel experience for you and your customers.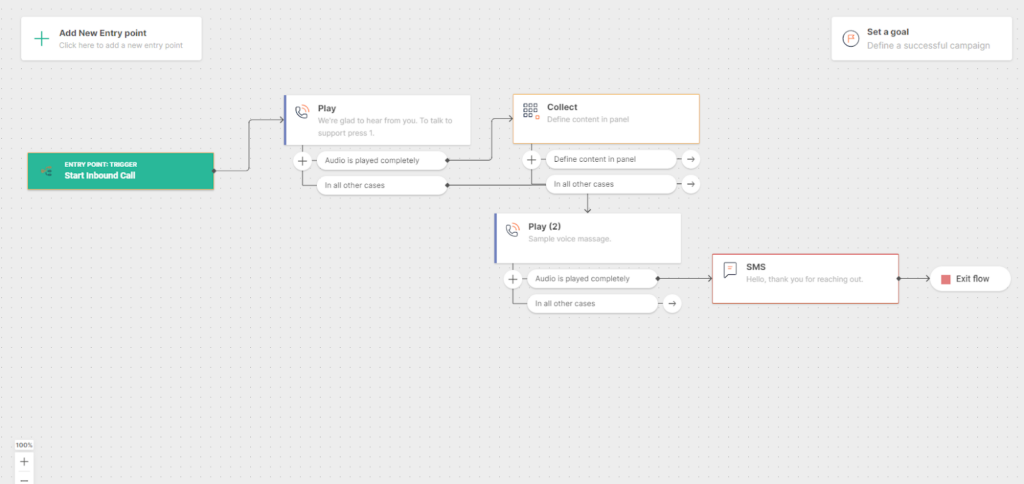 What I like about this software is the sheer amount of options it offers. You can set up trackable goals for your IVR system, or configure it to collect and store data about the digits that users enter.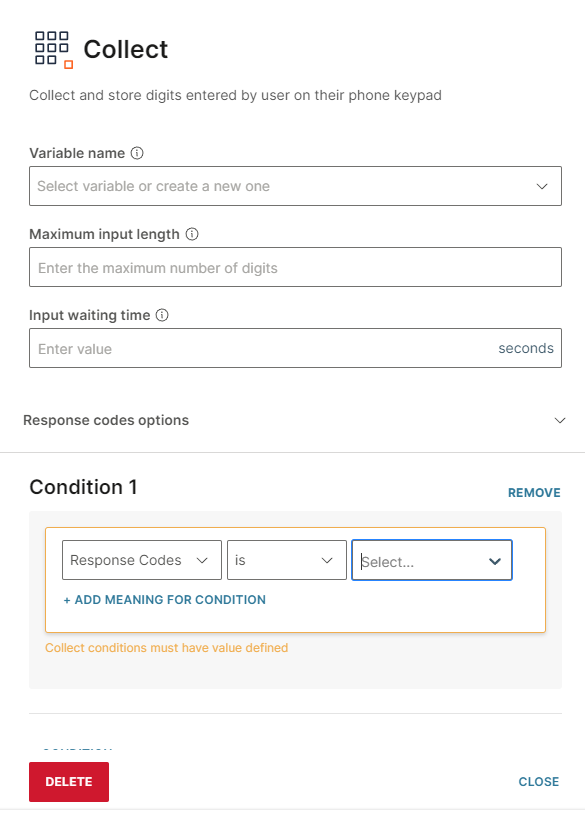 There are many advanced options you can configure to create an intricate and highly customized flow. Depending on your business needs, your IVR can be as bare as bones or as complex as you wish.
How does the IVR perform?
Despite the first steps to setting up call trees being a little frustrating, the functionality performs well. Infobip is known for its reliability, so I wasn't surprised that everything worked smoothly and without hiccups. This software lets you play around with the configuration so you can get everything you need. Even the more advanced options are accessible to users without much technical knowledge. And, even if you get lost or confused, the Infobip documentation page is easy to navigate and offers many articles and how-to's to help you along the way.
Pricing
Infobip's pricing is mostly custom. Finding the prices of their base subscription packages is possible only once you have a free account. Infobip has three pricing options – Moments, Conversations, and Answers. To use the IVR feature, you will need the Moments package which starts at €499 per month. To get a custom plan, you can contact their customer support or sales team.
Conclusion
To summarize Infobip's IVR feature, the word 'functional' comes to mind. It's highly configurable while remaining accessible to all types of users. With the user-friendly interface and simple drop-down menus, you will not feel intimidated even if it's your first time setting up a call tree. The choice of multiple communication channels enables you to create a truly multichannel experience for your clients. Moreover, you can set up tracking directly in the IVR so your call center will always stay on top of its KPIs. Despite minor inconveniences, Infobip is an amazing software for both small businesses looking to set up a contact center, and large industry leaders who need to automate and streamline their processes.