Key takeaways
Pros
Easy to create IVR levels
Advanced options
Easy to use once you get the hang of it
Pricing and a free plan
Cons
User interface is hard to navigate
Outdated guides
Bitrix24 IVR is a great performer, although it might take you a while to get used to navigating this feature-rich solution. Finding the IVR settings may take a minute, but you can be sure that once you do, the setup will be user-friendly and the features will perform as intended. Bitrix24 is great, especially when considering it's more than fair priced and has a free plan available without any payment information necessary.
Getting started with Bitrix24 IVR feature
Getting started with Bitrix24 in general is an easy task that requires you to complete your free registration. After you confirm the email, you will get access to your workspace immediately. The entire process was swift and didn't involve any long waits. When you get access to the Bitrix24 app, you can start browsing in the extensive menu. Bitrix24 comes with a web application, as well as a downloadable application for your computer. I used the web application for this test.
The menu could be confusing for new users, since there are many icons with no visible descriptions until they hover their mouse over them. The web application also has a search widget and the option to rearrange or hide menu icons, which makes the workflow slightly easier. It took me a while to learn where to find the option to create IVR in Bitrix24. The application has an integrated help guide, but it was outdated and therefore not helpful.
The menu in the guide looked very different from the application I used at the time of writing this review. For those who are interested in where to find the IVR settings in Bitrix24, go to CRM in the left menu, select Add-ons from the top menu, click on Telephony, proceed to click on Configure Telephony, and finally, select Voice menu and Add menu.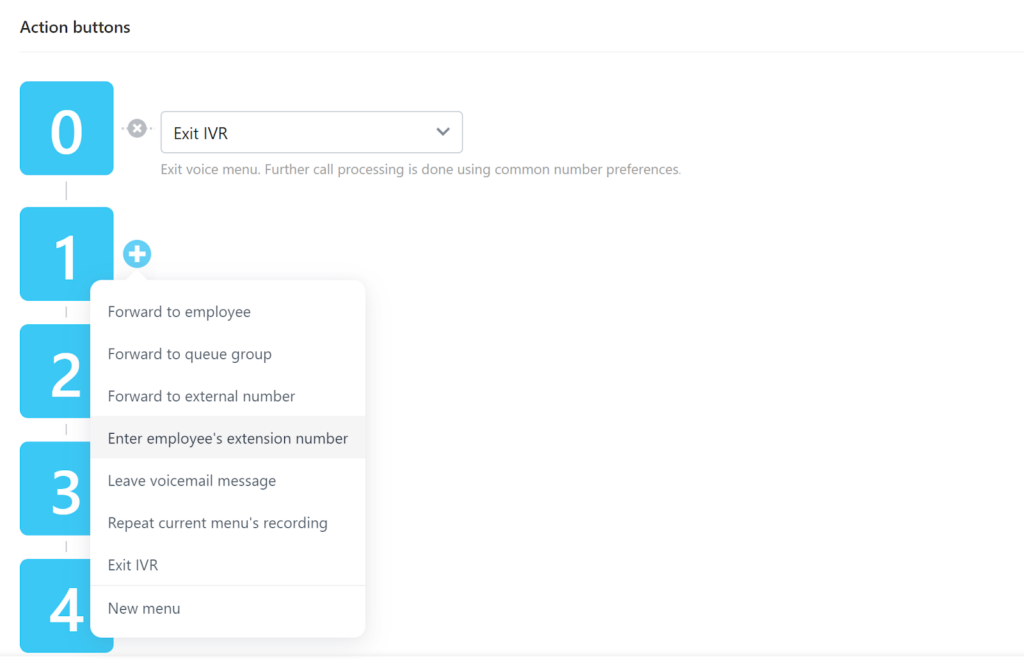 The creation process of Interactive Voice Response is not difficult and is pretty straightforward. Bitrix24 offers many customization options, which is always a good thing for users who want to be specific in how they want their IVR to perform. At the top, you have the option to write a text for the text-to-speech option, or you can upload your own audio file. This recording will play when a caller gets connected to the IVR.
The creation doesn't involve a UI design-like process, but rather the option to select what action each of the numbers on the caller's dialpad will perform. You have the standard selection of forwarding numbers, directing them to other users, and more. Overall, the process is very simple and takes a short amount of time to finish if you're familiar with IVR systems.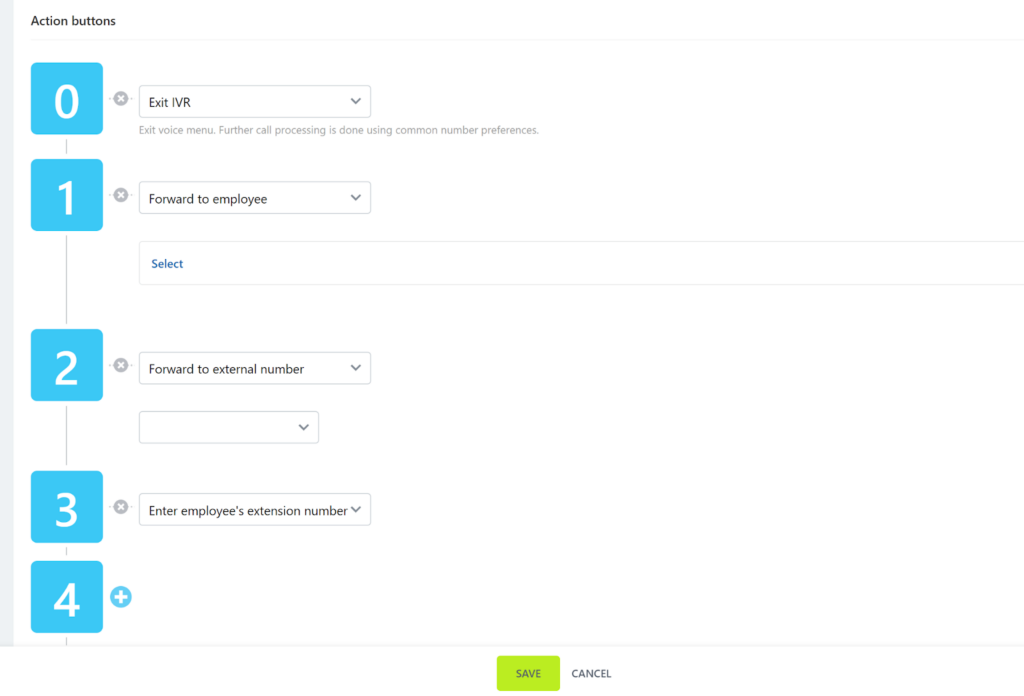 When you're done with your IVR setup, simply click Save. Now, to apply your IVR, you need to connect it to a number. Go to Telephony > Connection > Configure numbers > select a number/PBX, and enable Voice menu in the inbound call routing section. That's it, your IVR is connected after these steps.
How does the IVR perform?
Luckily, calling with Bitrix24's IVR is easy and everything works just as intended when creating your IVR. I did a couple of test calls and didn't encounter any trouble with the IVR performance. The IVR itself is as good as you make it to be, Bitrix24 won't stand in your way. There were no bugs or any other problems present during any of my test calls.
Overall, your callers can expect and experience the usual IVR experience that smoothly connects them to the right departments. Whether you prefer a text-to-speech voice or your own recordings, the overall experience is solid and I have no major complaints.
Pricing
Now, the pricing of Bitrix24 is definitely one of its highlights. Instead of paying as you go, you get to choose one of the pricing plans. This pricing is limited only by the number of features and storage space. The best part is that Bitrix24 also comes with a free plan, which means you don't have to pay huge amounts of money for getting an IVR feature.
Free plan
The free plan offers 5GB of storage, as well as access to collaboration features, tasks & projects, CRM, drive, contact center, and a website builder. It offers great value and functionality for a free solution.
Basic plan
The basic plan includes 24GB of storage, consists of every feature from the free plan, and adds the ability to create and manage an online store. It costs $49 per month for 5 users.
Standard plan
The standard plan offers 100GB of storage, every feature from previous two plans, and adds marketing and online documents features. It costs $99 per month for 50 users.
Professional plan
The professional plan offers 1024GB of storage, every feature from the previous plans, and adds new features such as sales intelligence, automation, and HR. It costs $199 per month for 100 users.
Conclusion
Bitrix24's IVR works great, but overall the solution can be difficult to use for completely new users. However, this should not stop you from considering it as your dedicated IVR software. Bitrix24 has fair pricing, great features, and works like a dream when you take the time to learn how to use it. It's a strong contender for any call center.
Frequently Asked Questions
I can't find the IVR option in Bitrix24

Bitrix24 is a complex solution with many tools and features, so don't worry if finding the IVR seems difficult. Go to CRM in the left navigation menu, and then select Add-ons from the top menu. Click on Telephony and then Configure Telephony. Select Voice menu and finally Add menu. This is where you can start building your IVR. If you still can't find the IVR option, make sure to double-check if you have the correct plan that allows IVR.

I don't know how to connect IVR to a specific number in Bitrix24

You need to enable Voice menu for each number separately if you want to use one of your IVR flows. Go to Telephony > Connection > Configure numbers. Then select a number/PBX and in the inbound call routing section click on the enable Voice menu.