Key takeaways
Pros
One of the easiest IVR features to set up
Great interface that's easy to navigate
It's cheap and the IVR is included in the basic plan
Cons
It might be difficult to create elaborate IVR trees
Aircall's IVR is an undeniably strong contender with very few weaknesses. It's incredibly easy to plan, create, and implement your IVRs, and it's relatively cheaper than most IVR software out there. Aircall also surprises its users with its text-to-speech customization options. A small problem arises when building more elaborate IVRs, and therefore, points towards a weakness in Aircall's flexibility. However, this shouldn't stop most users from utilizing Aircall effectively as it's a minor problem in an otherwise amazing IVR software.
Getting started with Aircall IVR feature
Starting with Aircall is quick and easy. When you sign up for a trial, you get to pick the plan you want to try out. The whole registration process is quite swift, as expected. Once you get to your dashboard, you will be welcomed by a pleasant-looking interface that's very easy to navigate. The best part is, the IVR setup is available right at the welcome screen so you don't have to do any searching in the Aircall configuration.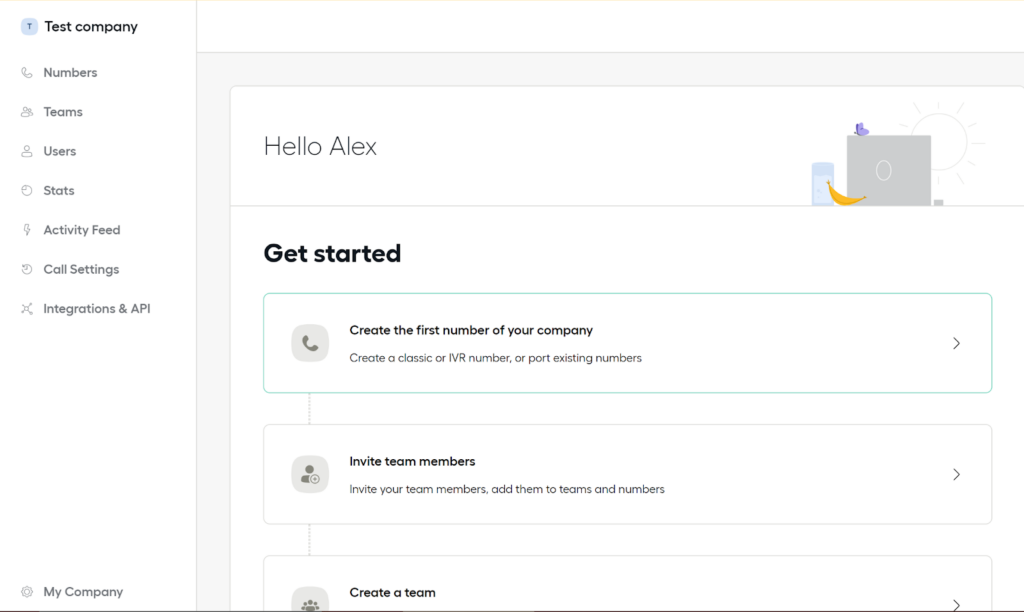 Creating an IVR is tied to creating a new number. Once you click on Create a new number, you get to choose if you want a classic number or an IVR number. Aircall has an incredibly easy and intuitive setup that's easy to understand right from the start. The planning is visually represented by a UI-design-like interface, where you can clearly see each level and its respective action.
However, things get slightly complicated when you want to create a more elaborate multi-level IVR, as there's no way to route calls further after selecting the first routing. While most businesses will probably want to keep their IVRs simple to ensure a speedy connection between customers and representatives, in some cases there is no other option but to create an elaborate IVR.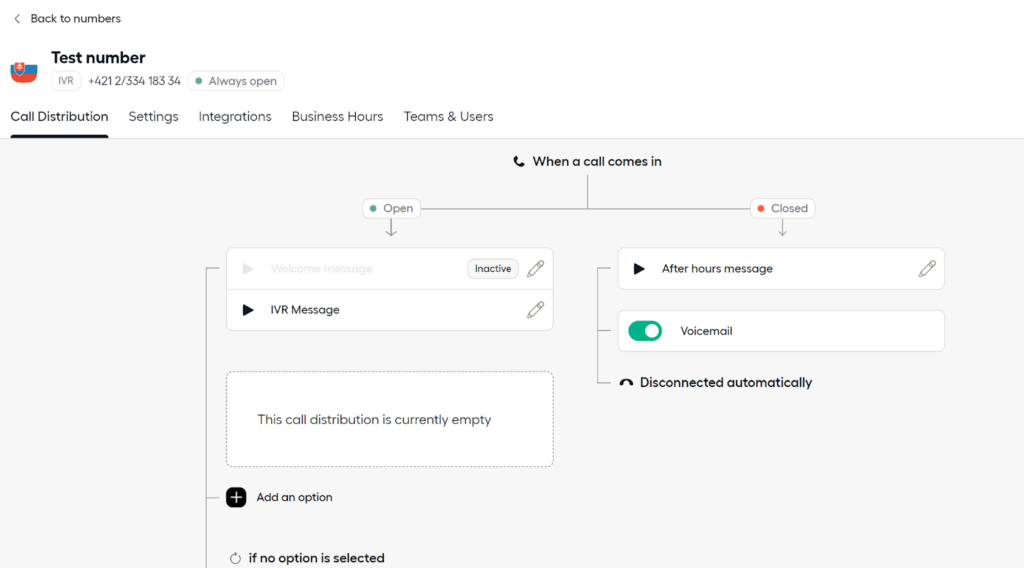 The IVR customization options are simply great. You have the option to add a custom file, as well as the choice between a large number of text-to-speech voices. There are even multiple language options with appropriate accents, including multiple English accents to choose from. You can write your own messages and listen to them before you choose which one is the best fit.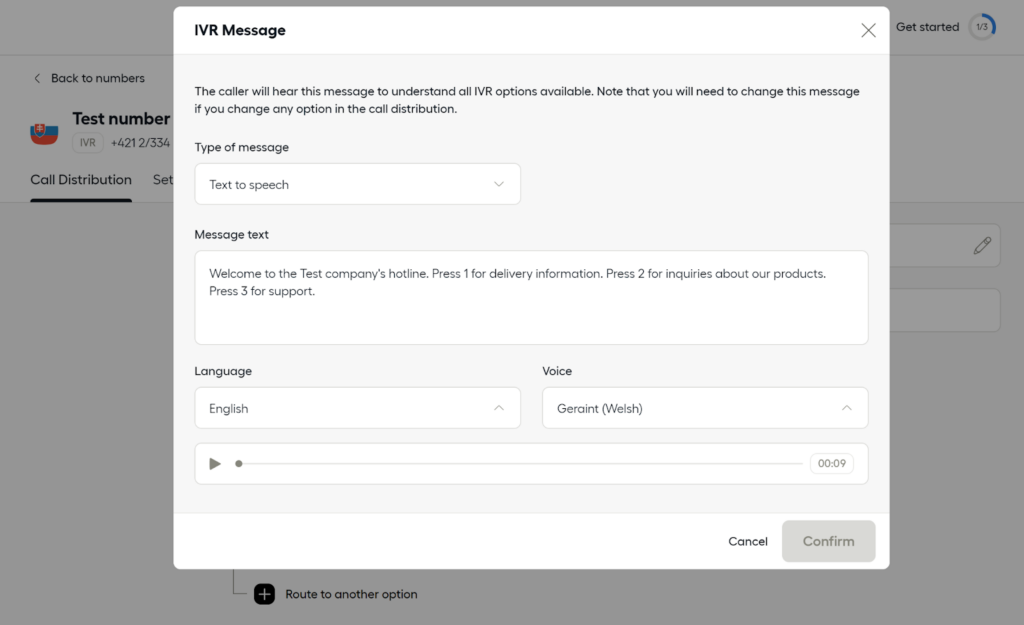 How does the IVR perform?
The Aircall IVR performs as intended and without hiccups. The addition of a custom text-to-speech voice recording makes the IVR seem more professional, while the text-to-speech options help create the feel of an international call center. The entire setup worked without any bugs or problems, just like with most modern IVRs. Aircall's performance is simply great, and if your experience is anything like mine, you shouldn't run into any major problems.
Pricing
Aircall comes with very affordable pricing, and fortunately the IVR is available even in its most basic plan. There is also a free trial available for each of these plans, so you can try them out before you buy. Let's take a look at what you get with Aircall.
Essentials
The Essentials Plan starts at $30 per month per user, with three users minimum. Besides IVR, you get access to 50+ integrations and API, SMS functionality, essential telephony features like call recording and click-to-dial, unlimited simultaneous outbound calls, and more.
Professional
The Professional Plan starts at $50 per month per user, with three users minimum. You get everything from the previous plan, plus mandatory call tagging, advanced analytics and monitoring, advanced support features, advanced sales features, and more.
Custom
You can customize your plan and price for Aircall with their Custom Plan. It has a 10 user minimum. You get everything from the previous two plans, as well as new features like custom analytics, custom onboarding, access to API developer support, SLAs, and more.
Conclusion
Aircall offers probably one of the best IVRs out there for a fair price. The setup is incredibly easy; it offers some great customization options and can be finished literally in a couple of minutes. There are very few things that Aircall does wrong, and its IVR feature is very close to being perfect. While users who are trying to build elaborate IVR trees can be a little disappointed, anyone who doesn't require this functionality will be more than satisfied with what Aircall has to offer.