Key takeaways
Pros
Easy to manage as an admin
Nice extent of customization
Helpful instructions
Cons
not included in the free plan
no animations such as sounds when completing points-worthy tasks
the option is difficult to find in the settings, you have to search for it using the search bar
Freshdesk setup and implementation
Before you can use Freshdesk's gamification, you need to register. Getting started with Freshdesk's chat support software is a straightforward process. First, you'll have to sign up for an account and choose the plan that best fits your needs. Once you've created your account, you can start customizing your chat widget to match your brand's look and feel.
Then, you'll need to add chat agents to your account. Otherwise, who would you make the gamification for? Doing that is easy. All you have to provide is the email address of the agent and they will be invited to your team.
As soon as that's done, the next step is to enable the Freshdesk Support Desk Arcade in the settings and the real fun can begin.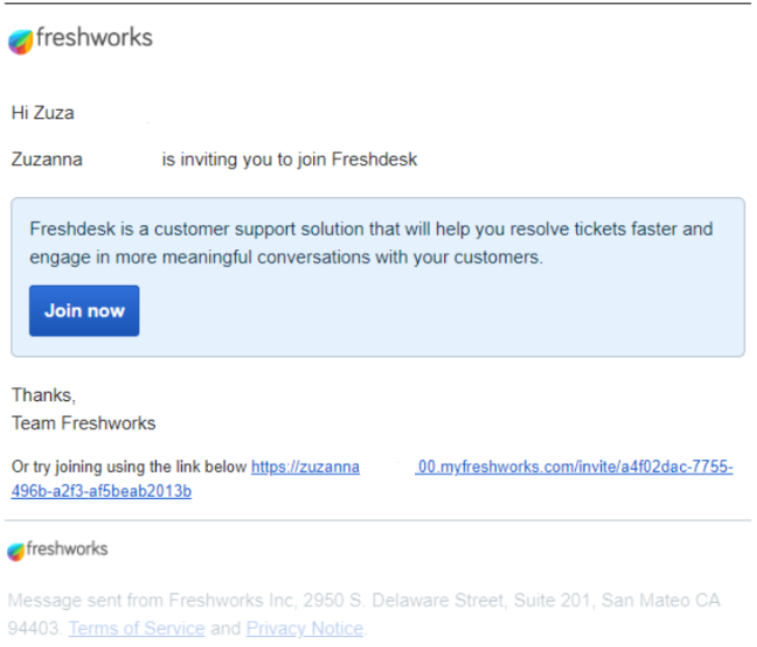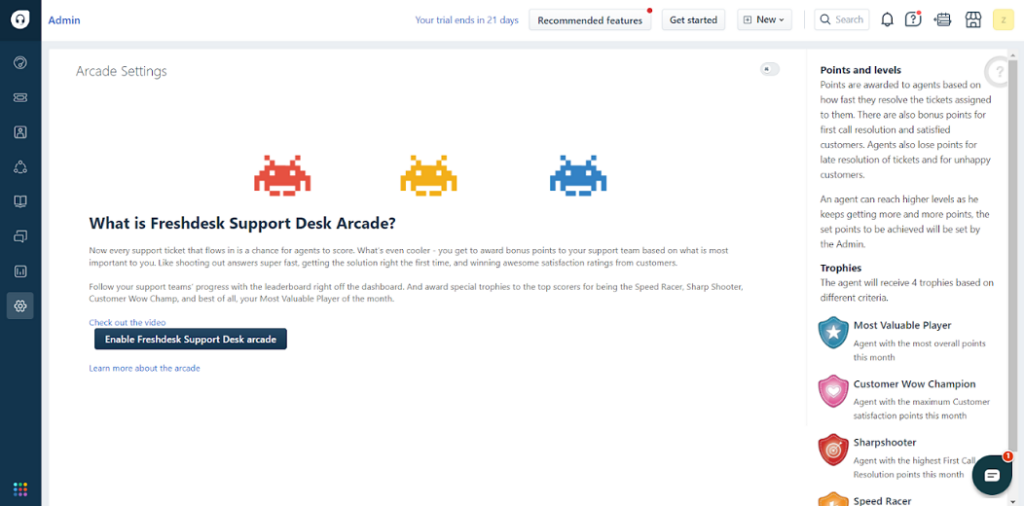 Gamification features in Freshdesk
When all your support team is sorted and ready to work, why not add a bit of fun to the whole process of customer service? This is where Freshdesk's gamification features come into play.
The Freshdesk Support Desk Arcade can be accessed for the following subscription plans:
Freshdesk Support Desk: Growth, Pro, Enterprise,
Omnichannel plans: Growth Omnichannel, Pro Omnichannel, Enterprise Omnichannel
Let's take a look at the gamification type you get access to.
Trophies
In my experience with Freshdesk gamification features, I found that there are four distinct trophies awarded to agents based on their performance metrics. The first is the Most Valuable Player trophy, which is given to the agent with the highest overall points for the current month. The second trophy is the Customer 'Wow' Champion, which is awarded to the agent with the maximum Customer Satisfaction points for the month. The third trophy, called the Sharpshooter, is given to the agent with the highest First Call Resolution points for the month, indicating they have been able to solve tickets with only one interaction. The fourth trophy, the Speed Racer, goes to the agent with the maximum points for Fast Resolution, acknowledging their ability to resolve tickets in under an hour. What's great about this system is that the leaderboard is reset on the first of every month, giving everyone a fresh start. As an agent, you can view the names of those currently leading the leaderboard directly from the dashboard.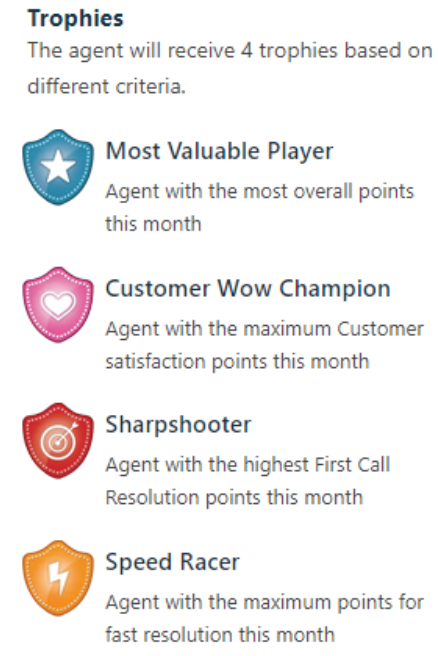 Levels
Another one of the aspects that I found particularly helpful is the leveling system. As agents earn points for resolving tickets and other related helpdesk activities, they can climb up the ladder of rankings. The higher the score, the better the rank, and the closer an agent gets to becoming a top-ranked customer support champion. What I appreciate about this feature is that it allows the admin to set the bar and define the number of points an agent needs to achieve to reach a particular level. This creates a clear and defined path for agents to follow, providing them with a sense of direction and motivation. As an agent, I found that this system incentivizes people to work harder and strive for higher scores, ultimately leading to improved customer service and better outcomes.
Quests
With quests, you can set performance goals for your support agents and align them with your business objectives. These quests will drive your agents to perform activities that benefit your brand and take their customer support skills to the next level. But that's not all! By completing quests, your agents can earn bonus points and unique badges that will be displayed on their profiles, showing off their achievements. Plus, completing tasks will improve their chances of winning monthly trophies and reaching new heights in the agent leaderboard.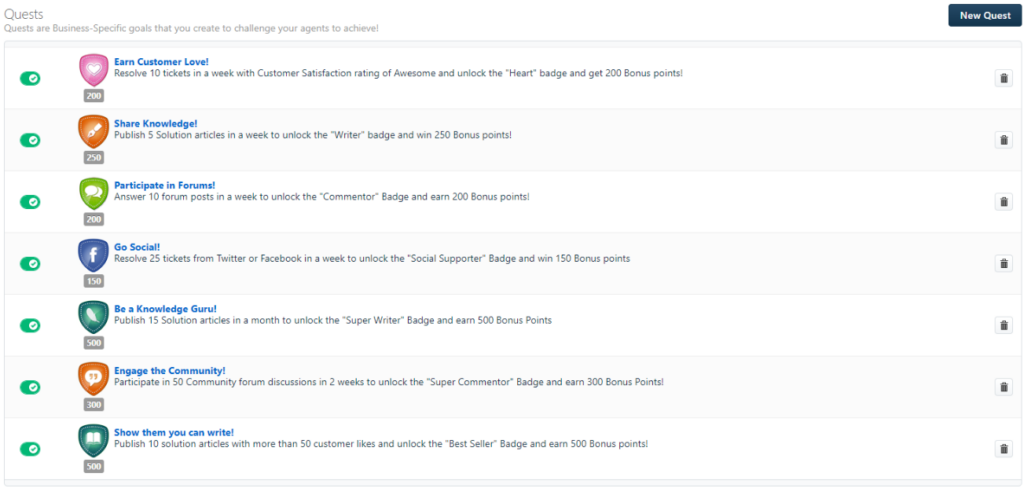 Freshdesk gamification features in action
After you set up gamification rules according to your preferences, Freshdesk will start tracking required data based on the criteria you set. You don't need to do anything else besides setting up the system. Agents receive points or badges when they meet certain conditions – everything is done automatically.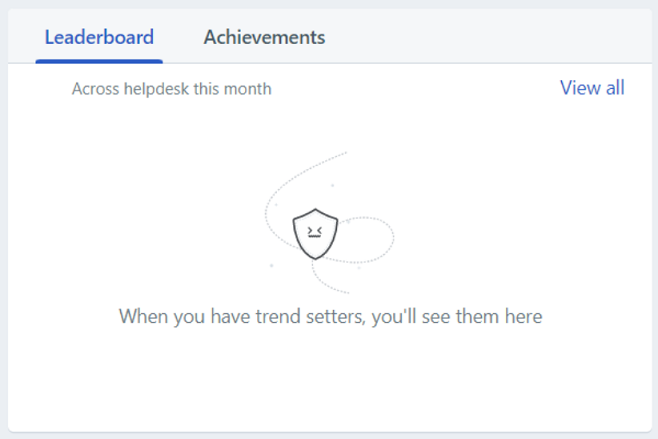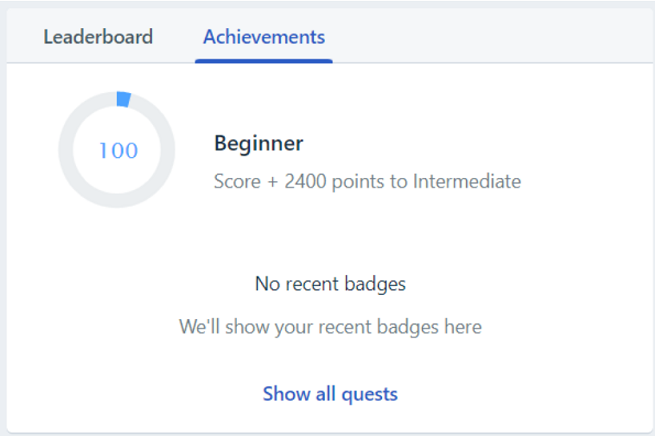 All statistics are visible in each agent's dashboard in the center of the dashboard. You can see them under the "leaderboard" and "achievements" names, where you can select to show your stats for a particular time period as well.
Usefulness of Freshdesk gamification features
The gamification features available in Freshdesk can be highly beneficial. They offer a great deal of flexibility to admins to personalize the user experience according to their preferences. This allows them to tap into their creativity and tailor the experience for optimal outcomes. Moreover, the badges and levels system can foster an atmosphere where agents can thrive with positive reinforcement rather than just relying on competition. This setup also enables everyone to identify the top-performing agents easily.
Conclusion
Freshdesk's gamification is a feature that adds game-like elements to the customer support process. It uses points, badges, and trophies to motivate agents to perform better and improve customer satisfaction. With Freshdesk gamification, customer support can be turned into a fun and engaging activity, increasing agent morale and productivity while also enhancing the customer experience.