Key takeaways
Pros
Great functionality without bugs
Easy navigation
Good email management features
Quick setup
Cons
Some users might prefer more advanced features
It can get expensive
Getting started with Zendesk email management software features
Zendesk offers a free trial version which gives you access to all necessary email management software features. The registration process requires you to confirm your trial registration via an email link. After that, you can specify your trial experience and select how many users you need, as well as what tools you want to focus on. You can skip this section, but I recommend you complete it as it can make a difference at the beginning of your use.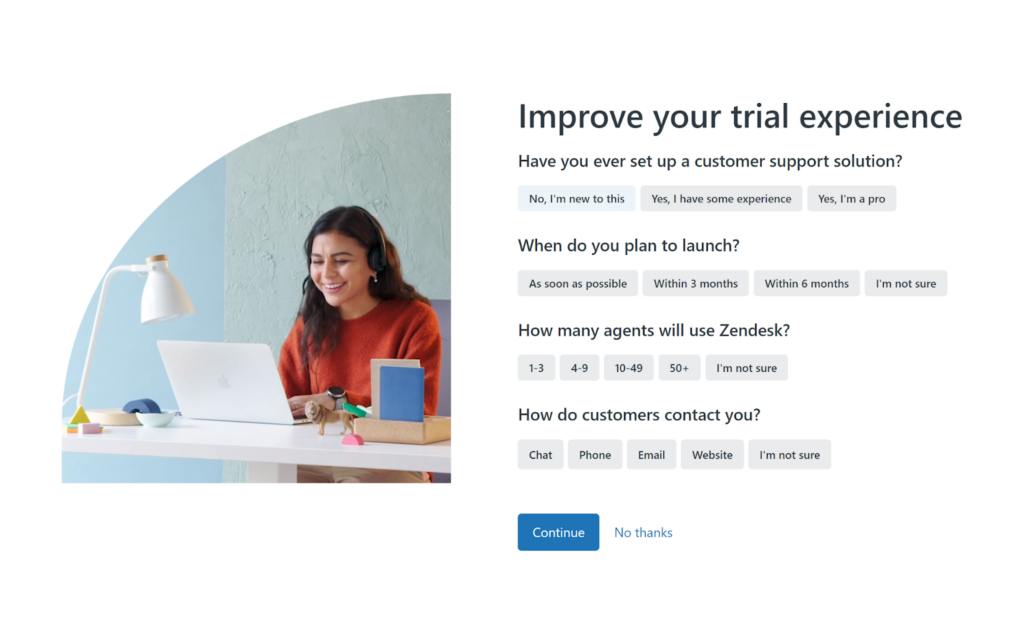 Once you're done with this setup, you can start exploring the Zendesk interface. When you access Zendesk for the first time, the main screen offers a selection of guides that can help you get familiar with the rich feature set. The guides show you how to use each functionality and how to set them up. You can engage with a tutorial for setting up your ticketing system, which is a huge part of Zendesk's email management functionality. Since I'm already a bit familiar with Zendesk, I decided to skip it for now and progress naturally.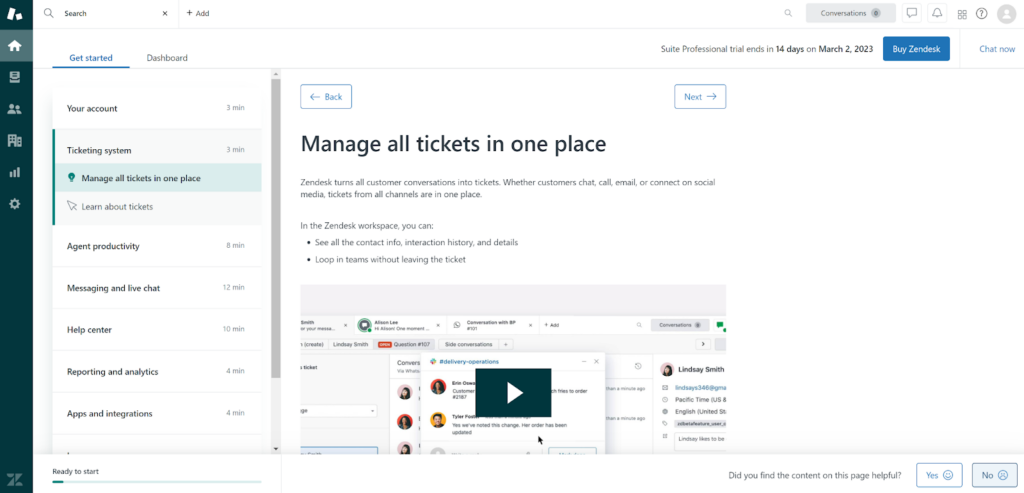 While Zendesk creates a dedicated email address for you, you can always add more email accounts into the system. You can access the Admin Center by clicking on the cogwheel icon in the left menu, which will take you to the settings. Access the Channels section and you'll be able to find the email settings.
You have the option to create more Zendesk addresses or connect external email accounts. Note that Zendesk also adds the email address you used during your registration. This section also allows you to customize your email settings to improve your user experience.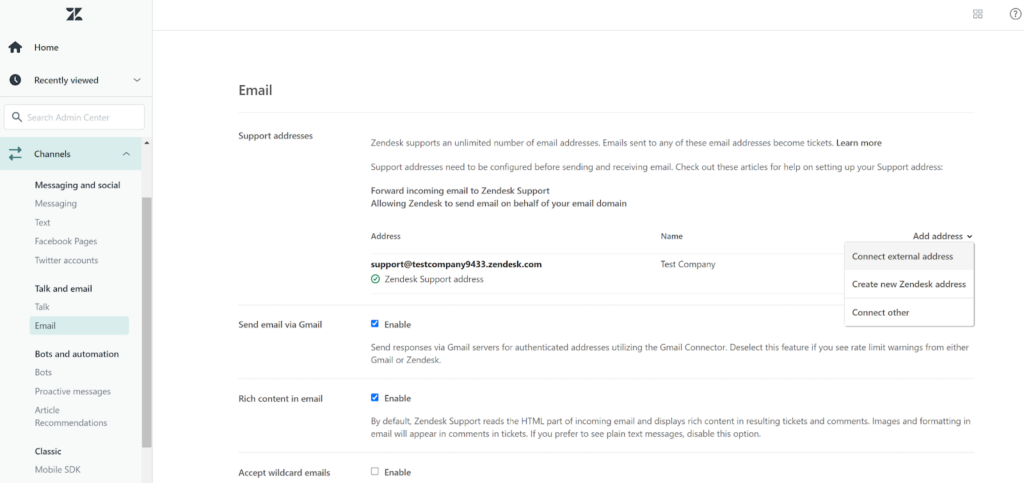 Zendesk requires you to set up email forwarding from your existing email account if you're not using Gmail. This section of the setup offers step-by-step instructions on how to do so, but the information is very general and your best bet is to search for a specific guide for your email account elsewhere. This process, however, shouldn't be difficult in most cases and you should be done quickly unless you're using an outdated email service.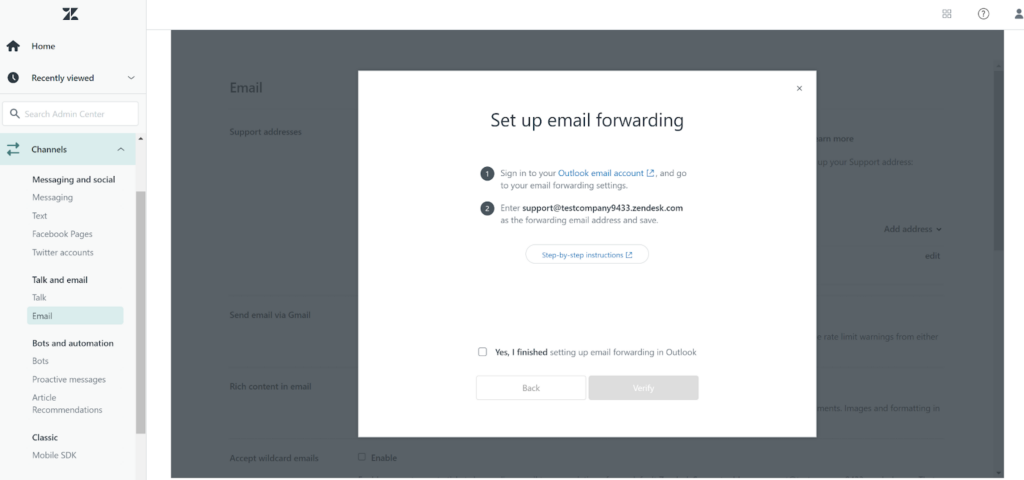 Once you add your email addresses and set up forwarding, you should be all set. I didn't play around with the ticketing or the email settings, since I didn't deem it necessary, but you can do so at any time. Before we get to the testing, let's take a look at what email management features you can expect in Zendesk.
Zendesk email management features
Zendesk offers a staggering amount of functionalities for various use cases; many of them also apply to email management. You can manage emails with unlimited addresses and use contact forms in any subscription plan. All ticket file attachment size limits are set at 50MB. One of the plans gives you automatic email archiving features. Furthermore, you can utilize answer bots to handle certain tasks and create new workflows.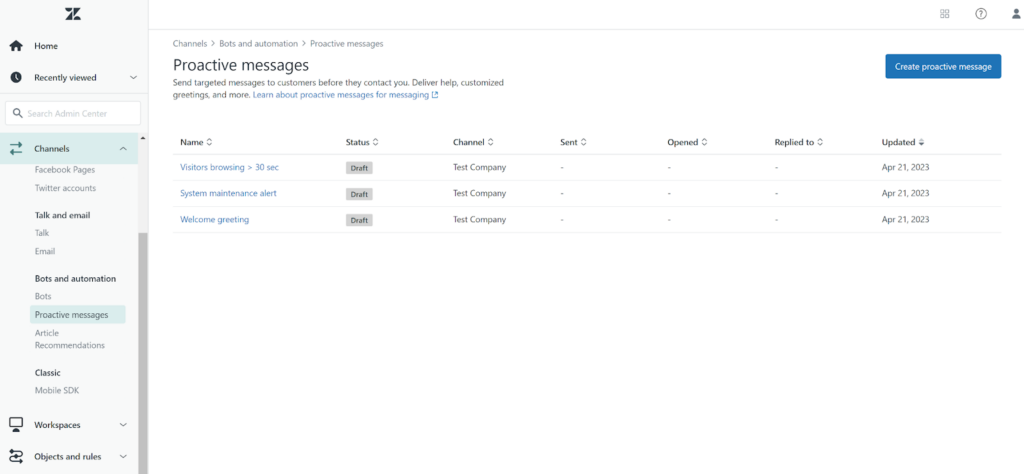 Zendesk also offers a fully translated interface and advanced contact management features. You can utilize customer satisfaction ratings and follow-up surveys. The email management features also include sharing and forwarding tickets between multiple accounts, conditional ticket fields, and multiple ticket forms. The inbox is hybrid, meaning you can also use other channels besides email and see all messages in one place. Zendesk supports predefined answers, as well as custom business rules and reporting.
Working with Zendesk email management software features
Working with Zendesk is intuitive and easy. I sent myself a couple of test emails to test the performance of the system. All emails arrived fairly quickly and there were no long waiting periods present. Zendesk also immediately sends an automatic reply to the sender, informing them that the email message has been received. However, Zendesk doesn't seem to send any sort of notification that would inform you about new messages. The only way I was able to find out about new messages was by visiting the ticketing system.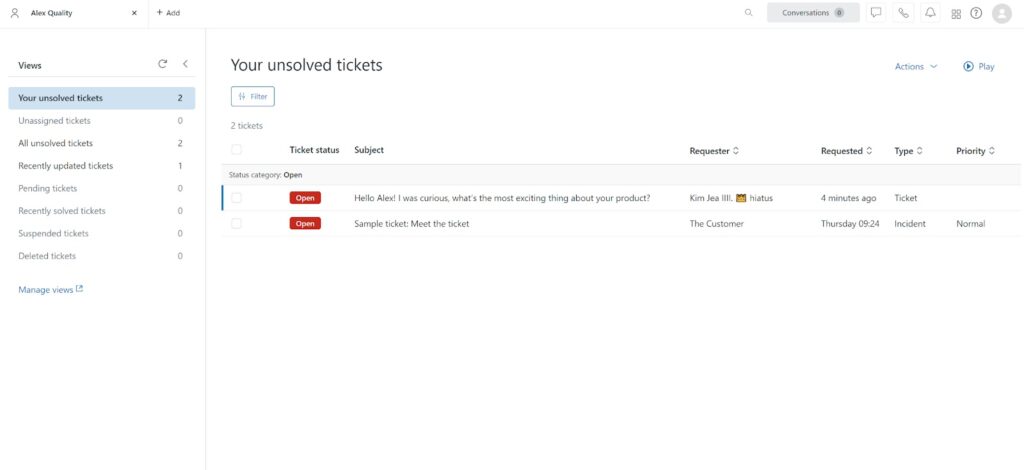 Zendesk has a ticket tab feature, which means that you can quickly switch between open conversations without searching in the inbox. It's pretty neat, and even though this feature might seem standard, it's not always present in other email management software. After you open a ticket, the interface is pretty standard, and I'm saying that as a good thing. We have become accustomed to a certain email layout, so it could be very counterproductive to change it up just to add a wow factor. Zendesk does a good job with the interface.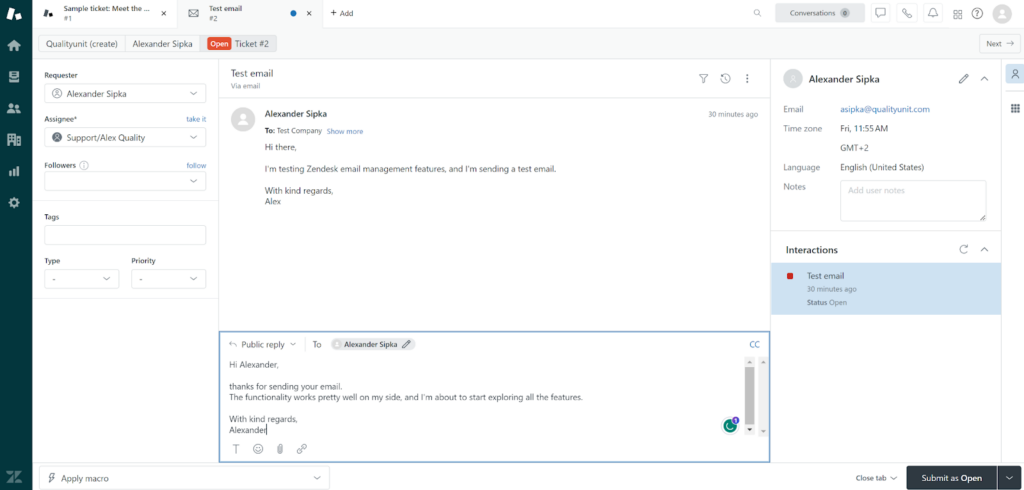 The reply field might be too small for longer emails, but it stretches out when your message reaches a certain length, so its functionality is good. Zendesk offers various features across the interface, making it easy to change the status of your emails and tickets, note customer data, or leave notes for other users, add attachments to emails, or apply predefined answers to your email communication.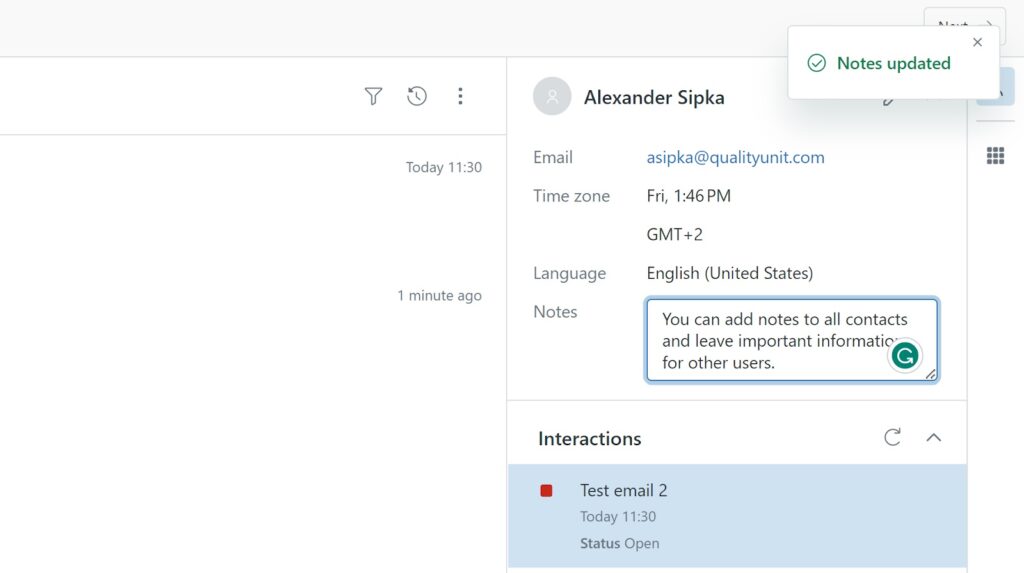 The inbox section lets you perform bulk actions. You can merge selected emails into one ticket, which is very useful if you have multiple emails from one contact with the same topic. You can also update tickets in bulk via the edit option. This feature lets you add tags in bulk, change priorities, types of emails, and more. The other two options include deleting emails and marking them as SPAM messages. Another mentionable feature is filtering, which makes it easier to sort through your inbox based on predefined criteria.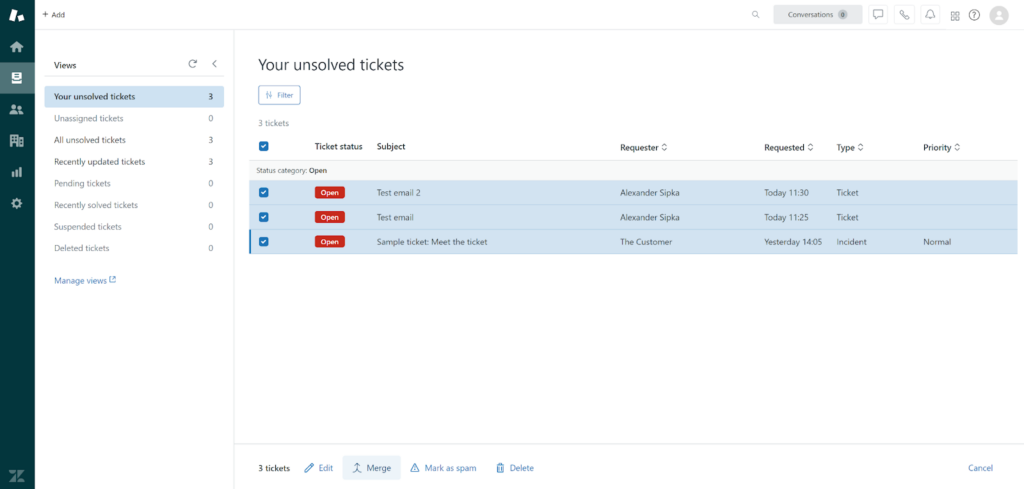 Overall, Zendesk offers pretty good email management features and it can double as a great email management software. The features are not overwhelming and they are easy to get familiar with, regardless of whether you're a newbie or an experienced user. Receiving and replying to emails works without any bugs or any other difficulties that could halt your workflow.
Zendesk email management features pricing
Zendesk is one of the solutions which offers numerous pricing options. They differ in feature sets and each of them is suitable for a different use case. Since we're only looking at Zendesk's email management features in this review, I'll present you with the plans which include this functionality.
Support Team
This plan costs $19 per month per agent. It offers a ticketing system that can be used for email management purposes, and you can also connect other communication channels, such as social media. You get all the email management features mentioned previously in this review, as well as access to business rules, customer details and history, routing based on agent status and capacity, and access to integrations and applications.
Support Professional
The Support Professional plan costs $49 per month per agent. You get all the features from the previous plan, and additions like skill-based routing, business hours, customer satisfaction surveys, and more.
Support Enterprise
This plan is the most expensive of the Support plan options. It costs $99 per month per agent. It gives you access to all features from the previous two plans and adds custom team roles and permissions, customizable workspaces, third-party data storage, a sandbox test environment, and more.
Conclusion
Zendesk is a great option for your email management needs, as it performs very well as software for email management. The features are sufficient and easy to use for any use case. You won't have trouble navigating the interface for the most part. However, Zendesk can get quite expensive if you decide to purchase one of the more extensive plans. So, if you're looking for a more cost-effective email management solution without compromising on features and usability, it may be worth exploring another Zendesk alternative.
Frequently Asked Questions
Recipients are not receiving emails sent from Zendesk.

First of all, try to contact your customers via other means and find out if your emails aren't ending up in their SPAM folders. Some email providers might have stricter rules for determining SPAM messages, and even non-SPAM emails can end up in the SPAM folder. If this is not the case, check your business rules and see if your triggers for sending emails are set up correctly. If your issue isn't related to any of these options, make sure to contact Zendesk support to help you troubleshoot.

I'm not receiving email tickets from my contacts.

The most likely problem is with your email forwarding. If it isn't set correctly, messages won't arrive in your Zendesk inbox. Double-check your forwarding settings and see if the issue can be fixed that way. If not, consider clearing the inbox which is supposed to forward emails to your Zendesk account. If it's full, the emails might not be delivered.