Key takeaways
Pros
Great functions and features
Design with easy navigation
Allows you to get creative with email text
Cons
You might overpay if you're not going to use other included apps
Microsoft tends to force you to upgrade
Getting started with Microsoft365 email management software features
Microsoft 365 is a software suite filled to the brim with office productivity applications, including email management software. This includes both the famous Microsoft Outlook application, as well as Microsoft Exchange (the latter's full name is Microsoft Exchange Server), which offers a dedicated email solution for businesses and schools that need to handle a larger number of email accounts. The basic functionality between Outlook and Exchange remains mostly the same concerning email management.
You can get started with email management software in multiple ways. First, you can opt for a free trial of the entire Microsoft 365, or buy a plan straight up. Secondly, you can opt for a free Outlook account, or purchase only the Microsoft Exchange Server plan. It's only up to you to decide which option is the best choice for your scenario.
The registration process is easy for either of them, and you can also start effectively using your Outlook desktop application. The application is automatically installed on all computers running Windows, and you can also create your account directly in it instead of via the web application.
For this review, I decided to use the web application. Once you access your account, you will be introduced to the inbox. The design is quite simple and sleek, and I have no complaints about it. The navigation is just as easy as in other email applications, so Microsoft 365 and Outlook are doing well in this regard.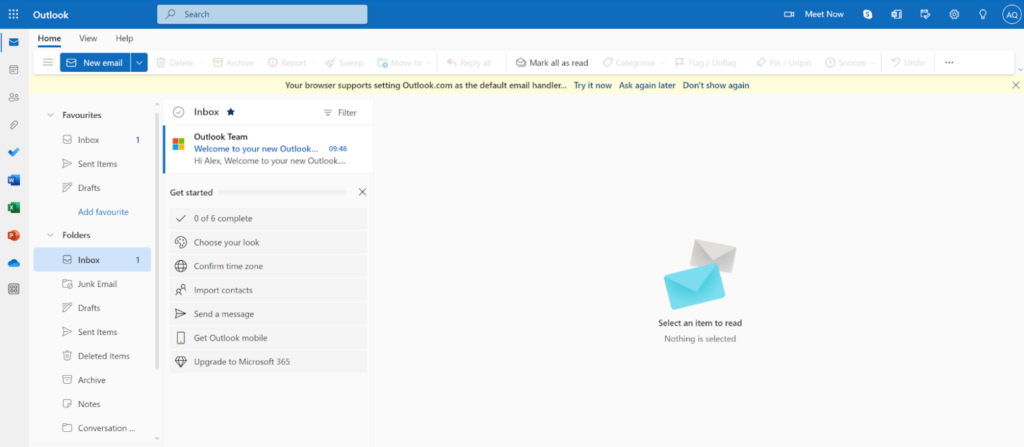 Contrary to popular belief, you can add more email accounts to your personal Outlook inbox even if you're using the basic, free version of Outlook. This option is available under the Sync email setting, where you can add additional "aliases" for your account. If you decide to use this, you can manage multiple email accounts from Outlook. This option is not restricted only to Microsoft email accounts; you can add emails from other providers as well.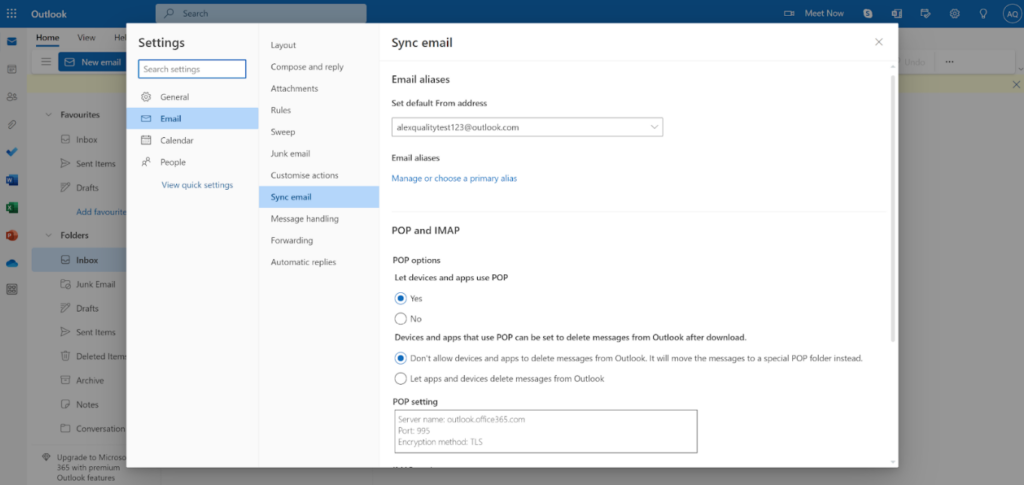 Adding mailboxes to your Microsoft Exchange account is a bit different, but Microsoft offers a plethora of online guides if you run into any trouble during this process. However, I think the implementation is fairly easy, regardless of which solution you decide to use, so you shouldn't worry about running into any trouble. Before we start with the testing part, let's review what types of features you can expect from Microsoft 365.
Microsoft365 email management features
Since Microsoft 365 is a very extensive solution with multiple applications, we'll take a look only at the email management features of the Outlook application. All apps are interconnected with a single Microsoft account, so some functionalities also translate to your email use. Microsoft 365 allows you to create a custom email address, so you don't have to be stuck with Outlook or Hotmail domain names. You can add your company name, or customize the address in any way you prefer.
All subscribers to Microsoft 365 get advanced email security for phishing and malware, as well as email encryption to ensure that your confidential information stays safe. Another feature is an ad-free interface. Even ad blockers cannot top this "feature", as Microsoft Outlook recognizes most, or all, ad blockers and decreases the storage size for users who utilize them. Last but not least, you get extra storage of 50GB for your emails and attachments. Besides that, Outlook supports parts of the Microsoft Office functionality and adopts them into the email functionality. You can write better with various text formatting options, or access other Microsoft apps straight from your email account.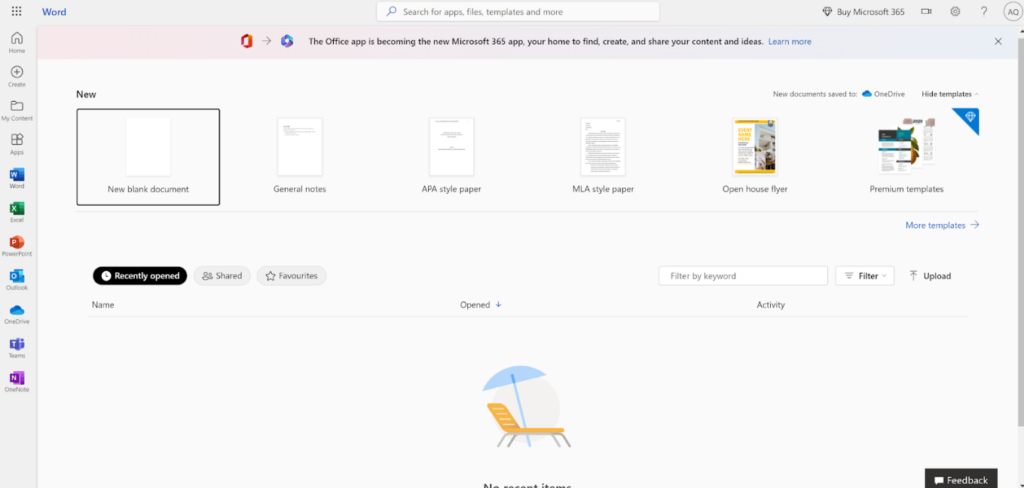 Working with Microsoft365 email management software features
To test out Microsoft 365's email management features and its Outlook functionality, I sent myself a couple of emails to see how it performs. Before we get to those, I think it's important to mention the getting started guide in the Outlook web app. Once you enter your inbox for the first time, the application invites you to try out some basic options to help you get familiar with the functionality. Since I'm already familiar with Outlook, I decided to skip this guide, but I did take a look at it and I recommend you engage with at least the first four steps if you're a new user.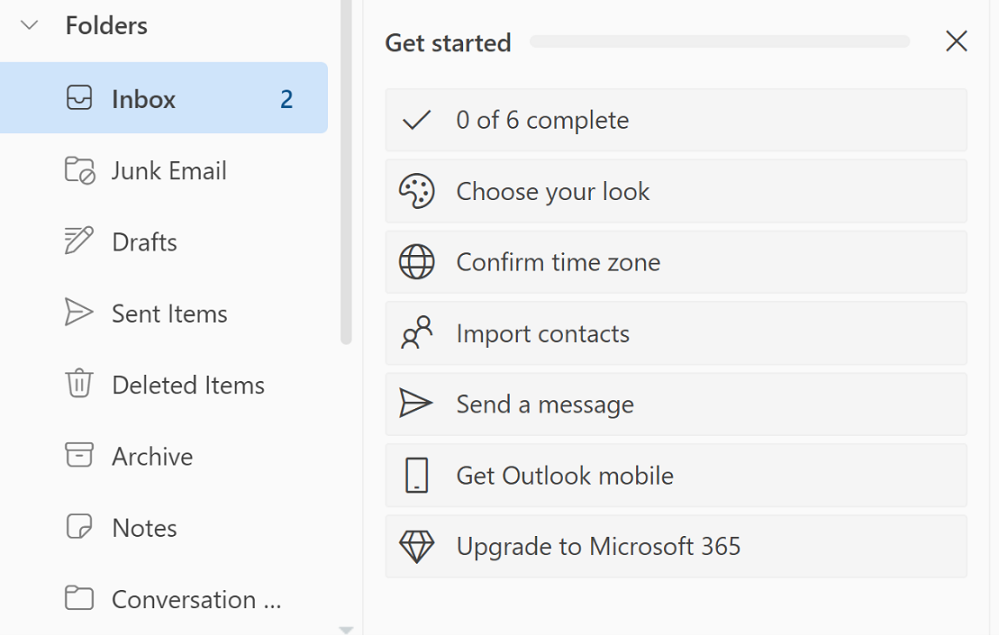 Since Microsoft 365's Outlook app is a dedicated email client application, you can expect a dedicated inbox that handles and sorts your communication automatically. All emails from untrustworthy email senders end up in the junk email folder, which can be easily accessed from the left menu panel. It's nice to see that Outlook placed this folder right under the main Inbox, as it's not that rare that even emails from trustworthy senders can end up in the wrong folder, regardless of which email service you use.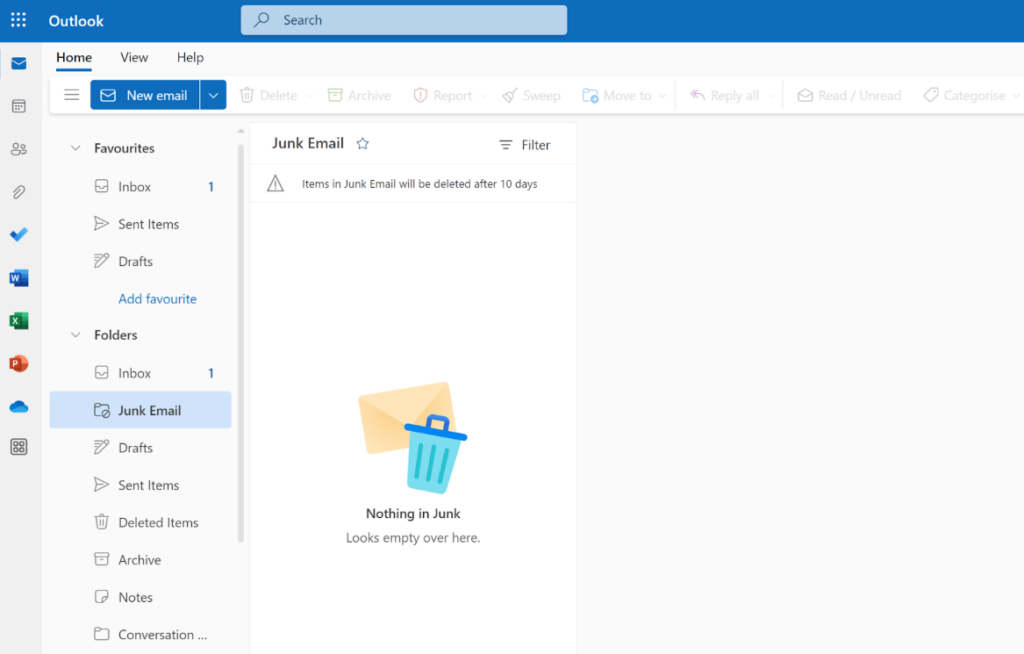 The selection of other email categories is pretty good too; it offers a complete overview of every email type that has been sent or received. You can also create your own folders and categorize your email communications however you see fit. You can sort through emails using the upper toolbar, which offers a very extensive toolset for categorizing and customizing your inbox. For example, you can pin emails to the top, mark them as junk, snooze communication, or perform a sweep of your inbox, which can move all messages to a particular folder.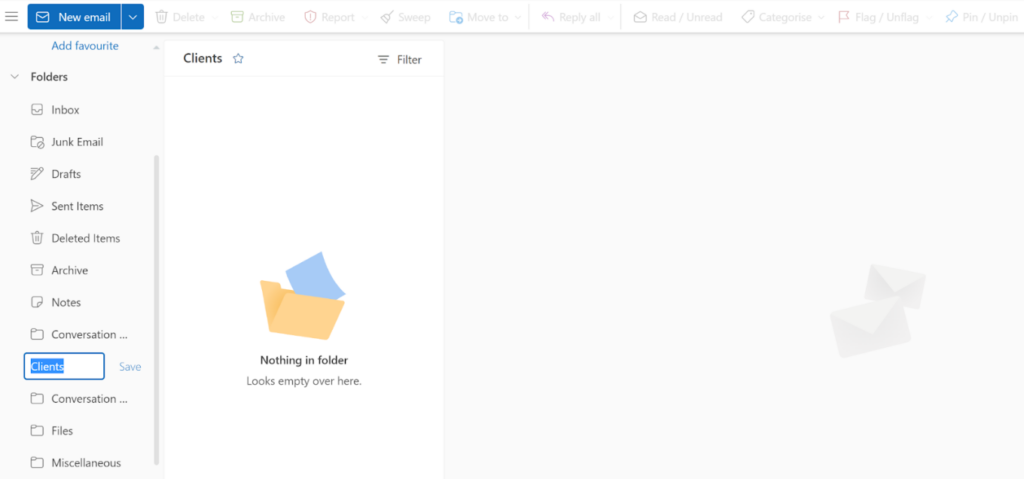 Categorizing emails is quite easy, and so is writing new emails or replying to received emails. Outlook offers a handy email editor with plenty of editing and formatting options. The editing options are akin to working with Microsoft Word in many ways. You can truly structure your text, highlight important details, use bullet points, add tables, include images, use accessibility options, and much much more. Just look at the screenshot below to see what I mean; it's simply great.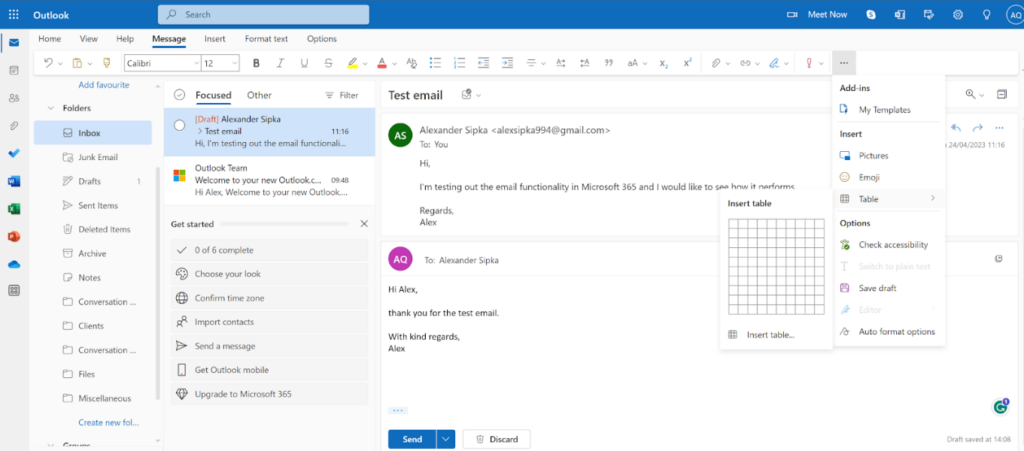 In conclusion, my experience with Microsoft 365 and its Outlook email handling was entirely positive. Everything worked as intended for me, and I experienced no difficulties. The email client offers easy integration with different email addresses, as well as an intuitive interface you can easily navigate. Microsoft 365's email offers many customization options for you as well. You can change not only the color scheme but also the structure of your folder and categorize your email communication in whatever way you prefer. Simply put, it's a great piece of software.
Microsoft 365 email management features pricing
Microsoft 365 is an extensive solution with multiple pricing plans. There is a difference between the Family and Microsoft Business licenses. Since we're making this review primarily for business users, we'll take a look only at the business licenses to give you a focused overview of features and prices for each plan. You can also try out the plans first for free and get a one-month trial if you're willing to provide your credit card information. Even the cheapest plan offers Outlook functionality, but you might want to invest in a more expensive one if you need the Outlook desktop application. Let's take a look at other differences.
Microsoft 365 Business Basic
This plan costs $6 per month per user with an annual subscription. This plan is the cheapest, giving you access to web and mobile versions of the Microsoft 365 applications. You can create chats, calls, and meet with up to 300 attendees. Additionally, this plan offers 1TB of cloud storage per user, business-class email, standard security, and anytime phone and web support. Apps include Word, Excel, PowerPoint, Teams, Outlook, OneDrive, SharePoint, and Exchange.
Microsoft 365 Business Standard
This plan will cost you $12.50 per month per user with an annual subscription. It offers everything from the previous plan, plus premium features and desktop applications, easy webinar hosting, attendee registration and reporting functionalities, and tools for managing customer appointments. The apps in this plan get two additions – Access and Publisher for PC only.
Microsoft 365 Business Premium
This plan costs $22 per month per user billed annually. It offers everything from the previous two plans, with added advanced security, access and data control, and cyber threat protection. It also adds two new applications – Intune and Azure Information Protection.
Microsoft 365 Apps for Business
This plan can be considered an alternative, with a major focus on the application selection. It costs $8.25 per month per user annually. It offers desktop versions of Microsoft 365 apps, with all the premium features. You get 1TB of cloud storage per user, standard security, and anytime phone and web support. This plan has a custom selection of applications consisting of Word, Excel, PowerPoint, Outlook, OneDrive, Access, and Publisher.
Conclusion
There are only a few software solutions available that can surpass the functionality of Microsoft 365. Even though there may be several free solutions available, they cannot compare with the functionalities you can get from these apps. The good news is that Microsoft 365 can be quite affordable as well, and you can save a lot of money if your primary focus is just email management. You can even get started for free, thanks to the free Outlook email account and upgrade later. It offers good organizational features and reliable email capabilities that you cannot go wrong with.
Frequently Asked Questions
I am not receiving emails due to a lack of space in my Microsoft 365 and Outlook inboxes.

Microsoft 365 uses one storage for all applications included in the plan, which also includes your Outlook email along with the attachments. If you suddenly run out of space in your mailbox, make sure to check your Microsoft OneDrive; the login information is the same as your email since Microsoft uses one login for all included apps. Check if your OneDrive is full; this can happen often without the users realizing it, as many smartphones and computer devices running Windows have this feature turned on automatically. Your files sync with OneDrive, and it can easily run out of space. Make sure to clean out some of your space, and leave some for your email to work correctly.

Outlook is freezing or not responding.

Although Outlook's stability has improved over the years, some users might still experience freezes or crashes of the Outlook desktop application. Slow loading times in the web application can also be an issue. Some of these cannot be prevented, since Outlook gets updated constantly and that might cause some trouble outside of our control. However, if you're experiencing issues outside of freezing during updates, you can try opening the Windows Task Manager and closing down all Outlook processes. You can also try running Outlook in Safe mode, or disable your Add-ins. Sometimes reinstalling the Outlook application can solve most issues.