Key takeaways
Pros
Free trials for all subscription plans
Integrations with various apps
Cons
It takes time to learn how to navigate the software
You may require help from their customer support team
In this review, we are going to focus on Freshwork's 'Freshchat' because it has the most features that can help you with your email management. Freshchat is quite easy to set up, you just need to enter your email address and you are all set. You can start by customizing the appearance of your system and profile.
You can upload your company's logo, create a site name, and customize the colors to fit your brand. This process is fairly simple and doesn't require a lot of work.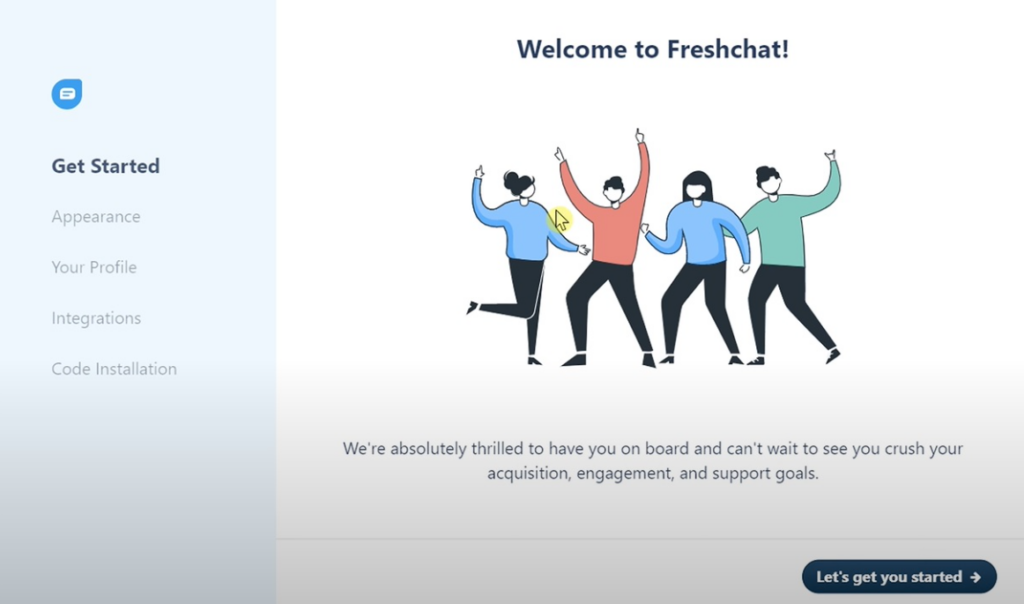 Once you set up the appearance and are happy with the results, you will be transported to the main system. This part can take time for you to get used to it and discover all the different capabilities that Freshchat offers.
It might even be a bit more difficult compared to other email management systems on the market because Freshdesk offers a solution that is not focused only on an email management tool. It is a more complex solution that can help your company handle customer inquiries by converting them into tickets and storing them in one centralized location.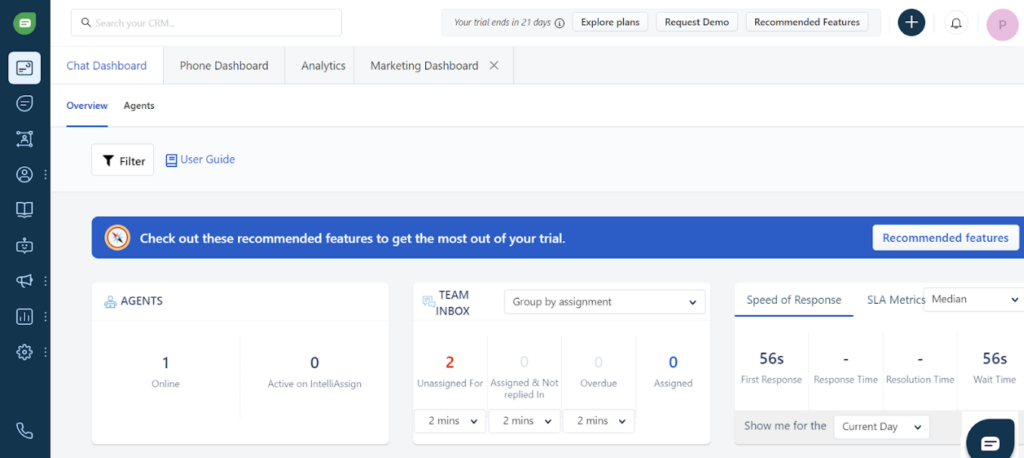 Freshdesk features
Create Journey emails
Freshdesk offers a variety of email templates that you can send to your customers. You can also create your own email template that would be specific to a moment in a specific point of customer journey.
These templates can be also customized to fit your brand.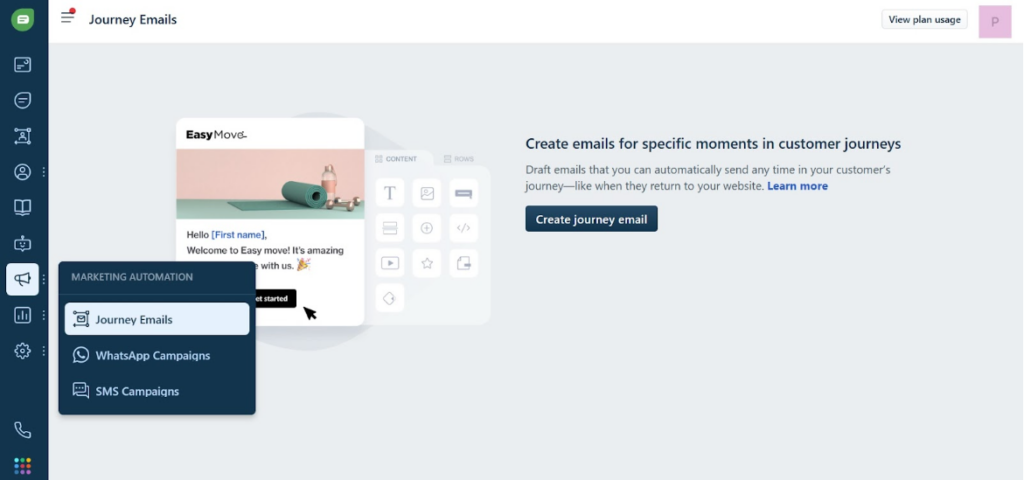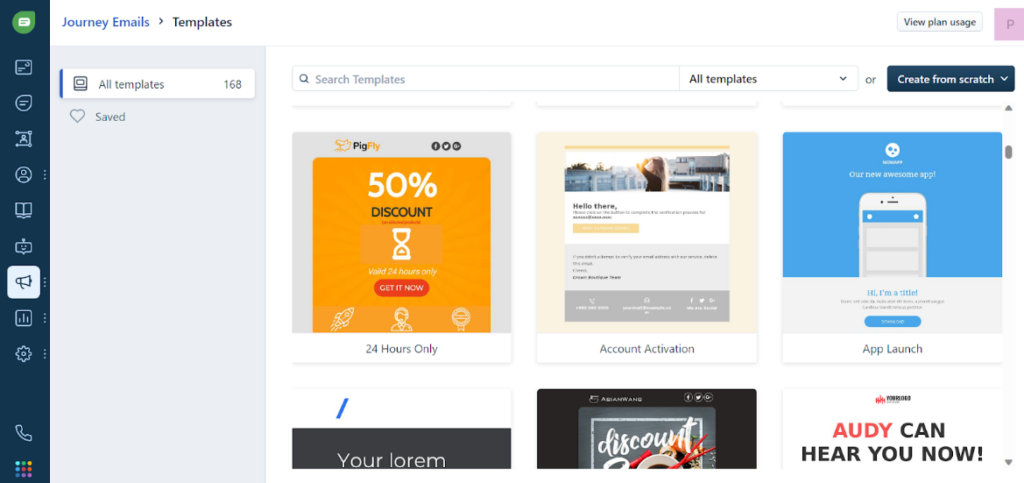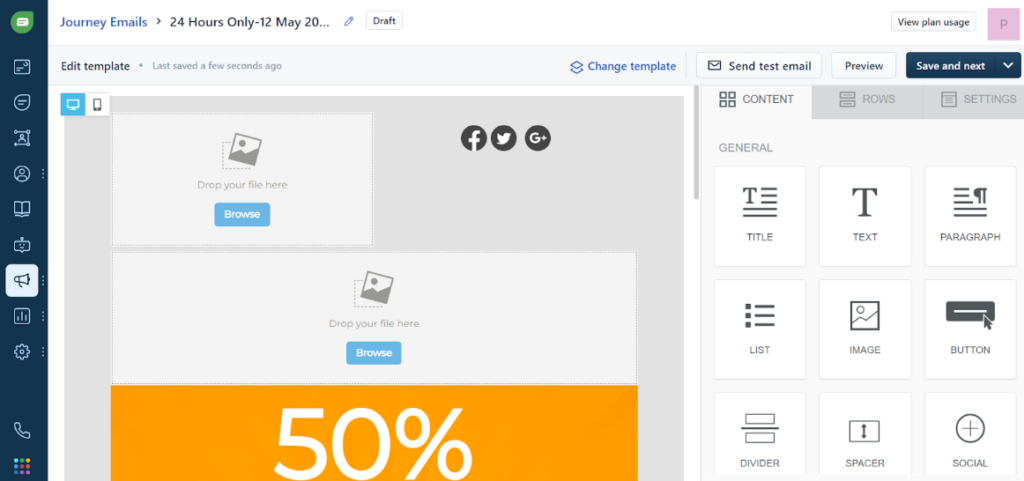 Canned responses
This feature allows users to save pre-written responses to common customer inquiries, which can be quickly inserted into emails. This can help you save time and effort, as users don't need to rewrite the same responses over and over again. Canned responses also help provide consistency in customer service.
Freshdesk's canned responses feature allows users to create a library of responses that can be shared with other members of the team. This helps them provide consistent and accurate responses to customers, regardless of who is handling the inquiry.
Schedule meetings
With this feature, users can easily schedule and organize meetings with customers or other team members straight from their inbox. It helps to eliminate the need for back-and-forth emails trying to coordinate schedules. Users can send a meeting request through Freshdesk, and recipients can accept or decline the invitation.
Additionally, it also integrates with other popular calendar apps like Google Calendar, Outlook, or iCalendar.
Workflow automation
This feature can help you to automate repetitive tasks that can become time consuming. For example, you can automate the process of assigning emails in order to ensure that your agents maintain fast response and resolution times when it comes to customer inquiries.
Freshdesk also provides a collaborative workspace for your team to improve efficiency by ensuring that two agents don't end up working on the same issue.
Performance and user experience
Freshdesk email management software offers a wide range of features that make it a great option for businesses that are looking to improve their customer service operations.
Overall, it is a reliable and responsive software. It loads quite quickly and runs smoothly, which makes it easy to manage a high volume of emails.
The search function also makes it simple to find specific emails or customer inquiries.
On the other hand, new users may find Freshdesk's interface a little overwhelming at first. While the software offers many customization options and features, it can take some time to get used to all of its features. However, once you become familiar with its interface, it becomes more user-friendly and intuitive.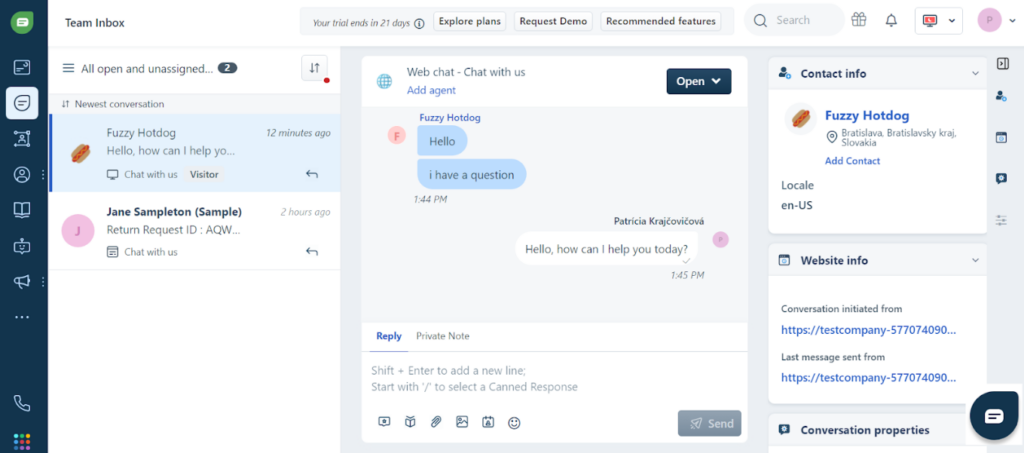 Pricing
Freshworks offers different pricing plans based on the type of solution you would like to implement in your business. You can choose Freshdesk, Freshchat, Freshsales, Freshservice, and Freshmarketer. All of these options offer a different set of features which allows you to choose the best option for your business based on your goals, unique needs and requirements. You can also take advantage of the free trials to test different features before you decide to commit to the particular subscription.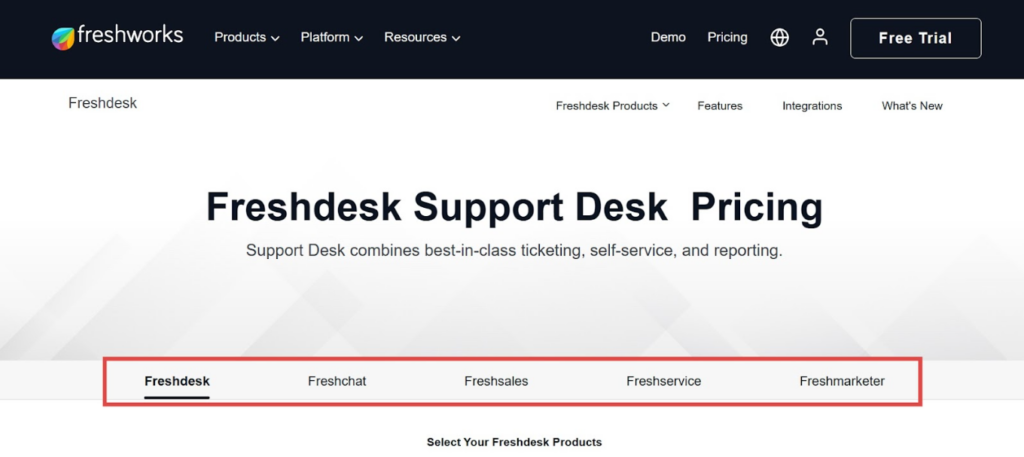 Freshdesk pricing
Free
The free version costs €0 and it can be used by up to 10 agents. The Free option offers the least amount of features, although it can be a good option for small businesses and startups that don't need many advanced features yet. Some of the features included in this subscription are integrated ticketing across email and social, ticket dispatch, knowledge base, analytics and reporting, team collaboration, and 24/7 customer support.
Growth
The second pricing option is called Growth and costs €15 per agent per month if billed annually, and €18 per agent per month if billed monthly. This subscription is most suitable for businesses that are still growing. It comes with all the features from the free plan, plus some additional ones. Some of the additional features include automation, collision detection, SLA management & business hours, custom ticket views, custom ticket fields & status, and more.
Pro
Pro is Freshdesk's most popular subscription that offers advanced automation for high performance. It costs either €49 per agent/month, billed annually, or it costs €59 per agent/month, billed monthly. This option includes all the features from Growth subscription, plus some additional features, such as custom roles, custom reports and dashboards, customer journey, canned forms, community forums, multilingual knowledge base, report sharing, and many others.
Enterprise
The last option in the Freshdesk pricing is a fully featured subscription for enterprise-level support. It costs €79 per agent/month, billed annually, or €95 per agent/month if billed monthly.
This subscription offers a wide set of advanced features that should meet the needs of many companies that are focused on delivering a high level of customer service. Some of the advanced features include email bot, assist bot, skill-based routing, AI-powered social signals, custom metrics, and many others.

Freshchat pricing
Free
The free version costs nothing, and can be used by up to 100 agents. It offers a limited amount of features, however, it can be a good option for smaller businesses that don't need many advanced features. Some of the features included in the free subscription are chatbot, chatbot analytics, inbox views, groups, conversation labels, emails, bulk actions, and many others.
Growth
This option will cost you €15 per agent/month (billed annually) or €18 per agent/month (billed monthly). Some of the extra features included in the Growth subscription are priority inbox, private notes, user events and timeline, offline experience, conversations overview report, Instagram DMs, SMS, Whatsapp business, and much more.
Pro
The Pro subscription plan starts at €39 per agent per month (billed annually), or it can cost €47 per agent per month if you decide to be billed on a monthly basis. This plan offers all the features included in the Growth plan, plus some additional ones, such as auto-resolve, live translate, advanced dashboard, advanced automations, roles and permissions, and others.
Enterprise
The plan with the most advanced set of features is the Pro pricing plan. For €69 (per agent/month, billed annually) or €83 (per agent/month, billed monthly), you can get all the features included in the Pro plan, plus few additional features such as up to 5000 bot sessions/month for free, 500 campaign contacts, allowed domains, and user authentication.

Conclusion
In conclusion, Freshdesk is a reliable email management software that is designed to enhance customer service efficiency. It has a simple setup process, quick loading time, and runs quite smoothly even when you receive a large volume of emails at the same time. It requires some time to master all its features and get used to its interface, however, once you become familiar with it, it becomes very user-friendly and intuitive. Freshdesk offers different pricing plans and free trials that enable businesses to choose and test different features before making a commitment. Freshdesk is a great solution for businesses that need reliable customer service management software.
Frequently Asked Questions
Emails are redirected to spam

If you experience that the emails and/or replies to tickets from Freshdesk are directed to the Spam folder of the customer's mailbox, you can enable the feature called DKIM to avoid such issues.