Key takeaways
Pros
Good, essential CRM features
Customizable contact fields for any occasion
Well designed, and easy-to-navigate interface
Cons
Lack of features compared to dedicated CRM solutions
Pricing can get steep if you don't have a use for all the tools
LiveAgent setup and implementation
LiveAgent is well-known multi-channel help desk and CRM software that can handle all types of communication with customers, including internal communications between customer service agents. While it's not a dedicated CRM solution, it does have plenty of customer relationship management features that make it a viable contender between software picks. LiveAgent's CRM is useful primarily for customer service and customer support teams who need to keep track of vital customer data. Let's take a look at how easy it is to get started with LiveAgent.
Getting started with LiveAgent is an incredibly easy task; you can simply use the trial and get all features for free for a certain period of time. It doesn't require any credit card information, so you can just sign up with your email address and get started. After you create your account, you can start getting familiar with LiveAgent features thanks to a simple and effective get started guide that also serves as LiveAgent's welcome screen.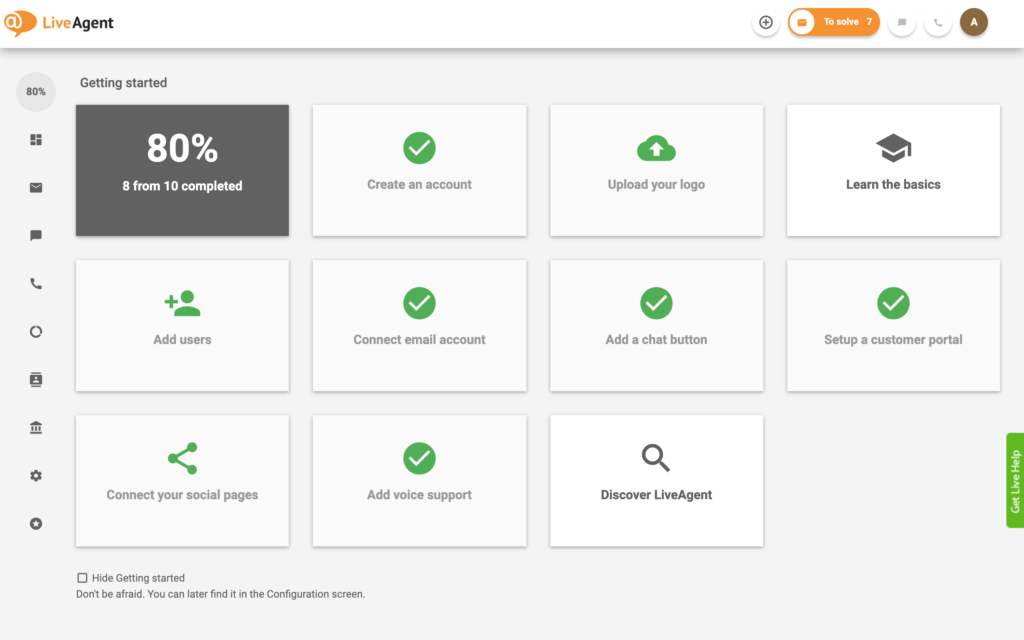 This screen serves as an introduction to every main tool and feature that LiveAgent offers. You can connect your emails, create and implement your live chat widget, set up a call center, add social media accounts, or create a knowledge base. You can also add users, or check tutorials that can teach you more about LiveAgent. If you want to, you can also skip this section and return to it later if you prefer that.
The LiveAgent interface is very well designed, and keeps improving with each update. You have all the main tools on the left side, and the majority of the interface is focused on the task at hand, which means less distractions. You can access the Customers section here, which is where most of LiveAgent's CRM features are stored.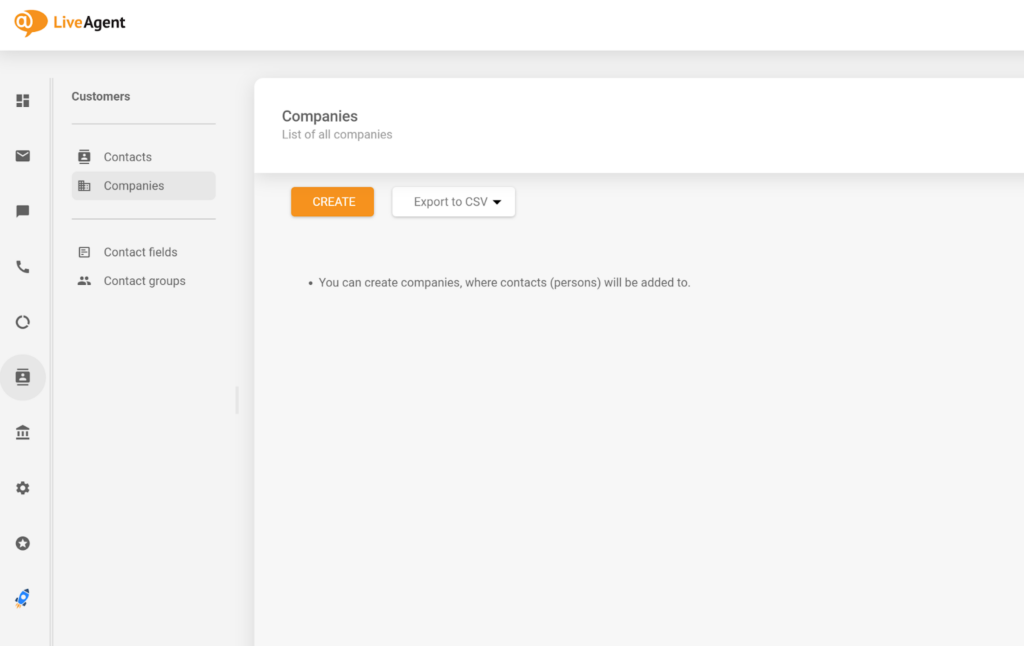 Notable LiveAgent CRM features
Even though LiveAgent is mainly a software for customer service teams, it has many different use case scenarios and offers a variety of functions that can be incredibly useful for customer relationship management. Before we get to testing, let's take a look at what type of CRM features LiveAgent offers.
Contacts
LiveAgent can store all customer contact information necessary for a smooth workflow. This information is automatically stored with every ticket you receive from an unknown contact, and you can always customize them at any time. The system gathers all vital information, including the date of creation, main contact channel, and name. You can add new information such as emails, phone numbers, company name, gender, and more.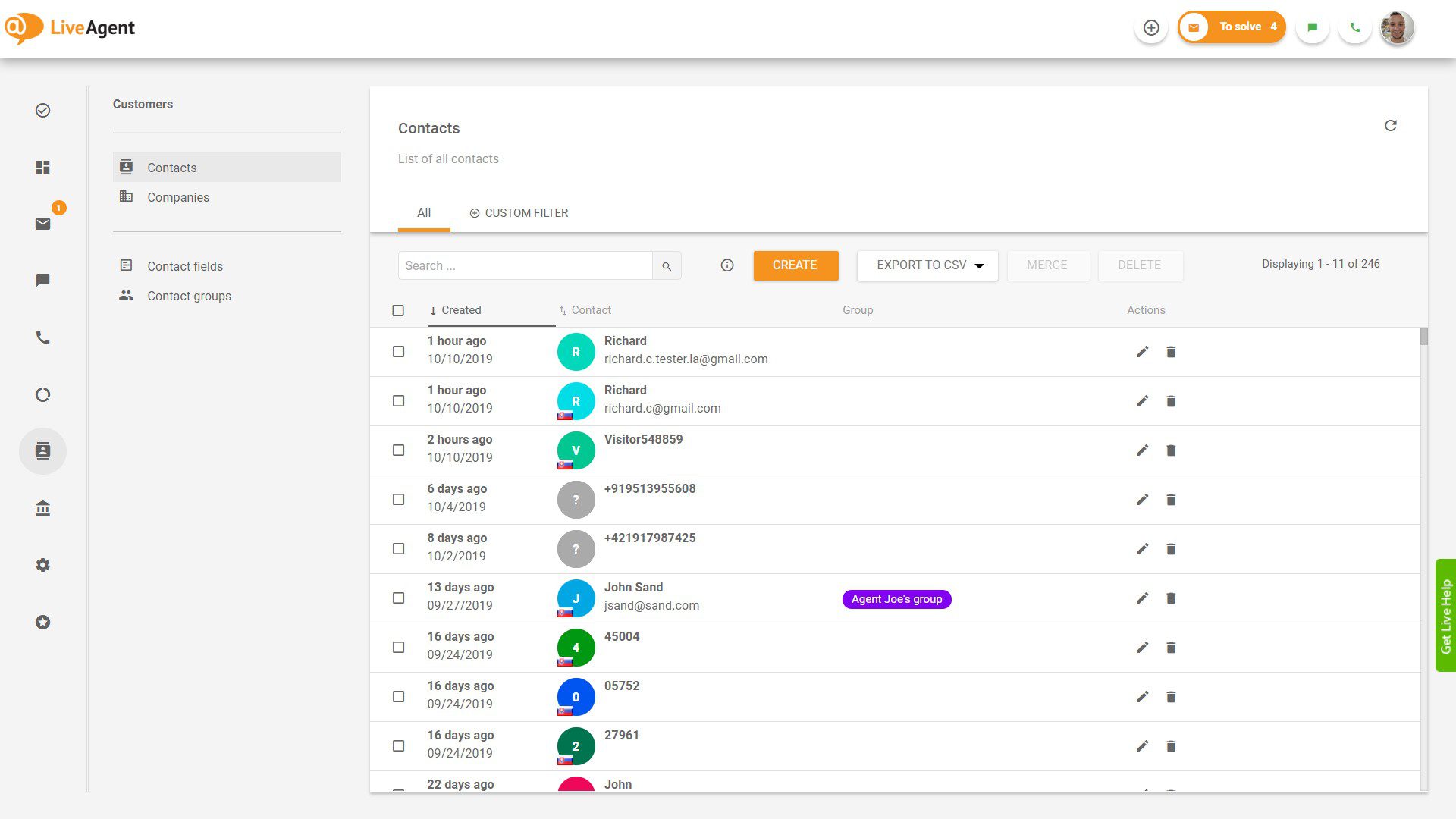 Each contact is easily editable from the interface for simple contact management. Once you click on a contact and access the details, you can add contact notes to share information with other agents, see their previous tickets, find out their primary language and IP based on browser information, or even see other custom options if you have any integrations available.
Companies
LiveAgent is able to gather and store information about various companies you might get in touch with. The user interface works exactly like in the contacts section, with pretty much the same type of information available. You can easily access company information at all times, and edit them to your preferences.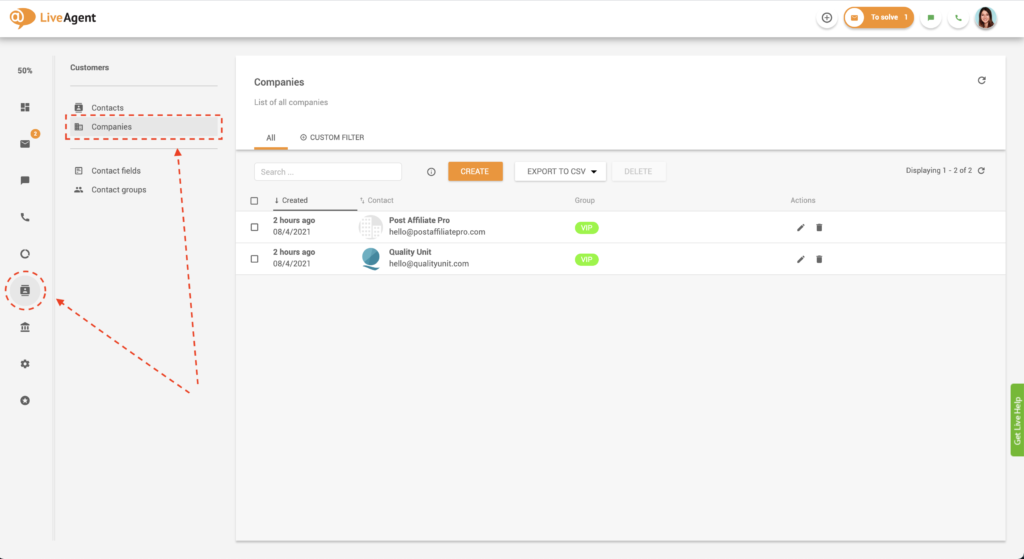 Custom contact fields
One of the best customization options for contacts and companies are custom fields. This feature allows each user to customize their contact detail experience accordingly. You can add a number of custom fields, name them, and fill in the information you need. This feature is useful for every type of business because it allows you to segment your customers according to criteria selected by yourself. Whether it's a type of general info like country data, or the customer's shoe size, you can store it in the contact information. You can customize the field to function as a checkbox, text field, list, and more. LiveAgent also allows you to set visibility of this data.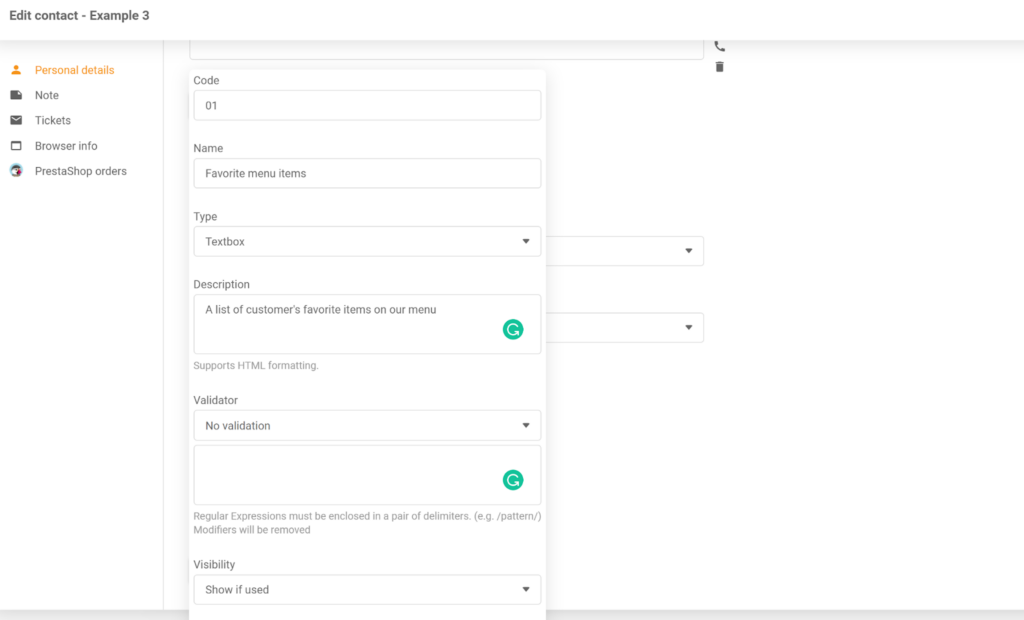 Integrations
While most LiveAgent users don't need many added CRM features, some might require something extra. If you want to use LiveAgent with extended CRM features or other great functionalities, you can take advantage of LiveAgent's large quantity of integrations with other software solutions. You can select from over 15 integrations with CRM solutions, as well as many other solutions for content management, marketing, tracking, project management, and more.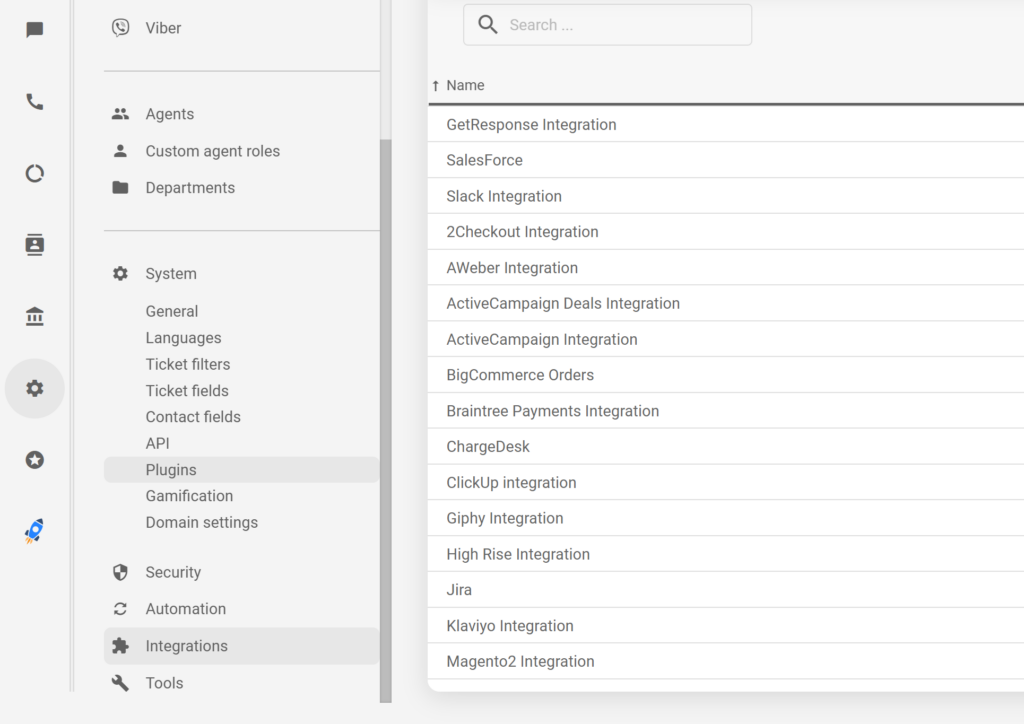 LiveAgent CRM user experience
The customer relationship management features work very well in LiveAgent. Once you receive a ticket from a customer, you can see all necessary information in the right panel in the ticket interface. It includes all previously saved data so you can adjust your replies accordingly. Since the data fields are customizable, they are as useful as you make them out to be. This also gives you the opportunity to continuously gather new vital information from interactions with your customers. You don't even have to leave the ticket to do so.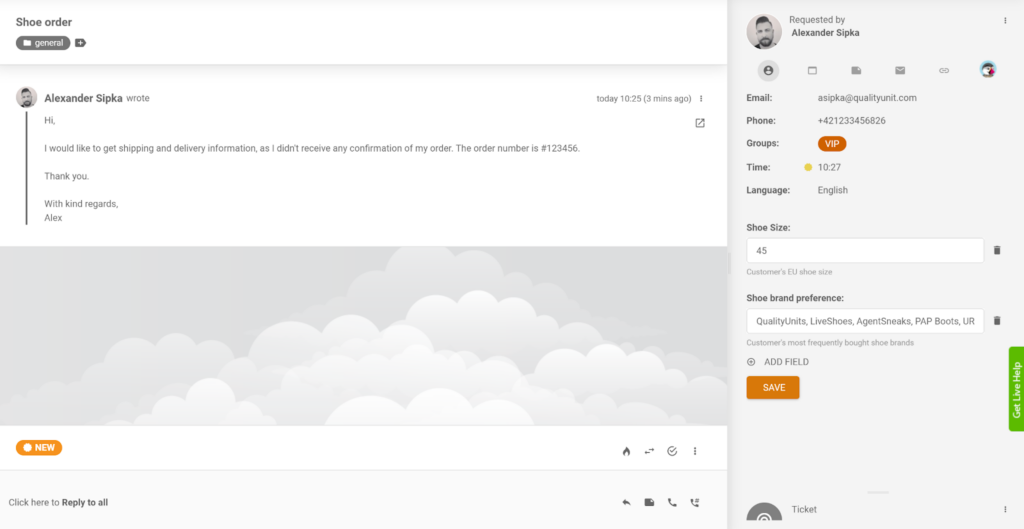 As you can see in the ticket screenshot above, you can see all data right where you need it, which is a great design choice. The best part is, you can add new data as you see fit without leaving the ticket. This can help you save significant amounts of time, as well as battle forgetfulness which is often unavoidable. Once you click on Add Field, you can add custom fields just like you would in the Customers contacts sections in LiveAgent settings.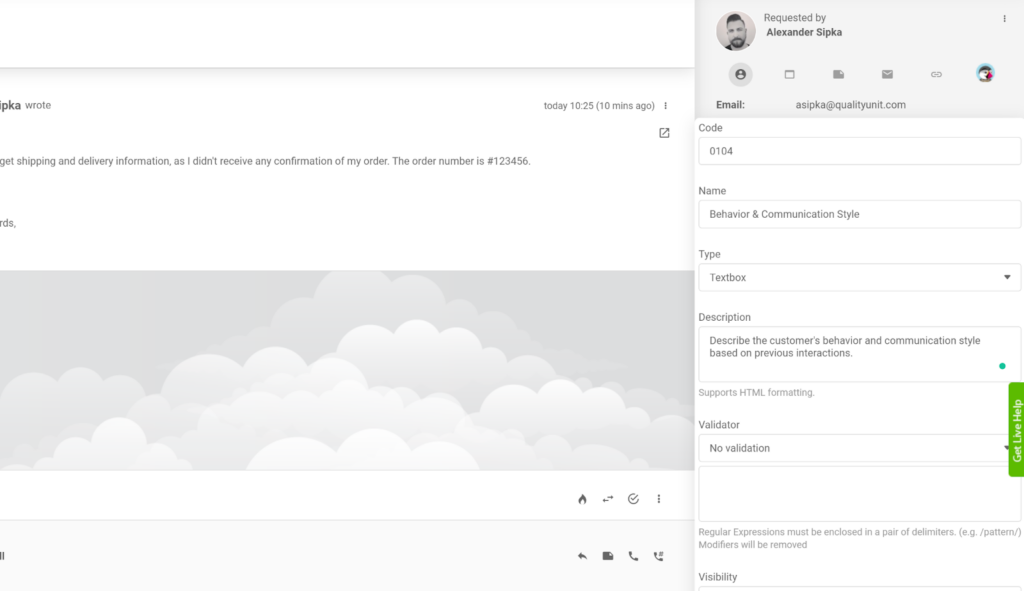 Furthermore, you can add notes to both customer information and separate customer tickets. This feature is very useful for sharing vital information with your agents regardless of their access to the other CRM features. You can write anything you consider important and leave the note there for all agents to see whenever they get into contact with a specific customer.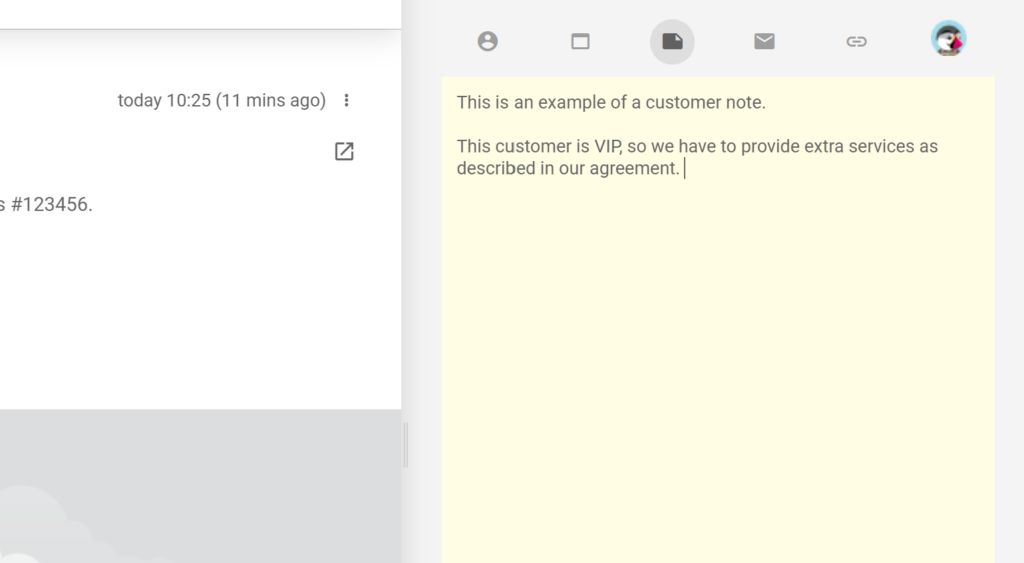 Overall, LiveAgent's customer relationship management features are useful in all circumstances and sufficient enough to provide a good and functional workflow for each agent. You can always extend them further via CRM integrations if necessary.
Pricing
LiveAgent offers various pricing options with different feature sets. You can access most CRM features regardless of what plan you use, so you only need to consider the rest of the tools you get for your money. Let's take a look at what each of the plans offer, and what can bring the most value to your business.
Free
The Free plan is free forever, but comes with certain limitations. You get a 7-day ticket history, one chat button, one phone number integration, one email address, basic reports, a customer portal with forum, and customer support.
Small
The Small plan costs $9 per month per agent and it ups the feature set significantly. You get unlimited ticket history and unlimited email addresses, advanced reporting, API + integrations, automation rules and time rules, white glove setup, and much more.
Medium
The Medium plan costs $29 per agent per month, and gives you access to unlimited chat buttons, feedback features, real time visitor monitoring, proactive chat invitations, satisfaction surveys, social network integrations, time tracking features, audit log, and much more.
Large
The All-Inclusive plan costs $49 per month per agent, and gives you access to the complete set of LiveAgent features. You get call center support, video calls, IVR, call routing, unlimited call recordings, and all other services from all previous plans.
Conclusion
While LiveAgent might not be the go-to CRM software for many users, its CRM features are pretty good. The features can cater to a lot of use case scenarios that agents might encounter on a daily basis. The feature set might not be as rich as what some dedicated CRM software solutions offer, but you can extend it with a variety of native and external integrations.