Key takeaways
Pros
Plethora of tools for various use cases
Call center in the free plan
Cheap pricing
Cons
Slightly confusing interface
Steep learning curve
Getting started with the Bitrix24 call center software
Bitrix24 allows all users to get started for free, thanks to the free option. While some features are only available in paid plans, you can give most of them a test drive with a free trial. The registration process is very fast and easy, it only requires your basic information. Once you fill out the required details, you will be sent an activation link you only need to access your Bitrix24 account. Since Bitrix24 is a very extensive software for multiple use cases, you can select your primary use case right at the beginning, and the interface and tools will be readjusted for this purpose. You can access all tools nevertheless.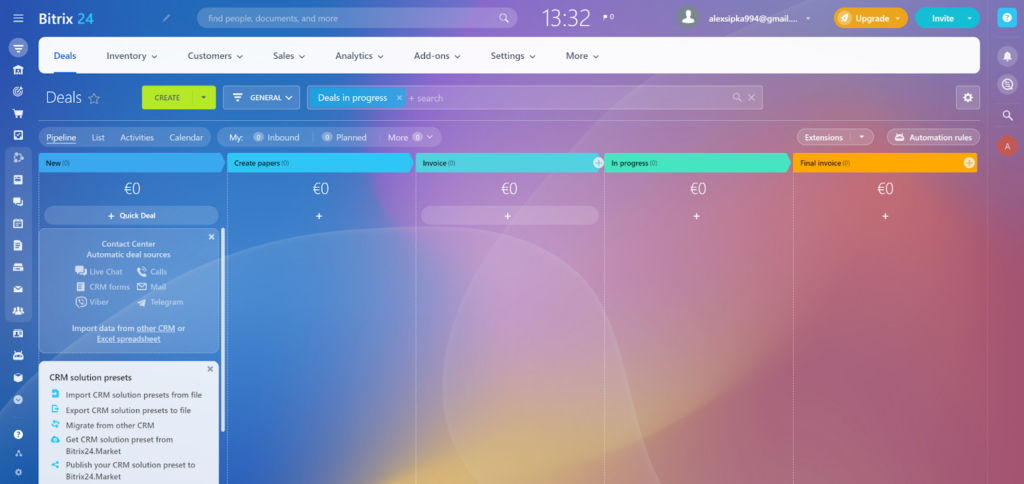 Navigating the interface is quite intimidating at first. This is not necessarily caused by bad design, but the sheer amount of available tools, functions, and features can be very overwhelming for a new user. However each menu option is marked clearly in most instances and if you patiently search, you can find the call center functionality very easily. It's hidden under the Collaboration option in the left menu bar.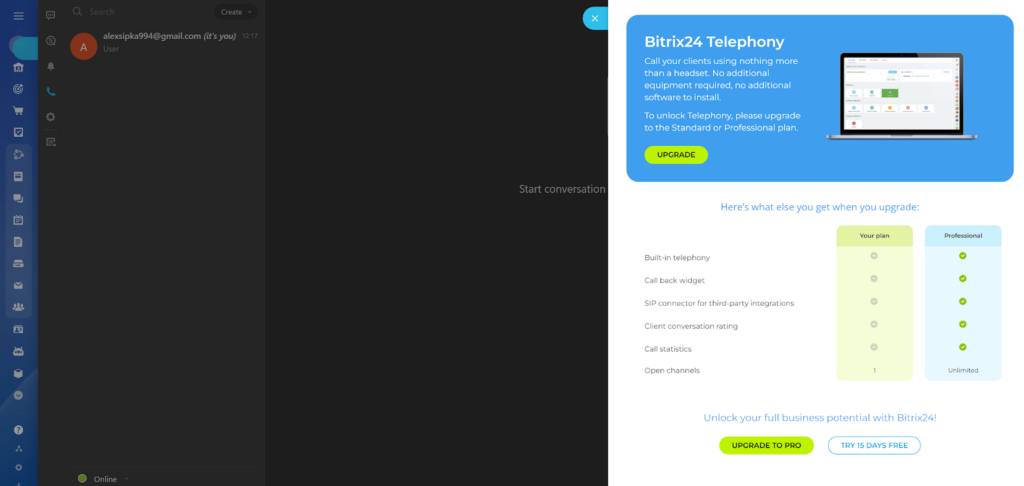 Since I didn't pay for the Bitrix24 plan, I could try the Telephony functionality with a free 15-day trial. Once I activated it, the Telephony function was available right away. However, you first need to buy credits for calling or add your phone number. Bitrix24 offers multiple phone number integration options via API, PBX, SIP services, and more. Some of these options might require additional payment, namely Office PBX and Cloud PBX which require you to buy a special module for calls. The easiest option is to rent a number. Whatever option you choose, you will be able to use Bitrix24 call center features.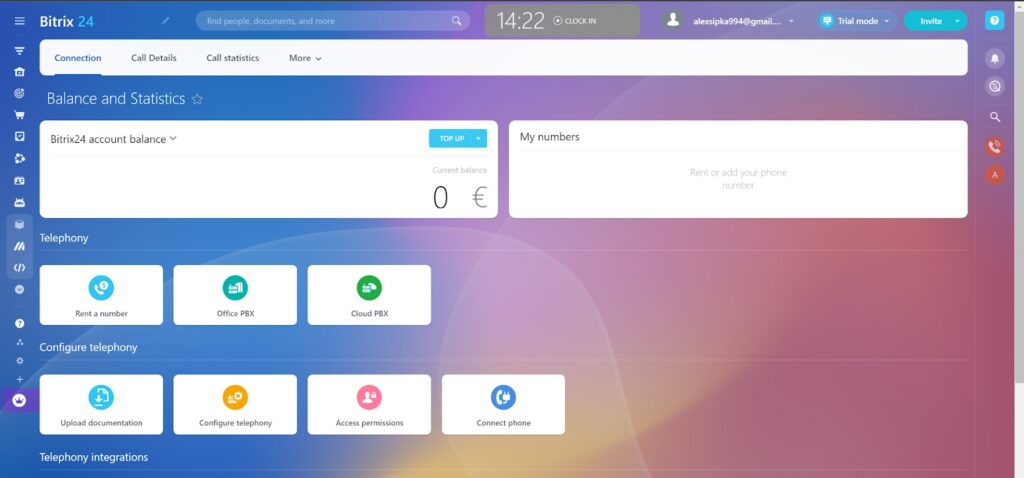 If you decide to buy a phone number, note that the availability changes from country to country, and you might not be necessarily able to find a number for yourself. The costs can be very different as well. Before we get to the testing part of this review, we'll take a look at what type of call center features you can expect from Bitrix24.
Bitrix24 Call Center Features
Bitrix24 is an extensive software solution with call center capabilities mainly focused on customer relationship management. The Telephony function allows you to rent local phone numbers, or connect your own numbers if you have any available. This is possible thanks to numerous available integrations which allow such functionality. Bitrix24 call center functions include creating internal phone number extensions, as well as call queueing and call forwarding.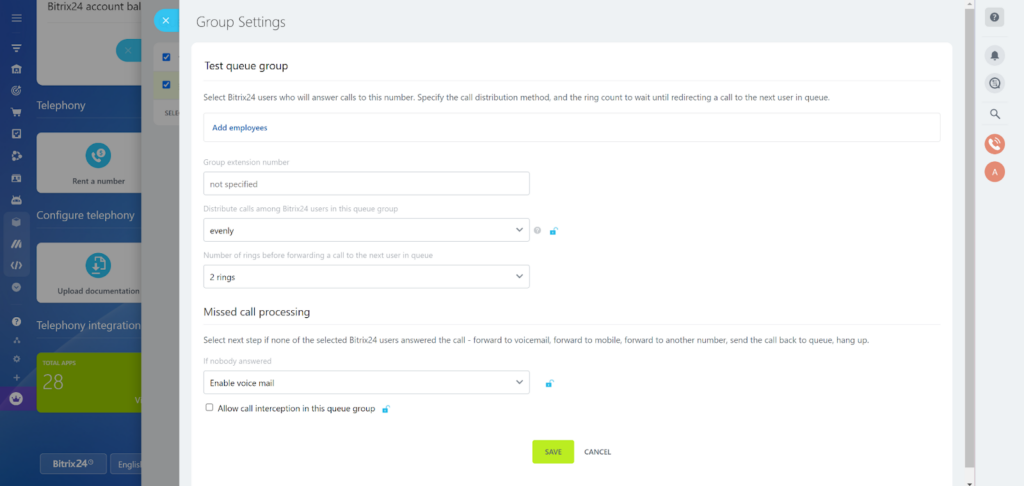 Bitrix24 offers more call center functionality which is intertwined with the rest of its CRM features. You can record all calls and access the recordings in the call center history at any time. Bitrix24 also offers telemarketing functionality with advanced features such as an automatic dialer, or a callback widget which can be placed on any type of website. You can send callback requests as well, or use voice broadcasts and SMS.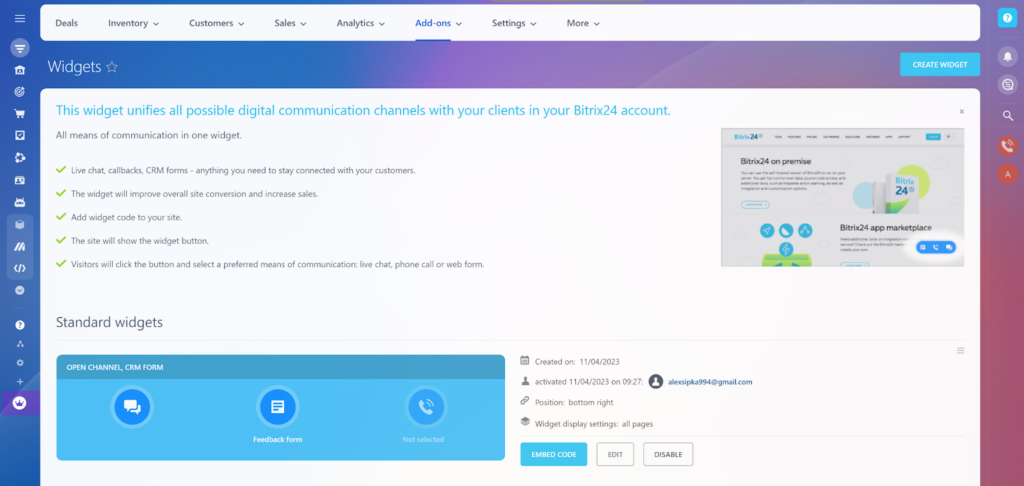 Performance and usefulness of Bitrix24 call center software
Bitrix24 is neither hard nor easy to use. This is mostly due to the slightly complicated interface which can be quite difficult to navigate for new users. Once you get the hang of it, and remember where each menu item is, the workflow becomes significantly easier. When you purchase a number you can start answering inbound calls, as well as making outbound calls without any trouble. You can access the call center functionality easily from the right panel in the CRM section. Look for the phone icon which will take you to the call menu.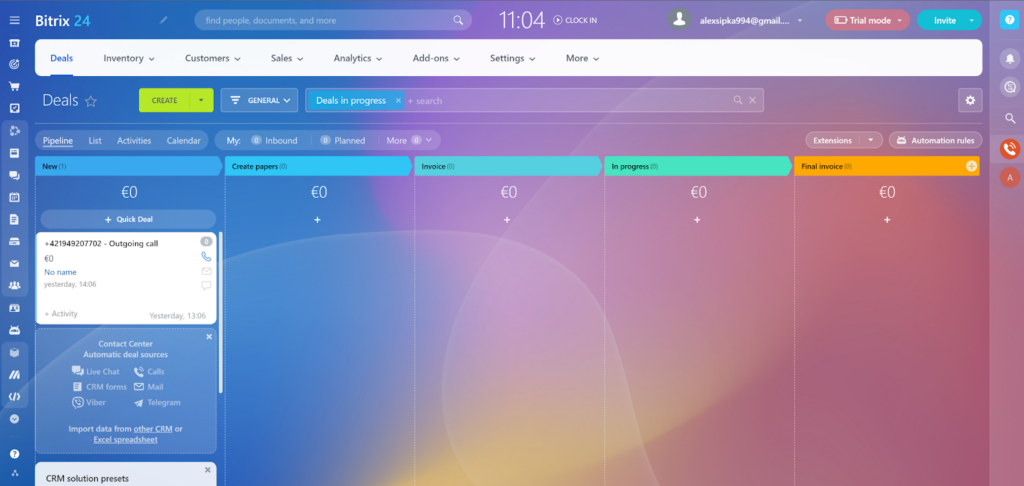 You can see past calls in the CRM section and the call menu section as well. This menu offers more than just the telephony functionality. You can also access a notifications menu, channels, and some settings options. The settings are fairly brief and they allow you to adjust keyboard shortcuts, allow or disable certain call center options, select speakers and microphone, adjust messaging settings, and so on.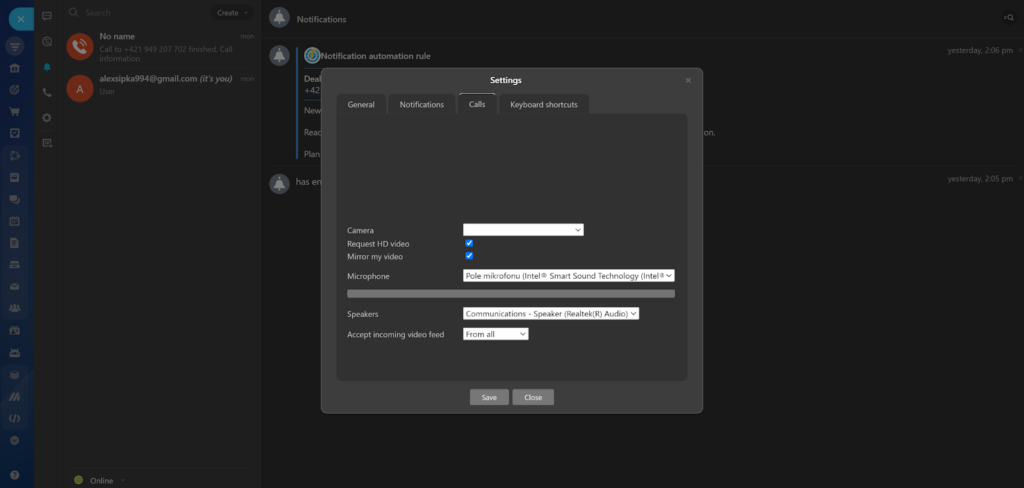 The menu on the left also has the option to dial a number and start a call. The dial pad is quite small, but it's not an issue since it's more than functional and you can use your num pad to punch in the number. Once you do, Bitrix24 opens a separate call window with some settings. You can disable or enable the microphone, adjust the volume, and more. Bitrix24 also has notifications for incoming calls. All calls are recorded in the call history.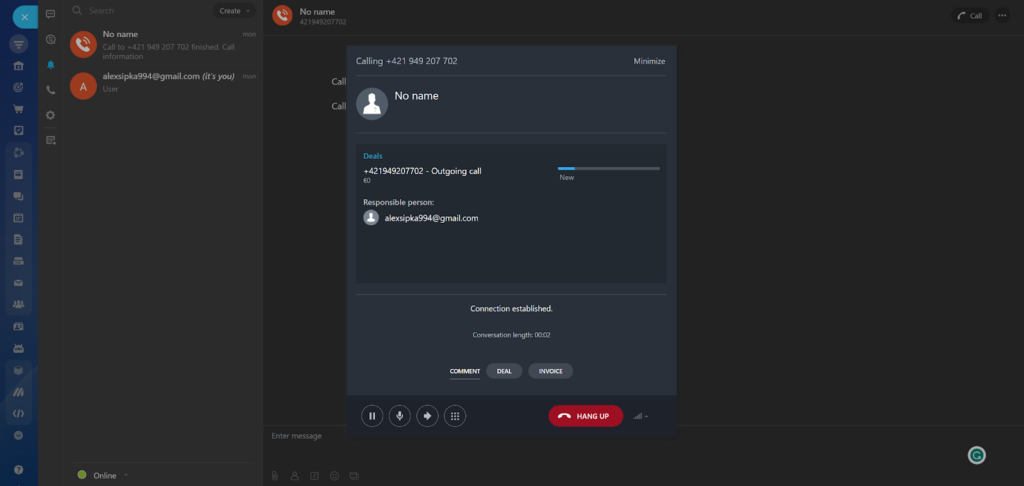 The call quality was pretty good in both cases and I didn't encounter any problems that would ruin the call. No call drops or worse call quality was present during my tests.
Bitrix 24 call center software pricing
Bitrix24 offers four pricing plans, including a free one. Each plan offers call center features and they are generally quite affordable, thanks to the higher maximum user limits in each plan. If you're planning to purchase a Bitrix24 plan, your decision-making will revolve mostly around the user limit, as well as certain additional features that might be interesting for your business. Let's take a look at each plan.
Free
The free plan doesn't offer any user limits. While it is free, it might come with some additional costs, such as payments for renting a number. It offers 5GB of storage, collaboration features, chat, video calls, calendar, company workspace, feed, knowledge base, tasks & projects, CRM, drive, contact center, a website builder, and more.
Basic
The Basic plan costs $61 per month for five users, but you can get it for cheaper with the annual billing. It offers 24GB of storage. This plan has all the features from the Free plan and adds online store features, as well as customer support.
Standard
The Standard plan costs $124 per month for 50 users, but again, it can be cheaper with the annual billing plan. It has 100GB of storage, and it offers all the features from both previous plans. Additionally, it gives you access to marketing features and online documenting features.
Professional
This is the most expensive plan, with a price tag at $249 per month for 100 users. However, the price decreases if you choose the annual billing. It offers all of the previous features from all plans and adds sales intelligence, automation, HR, and more.
Conclusion
Bitrix24 is not at the top of call center software solutions, but it definitely deserves its place as a worthy competitor. The interface can get confusing, but there's a very good reason for that: it offers an abundance of various features besides the call center, making it a very versatile solution for most businesses. While the pricing might seem high, it offers very generous user limits, making it one of the cheaper solutions available on the market. If you're looking for something more besides call center software, Bitrix24 is definitely worth your consideration.