Partner
Partner website
What is OneTone?
OneTone is a customer service enhancement solution that can be installed for free on your browser or directly in LiveAgent. OneTone works as an assistant that helps customer support agents provide better and faster support thanks to sentence autocomplete functionality and the ability to prepare text templates.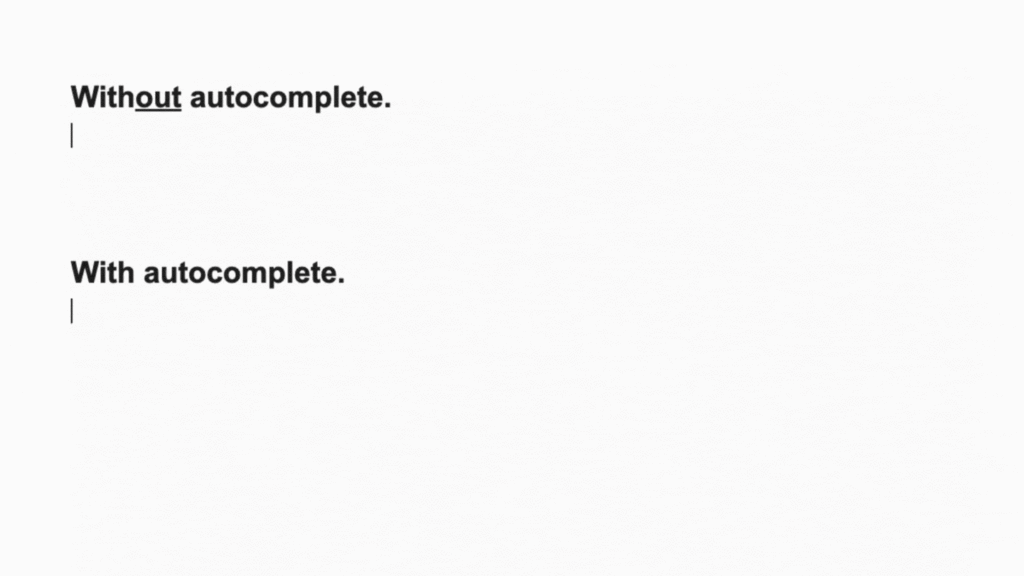 How can you use OneTone?
OneTone is a great helper for every customer support agent. You can use its its sentence autocomplete functionality to type sentences faster and reduce ticket handling time. It also prevents typing errors and saves a large amount of keystrokes. Another useful feature is the is the possibility to store easily accessible templates.
What are the benefits of OneTone?
Free browser extension
Increased communication capabilities
Improve ticket handling time
Save keystrokes
Prevent typing errors
Store text templates
Looking to improve communication with your customers?
Get started with LiveAgent and start using amazing ticketing system features that will help you write better!
How to integrate the OneTone browser extension with LiveAgent?
In case you want to add sentence autocomplete and template capabilities to your customer support, you can install the Onetone browser extension for Google Chrome. All you have to do is click on this link and add the extension to your Google Chrome browser.
The sentence autocomplete feature helps you complete longer phrases and sentences you have written in the past. It speeds up your typing time and reduces typing errors. It doesn't require any education or additional settings.
Firstly, OneTone suggests generic sentences that are constantly repeated. Those are common fragments like salutations or greetings. 
Once you use generic sentences, you will also type your personalised sentences. The autocomplete understands repetitive tasks, and the next time you type the sentence again, it will suggest it.
The autocomplete is getting more personalised while you type. We have designed the autocomplete to help you to share sentences with your teammates optionally. For example, if you are a customer service agent, autocomplete can share your sentences, fragments or paragraphs with your teammates or newbies.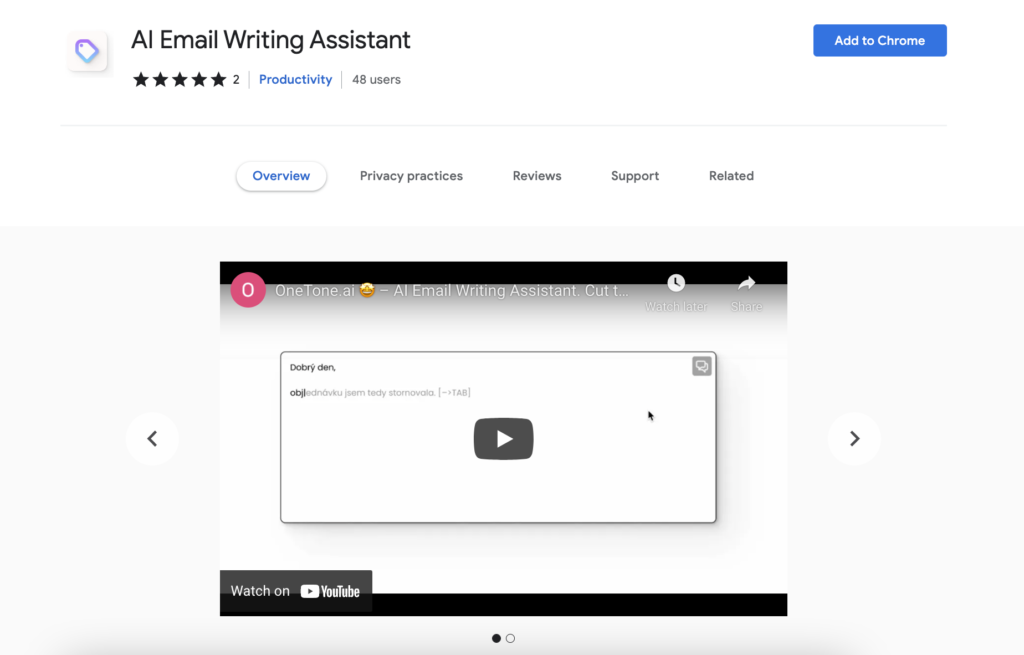 You can try out writing the templates and adding them from the extension in the window that will open up after you get this add-on to Google Chrome. You can also upload existing templates and save them in the OneTone plugin.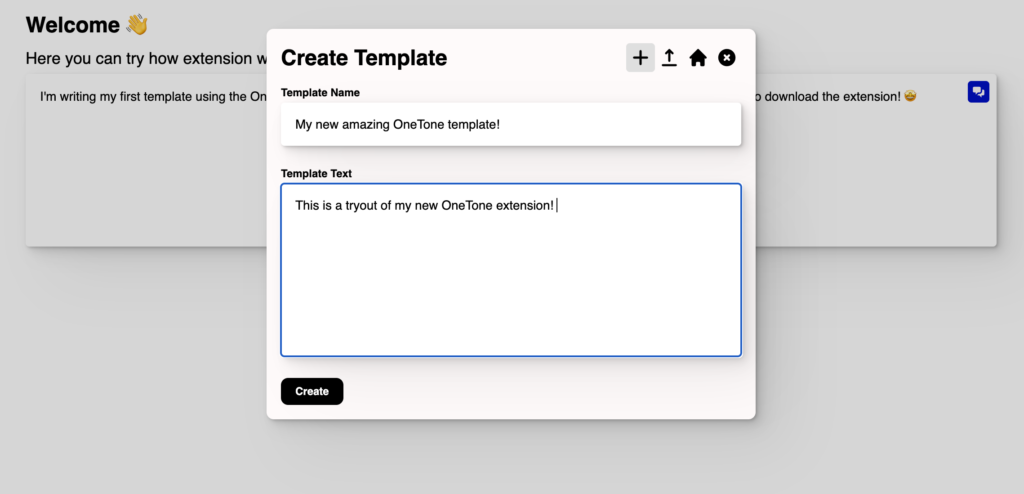 You can access your templates by clicking on the blue chat window icon that will show up when replying to customer tickets. Click the icon and browse through your saved templates anytime you need.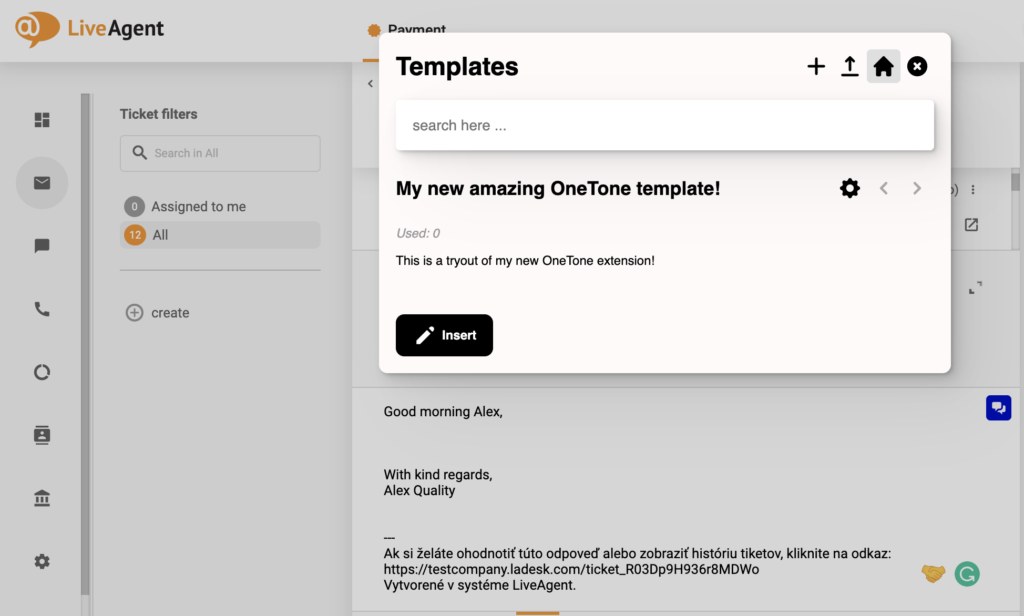 We're always working to improve your experience with OneTone.AI. If you have any questions or feedback, feel free to message the OneTone team at info@onetone.ai
That's it. Your integration with OneTone is finished. If you're looking for more software integrations, check out this page and see if we have it available. Don't forget to check out our Academy pages or Templates page to get inspired and craft unique templates for any occasion. 
LiveAgent Product Tour | Live Agent02:25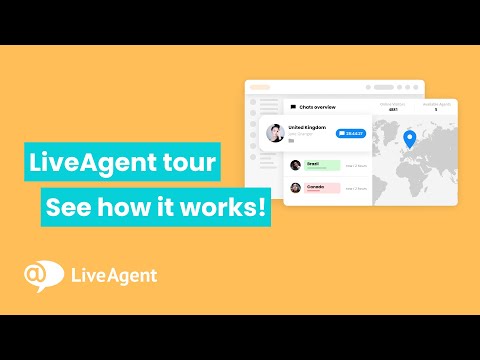 Live Agent
Create a seamless customer experience with LiveAgent's OneTone integration
Engage visitors, provide real-time support, and deliver exceptional customer service.
Frequently asked questions
What is OneTone?

OneTone is a free customer service enhancement and helpdesk integration that can be installed in your browser or in LiveAgent. Thanks to its ticket labeling and template creation capabilities, Onetone helps customer support agents provide better and faster support.

How do I integrate OneTone with LiveAgent?

OneTone's ticket labeling capabilities can be integrated directly with LiveAgent via API connection, while the free browser extension can be found directly in Google Chrome's extension store. 

What are the benefits of using OneTone?

OneTone is completely free and provides extended communication capabilities in the add-on while helping organize customer tickets with its labeling capabilities in the direct integration. This integration's main benefits are improved organization and faster replies for customer service agents using help desk software.

How can you use Onetone?

Every customer support agent can benefit from OneTone. With its ticket labeling functionality, you can determine customer intentions before opening tickets. Ticket labels are an ideal tool for categorizing tickets according to common characteristics relevant to your business. Furthermore, Onetone's extension for the browser allows users to store templates so they can be accessed easily. This makes it easier and faster for agents to communicate.